The right email verification tool can save you a lot of time and resources. Email verifiers validate your email list, ensuring all email addresses belong to real people and eliminating spam traps and invalid emails. They allow you to verify an email, ensuring it comes from valid email providers and protecting your sender's reputation. Today, we'll analyze the best email verification tools available on the market.
With email verification tools, you know your emails will get delivered and avoid getting flagged as spam. So, which are the best email verification tools out there?
Let's find out.
Quick Links:
1. UpLead: Best Email Verification Tool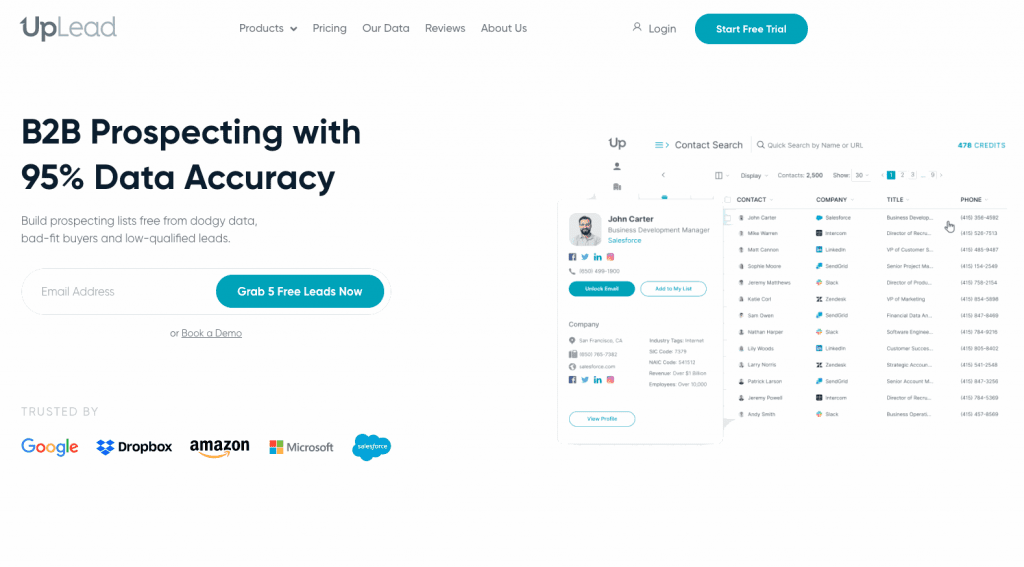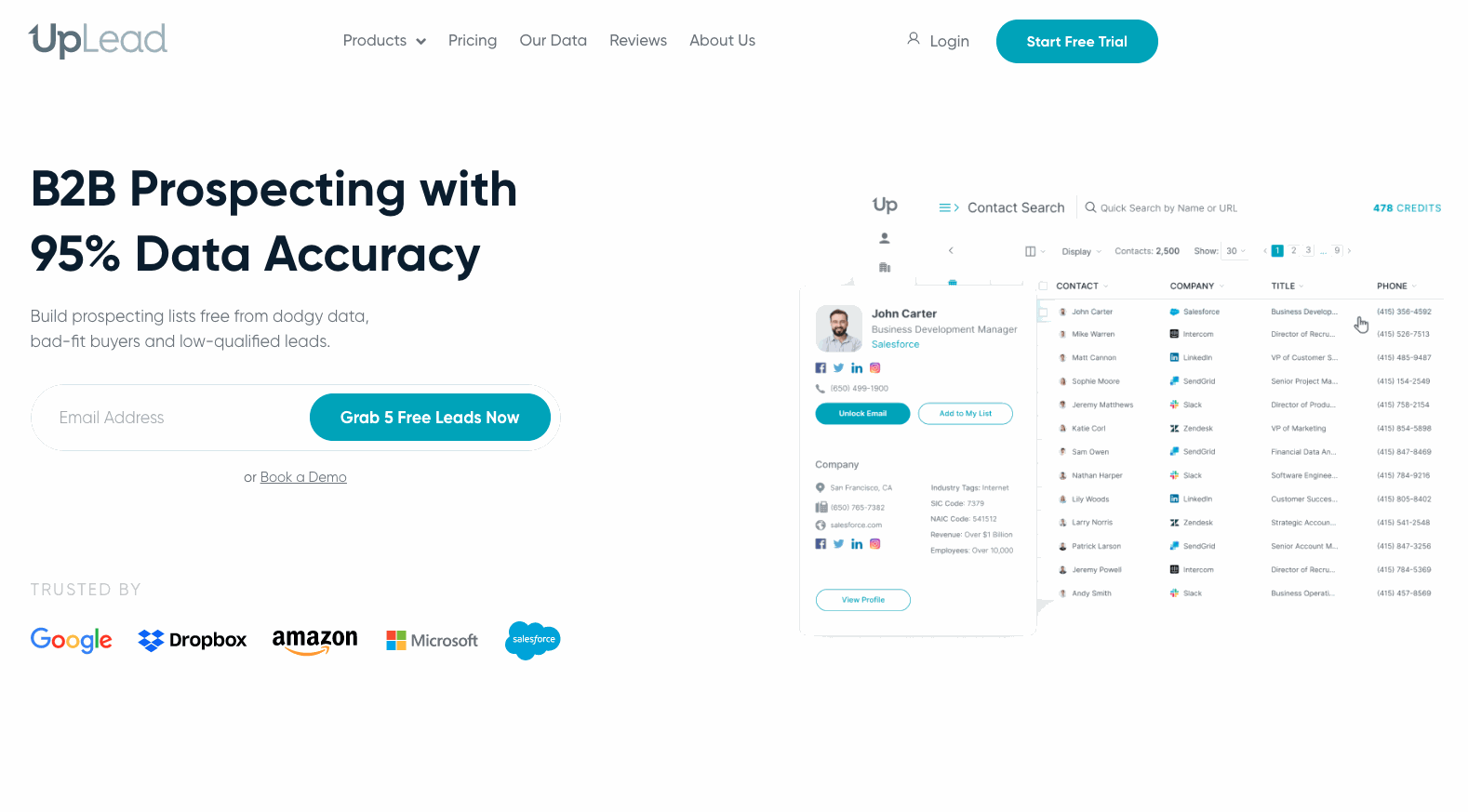 UpLead is a lead generation platform with a powerful email verifier tool. This tool allows for seamless email verification, cleaning your list, and eliminating all invalid emails.
But UpLead does much more than this.
With UpLead, you can enrich your current data with business information. With it, you can easily segment your audience and ensure each contact can receive relevant emails.
UpLead helps you continue to grow your email lists, generating contacts that fit within your customer persona. Once you've generated your email list, UpLead's email verification tool kicks in, verifying emails in real-time and eliminating all invalid emails.
Any email that doesn't pass the verification process can be downloaded for free, so you can still access the rest of the business profile data.
Main Features
Here are UpLead's verification tool's main features:
Powerful email verifier tool: UpLead's email verification tool verifies all emails in real time, disposing of any invalid addresses to help you stay out of people's spam folders.
More than just email verification: UpLead's data enrichment fills in customer information so you can segment valid emails according to customer personas.
Capable of growing your email list: Use UpLead's lead generation features to generate email lists and add them to the right email marketing strategy.
Pricing
UpLead has very attractive pricing, especially when you consider their email database's accuracy level. At just $99 per month, you get 170 credits for a single user, CRM integration, the Chrome Extension, and more.
For $199 per month, you get 400 credits in a single user account, plus extra features like data enrichment, access to technographic data, and much more.
Finally, for $399 per month, you get 1,000 monthly credits for a team of up to five users, plus full API access, competitor intelligence, and more.
The best part?
There are no contracts, no "annual deals." Just pick the plan you need and pay as you go.
What makes UpLead a top choice as an email checker tool?
UpLead is more than just an email verifier tool. On top of verifying your emails, UpLead can grow your email lists and help you segment the data you already have with enriched information.
Try UpLead for free today and start verifying emails and growing your list.
Start Your 7-Day Free UpLead Trial
Lead generation doesn't have to be all that painful. With UpLead, you can easily connect with high-quality prospects and leads to grow your company.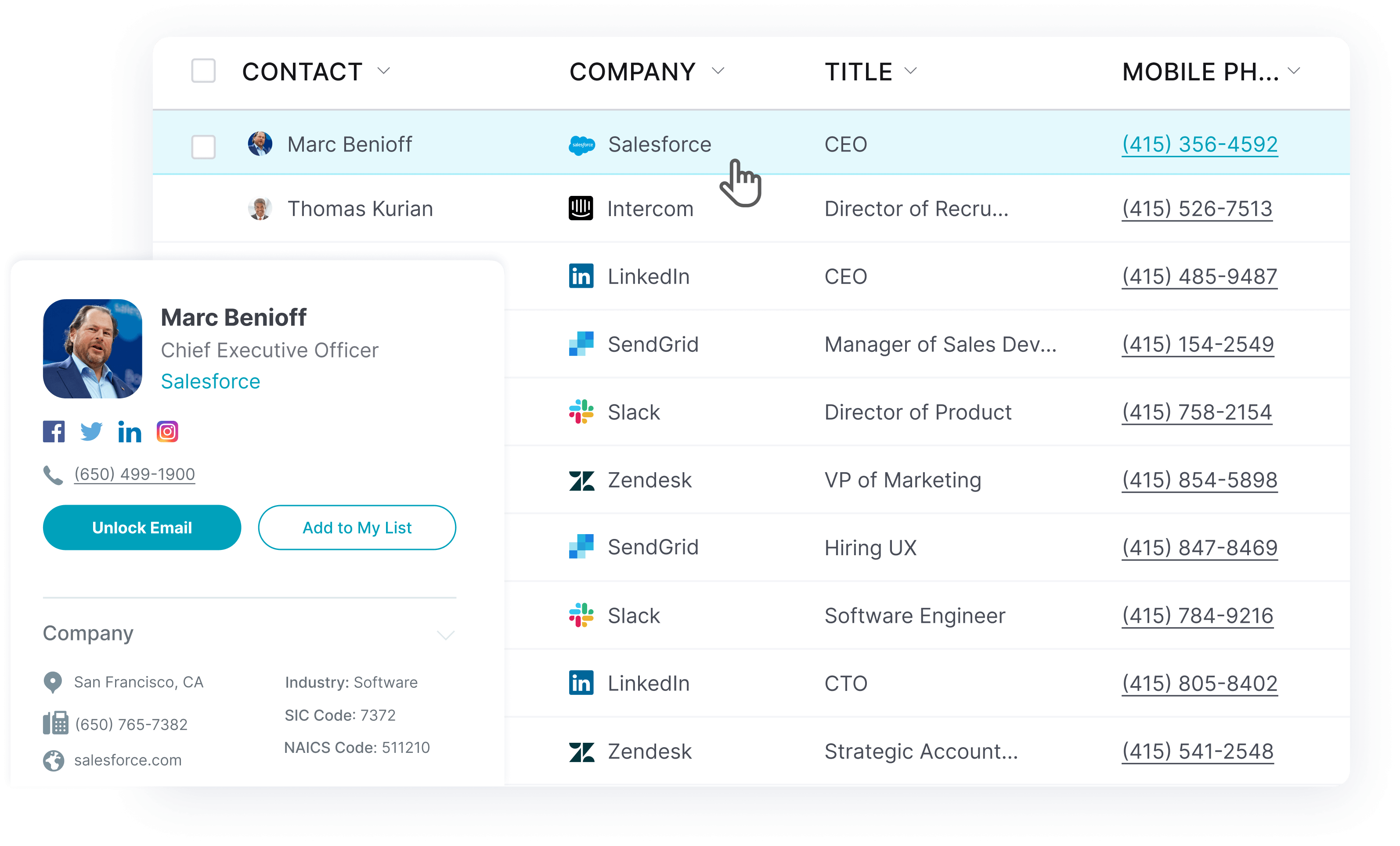 2. Bouncer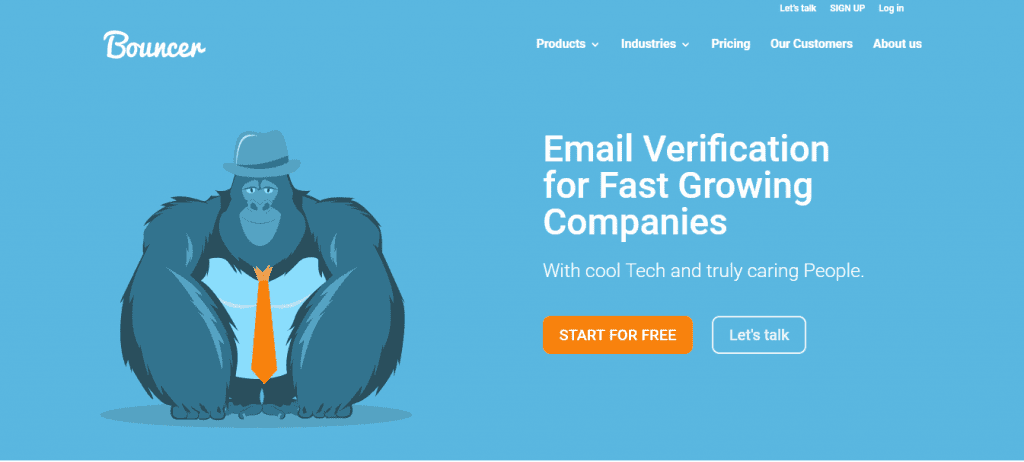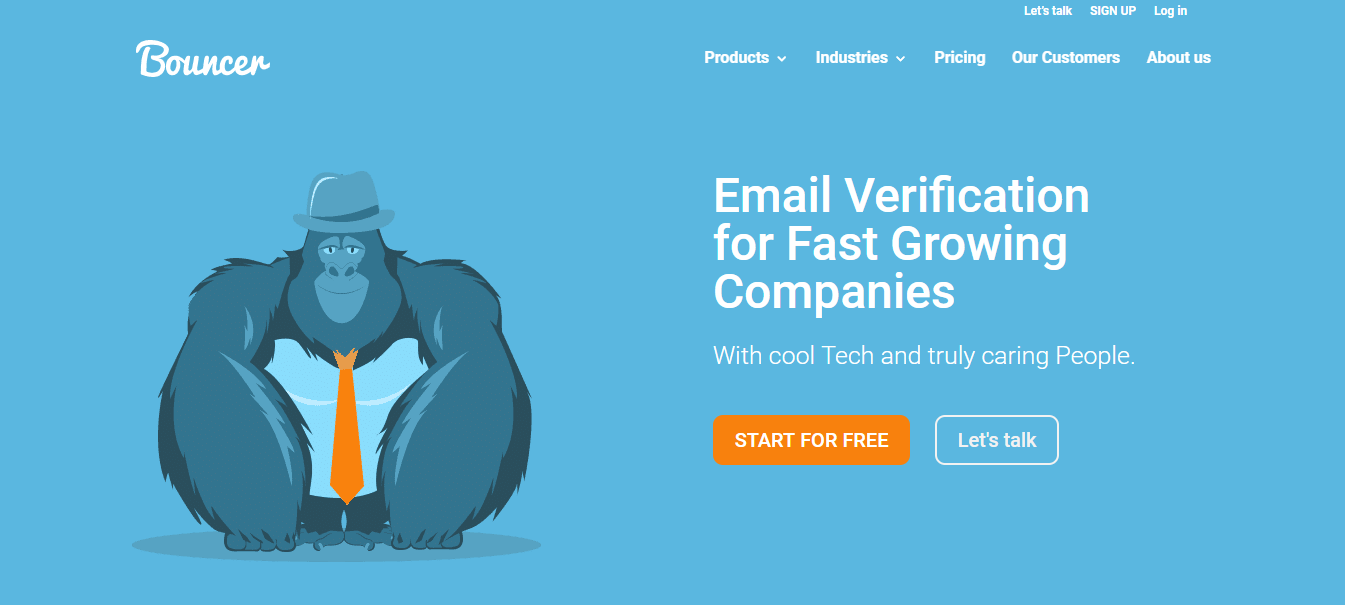 Bouncer is an email verifier tool made to help users decrease their bounce rates and improve their deliverability rates.
Besides verifying emails, this tool also catches typos to prevent users from losing an email address due to a finger slip.
Main Features
Here are a few of Bouncer's main features:
Inexpensive platform
Good customer support reviews
Multiple integrations
Pricing
Bouncer follows a pay-as-you-go model, where users can pay for the number of emails they want to have verified. The price per verified email starts at $0.005 for 1,000–4,000 emails and goes down to $0.001 for a million or more emails.
What we like about Bouncer's email verification tool
Bouncer's simple email verification tool allows casual users to quickly upload and verify their email lists without too much trouble.
3. DeBounce.io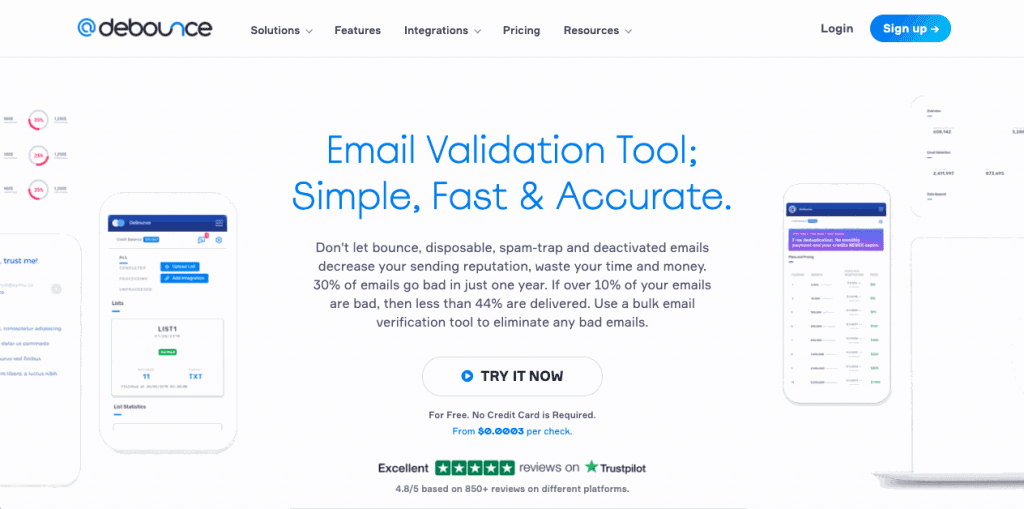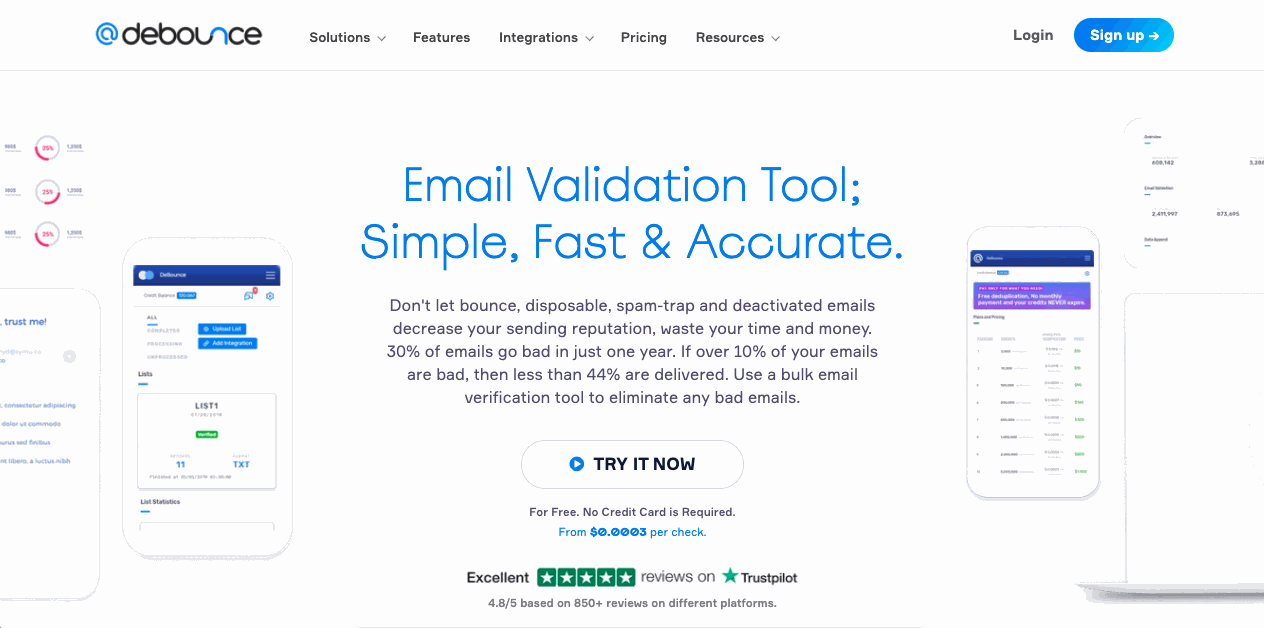 DeBounce.io is another email verification tool that prevents users from getting hard bounces, getting caught in spam traps, or ending up with invalid emails.
The platform features a syntax eliminator and email deduplication that automatically removes double or invalid emails and quickly cleans email lists. Users also get access to anti-greylisting technology that simulates an email engine to reduce the number of unknowns.
DeBounce.io also features a simple UI and affordable pricing.
Main Features
Here are some of the best features of DeBounce.io:
Access to advanced features
Email verification API
Simple email list cleanup tools
Pricing
DeBounce costs $10.00 for 5,000 verifications, placing it at $0.002 per verification. Prices go down to $0.0003 per verification when paying $1,500 for 5 million verifications.
What we like about DeBounce's email verification tool
DeBounce provides email list validation at affordable prices, especially for anyone looking to verify large email lists.
4. Email Hippo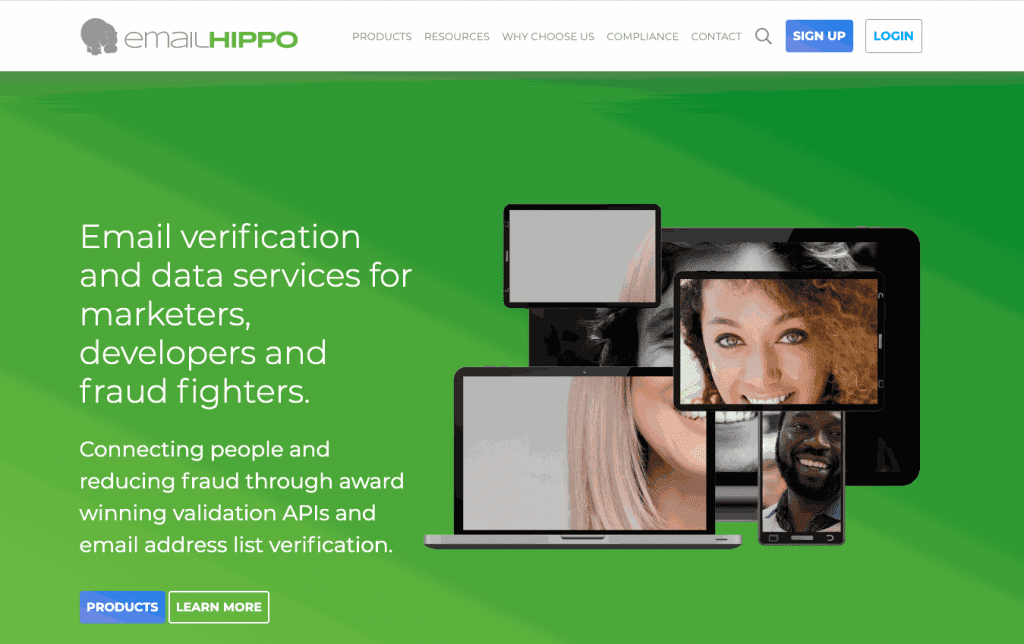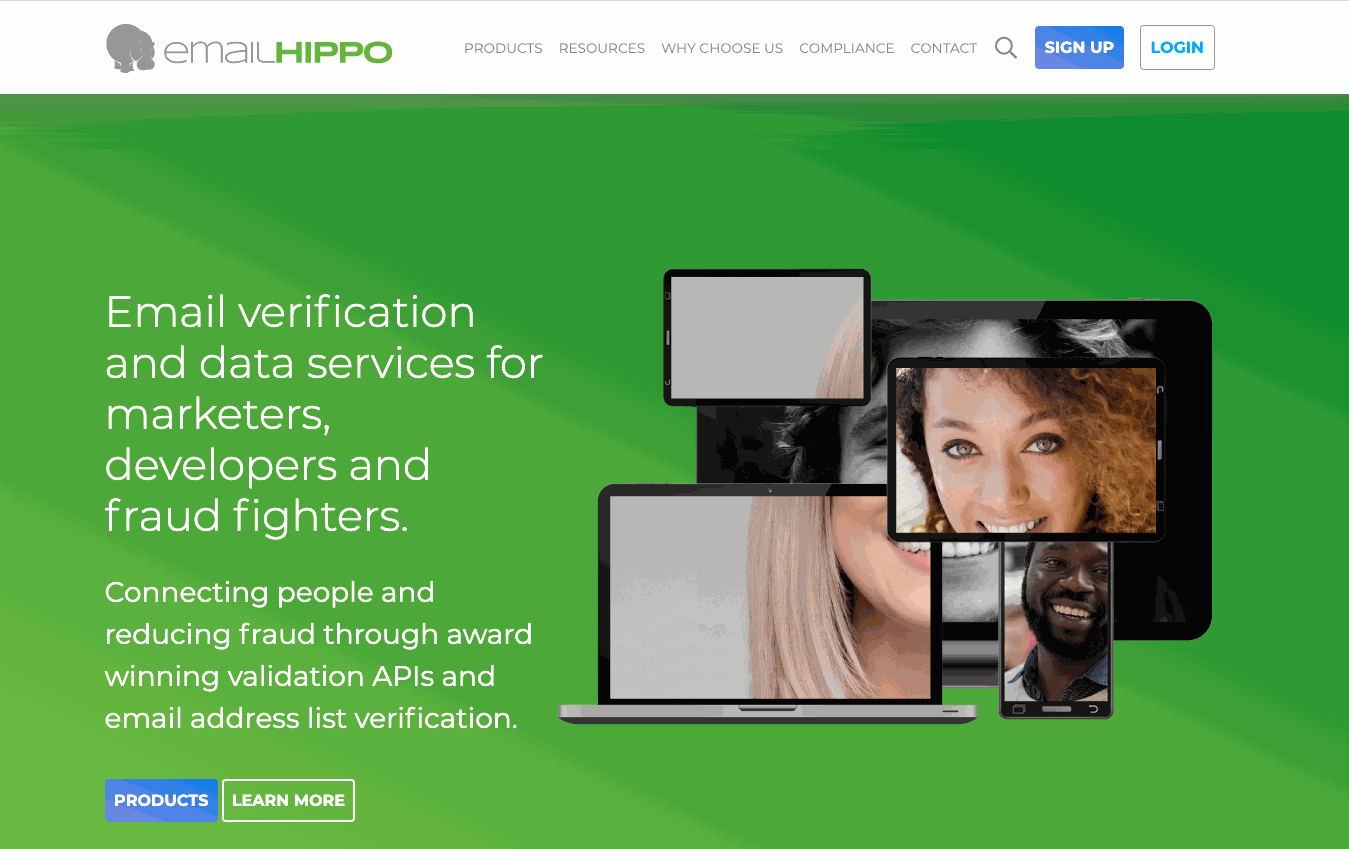 Email Hippo is another fast and accurate email verifier tool, allowing users to check a list of up to half a million emails at a time.
This tool also gives users access to its API to verify emails in real time, helping ensure all emails going to an email list are validated. Users will enjoy a highly secure platform as Email Hippo became ISO27001 certified in 2017.
Main Features
Here are a few of the advantages of Email Hippo:
Providing email verification since 2000
Multiple email-validating features
Pricing
Email Hippo's pricing starts at $9.50 per month and is based on usage, although the platform also offers a free version.
What we like about Email Hippo's email verification tool
Email Hippo is good for users with a steady source of email addresses needing validation every month. It provides affordable prices to users looking for simple email verification.
5. Emailable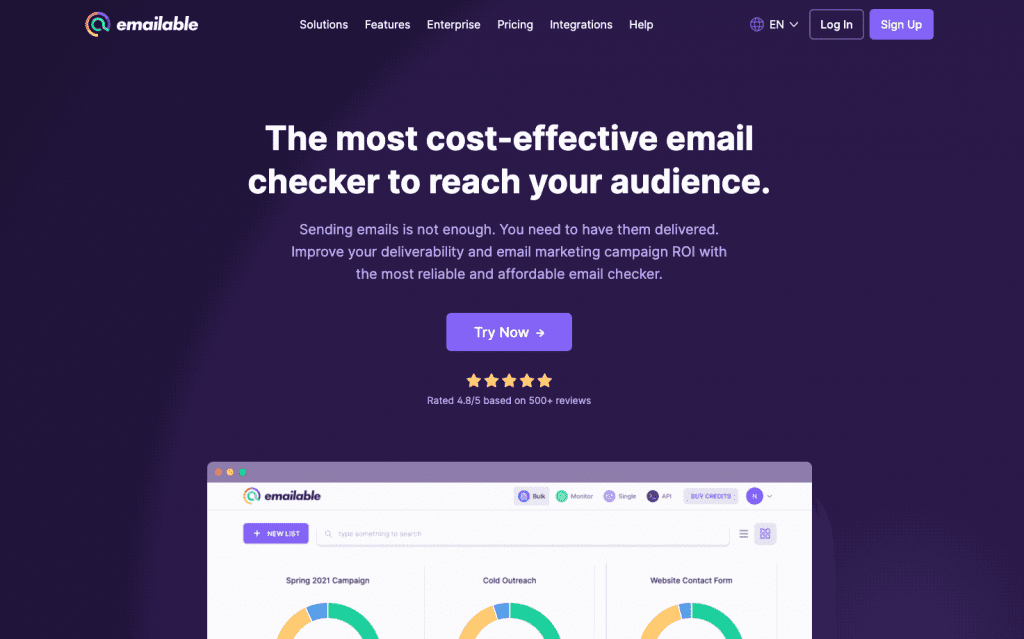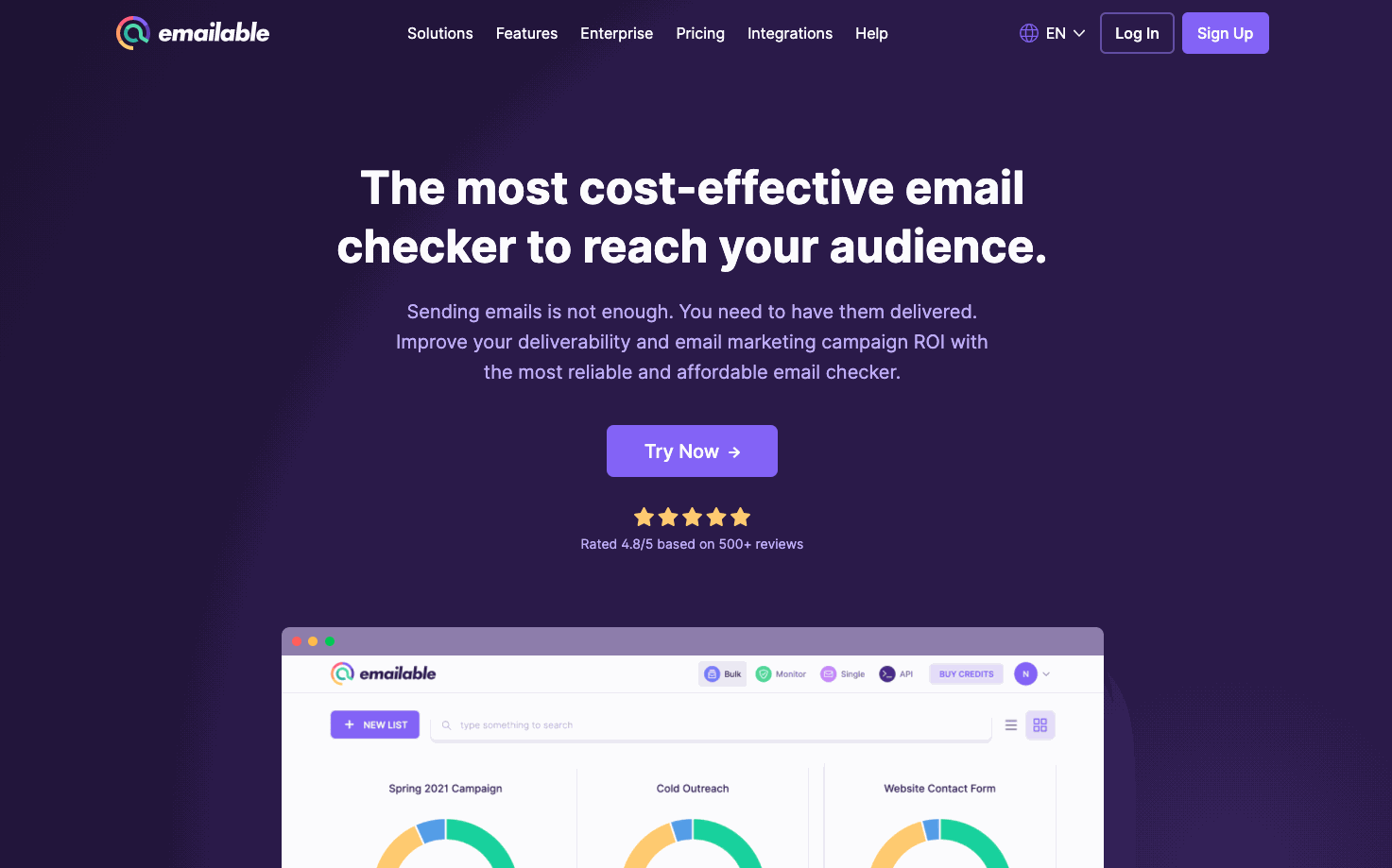 Emailable is another cloud-based email verification tool mainly used by marketers and developers to validate email lists and ensure the deliverability of email campaigns.
The platform has many email verification features, like email detection, domain check, reporting, and more. It comes with a flexible pricing system that allows users to pay as they go.
Main Features
Here are Emailable's main features:
Capable of sorting emails by category
Good for teams
Flexible pricing system
Pricing
Emailable's flexible pricing system starts at $20 per 5000 email verifications. The rest of the pricing tiers are considerably more expensive than most email verification tools.
What we like about Emailable's email verifier tool
Emailable is an easy-to-use email verification tool and a good solution for users who want rudimentary email segmentation and don't mind paying more than average for a streamlined platform.
6. HuBuCo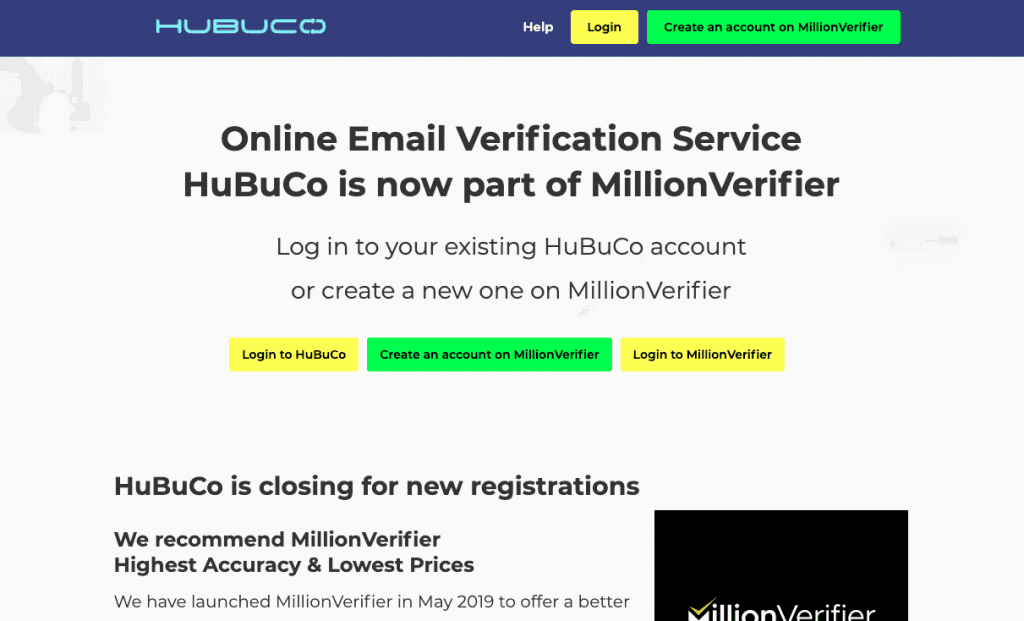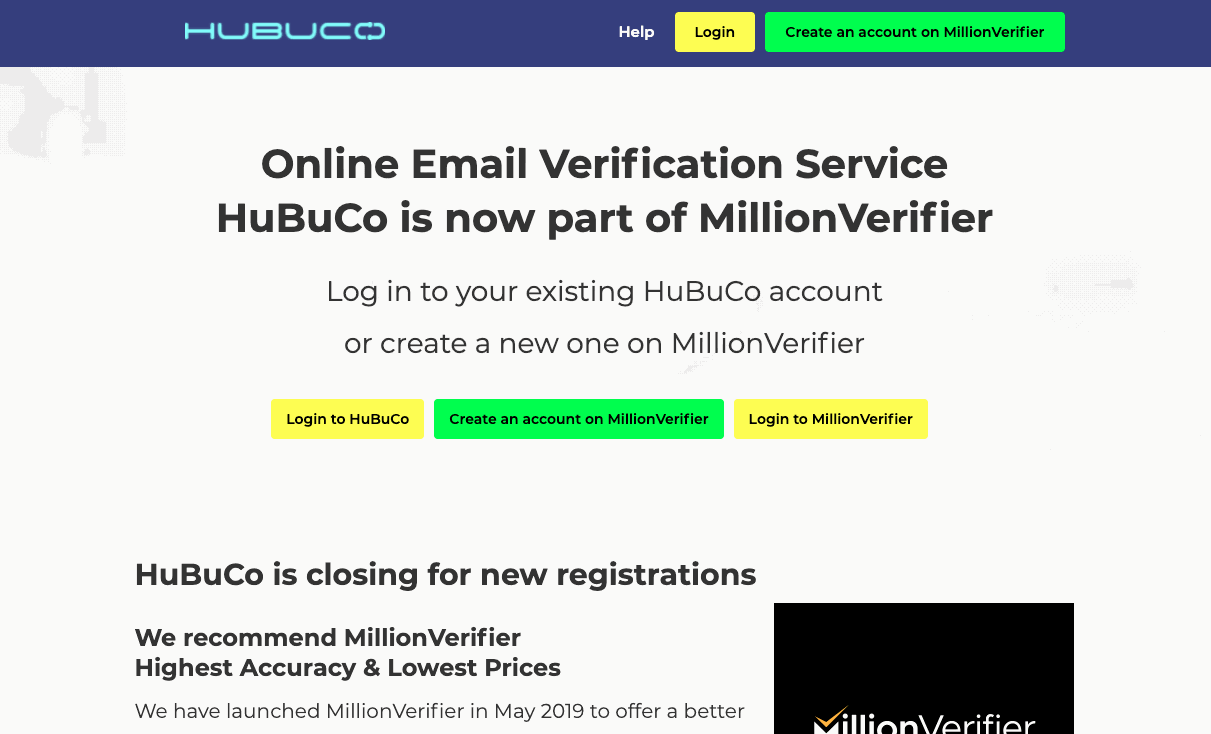 HuBuCo offers bulk email verification and a real-time email verification API to help users maintain a clean and valid email list.
Unlike other solutions listed here, HuBuCo offers a free email checker, allowing users to upload up to 100 daily email addresses to the email verifier free of charge. The tool also allows users to contact live customer support to help them through any issue.
Main Features
Here are a few of HuBuCo's main features:
Real-time email verification through its API
Contact management features
Email tracking capabilities
Pricing
Besides the free email verifier features, HuBuCo offers pricing that starts at $7.05 for a one-time payment. From there, users can access other more affordable plans for larger email verification needs.
What we like about HuBuCo's email checker tool
HuBuCo's free email verifier is perfect for anyone who doesn't need to verify more than 100 emails per day.
7. Mailgun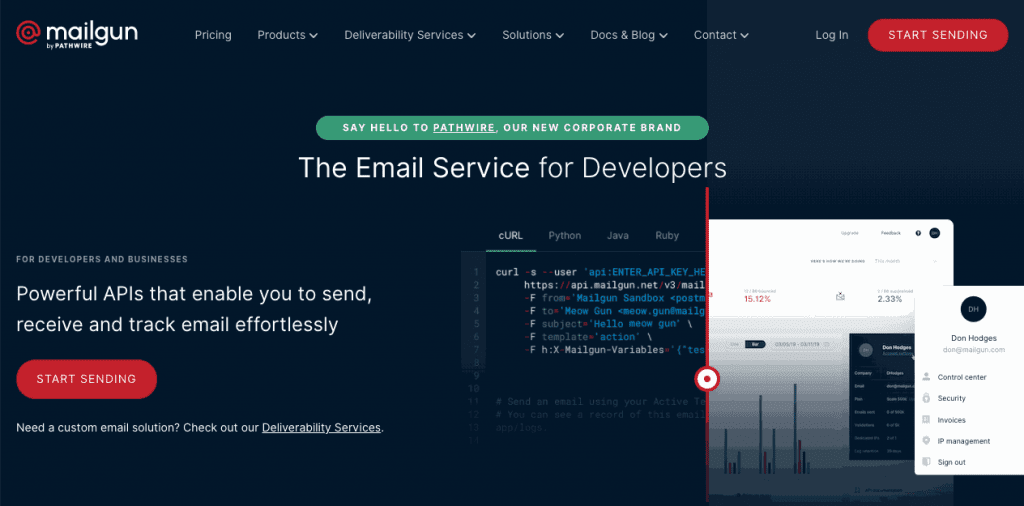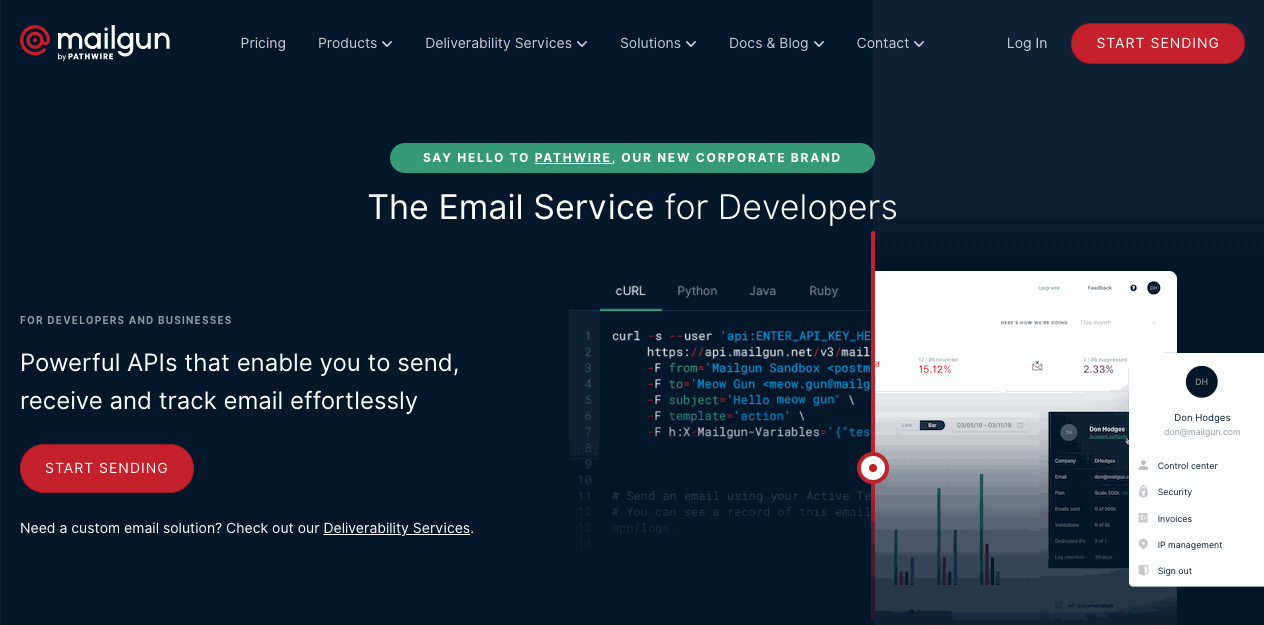 Known as the "email service for developers," Mailgun is a fast-growing bulk email verifier tool. Although the platform recently removed the forever-free email verifier features, it is still the leading email verifier for developers.
This tool allows users to send emails, improve deliverability, and access powerful analytics to use data-driven decisions to improve email marketing efforts.
Main Features
Here are Mailgun's main features
Email verification made for developers
More than just an email validator
Powerful data analytics
Pricing
Mailgun offers a very attractive free trial that includes 5,000 free monthly emails for 3 months. Paid plans start at $35 per month for up to 50,000 monthly emails, all the way to $90 per month for 100,000 emails.
What we like about Mailgun's email verifier
Mailgun is an attractive solution for any developer looking for an API first on an email verification tool.
8. Melissa Lookups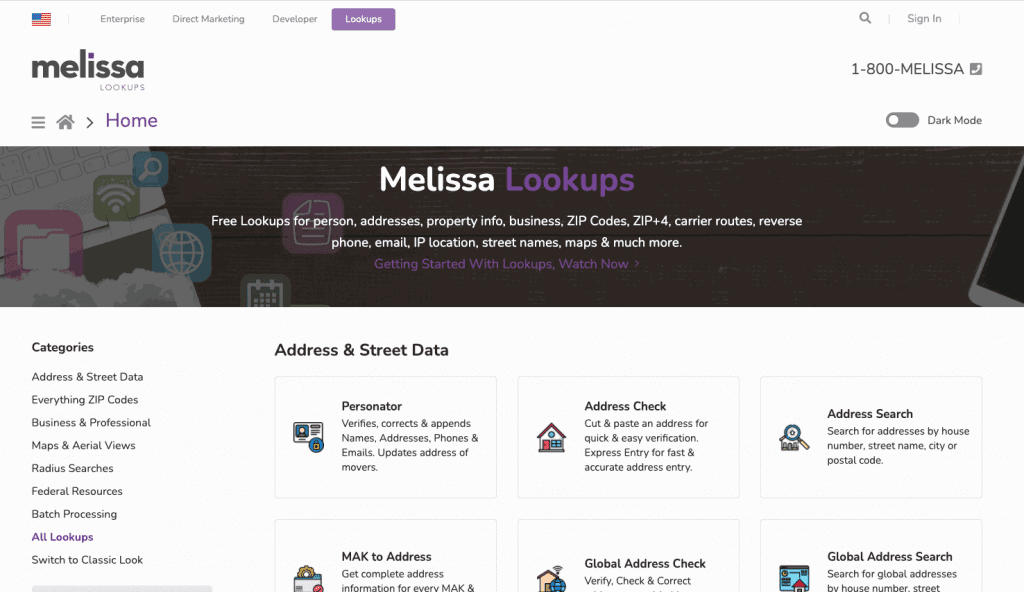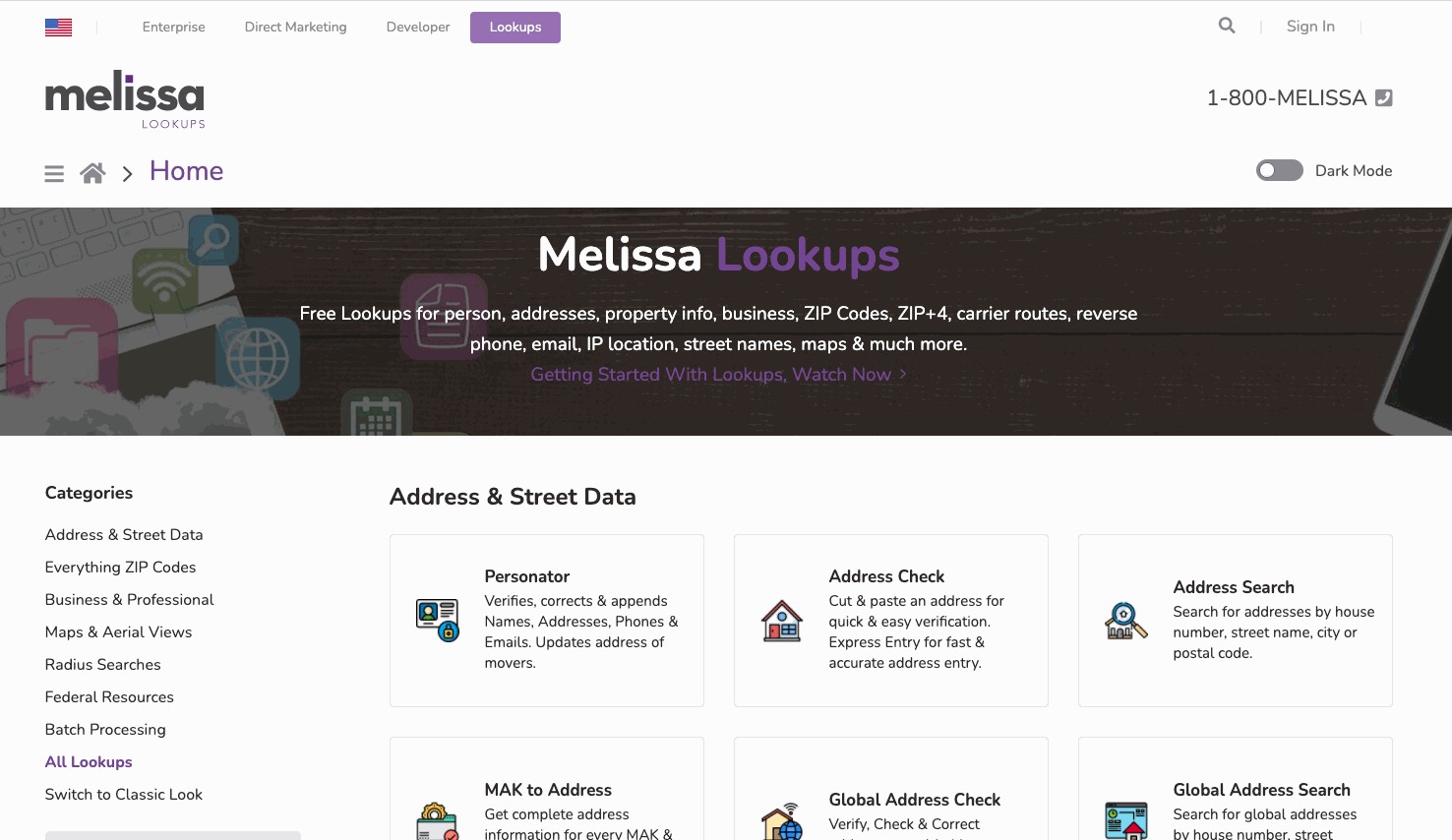 Melissa Lookups is a free tool to help users find information about a person, such as their phone number, IP location, and email address.
This email verifier allows users access to the Global Email Check Tool to verify emails and gives users 1,000 free monthly credits. The platform can be accessed from Android and iPhone devices, offering a deliverability confidence score.
Main Features
Here are Melissa Lookups' email verification tool's main features:
Capable of data enrichment
Multiple data sources
1000 free monthly lookups
Pricing
Melissa Lookups' pricing starts at $3 for 1,000 credits, although each credit doesn't represent one email address. Instead, Melissa Lookups has a complex price-per-lookup system that makes the whole email verification cost unclear.
What we like about Melissa's email verification tool
Melissa Lookups can do more than email verification, allowing users to populate their email lists with user data.
9. NeverBounce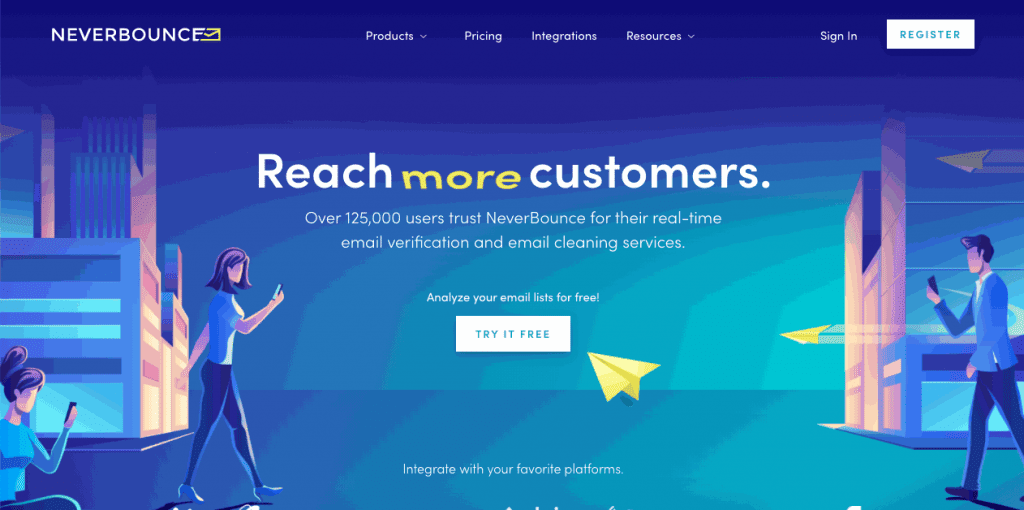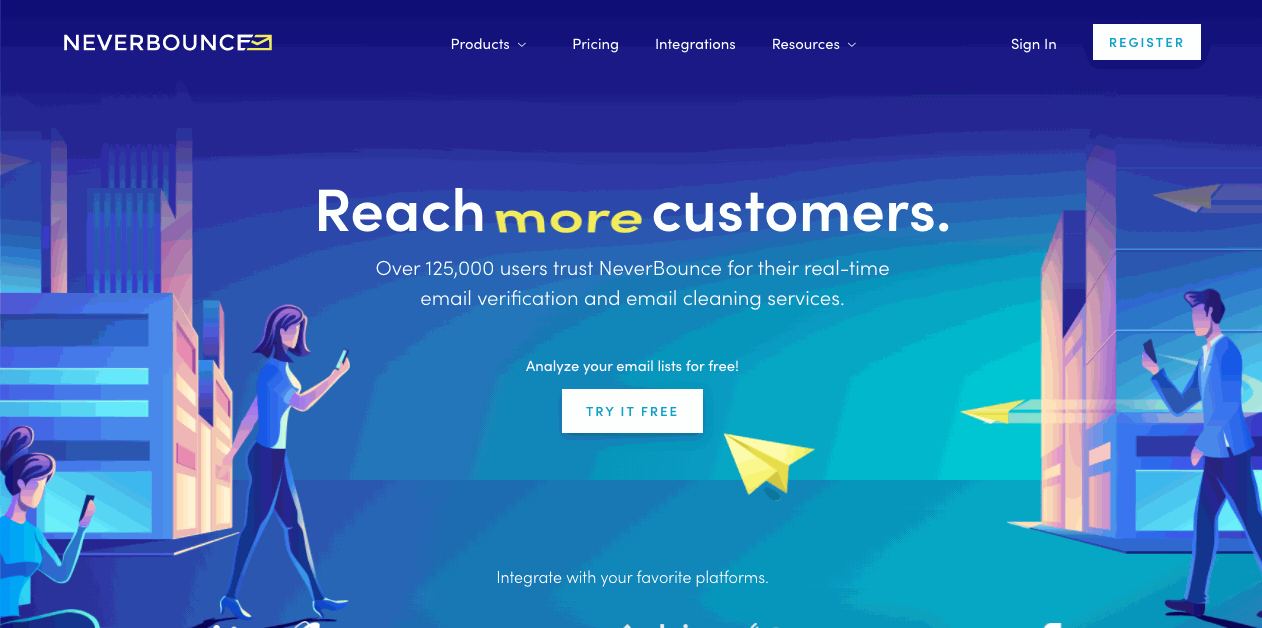 Launched in 2014, NeverBounce is used by clients like Uber, Dell, and the Harvard Medical School to verify emails quickly and improve deliverability.
With NeverBounce, users can quickly verify emails individually or in bulk. The platform also offers up to 1,000 free email verifications per month and has over 80 integrations, including Zapier
Main Features
Here are NeverBounce's main features:
1,000 free verifications per month
Well-positioned platform
API for developers
Pricing
NeverBounce has a pay-as-you-go or Sync option when it comes to pricing. The pay-as-you-go option is very simple, with four tiers going from a price per email of $0.008 for up to 10,000 emails to $0.003 for up to 1,000,000 emails.
What we like about NeverBounce's email verification tool
NeverBounce's simple pricing and strong market presence make it good for casual users looking for free email verification services and larger companies prioritizing simple user experience over cost.
10. Proofy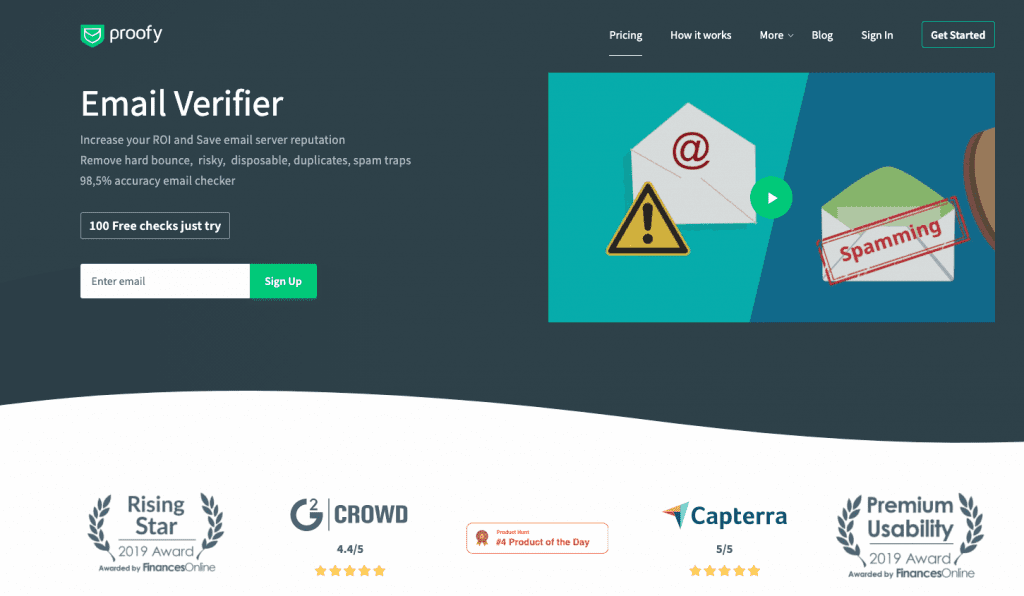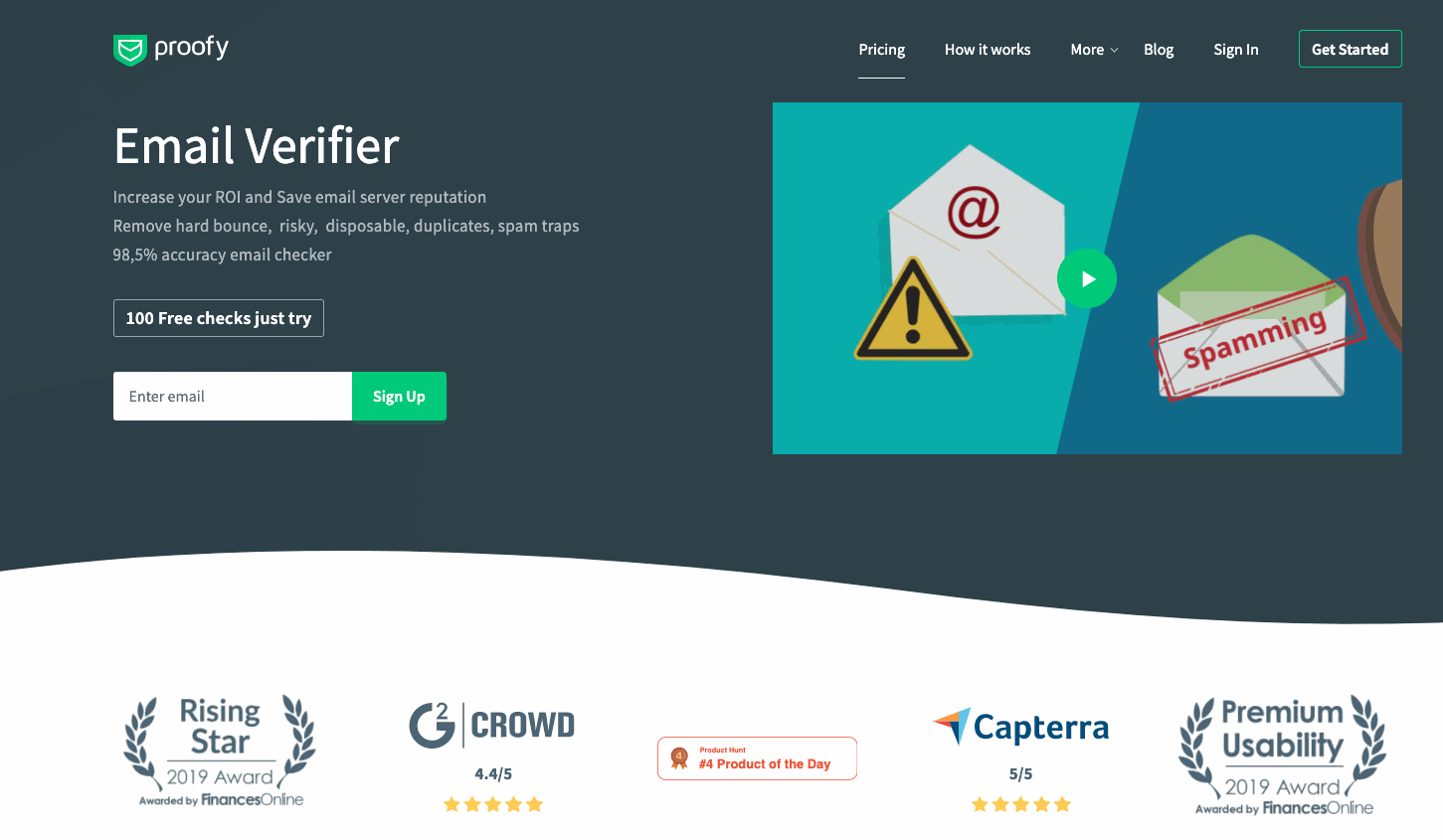 Proofy is another email verifier that offers real-time processing, email deduplication, and multiple other email list cleanup features.
Built for email bulk verification, Proofy claims to have a deliverability rate of up to 98.5% and comes with 100 free checks and affordable one-time payments.
Main Features
Here are Proofy's main features:
Built for bulk email verification
Offers up to 98.5% deliverability
Limited free email verification capabilities
Pricing
Proofy offers 100 email verifications for free, with pricing starting at $16 for 5,000 emails and topping out at $99 for 50,000 emails.
What we like about Proofy's email verifier
Proofy's cloud-based email verifier has multiple useful features, although it will be most attractive for users looking to validate large quantities of email addresses.
11. Socure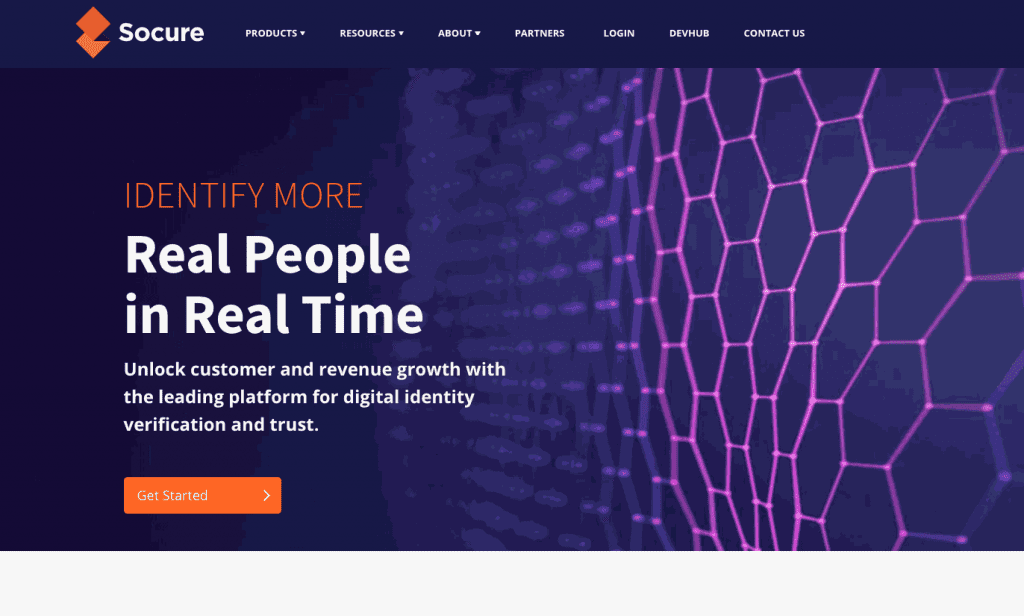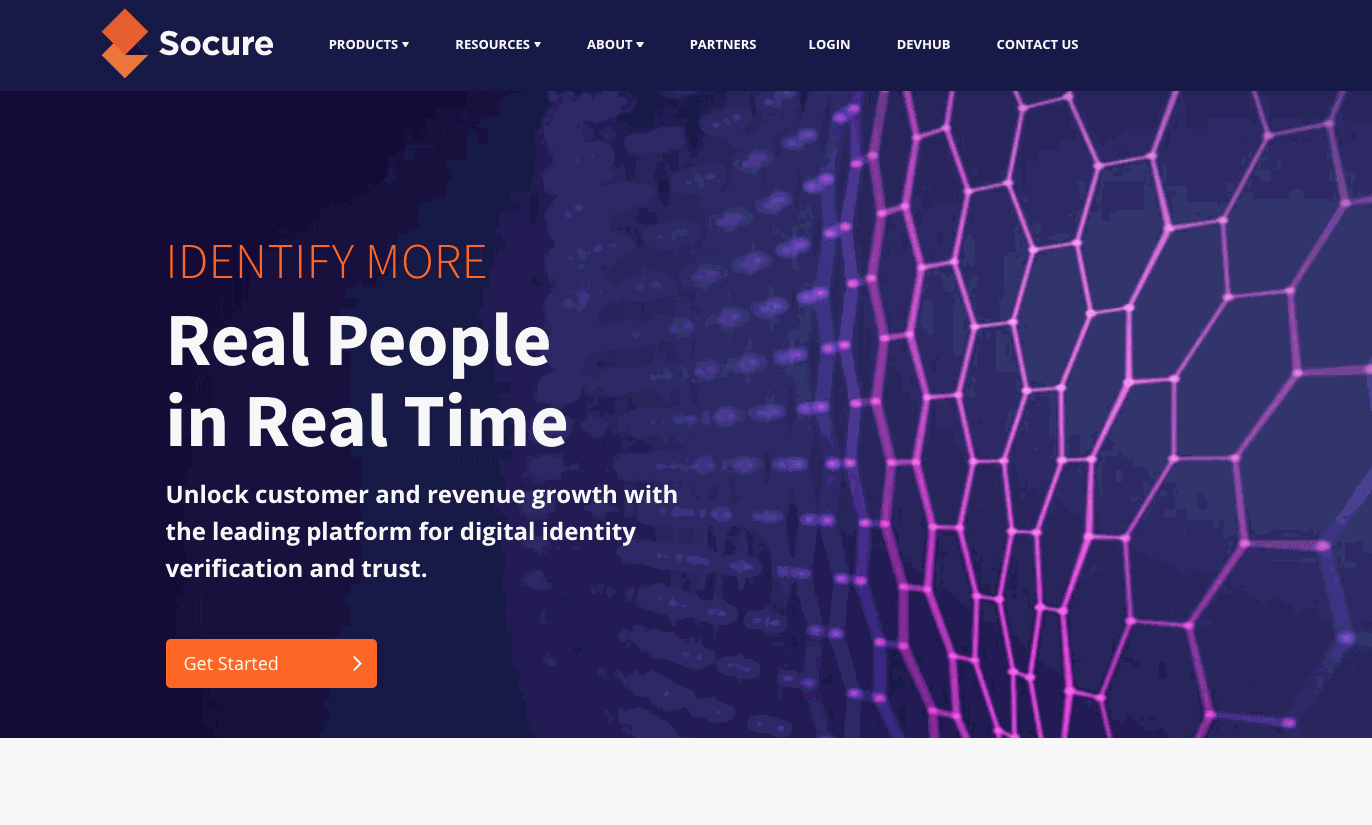 Socure is an identity verification and trust platform with predictive analysis and machine learning techniques to verify email addresses and other data points.
Geared to large companies with expensive leads, Socure's award-winning platform focuses on fully-fledged digital identity verification, not just email addresses.
Main Features
Here are Socure's main features:
Powerful identity verification capabilities
Advanced verification features
Can prevent identity fraud risks
Pricing
Socure's pricing is not publicly available, forcing users to contact the sales department for a quote.
What we like about Socure's email checker tool
The identity verification features of Socure make it attractive to businesses with highly valuable customers, where one lead's valid identity can make a big difference.
12. Verifalia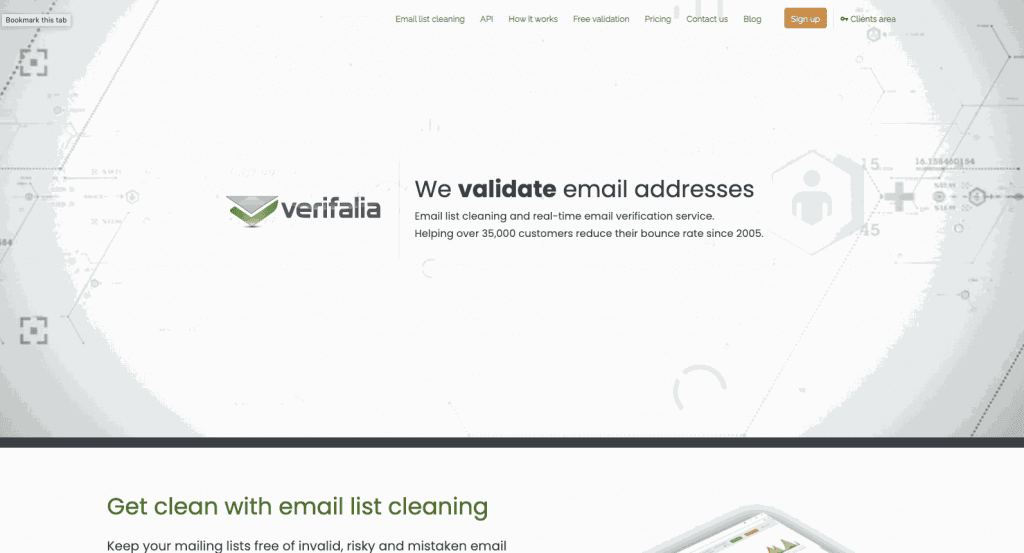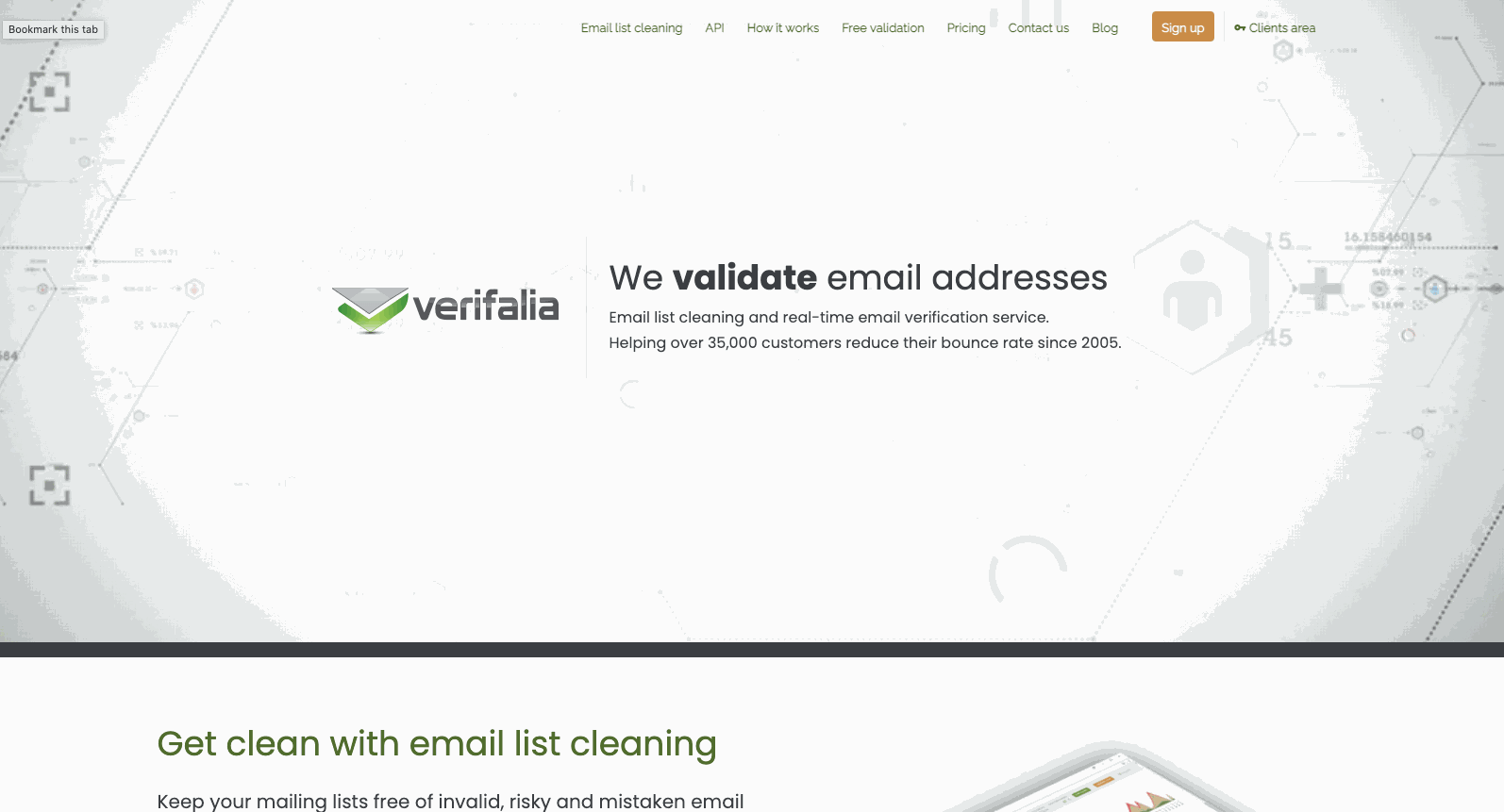 Verifalia is another trustworthy email validation service made to help users clean up their email lists.
This straightforward tool allows users to upload their emails to get them validated. The platform then cleans up the email list, getting it through advanced syntax verification and allowing users to validate Yahoo! mailboxes.
Main Features
Here are some of Verifalia's main features:
Bulk email verification
Real-time email verification with its API
Unlimited email validation without signup
Pricing
Verifalia provides 125 free validations without any signup. Paid plans start at €7.90 per month for 250 daily validations and range up to €439 per month for 250,000 validations.
What we like about Verifalia's email verification tool
Verifalia's email verifier tool will be attractive for users with a need for no more than 125 validations per day since they'll be able to use it for free.
FAQ about Email Verification Tools
Here are answers to common questions about email verifier tools:
What is an email verifier?
An email checker verifies that an email address exists, removing invalid email addresses from email lists and ensuring all email addresses belong to a real user.
How do email verification tools work?
Email verifier tools use multiple methods to automatically check all email addresses in a list to ensure there are no disposable email addresses, spam traps, or invalid email addresses.
Some tools check the syntax, automatically removing any email address that isn't written properly. Other tools check MX records and verify email addresses through technical tests to remove all invalid email addresses from a mail server.
Why is it important to verify email addresses?
Verifying email addresses removes any invalid email addresses and prunes all addresses coming from disposable email providers and spam traps. This ensures a low bounce rate and can improve deliverability.
Is it always possible to check if an email address is valid and legit?
It isn't always possible to verify if all email addresses in all mail servers are valid and legit. That's why some tools offer an index of reliability, giving the user a sender reputation level to decide whether or not to use them.
Is it possible to check if an email address is a spam address?
Email verification tools allow users to remove spam traps, verify an email address, and confirm that it comes from reliable email providers.
Are email verification tools safe?
Yes. Multiple email marketers use email verifier tools to reduce bounce rates and ensure an email address exists.
Can I check emails for free?
Yes, multiple email checkers offer users access to a free account to use their email verifier for free with limited features.
Best Email Verification Tools: Conclusion
Email checkers allow you to ensure there's not a single disposable or invalid email address in your email lists. They confirm that all addresses come from reliable email servers and ensure they all belong to actual people.
UpLead allows you to verify all your email addresses and can generate powerful leads instead of simply telling you whether an email address exists.
Start using UpLead for free today, and find out if it's a good fit for you.
Start Your 7-Day Free UpLead Trial
Lead generation doesn't have to be all that painful. With UpLead, you can easily connect with high-quality prospects and leads to grow your company.