Every B2B sales team deserves top-quality tools to help generate strong, quality leads for their business. From contact databases to account-based marketing services and more, here are the top 10 B2B Lead generation services to improve your lead generation strategies.
Quick Links:
What Are B2B Lead Generation Services?
Before diving into the top 10 services to improve your lead generation efforts, it's important to understand B2B lead generation. Lead generation services are tailored services your sales team can use to streamline and optimize finding potential customers and converting them into paying customers.
There are many lead generation companies out there, some better than others. Lead generation services can offer multiple services under one name or focus on one or two specific services. Every business' lead generation needs are different, and our list of the top 10 services below can help take your lead generation efforts to the next level.
The 10 Best B2B Lead Generation Services to Add to Your Toolbox
To kick off your next lead generation campaign, check out our list of the 10 best B2B lead generation services you can leverage today.
1. UpLead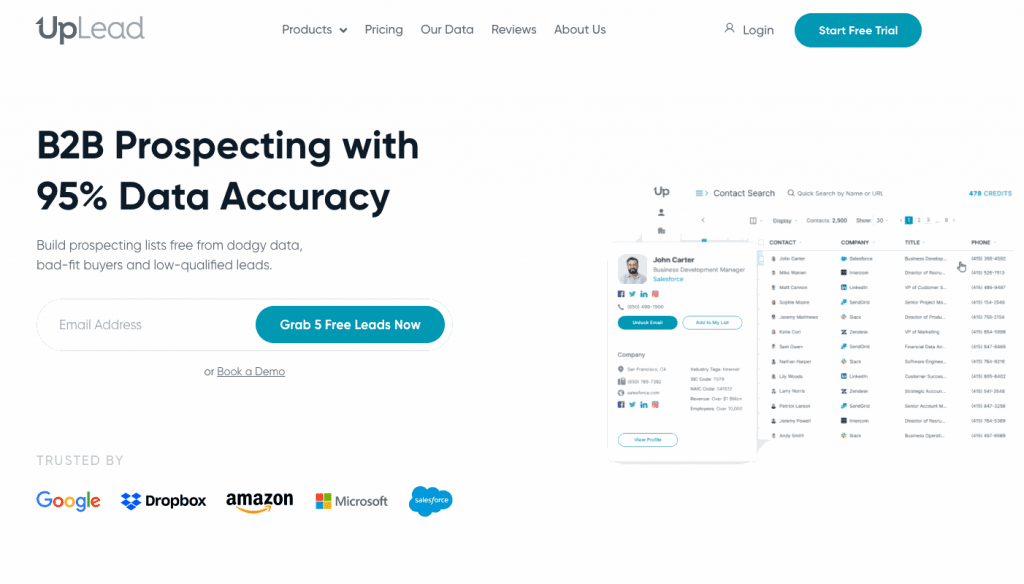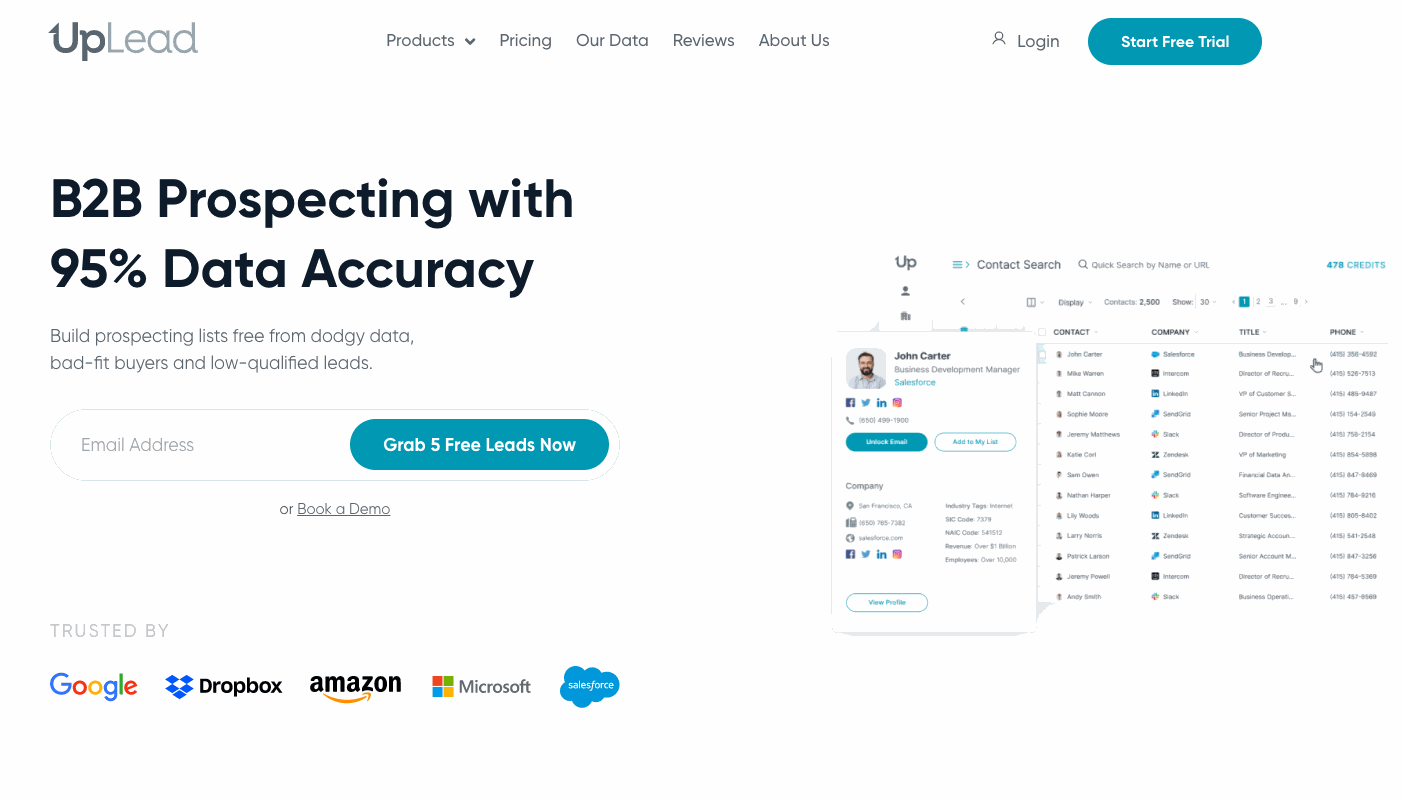 As an industry leader, UpLead offers a wide range of high-quality B2B lead generation tools. Some of their top tools are the Prospector, Email Finder, and Email Verification tools.
With the Prospector, you're guaranteed 95% data accuracy, meaning you can focus on building relationships with your contacts without worrying about having the right contact information.
The Email Finder and Email Verification tools allow for real-time capturing of accurate email addresses—no more guessing when reaching your top contacts! In addition, Uplead's straightforward pricing allows you to budget accordingly without going through lengthy pricing calls.
With features including an intuitive interface, real-time data verification, and industry-leading data accuracy, UpLead is a must-have for any lead generation team.
Start Your 7-Day Free UpLead Trial
Lead generation doesn't have to be all that painful. With UpLead, you can easily connect with high-quality prospects and leads to grow your company.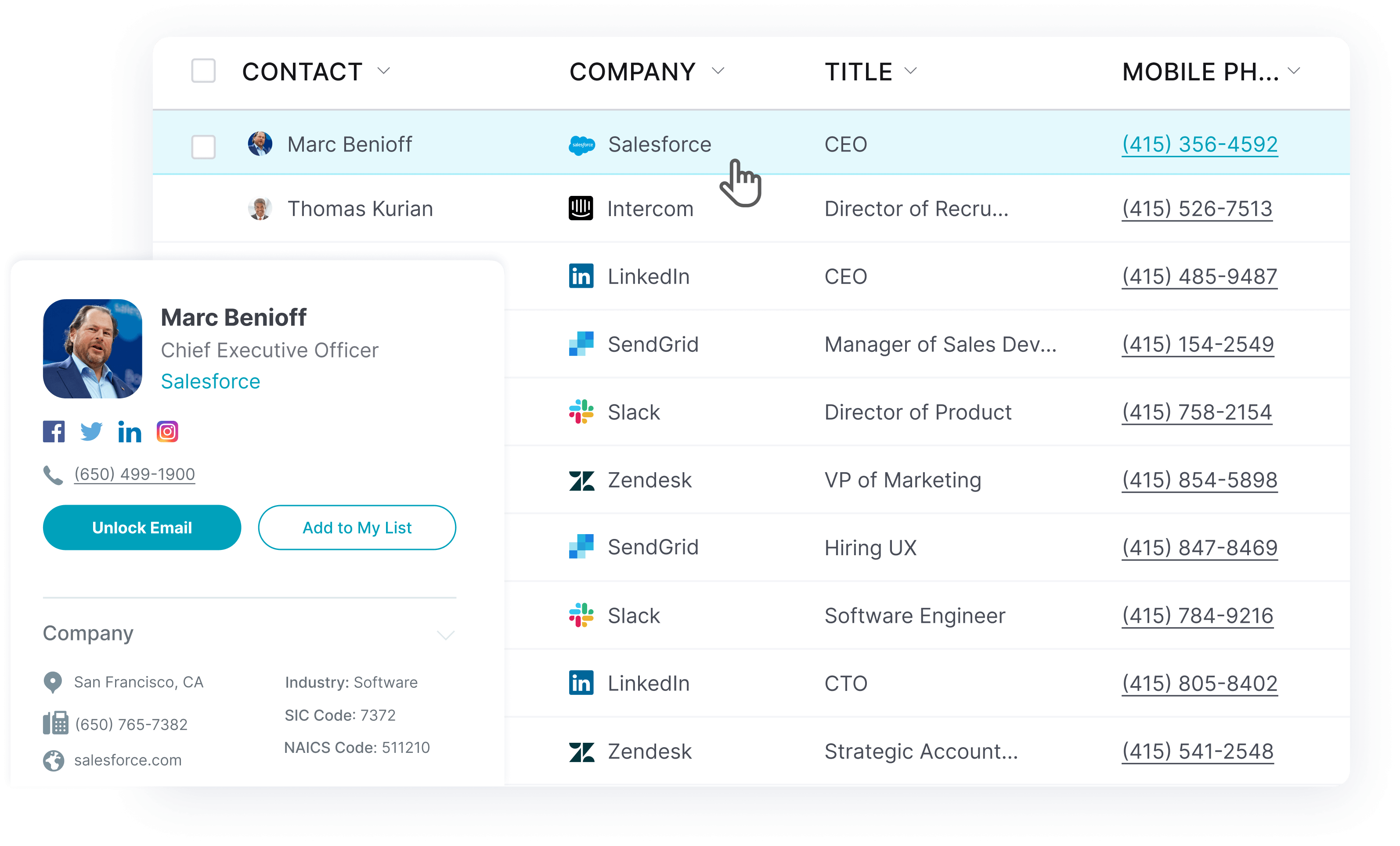 2. Callbox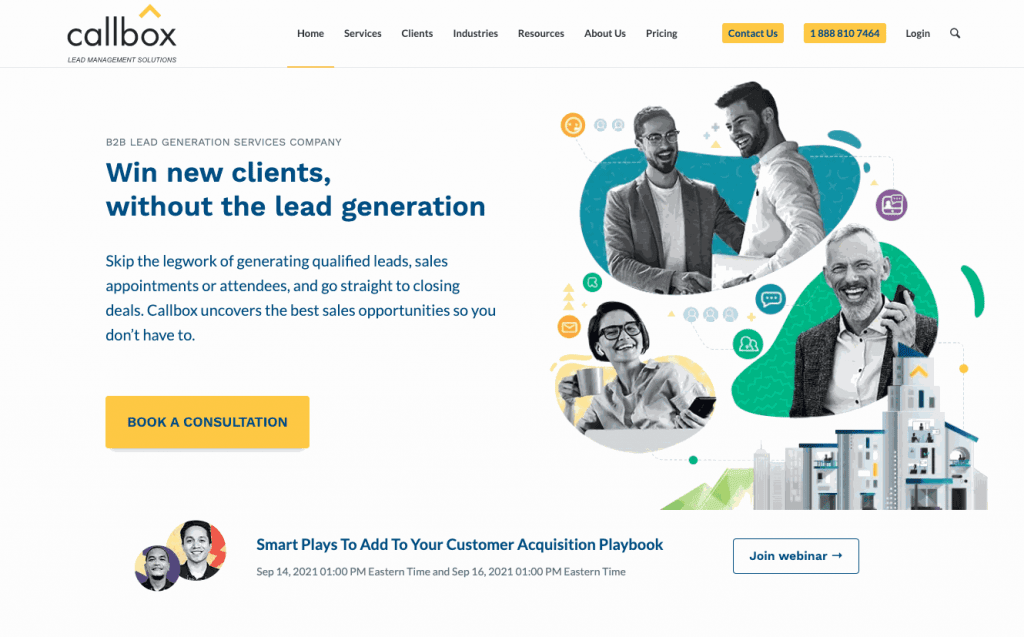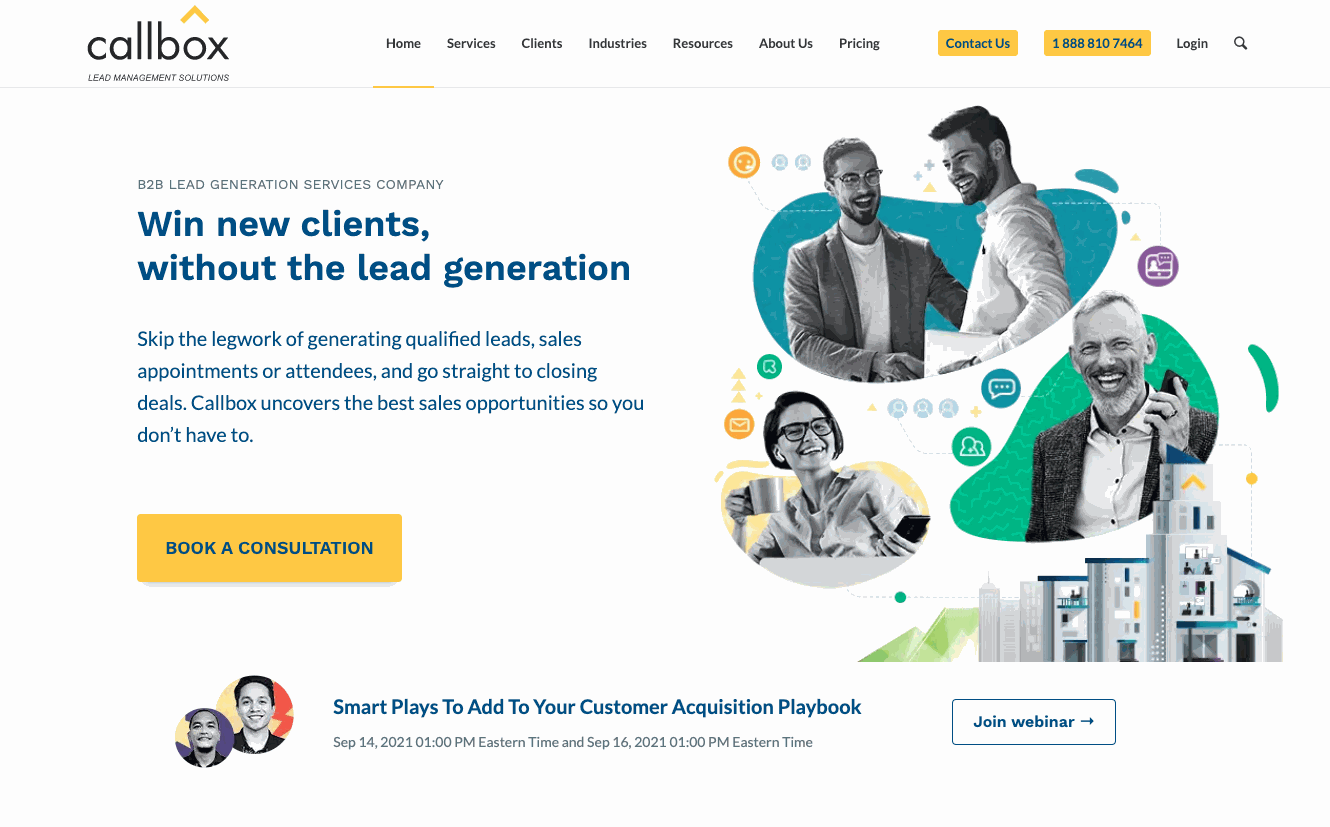 With a focus on high-quality marketing services, Callbox is a great service for outbound marketing strategies. Callbox has several services allowing you to tailor a custom-fit B2B lead generation package for your business.
This B2B lead generation service gives you the tools to quickly gather contact information and book appointments from the Callbox platform.
If you want to focus on outbound marketing, Callbox offers various services, including account-based marketing, event marketing, Webinar and virtual event marketing, and cross-border marketing.
Due to the custom capabilities of the platform, you'll need to work with their sales team on budgeting and services before getting up and running with Callbox, which may cause minor delays. However, Callbox is an excellent option for marketing-focused services that will help get your business name out there.
3. SalesPro Leads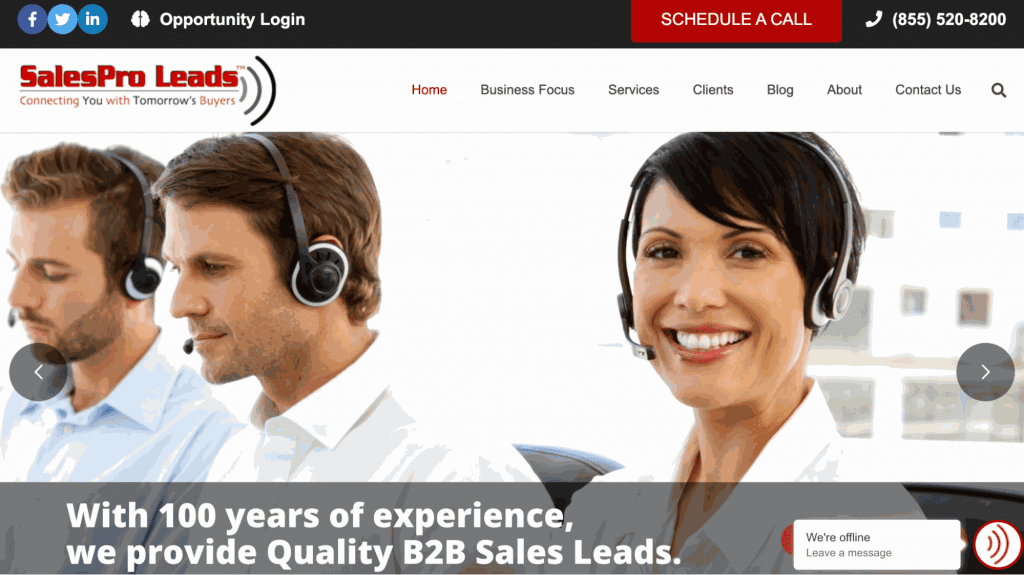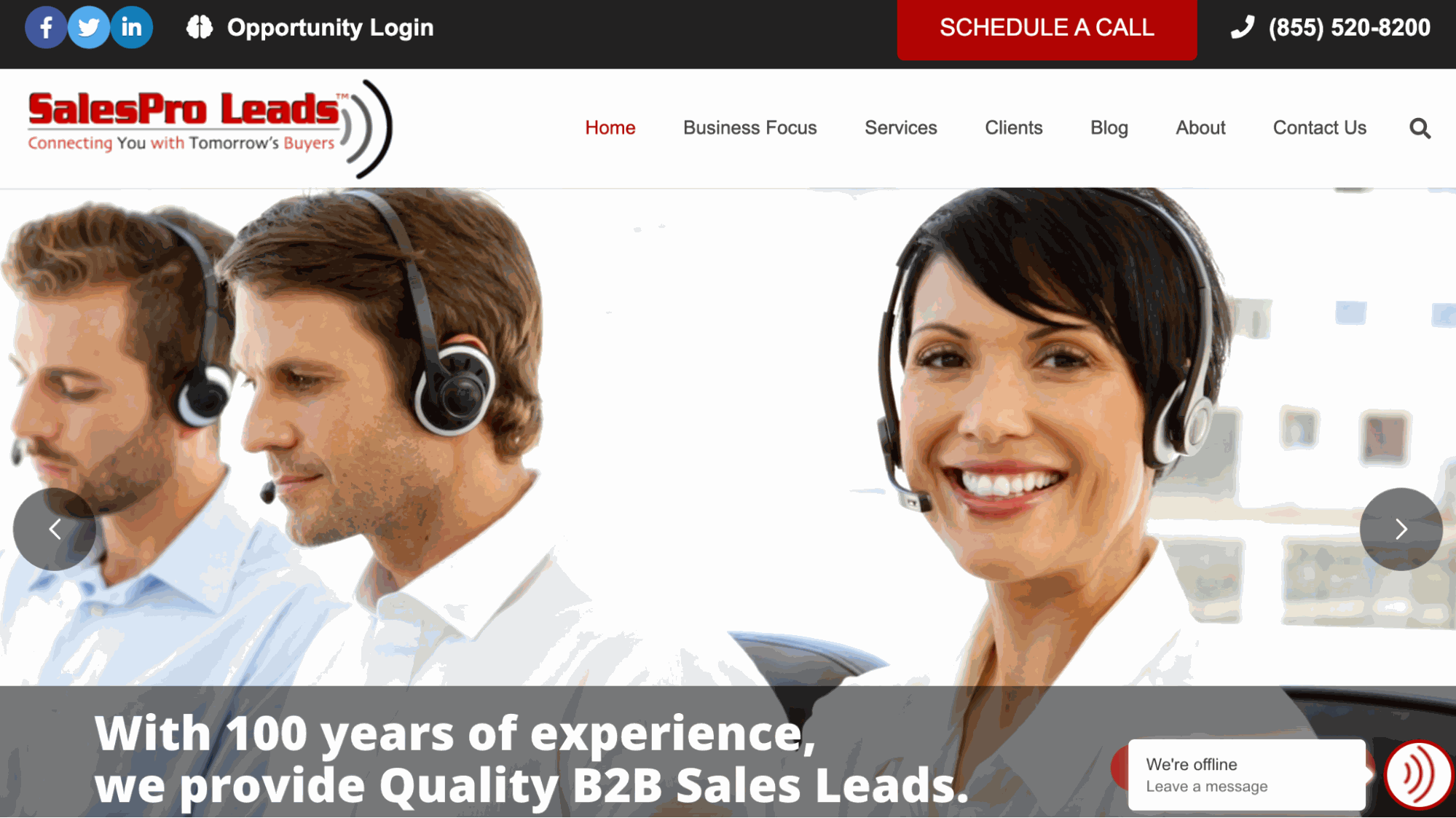 Need a fully customized B2B lead generation service? SalesPro Leads has you covered. Offering a wide range of B2B lead generation services, SalesPro Leads has powerful outbound lead generation services and an experienced team ready to help grow your business.
You can leverage appointment-setting services, account-based marketing, email marketing, and social media marketing. A dedicated account specialist will work with you and your team to build a custom service solution to maximize your lead generation efforts. 
Suppose you're looking for a quick setup to start accessing tools today. In that case, this may not be the service for you. Because each service package is fully customized to each business, you'll need to schedule a consultation with SalesPro Leads before accessing any tools and platforms.
4. CIENCE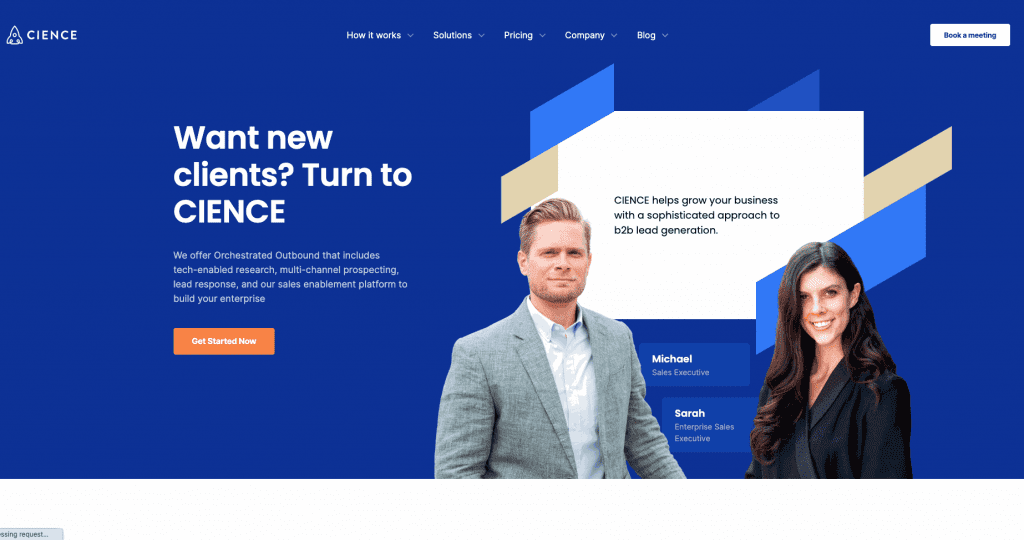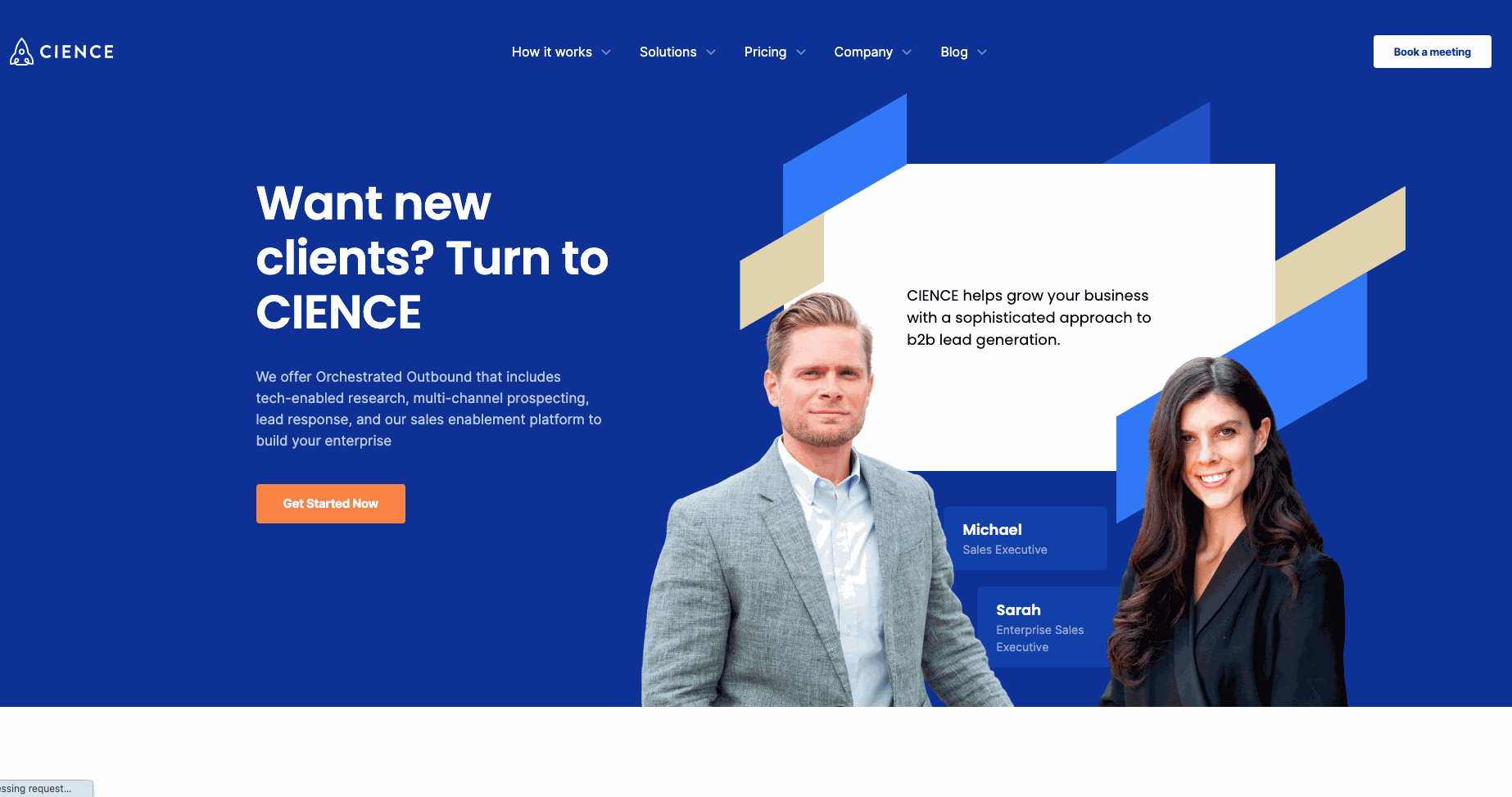 Marketed as a People-as-a-Service business, CIENCE pairs your business with a skilled SDR (sales development representative) team dedicated to growing your business and generating high-quality leads.
Each team comes with a researcher and SDR completely aligned with your business, which means you'll get a high-quality team whose only focus is your business' success.
CIENCE takes the hard work out of prospecting, allowing your business to focus on nurturing customer relationships. CIENCE leads with a unique people approach, which is a refreshing take on B2B lead generation.
Although each package is customized, you can get up and running with a dedicated lead generation team in as little as 10 days. Check out the ROI calculator to see how CIENCE can help your business grow while saving money on lead generation efforts! 
5. Upcall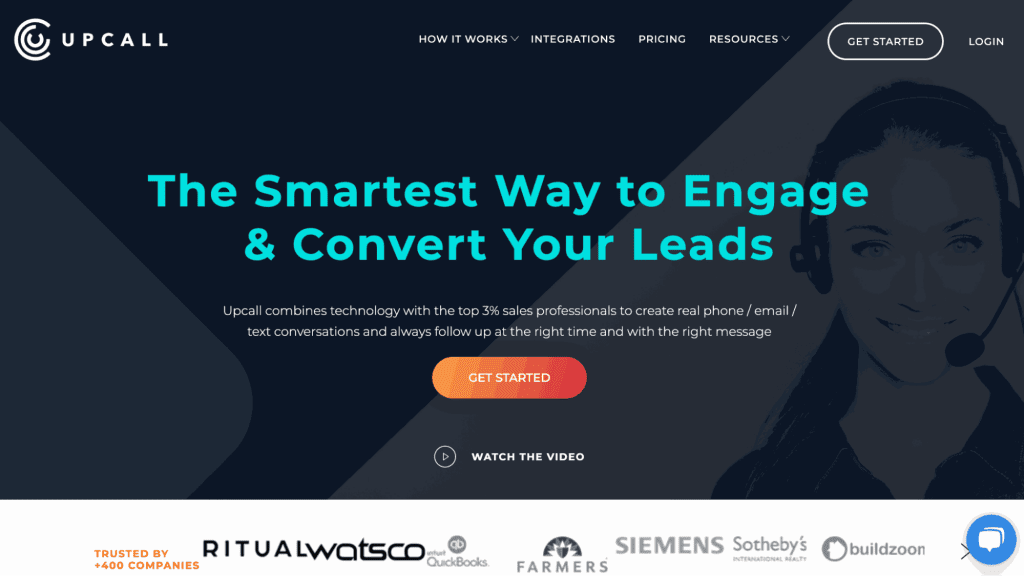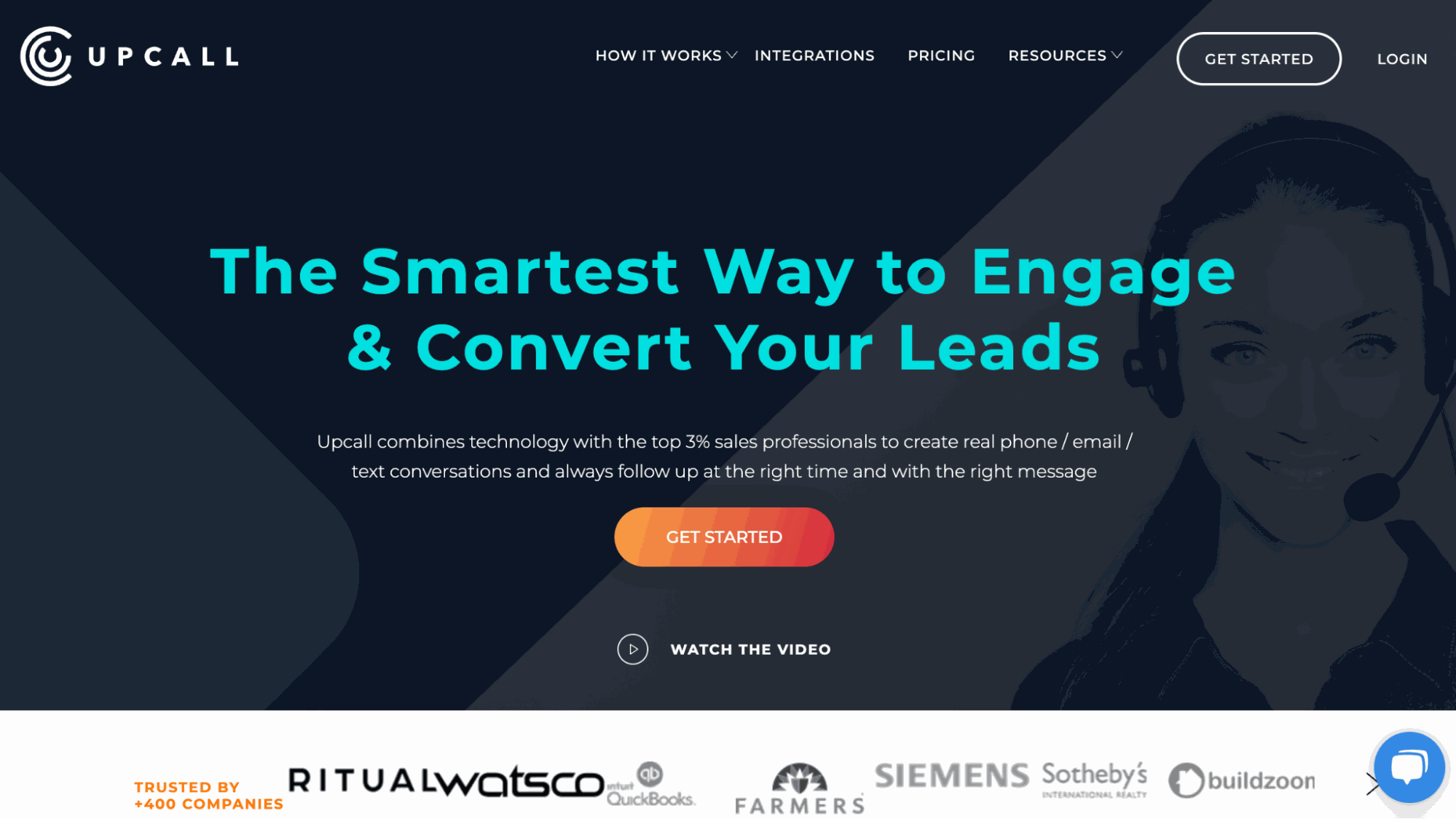 Upcall is a powerful platform that offers outbound call center marketing services. If you need a dedicated team to contact your prospects, look no further than Upcall.
Their unique platform integration allows you to sync your leads and CRM platform with Upcall. The Upcall team then contacts your prospects with proven scripts designed to maximize close rates.
Ideal for high-volume contact targets, Upcall is an excellent option for teams that don't have the capacity for consistent calls throughout the day. Proven contact scripts and a dedicated call center team can significantly impact growth.
While a call center-focused platform may not be relevant to all businesses, Upcall is a must-have for any business looking for a dedicated outbound team.
6. Belkins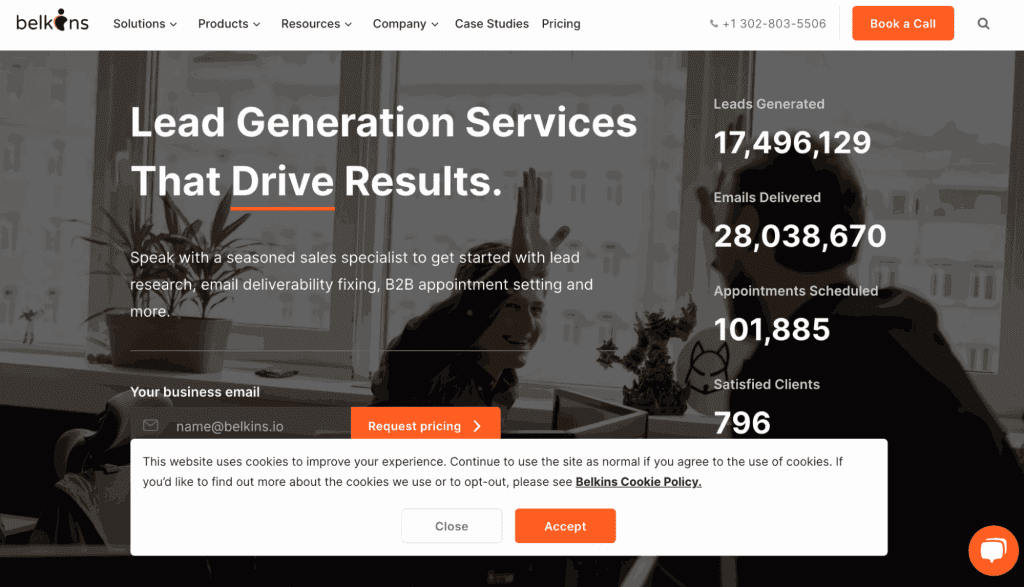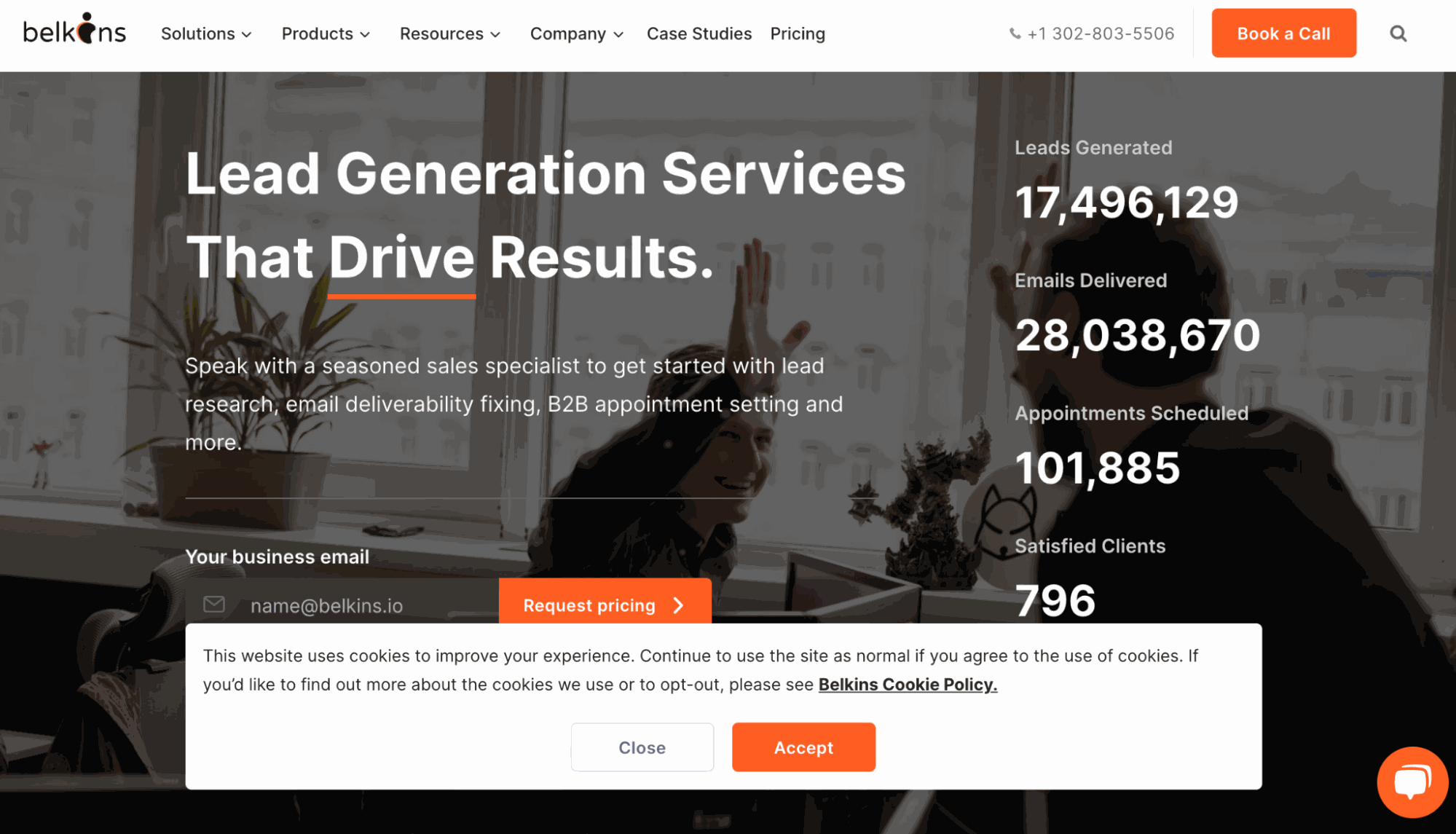 For front-to-back B2B lead generation services and a team ready to partner with your business, look no further than Belkins. From building targeted sales leads to appointment-setting services and everything in between, Belkins is a robust platform with a proven track record of generating high-quality leads.
Their lead research services free up your team to focus on building strong relationships with your prospects—the Belkins team runs manual research campaigns to capture your ideal target audience.
Take advantage of their LinkedIn Influencer program, where you can use content marketing and genuine customer engagement to establish your business on LinkedIn.
7. FindThatLead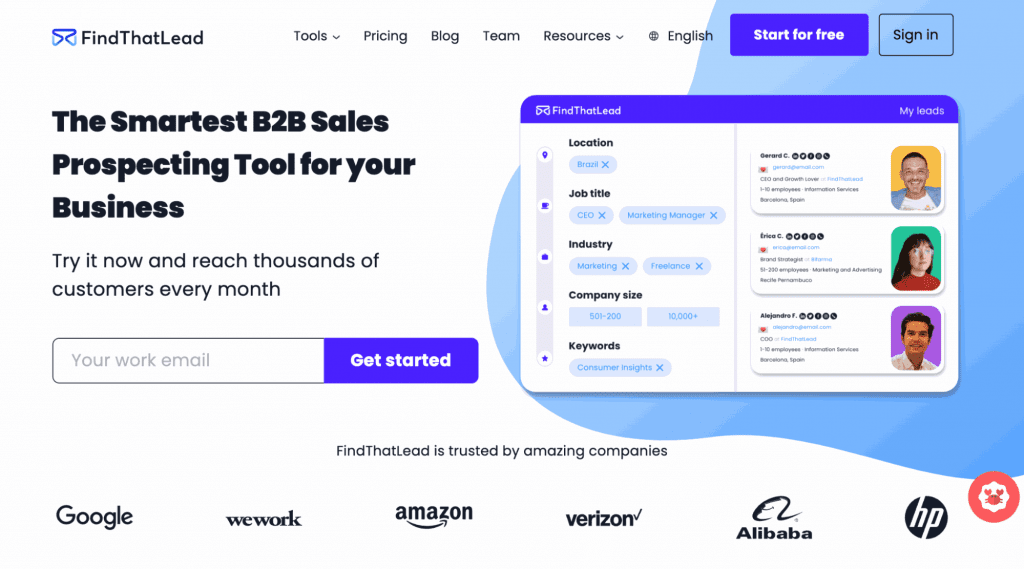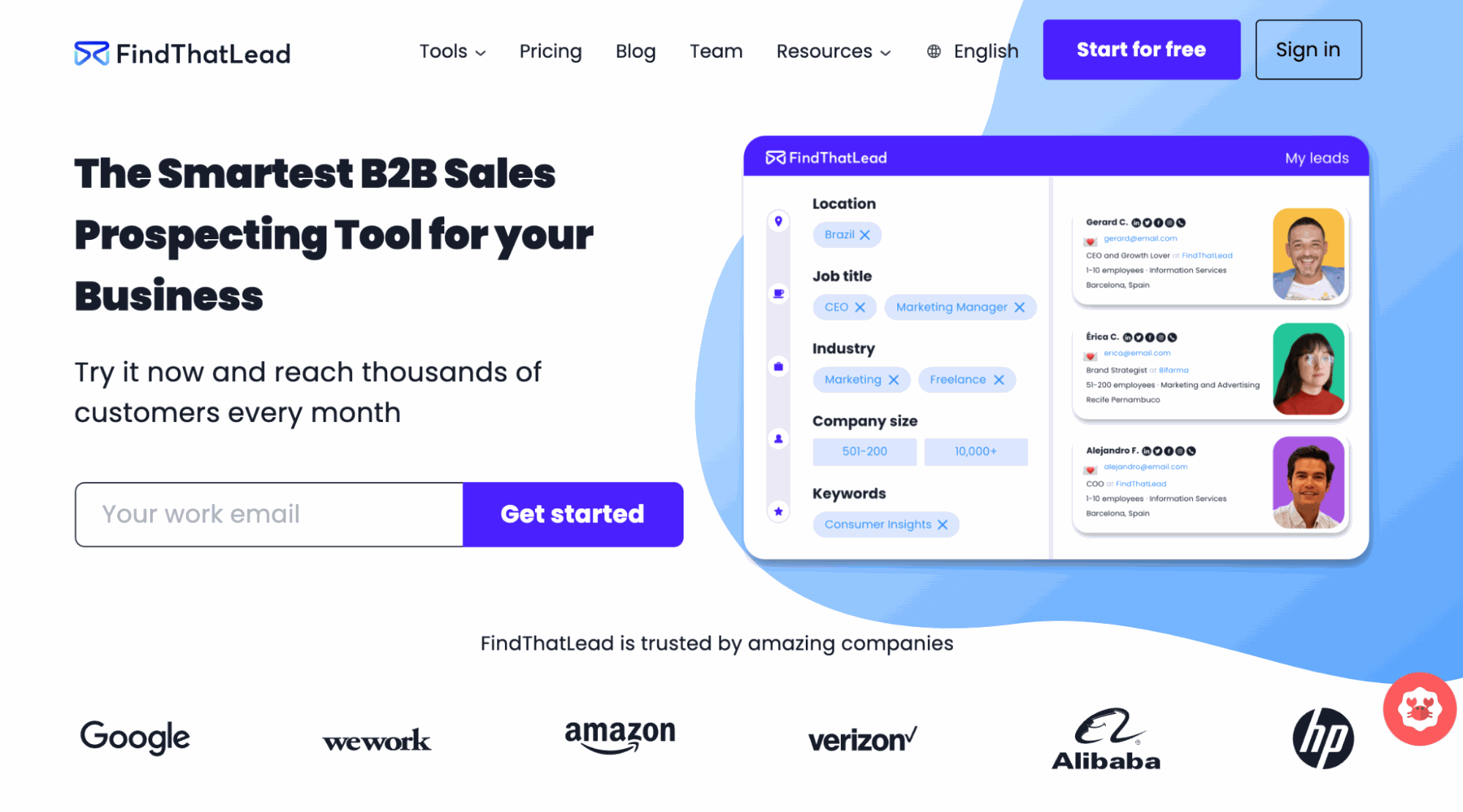 With a selection of tools, FindThatLead is a decent B2B lead generation service that allows you to revamp your lead generation initiatives. Offering different datasets, verification, and a search function, FindThatLead is a simple tool.
FindThatLead offers a prospecting tool. However, it does not offer a data accuracy guarantee.
8. Hunter.io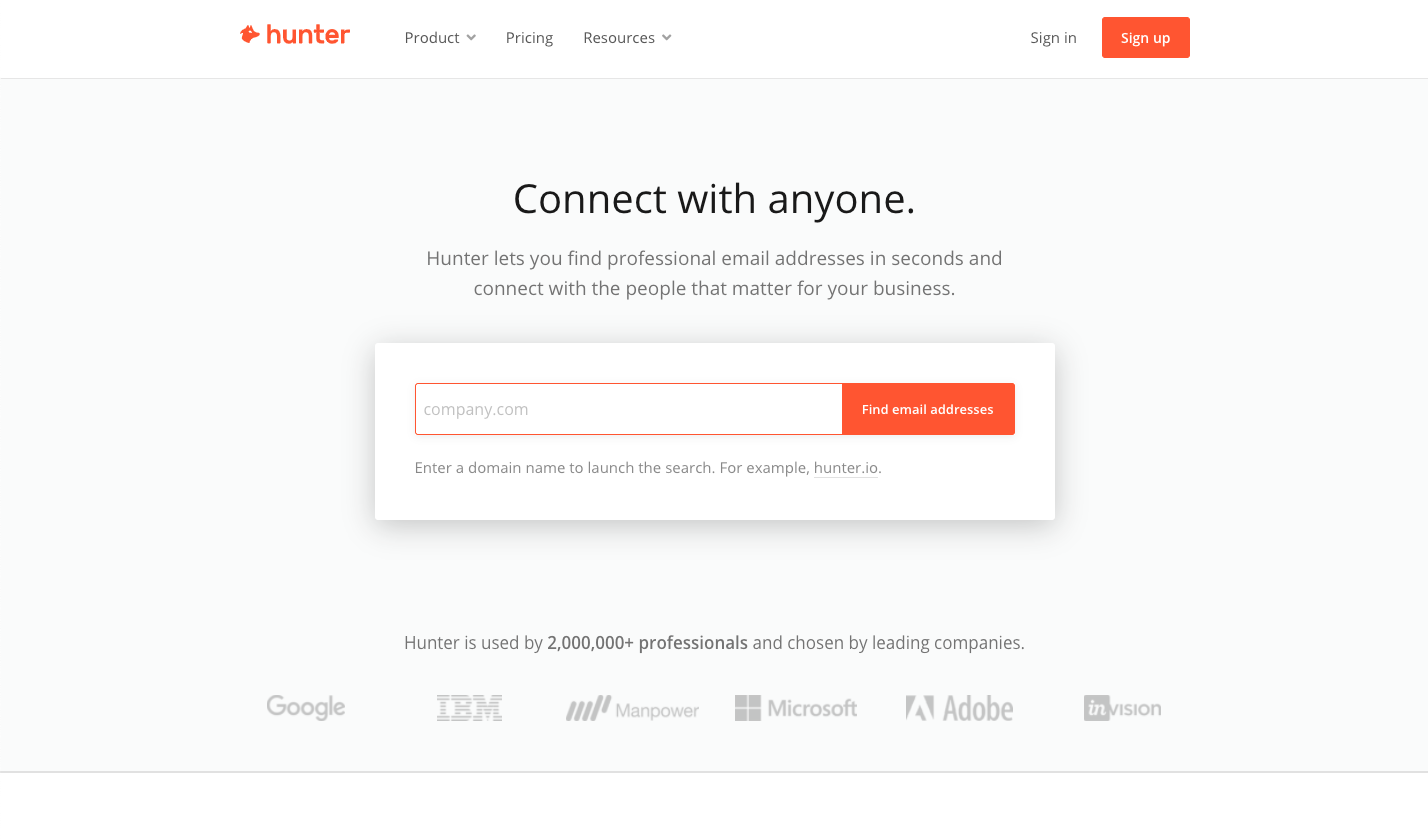 With a focus on email address searches, verification, and outbound campaigns, the Hunter.io service is a basic toolkit that supports outbound lead generation strategies.
Their domain search, email address finder, and verification tools are simple and allow you to get set up in minutes, but there are somewhat limited features. The data accuracy isn't as consistent.
After gathering and verifying email addresses, Hunter.io lets you create streamlined email campaigns from their platform. UpLead is a popular Hunter.IO alternative.
9. DemandWorks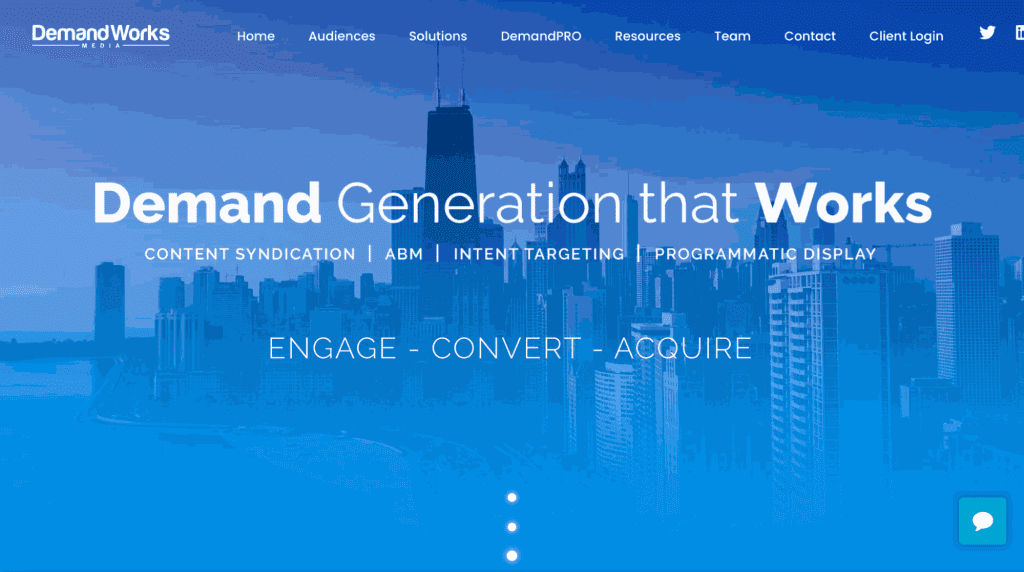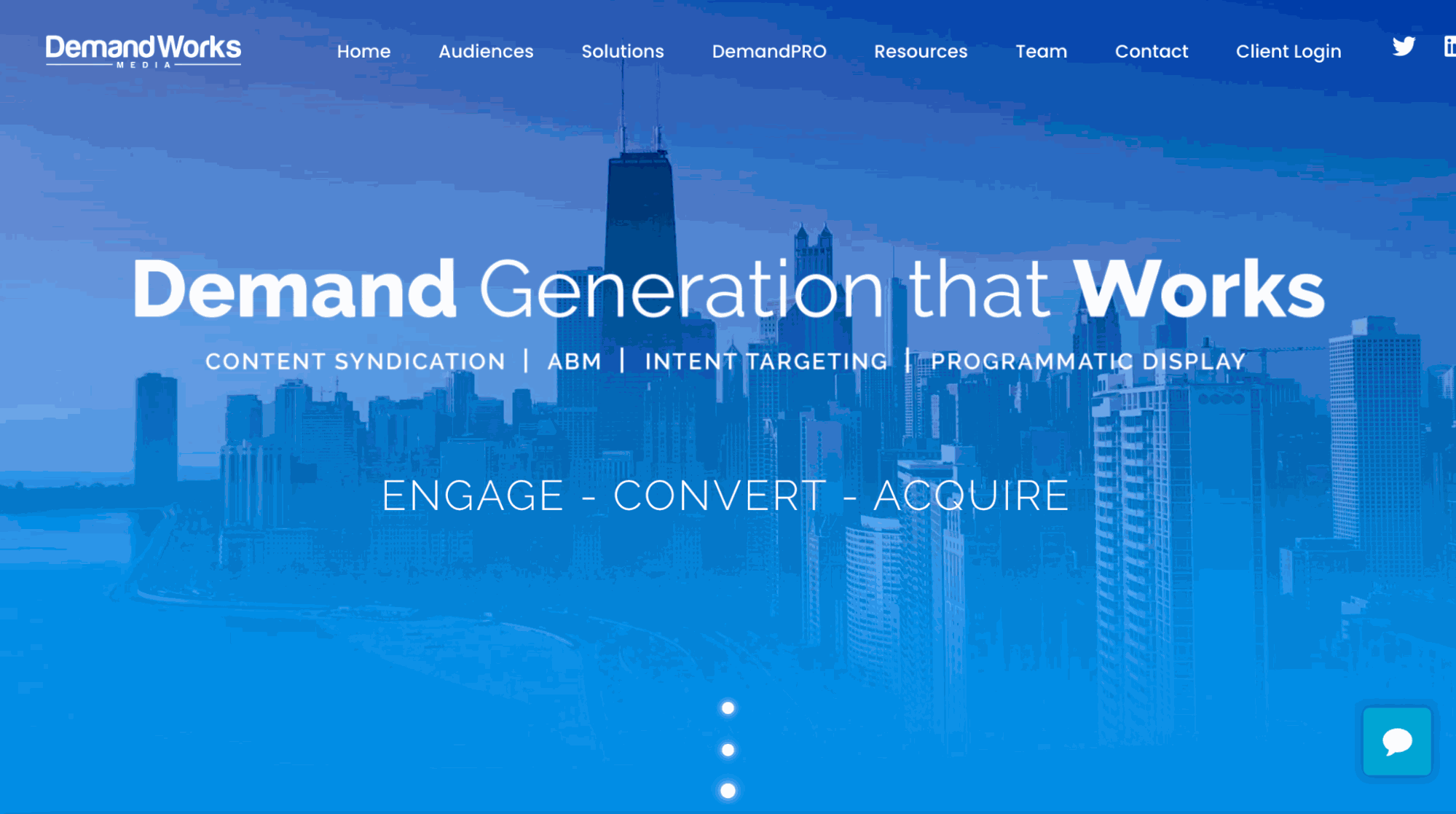 DemandWorks is a high-quality content marketing service that targets your ideal audience with relevant, engaging content. DemandWorks has years of experience helping countless businesses with content marketing, which is a powerful B2B lead generation method.
Using a start-to-finish funnel approach, the DemandWorks platform has everything you need to uncover and prioritize target leads, monitor performance, and create genuine engagement with your prospects.
Their account-based approach means dedicated, personalized support and marketing solutions for your top prospects.
10. TaskDrive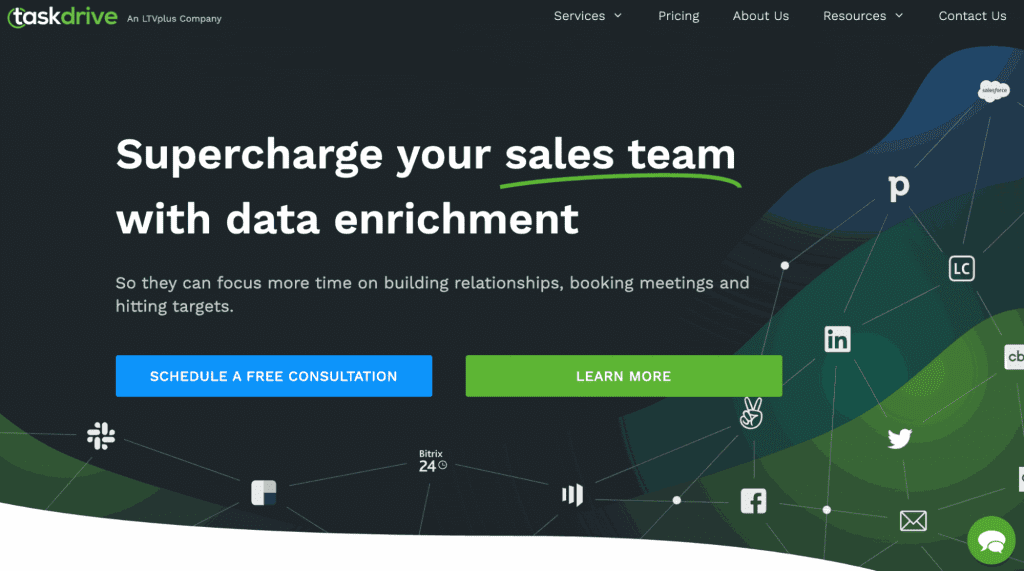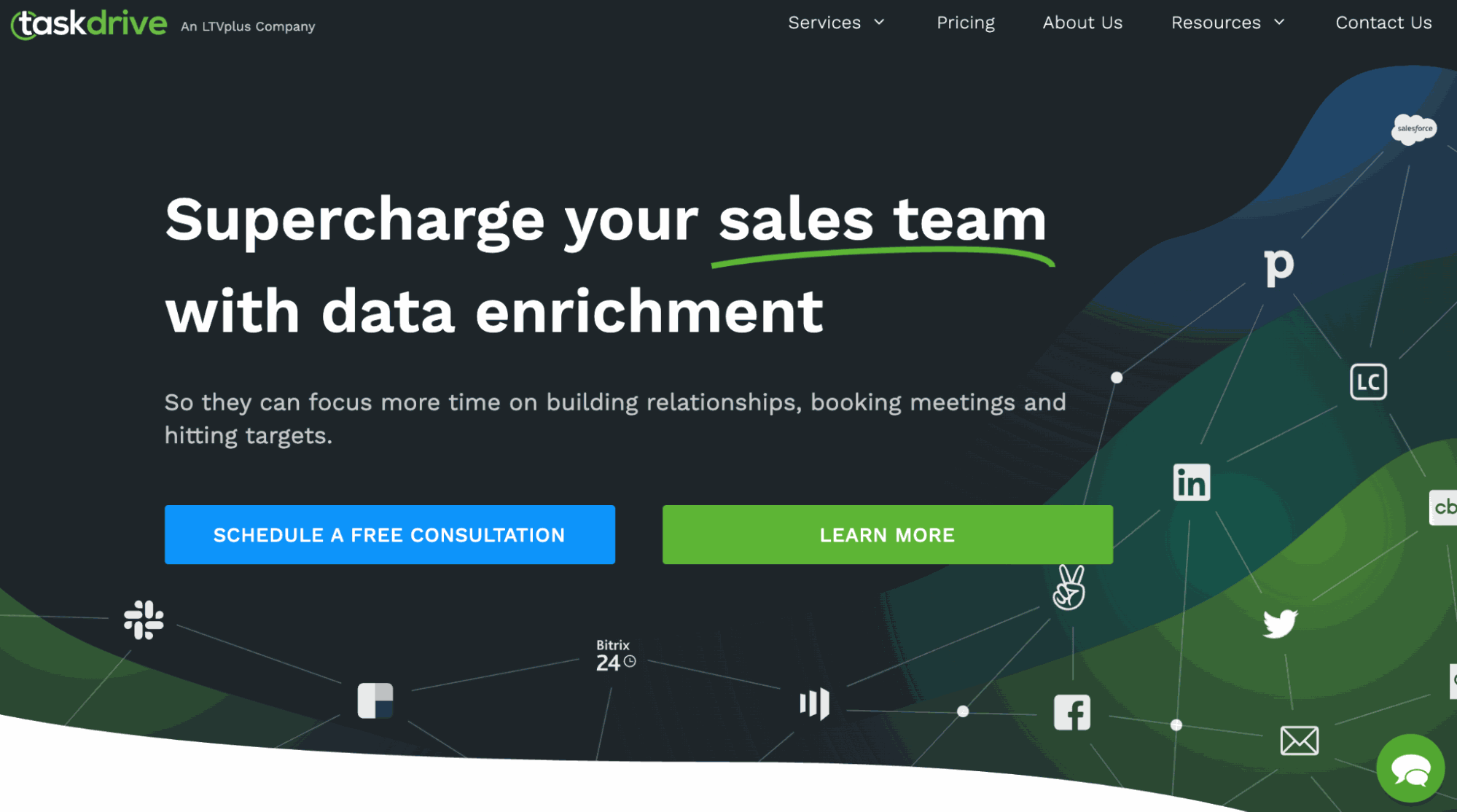 With a focus on in-depth, time-intensive research, TaskDrive can help you free up your time by passing manual research on the TaskDrive team.
TaskDrive can help with B2B lead generation services by providing additional information to existing lead generation data.
TaskDrive can build custom plans for your business, but they also provide hourly and monthly pricing. TaskDrive's pricing is more expensive, with an entry-level monthly package starting at $1,599.
B2B Lead Generation Services FAQ
With so many high-quality lead generation services available, leveraging powerful tools to improve your lead generation efforts significantly is easier. With tools that offer robust contact databases, appointment settings, and outbound marketing platforms, our list of top 10 services covers everything your business needs to generate leads effectively.
Here are answers to some of the top questions about B2B lead generation services:
What is B2B lead generation?
Simply put, B2B lead generation is gathering relevant contact information, whether inbound or outbound, for potential customers. Lead generation allows your business to target potential customers to convert them into paying customers.
How much do B2B lead generation services cost?
Prices can vary depending on the B2B lead generation services you need. Some platforms, like UpLead, have straightforward pricing models that are clear and transparent, allowing you to find a plan that fits your business' budget quickly. Most services require conversations with their sales team to create a custom service package, which means their pricing depends on the level of services required. In addition to paid lead generation services, there are also plenty of sites that offer free leads.
Key Takeaways
Combining a strong lead generation team and high-quality B2B lead generation services is the key to maximizing your lead generation strategies. Intuitive, powerful platforms can give your team the tools to generate high-quality leads through inbound and outbound campaigns. 
With our list of top 10 B2B lead generation services, you can focus more on building strong relationships with potential customers and less on managing outdated lead generation software.