What if you could directly sell to your target clients? You would not have to waste any time or effort chasing unproductive leads that do not convert. Instead, you could focus on engaging with and selling to accounts that will definitely lead to sales.
The good news: this is all possible through account-based marketing.
Quick Links:
What is Account-Based Marketing?
Account-based marketing (ABM) is a marketing approach focused on creating personalized buying experiences for high-value accounts. Companies that employ this growth strategy start by identifying target accounts and moving them through a sales funnel by way of personalized marketing and advertising methods. 
Using ABM has several benefits, especially for business-to-business (B2B) companies. For one, ABM shortens sales cycles since you prioritize key accounts rather than high-volume lead generation. This technique also increases the probability that you will connect with decision-makers within the companies you sell to, which streamlines the sales process.
ABM is a great opportunity for collaboration between your marketing and sales team as they help create a customer profile that suits your leads.
An account-based marketing strategy helps companies stand out from the competition with a content strategy is tailored to suit the individual client. This approach increases client retention, and subsequently, the revenue potential of many B2B companies.
10 ABM Examples to Implement Today
ABM is not new. In fact, companies like ___ have been employing this strategy for almost two decades.
Curious to learn how ABM has increased the sales performance of B2B companies? Here are ten ABM tactics that can improve a company's performance.
1. Create educational content relevant to your target accounts
A company must create content relevant to its target accounts. The content can provide information and demonstrate a good understanding of the target client and their contacts. Companies must gather data to plan a content creation approach, and they will want to implement their target accounts' preferred language and communication style.
One such example is when Northrop Grumman's targeted the Commonwealth of Virginia as a potential the state partner for their IT Infrastructure Partnership. Northrop Grumman designed internally consistent campaign content and built a profile around how the company was invested in Virginia.
Northrop Grumman also hired subject matter experts for their speaking engagements and sponsorships and even submitted articles to local papers. The company raised awareness within their target market and roosts in the state. In the end, the company won a $2 billion deal:


2. Mention target accounts' expertise in your content
When curated content works well, B2B companies can create any kind of content, whether a blog, white paper, a website's landing pages, or an infographic. Regardless of the format, the target clients' expertise is recognizable.
This curation is more than a mere mention of the client's name. This content should show how the target account has in-depth knowledge and expertise. The content demonstrates this knowledge and explains why the target client is acknowledged as a field expert.
Hewlett-Packard created a campaign targeting the decision-makers of their target accounts. They created content that included leadership ideas and sent copies to contacts that reinforced these ideas as part of their process. This strategy sparked interest and culminated in face-to-face engagement with the decision-makers, which resulted in a client pipeline worth $150 million and a revenue increase of $33 million: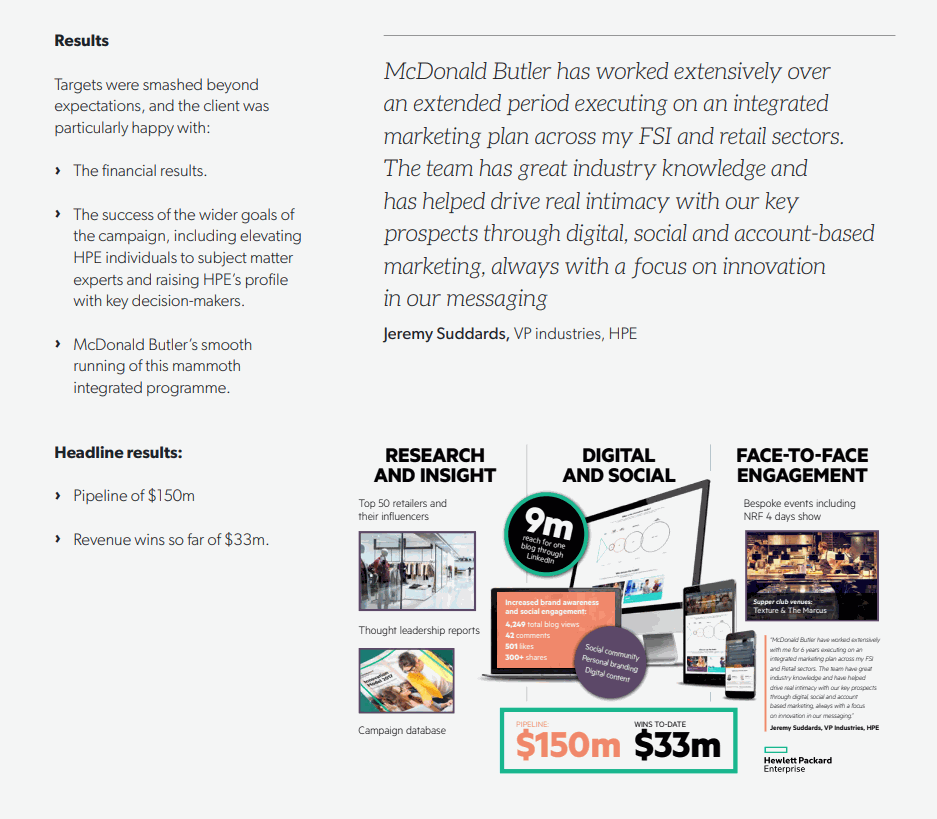 3. Leverage social media to connect with target accounts
ABM also integrates social media as a marketing strategy to personalize interactions with high-value accounts. Companies can engage with target accounts by liking posts on social media platforms, such as Facebook, Twitter, LinkedIn, or Instagram.
Your target accounts will then recognize your company, and you can start building a rapport through digital connection. You can also create posts or videos to showcase your own knowledge and expertise, educating your target on your company's services without coming across as overbearing.
Facebook allows company pages, and you interact with these by engaging with posts about your target accounts' services or product promos. Likewise, Twitter is sometimes used to announce events and updates on company services and products. LinkedIn offers the chance to engage with the decision-makers of the target account while Instagram visually promotes products and services.
One example is Adobe's use of LinkedIn to connect with the decision-makers in their target accounts. Adobe used LinkedIn's member data and marketing tools to expand its professional network and revamp its strategy.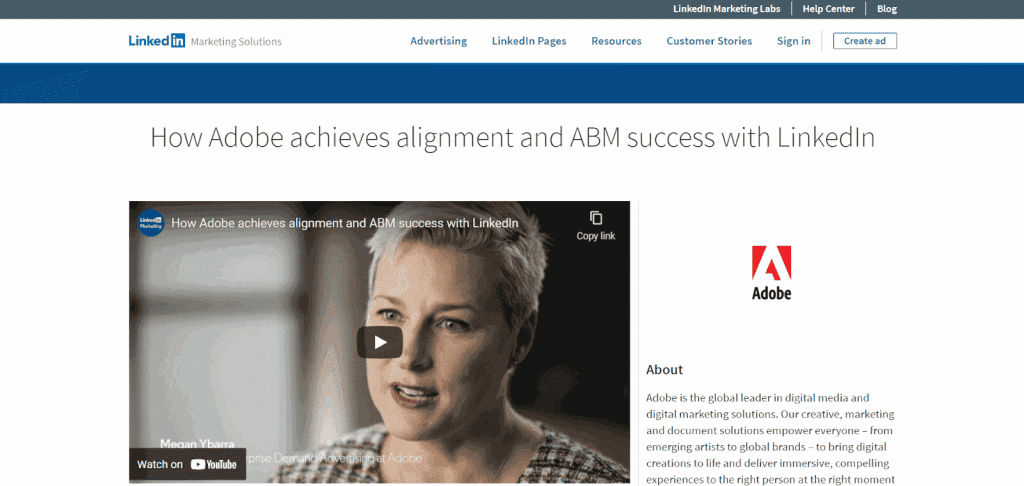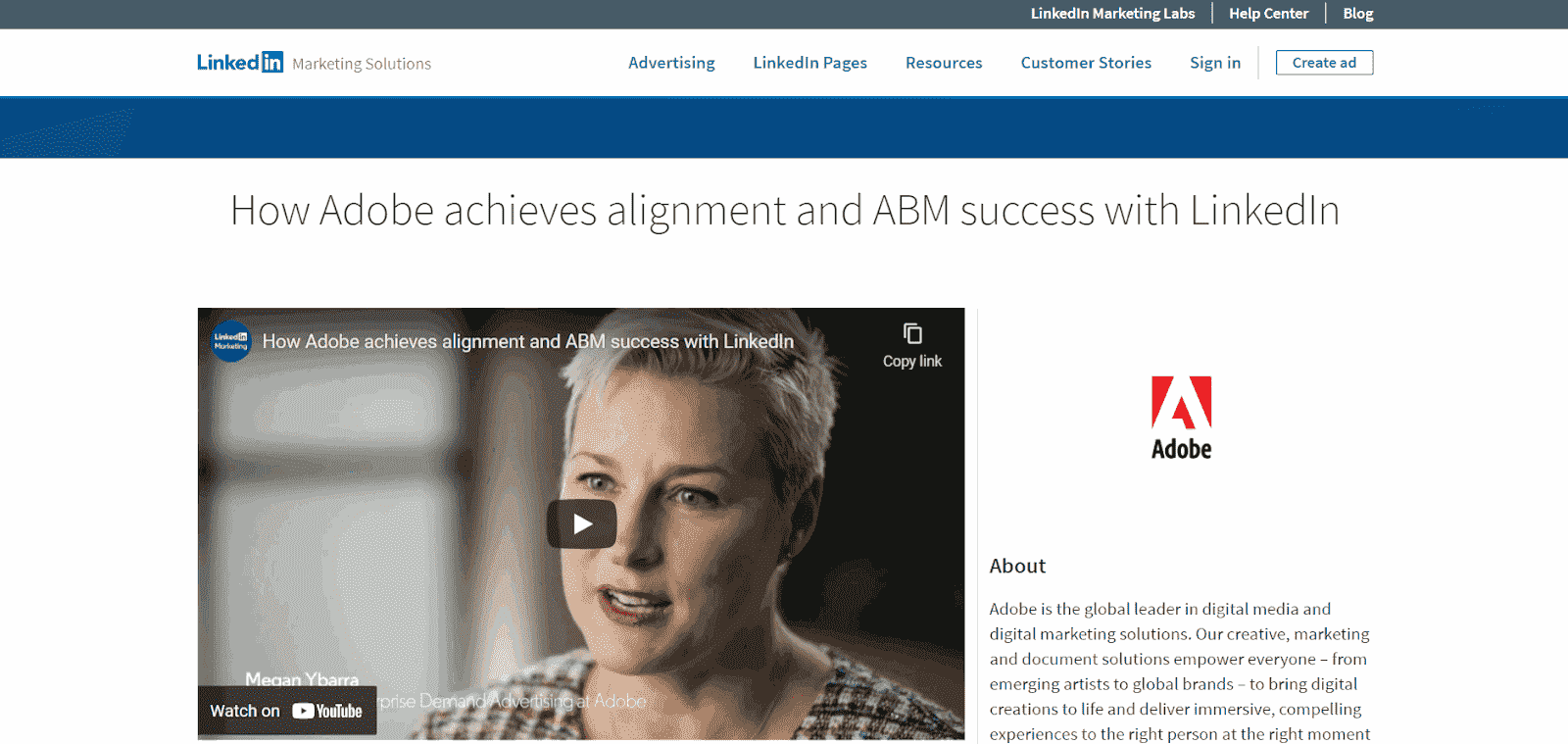 4. Host events geared towards target accounts
Another strategy is to host events for target accounts such as webinars, seminars, and masterclasses. For instance, Hewlett-Packard invited the decision-makers of their target clients to a "supper club" in several venues in London. These roundtable discussions included HP experts and explored technical topics of interest to their target clients.
A virtual variation of this strategy is called the "lunch and learn" when target clients are invited for an online webinar and then sent complimentary food and drinks for the event. You could then use the webinar attendance to create a list of target contacts from this list: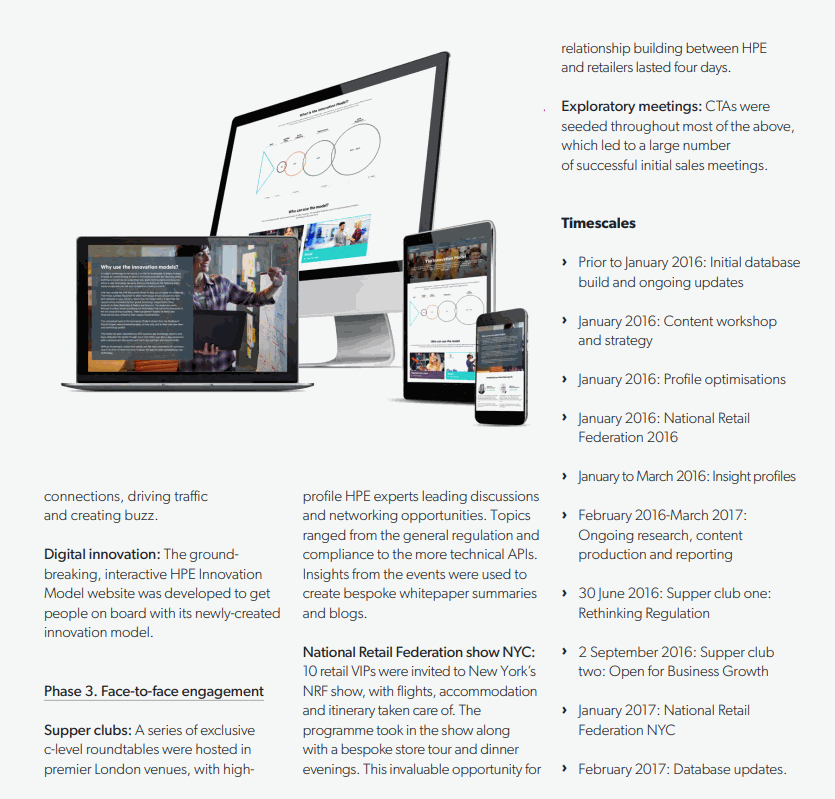 5. Add a personal touch to your email communication
Email marketing strategies can communicate and engage target clients. Companies can personalize their emails, making the ABM content and approaches suitable to their target client's concerns.
Using emails for personalized notes or for knowledge sharing rather than making a sales pitch creates attractive engagement for high-value clients. This personalization increases the likelihood of earning a response from the high-value client.
That's exactly what Datanyze, a technographics provider did! The company used a personalized email to reach their target accounts. The marketing team sent personalized emails specific to the technology needed by the client.
Then they sent educational content on how their targets could use the technology in their business processes. Through this they increased their open rates and improved their ROI.
6. Send meaningful direct mail that cannot be ignored
B2B marketers can use direct mail to send their target contacts personal offers. These emails are highly personalized and customized to suit the target accounts.
The direct messaging of the email provides tangible value and solutions for target buyers and clients. You can even offer a gift or ask for a meeting to discuss the solutions and strategy you have tailored specifically for them.
A statement like this could work in your direct mail: "We know you are trying to resolve your issues with [insert target client pain point]. We are giving you a [free test trial/gift] to try what our product can do. If you want to know more about what our company could do for you, we can schedule a meeting to discuss the possible solutions."
7. Customize video templates for the target accounts
Videos can spread messages to their target accounts, but they take a lot of time and effort. One ABM video strategy is to create a template that your sales and marketing teams can easily personalize.
You only need to add the company name, the target contact's name, and the title on the video. Then, customize the headlines to suit their target account's issues and insert prospective goals. The finished product looks like a video curated for that one specific client.
Vidyard used this strategy one holiday season to see if their click-through rates would increase. They created a personalized video that targeted customers and used CRM to swap the first names seen on the video. The result was a CTR increase that reached 157%.

8. Run campaigns that cannot be ignored
If you target a high-value account, your campaign should be more creative and intensive in terms of resources. Running ABM campaigns that are memorable and have a wow factor increases the likelihood of your campaign succeeding and resulting in a personalized first impression.
GumGum and its campaign to land a deal with T-Mobile exemplifies this tactic. Through their own research, GumGum found that the T-Mobile CEO was a big fan of Batman. To this end, GumGum crafted comic books including the T-Mobile CEO in the story. Unsurprisingly, after receiving 100 copies, T-Mobile partnered with GumGum.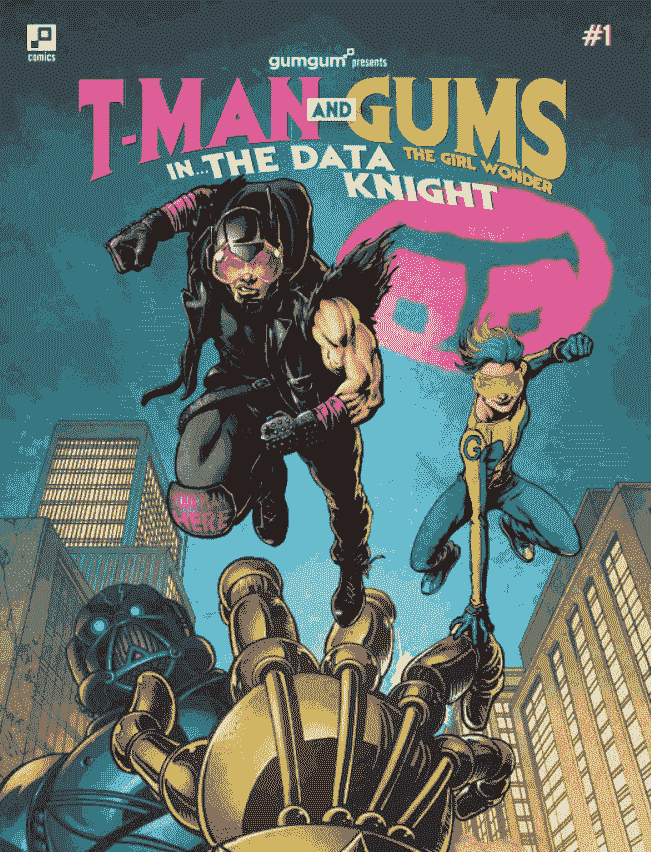 Source: https://www.topbots.com/creative-ways-enterprise-ai-companies-use-content-b2b-influencer-marketing/gumgum_tmobile_comic_book_500px_web/
As another example, Intridea used a billboard to catch the attention of Ogilvy & Mather. The bold line was embedded with a URL that featured customized gifs, and personalized content, they successfully solicited a meeting with the agency.
9. Gather valuable third-party data on target accounts
ABM efforts require companies to work with various data-gathering tools to learn about their target accounts. Data sources could include social media accounts, information from the target's affiliates and partners, and even case studies. This approach could also include technographics—profiling an account based on the technology it uses.
Some companies also interview the specific target account's sales reps and marketing team to understand their marketing approach and pain points. They can then improve their own sales process, sales cycles. and conversion rates. Companies can also use this tactic to social proof their salespeople and hone their forecasting on decision-making processes.
Personify, partnered with a marketing company to find key market segments and personas in their target accounts. They then created their ideal customer profile, and increased their customer engagement by 22%.
10. Keep track on key decision-makers
One ABM tactic many B2B companies use is tracking key decision-makers. Why? This process of surveillance allows the company to engage the right people for determining final sales decision. This process shortens the sale cycle.
You can use Twitter's list-building feature to convene all the decision-makers of one account in one place. This tactic helps you track their responses and posts. You can even follow them on LinkedIn and react to their industry posts and messages.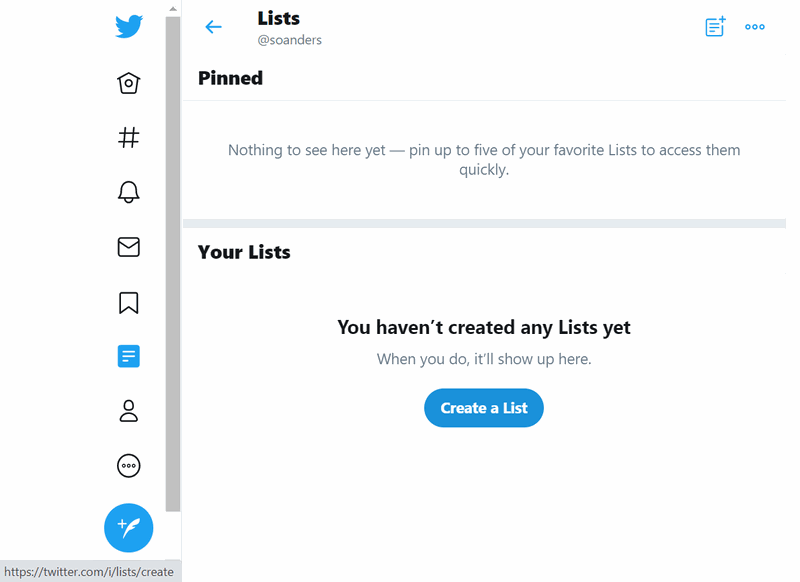 Source: https://www.fool.com/the-blueprint/twitter-lists/
How to Implement an ABM Strategy
If you plan to use one or all of these ABM strategies for your marketing programs, you may wonder where you should start.
Here is a step-by-step approach to implementing your ABM strategies:
Create your ABM team that includes sales and marketing team members.
Define your goals and strategy. Align the teams, so they understand the goals they must achieve and the timeline to accomplish them. These prerogatives based on the target account's issues will shape the strategy.
Select your ABM technology or software.
Identify your key target accounts or high-priority accounts. Use software like Uplead for building lists.
Identify the key decision-makers of your target accounts.
Select your marketing channels and craft your individualized messages or content. Choose which social media or channel you wish to engage your target accounts.
Execute the campaign and begin outreach.
Evaluate and optimize. Review the results of your outreach and social media engagement. Change and improve any area not helping the team achieve its objectives.
FAQs About Account-Based Marketing Examples
Here are the most common questions about account-based marketing as found on the internet.
What is an Example of Account-Based Marketing?
Companies can use many account-based marketing tactics, such as personalized messaging through emails and invitations to webinars, seminars, and online events. AMB can also look like using direct mail to engage target account contacts to start a conversation or professional relationship.
One of the best examples of ABM is creating customized content for the target accounts, ensuring that the information addresses their pain points and outlines possible solutions that the B2B company can provide. Your target audience will be more engaged when you offer high-value content.
How is Account-Based Marketing Used?
ABM personalizes marketing approaches and sales teams' strategies for procuring high-value accounts. The strategy aligns the marketing and sales team to create customized ABM campaigns for these key accounts.
Account-based marketing flips the customer journey and focuses on individual accounts instead of relying on a general marketing approach for leads.
What Companies Use Account-Based Marketing?
Many companies use ABM marketing campaigns, but the following types have the most to gain from this strategy:
B2B companies
These companies focus on bonding with the right account instead of individuals. Since their marketing is handled on an account-by-account basis, they stand to substantially benefit from the strategy.
Companies with higher deals
Companies and organizations dealing with high ROI accounts use ABM programs to engage decision-makers who are integral to the final deal.
Companies with a customer relationship strategy
If a company has a partnership or an agreement with clients, then ABM is a beneficial strategy. Their engagement can be customized and worth the investment since they have a long-standing client-brand relationship.
Companies that offer business-specific solutions
If business-specific companies are prioritizing the resolution of business-specific problems, then ABM is a good fit for their marketing efforts and sales strategy. ABM can help the target account see how you would help them resolve the pain point, thereby closing the deal. When customers solve a problem using your business services, they become your loyal clients!
What You Need to Remember About ABM
Marketing is essential for any business's growth. Without the proper account-based marketing strategies in place, your company will not acquire the expansion you need. Account-based marketing gives B2B companies the chance to target high-value accounts, speed up the sales cycle, and customize marketing and sales processes to suit specific accounts.