It's a frequent refrain that marketers hear: such-and-such is broken, and the old strategies and tactics no longer work. If you attend any industry conferences, half of the keynotes are about the disruption in marketing departments and which new technologies are here to save the day. The internet has changed virtually every aspect of marketing, and new tactics are often embraced without fully understanding the context in which they'll help or hinder. 
Tactics that work well for B2C companies with a huge potential market may be futile in complex B2B environments with a finite total addressable market. Similarly, many of the playbooks for B2B marketing might work exceptionally well for SaaS companies for whom there is an unlimited amount of top-of-funnel traffic. When your software solution can work for virtually any business, crafting content and buying ads to drive as much traffic to your site as possible is an excellent strategy. 
But what do you do when your total addressable market (TAM) is only a thousand or maybe even a few dozen companies? Writing another blog post targeting your chosen keywords is a recipe for frustration for your sales department if the end result delivers yet another lead that can't even buy your products or services. 
The trouble with funnel thinking
Inbound marketing taught us that the path to internet/content marketing success was through the funnel: bring in as many people as possible at the top of the funnel via content, social media, or paid ads. Those that found your content useful might be willing to fill out a form to download an ebook or another piece of 'premium content. Once they converted, these nameless, faceless visitors became leads that were to be nurtured down through the funnel with other pieces of content until they became Marketing Qualified Leads (MQLs), Sales Qualified Leads (SQLs), and ultimately closed-won customers.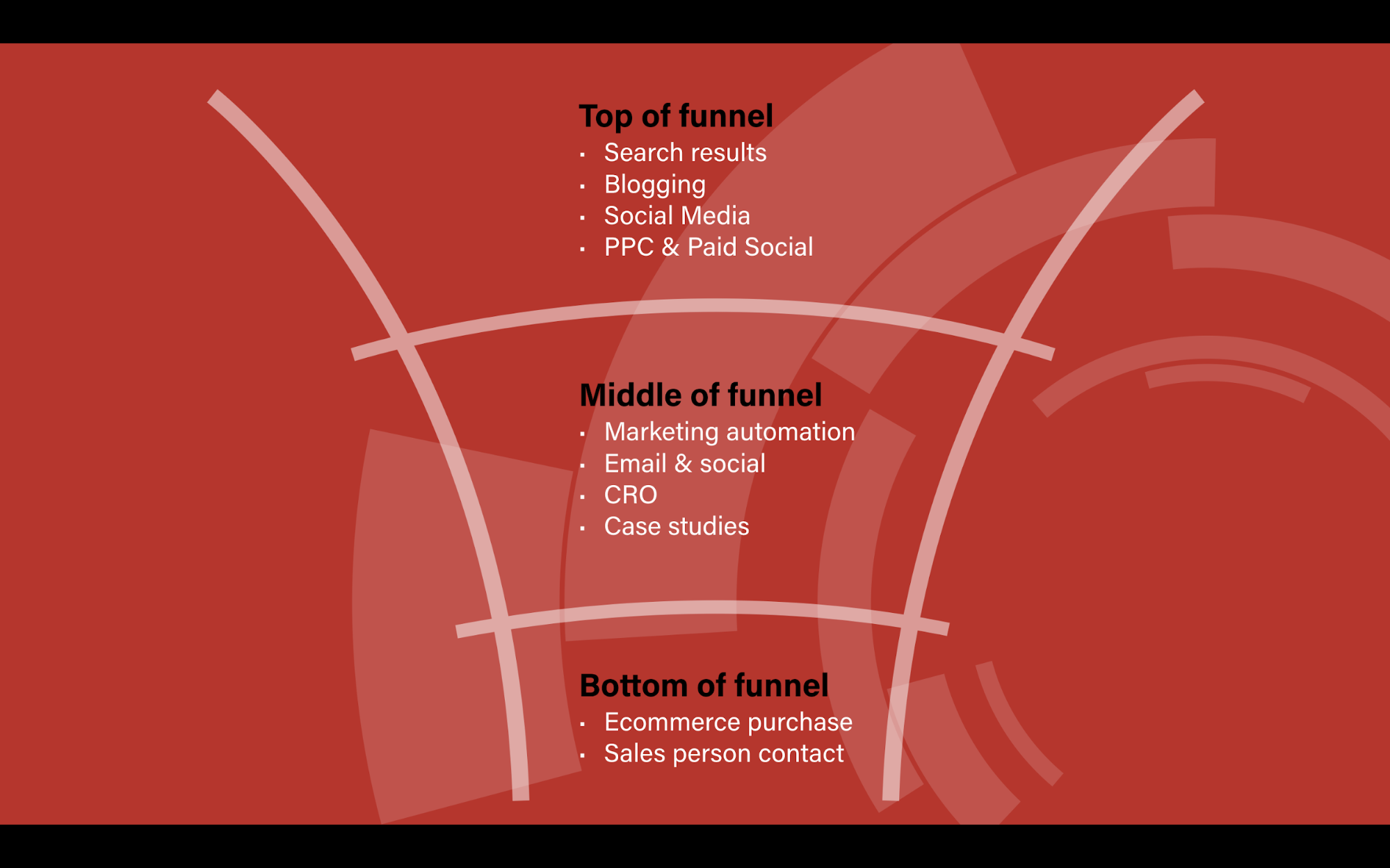 The reality is somewhat different for many companies, especially those in the B2B space. Often, the people filling out website forms are not qualified to purchase services or products. Yet, marketers keep reporting on vanity metrics like traffic growth, the number of leads generated, or growing follower counts. These metrics don't reflect what the sales team is looking for, further deepening the divide between marketing and sales at a time when these two divisions need to work even more closely together. 
The SaaS influence
In many ways, the world of SaaS marketing has driven much of the software and thinking around modern marketing techniques, but that often doesn't translate to how other B2B businesses need to market and sell. For example, machinery manufacturers do not think in terms of online demos, renewals, or churn, which can define success or failure in SaaS sales and marketing.
The buyer's journey is longer for B2B businesses (often 18-24 months) and, according to Gartner, now includes over ten people as part of the buying committee. Success in this sort of scenario demands a very different approach from the spray-and-pray methodologies that work so well in a software subscription environment. Of course, it's a bit of a different story in enterprise SaaS sales compared to mid-market or small online tool offerings.
What's your total addressable market?
Understanding your company's total addressable market will allow you to start your journey toward target account selling. For many B2C businesses, the answer is relatively straightforward: it's just about everybody with a budget and interest in the product! For those in the B2B space, the answer may be harder to come by. 
On a recent episode of our podcast, Terminus founder and inventor of Account-Based Marketing Sangram Vajre said that when he gives talks on ABM and asks a room of a thousand people how many know their total addressable market, he'll see only five hands go up. Most of us simply don't know who we can sell to, even if we think we know some of the personas within those organizations who are likely to be involved in buying what we sell. 
This is a huge issue. If you don't know your total addressable market, it's impossible to develop your Ideal Customer Profile or ICP. Your business' ICP is the subset of the total market that is the best fit for you to sell into. It could be made up of thousands of businesses or it may be less than one hundred, depending on the complexity and specificity of what you sell. We have worked with companies whose ICP comprises less than 20 companies globally. When you're talking about low numbers, it's possible to deeply focus your marketing and align the goals and processes of the sales team directly with what marketing is producing. Diverting marketing spend from content that drives vanity metrics—such as total leads generated—to focus on engagement with one of your ideal customer accounts is a much better use of that investment. 
Developing your Ideal Customer Profile
To create your ICP, start with the customers you already have. You may be able to define this target account group starting with geographic data—where are the companies you sell to primarily located? From there, move on to firmographic data. Firmographics are to companies what demographics are to people. This can include things like employee count, revenue, industry vertical, and more. Some organizations that sell technical solutions may also find it useful to target companies by technographic data, such as companies that rely on a particular CRM, ERP, or another piece of technical infrastructure. 
Armed with this key information, you should be able to define your Ideal Customer Profile, which should give you a sense of the number of accounts you can begin to target. Once you know who they are, it's a good idea to tier the accounts so that you know the ones who are most likely to buy from your organization and which ones you should target only after you've worked through that higher-propensity top tier.
What personas do you need to connect with inside your ICP?
Once you know the accounts within your Ideal Customer Profile, you need to sort out what personas within those accounts make up the buying group. As noted above, in a B2B purchasing environment, as many as ten people are involved in each buying engagement. These personas are likely from multiple departments with varying levels of seniority. 
For example, in a complex sale for a packaging manufacturer selling flexible, resealable plastic bags to a pet food company, all of the following departments are likely to be involved in the deal:
Within these groups, there may be many individuals, each with their own role in purchasing. A sale like this could be worth millions of dollars and last several years. As such, it could encompass influencers such as a brand manager from the marketing department and the CFO. What a target account strategy needs to do is to understand the needs of each member of the buying team and where they fit into the overall buying journey. 
Building your targeted account list
When you have a solid understanding of your ICP and the target personas within those accounts, you can turn your attention to building the list of the companies you would like to target. Many tools available for prospect identification, including Uplead, will allow you to search using firmographic, geographic, and technographic data to get access to the accounts that best fit your ICP.
Start Your 7-Day Free UpLead Trial
Lead generation doesn't have to be all that painful. With UpLead, you can easily connect with high-quality prospects and leads to grow your company.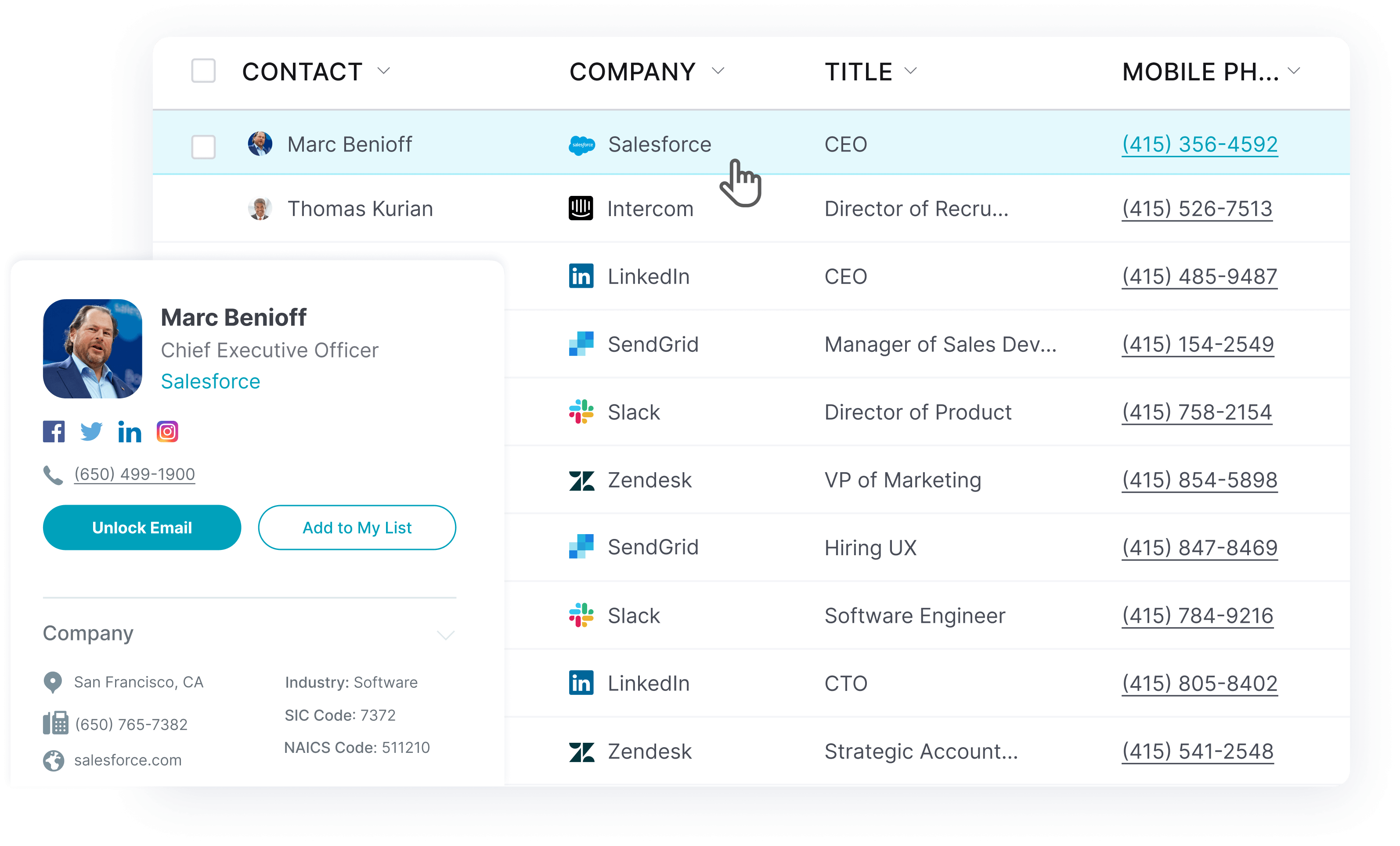 These tools can also help you identify the people inside each account and provide their contact details to load into your CRM or marketing automation platform. It should be noted that while it is possible to contact these people directly with this information, in some jurisdictions like Canada, it is not legal to use electronic messages to contact someone who is not already a customer or who has not already opted in to receive content from you. If you're unsure about the legality in your target country, seek appropriate legal expertise. Lastly, it's important to use a service such as Webbula to 'clean' your list, verify that the email addresses are legitimate, and ensure that there are no spam traps or other impediments that could hamper your ability to send emails in the future.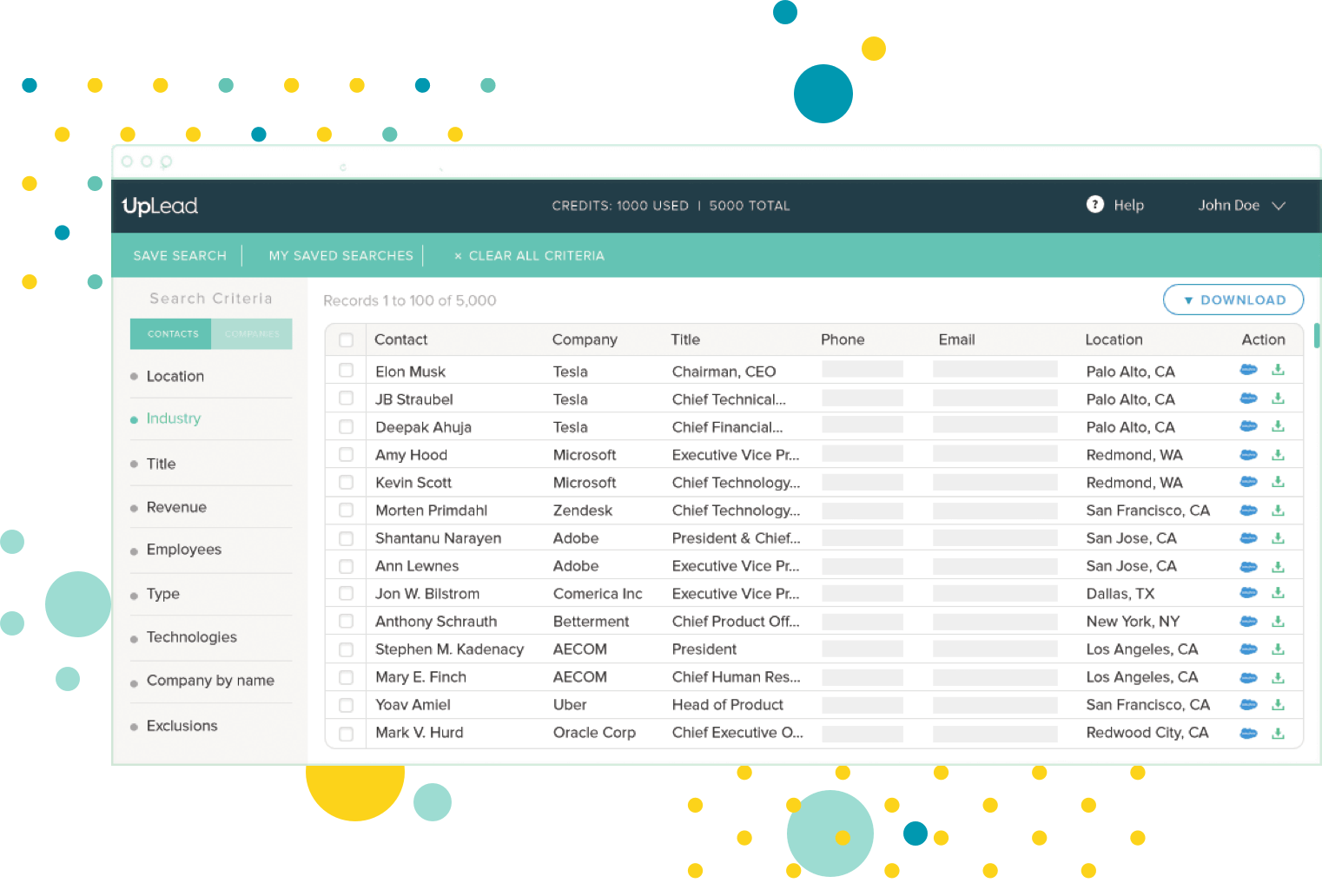 Mapping your Buyer's Journey
Once you know the best-fit target accounts you're selling to and the personas inside those accounts, you can begin to map out the journey you want that buying committee to take. To begin to understand this, you'll want to speak with existing customers to find out the steps they took when buying from and/or hiring your organization. What were their core touchpoints? Where did they start before they came into your world? What research was done? At what point did they first visit your website or engage with your content or social accounts? This information will be incredibly helpful when mapping out the buyer's journey that you want your target accounts to take as they begin this process.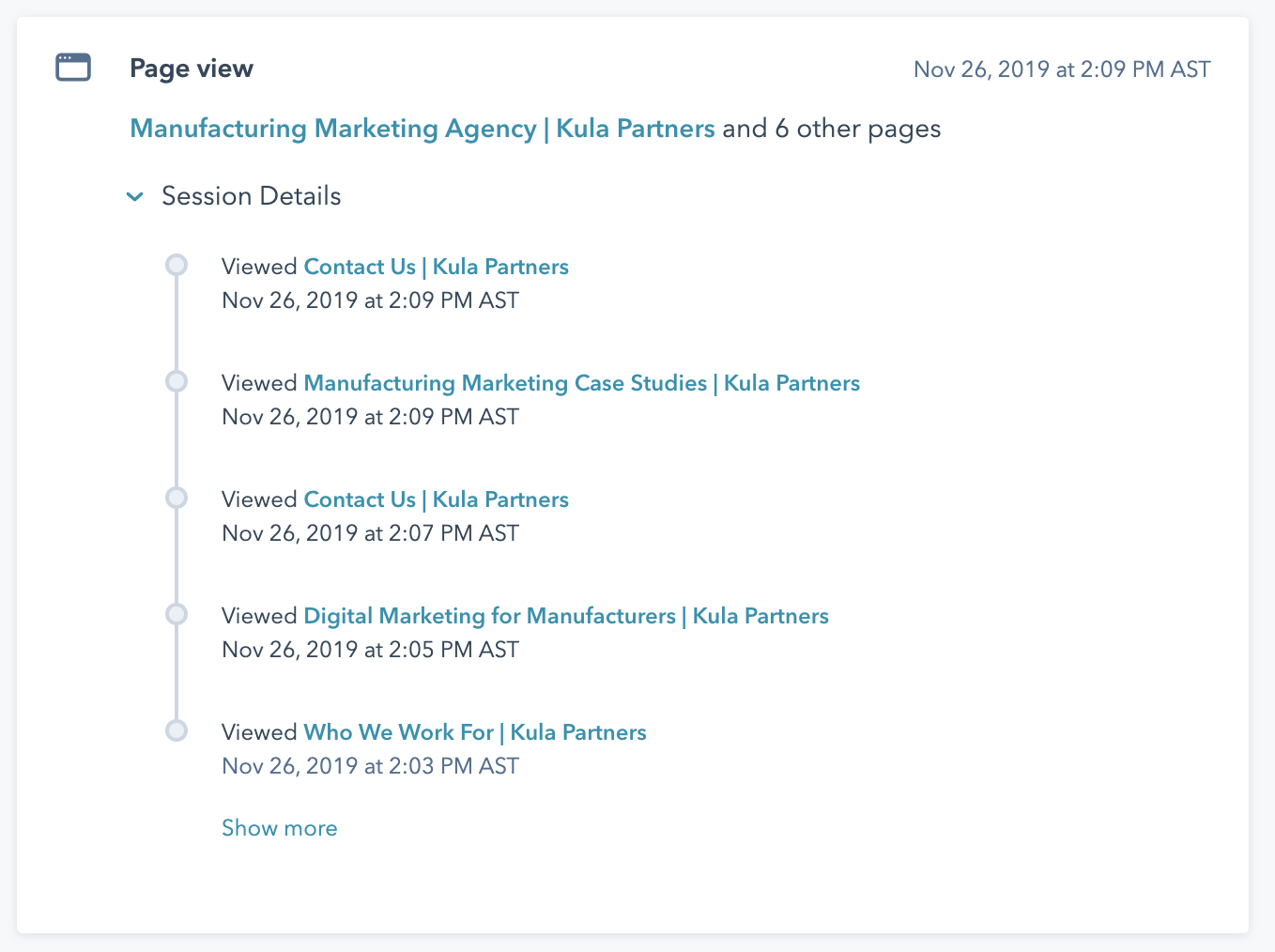 One of the first things you'll need to know about the accounts you're targeting is whether or not they're aware that your company and product exist. While you may know the benefit and importance of what you sell, getting on their radar will require forethought and planning. 
Since you're not approaching marketing and sales as a funnel but instead as a highly-targeted approach, you'll want to think about the steps you take to engage your accounts in a different way than you would with traditional inbound marketing. Mapping this journey will allow you to see the crossover between marketing and sales and where each has a responsibility to interact with and engage with the target account. 
Getting on your target account's radar
You can use several techniques to become visible to your target accounts. Using a more traditional technique—like press releases in the trade publications frequently read by your targets—is a great way to gain credibility and make the market aware of your products and solutions. 
To become more directly visible to your prospects, you can employ account-based advertising tools like Terminus or DemandBase to target your accounts with display ads introducing them to your product. This technique allows you to create specific ads for each target account and the stakeholders within each. These account-based advertising platforms, known as engagement data, also enable you to see which accounts have interacted with your ads.
Many surface intent data so you can see when searches or other buying signals are coming from those accounts. Intent data lets you know when an account is searching for phrases and keywords related to your product categories. Armed with this information, your marketing and sales teams can begin to reach out to these target accounts directly or continue to nurture them with custom content on your site. It's also possible to leverage on-site personalization so that when someone clicks through to the site, they see an experience tailored just for them. 
Targeted account seeling:
Moving to a close
Using these techniques to target optimal accounts and then surrounding them with a halo of content and valuable information is the first step. The intent and engagement data should indicate to your sales team that they can engage a warmed-up prospect who is more likely to be receptive to a conversation. As noted above, the buyer's journey should be fully mapped out before you begin the targeted outreach so that sales know their exact triggers to contact the client and how they will continue to nurture that lead to a close. 
Incredible results are possible when marketing and sales teams work together using an account-based marketing approach, especially in a B2B environment. Phononic, a manufacturer of solid-state heating and cooling solutions, has been using this technique with highly customized, interactive content, and they have driven substantial growth very quickly. 
Whether you choose to call it target account selling or account-based marketing, it's clear that this strategic approach has the potential to leverage everything B2B sales and marketing teams have learned in the past decade and turn it into a profitable, trackable, ROI-driven integrated methodology that delivers real results.