For any entrepreneur out there, speed is essential.
The ability to automate specific tasks put an efficient process in place.
Precisely why some good people have developed cool integrations we can use to connect various tools within our stack.
One of such is between UpLead and lemlist. This integration will give you the capacity to filter out the right leads, segment them across different buckets, and automatically deliver a highly-targeted email campaign.
About UpLead
UpLead is an online B2B data provider and sales intelligence platform, which provides users with access to a rich, accurate database of over 140 million verified business contacts and companies. This tool helps businesses drive growth by targeting the right sales leads.
About lemlist
lemlist is an email outreach tool unique in its ability to automate and personalize cold emails at scale. Build meaningful relationships with your prospects, boost your reply rates with creative outreach automation, and warm up your email address automatically – all in one clean place.
The way this integration works
The easiest way to explain the sheer value and easiness of our integration is to show you this video.
You'll find out how you can import any group of leads from UpLead to a specific campaign in lemlist in seconds.
Use cases
Great salespeople worry about their audience. How they think, what are the problems they're facing and what are the best channels to reach them. If you ever wondered about the main difference between good and great sales reps, this is one of them.
The same logic applies to email outreach. Before you get to the scraping emails and writing copy parts, the number one focus is always on customer targeting. Whom are you trying to reach and why?
On the other hand, we're talking about probably one of the two most tedious tasks in cold emailing. The vast majority wants to knock it out as quickly as possible so that they can move on to sending emails and closing deals.
Unfortunately, many of them end up getting low reply rates. But what's the reason? Poor targeting and broad messaging doomed their campaign before they even got to building it.
But don't worry, my friend, the integration between UpLead and lemlist is the answer on how to make this step a little less painful.
Here's some practical advice on how to make the most out of it.
First, always remember the golden rule of email outreach. The more targeted the list, the better the results you'll receive.
To accomplish that, you can start by logging into your UpLead account. Think of it as a younger brother of LinkedIn, except that email addresses are available. Kind of like an enormous database of people looking to use your service or your product.
You have to find them through the right filters.
By doing so, you're going to build a hyper-targeted list much faster. You're also able to enrich that data later and find out various things about your audience. For example, their job titles, tools their team is using, yearly revenue, and even phone numbers.
More importantly, all of the data you generate will be verified. Why is this critical? Because this way, UpLead will save your email reputation from high bounce rates, spam folders, and various penalties email providers can send your way.
Using UpLead to get meaningful data
Let's imagine a scenario in which you've been given an opportunity to lead a Sales team in a highly competitive industry.
Your job is to convert as many companies and have them use your CRM platform.
Through research, you've discovered three interesting behaviors from your prospects. 
For HR companies, it's better to initially target recruiters than go for the C-level folks

Depending on company size, prospects use CRMs in different ways

Having sales content in Spanish and French would likely double conversions in those markets
In each of these cases, you can leverage UpLead to filter out the right leads pretty quickly. Thanks to the accurate data, you can tailor the message accordingly and send these leads a personalized message.
Not only will you send targeted campaigns and reaching potential clients on their terms. You'll also save a bunch of time finding this type of information on your own.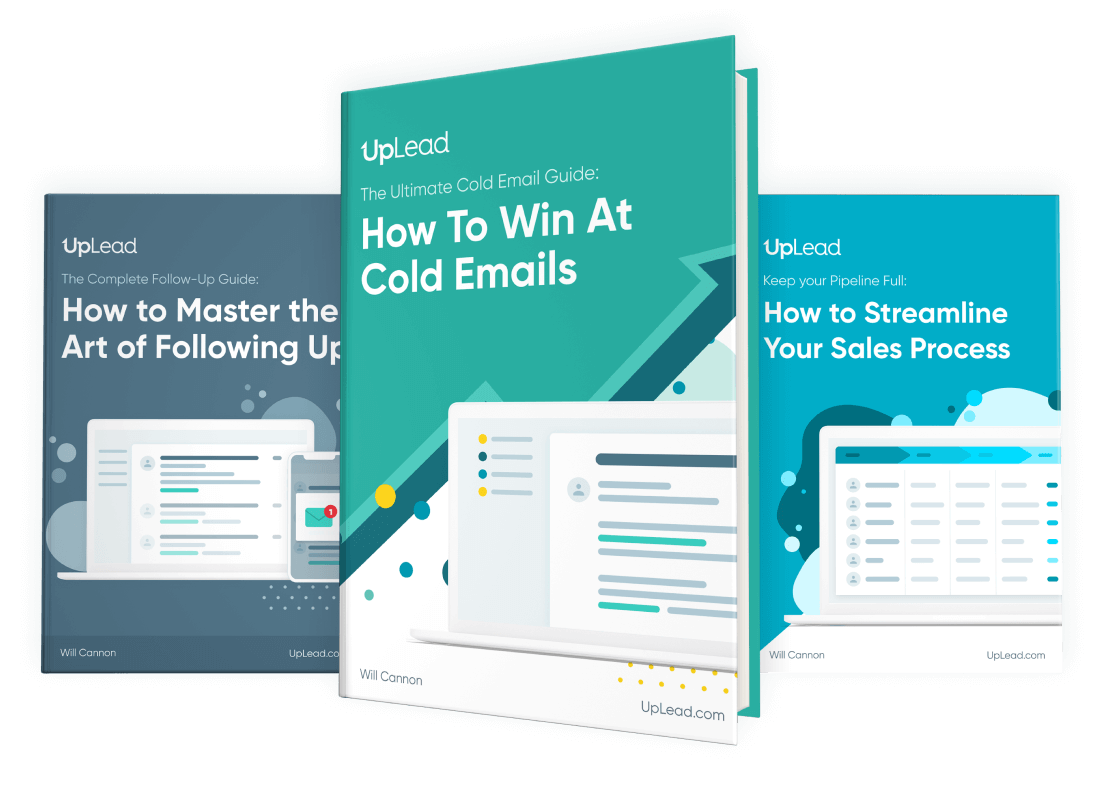 Download All UpLead's eBooks & Resources For FREE
Want to get the best sales and marketing tips to help you scale your company? Download all UpLead's ebooks and resources, which contain plenty of useful strategies and actionable insights for marketers, sales teams, and entrepreneurs.
I agree to receive emails from UpLead, and can unsubscribe at any time.
Transferring leads to lemlist
For each of these audience profiles in the example above, you'll have a separate cold email campaign ready to go. In other words, you'd be communicating with each specific group as if you were on a 1-on-1 meeting with them.
Specifically:
Explain to recruiters how their job can be 2x easier with your CRM, and they can afterward put pressure on their boss to buy it for them

Different use case guides will be distributed to different audience profiles

French and Spanish content will be created, and prospects in those markets will better understand your product
Once you have your prospects lined up in UpLead, all you have to do is transfer them to the right campaign in lemlist. Luckily for you, it only takes three clicks to do so.
Here's a quick tutorial.
Three secret tips for UpLead
Three secret tips for lemlist