Seeing who has read your emails—and when—can help increase your productivity, especially if you work in sales. While email clients don't always offer read receipts as a default option, there are a few easy ways to set up this feature. In this article, you'll learn how to see if someone reads your email by enabling a read receipt to elevate your cold email outreach efforts.
Quick Links:
Read Receipts: How to see if someone reads your email
A read or return receipt confirms that an email recipient has read your message. This feature differs from email validation, which ensures the person you are trying to reach has an active email address.
With email validation, return receipts can help determine whether your recipient received your messages. While a return receipt is not a 100% guarantee that the recipient read an email, it indicates whether the message was opened. 
Remember that tracking a single email is usually more effective than monitoring all emails. You'll know whether or not the email you're interested in was received and read without being overwhelmed by notifications for every email you send.
6 Easy Ways to See If Someone Has Read Your Email
In sales, timing is everything. You need to know when your prospect is ready to buy in order to make the sale.
One way to gauge that readiness is by looking at whether or not they've opened your emails. Enabling your email client's read receipt feature can enhance your outreach results.
Many major email platforms offer the ability to turn on read receipts, and some even allow for additional features. For example, you can turn on read receipts for just a single message or for all of your incoming emails.
Here's a look at some of the best ways to see if someone has opened your email using the read receipt feature.
1. Outlook
Outlook makes it easy to enable read receipts in a few simple steps:
Open your Microsoft Outlook email account
Select "File" > "Options" tab > "Mail".
Enable the delivery receipt and/or read receipt options.
2. Thunderbird
Here's how to configure Thunderbird to request a read receipt on a per-email basis: 
Select 'Write' to open the compose window
When you're done typing your email, select the 'Options' tab in the top Menu bar.
Select 'Return Receipts' or 'Delivery Status Notification.'
Click 'Send.'
To set up an automatic return receipt for all emails on Thunderbird, you can access: Tools > Options > Advanced > General. You can also select how to handle return receipts when they arrive in your inbox, such as adding them to your sent folder.
3. Gmail
Gmail allows you to enable read receipts via their web platform. To request a read receipt in the Gmail workspace:
Open Gmail
Compose a new email
Select "More options" at the bottom right.
Choose "Request read receipt" from the drop-down menu.
Once you've composed your email, press "Send" as usual.
You'll receive an email notification alerting you that the message has been seen. Sometimes, the recipient will have to approve the read-receipt request. It's also important to note that you won't receive read receipts for your Gmail account when sending emails to mailing lists or Google Groups. 
4. Yahoo
While many email providers offer read receipt requests and open tracking to gauge your messages' success, Yahoo does not currently offer this feature through its webmail interface.
However, it does support Internet Message Access Protocol (IMAP), meaning you can still access the read receipt feature if you use an email client like Outlook or Thunderbird to check your Yahoo email.  
While this may be a bit more work than using the webmail interface, it's still a good option if you want to take full advantage of Yahoo's email capabilities.
5. Email Tracking Software
Read receipts can be enabled with most email tracking software. These programs will notify you as soon as an email is opened. In addition, many email tracking software programs will provide information on how often the email was read and how long it was accessed.
Email tracking software can also help prevent important messages from getting lost in a crowded inbox. By keeping tabs on which messages have been opened, you can easily follow up on any that have been ignored. Several email tracking tools can enhance your communication productivity.
Right Inbox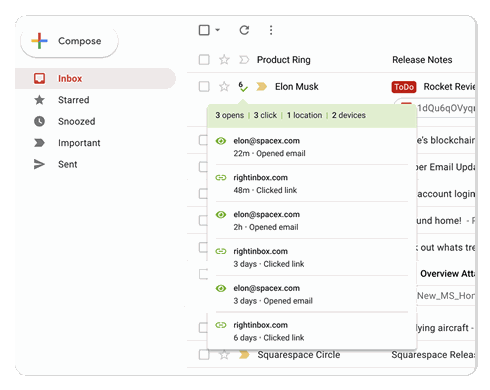 Right Inbox is a Gmail add-on that lets you see whether or not the recipient has opened your email. This tool comes with unlimited email tracking, reminders, templates, and more in the paid version. Right Inbox is a great starting point if you're looking for an easy way to keep track of activity regarding emails to your recipients.
Pros:
Unlimited tracking in the paid version
Templates are easy to use
Includes send later feature
Cons:
Only for Gmail
Limited features
Pricing:
Teams: $4.95 – $6.95 per user per month
Professionals: $5.95 – $7.95 per user per month
Free tier
SalesHandy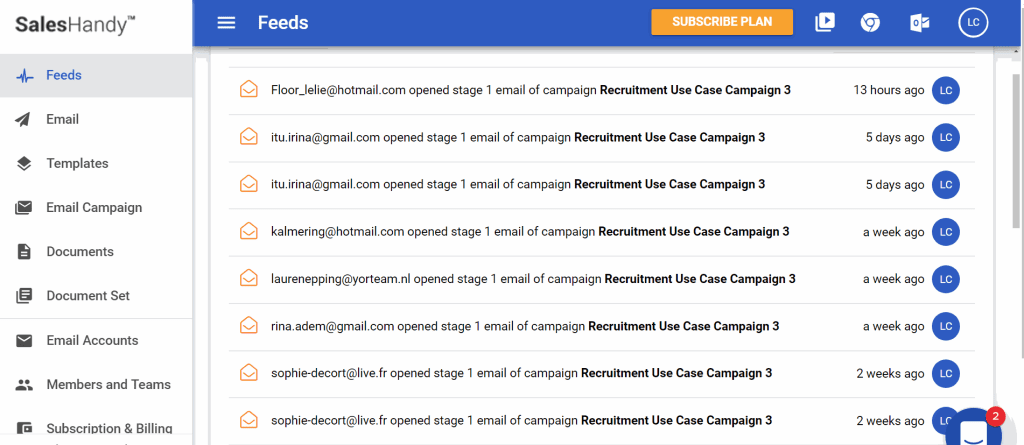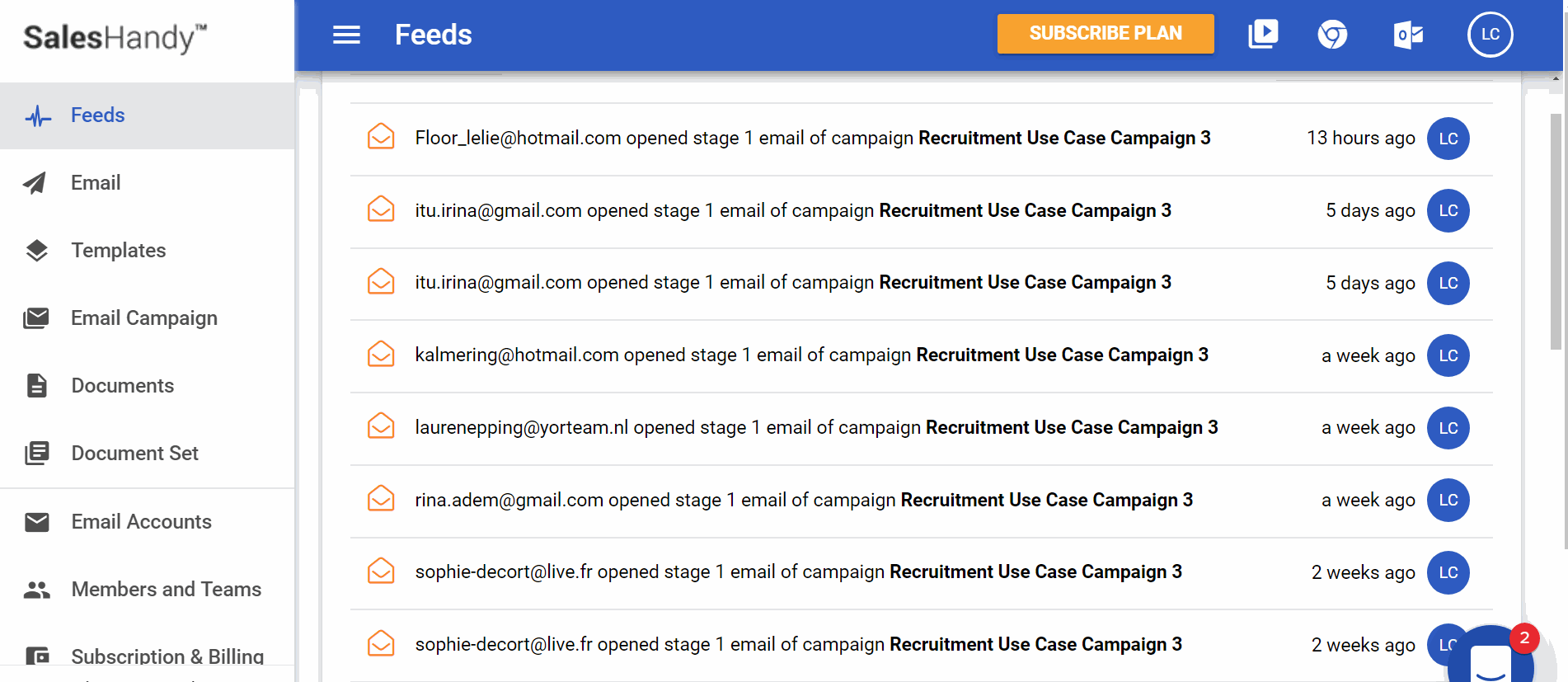 SalesHandy is a powerful email tracking software that helps sales professionals manage their email communications more effectively. The tool is priced per month and includes a 14-day free version.
Pros:
Schedule sequences in advance
Personalization through merge tags
Easy integration with Gmail and Outlook
Cons:
Support is not very robust
Less user-friendly on mobile devices
Pricing:
Pro: $25 per user per month
Agency: custom pricing
Mailtrack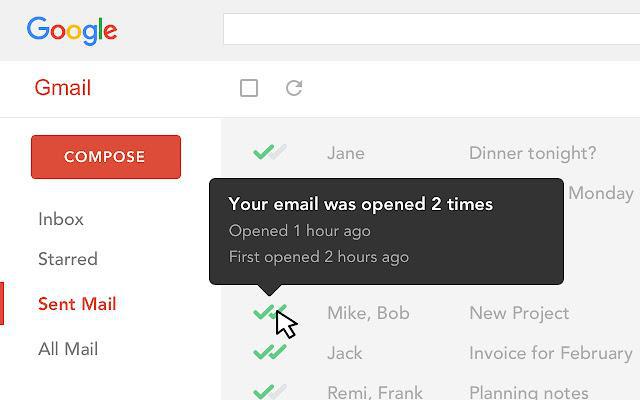 Mailtrack is a Chrome extension that helps you to keep up with your opened emails on Gmail. The paid plans include link tracking and complete tracking history. This feature shows users the number of times an email was opened or clicked.
Pros:
Real-time notifications of the email read receipts
Daily Report regarding email tracking
Unlimited tracked emails in a basic free plan
Cons:
Only available as an extension on Chrome
Only for Gmail
Pricing:
Pro: $4.99 per user per month
Advanced: $9.99 per user per month
Free version
Streak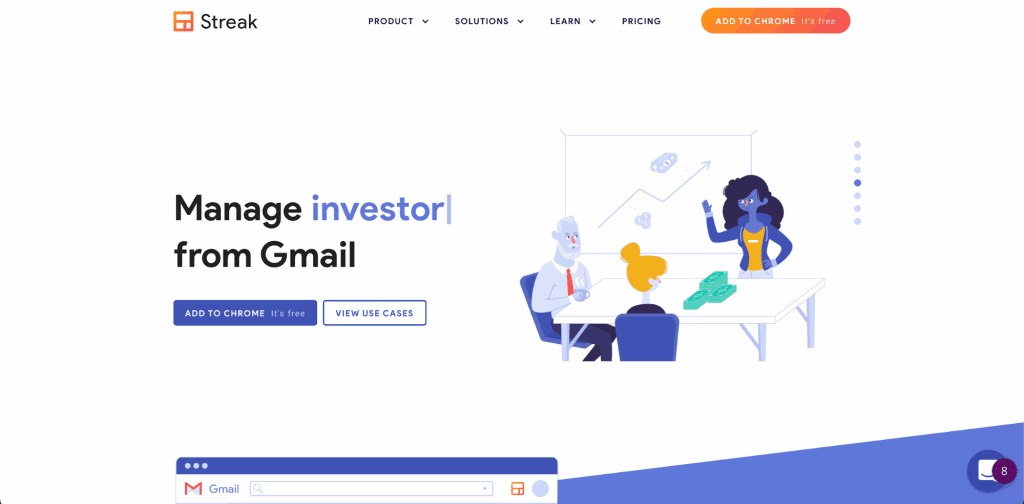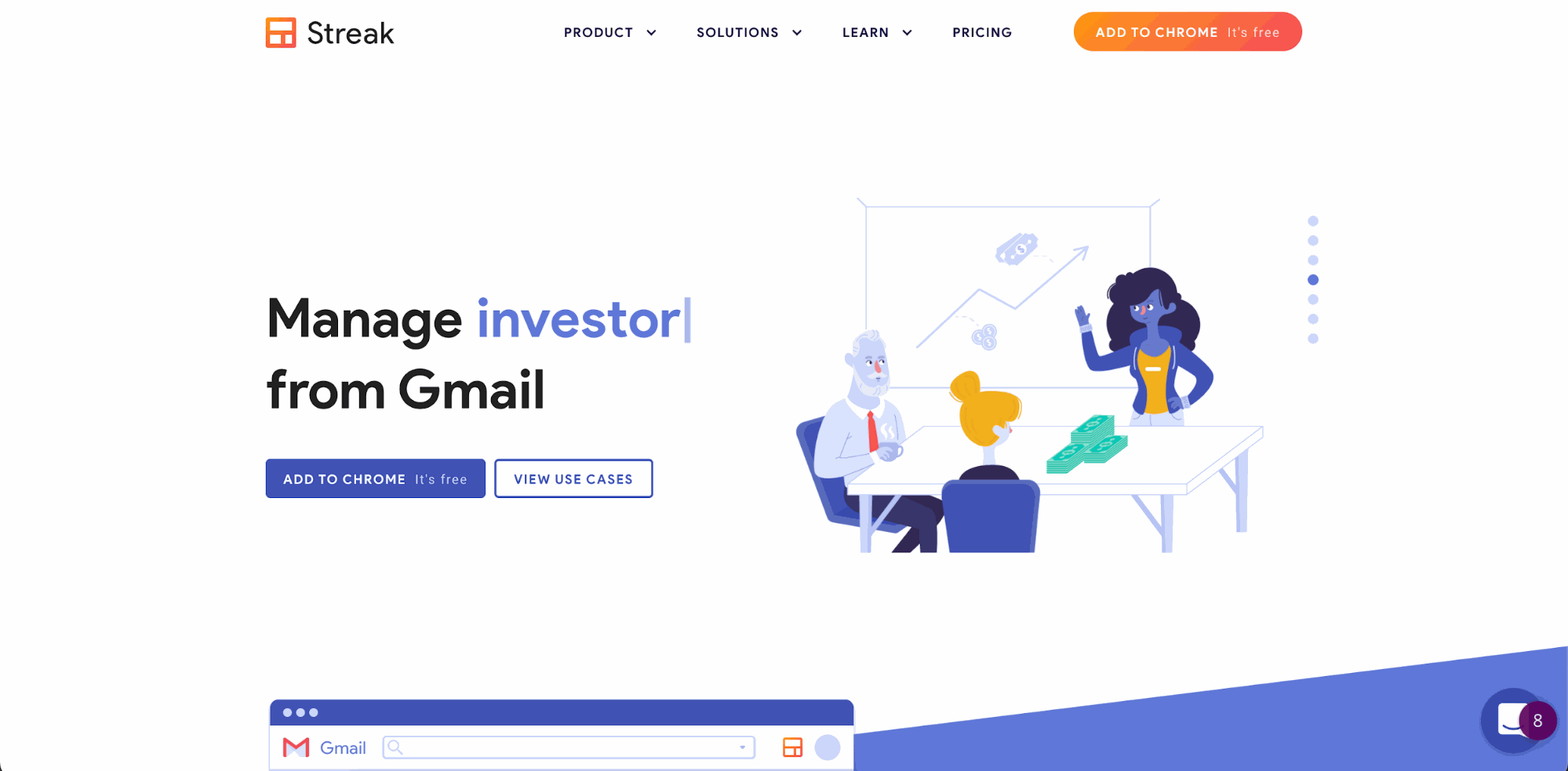 Streak lets you view who has seen your email instantly so that you can be on top of your outreach performance. It also helps you automate your pipeline follow-up directly in Gmail. This CRM tool can power your mass email campaign with detailed data.
Pros:
Users can customize templates with snippets
Wide range of team features like shared pipelines
Includes CRM and mail merge
Cons:
Not very user-friendly
Less affordable than other options
Pricing:
Solo: $15 per user per month
Pro: $49 per user per month with a 14-day trial
Enterprise: $129 per user per month
Free version
MailTag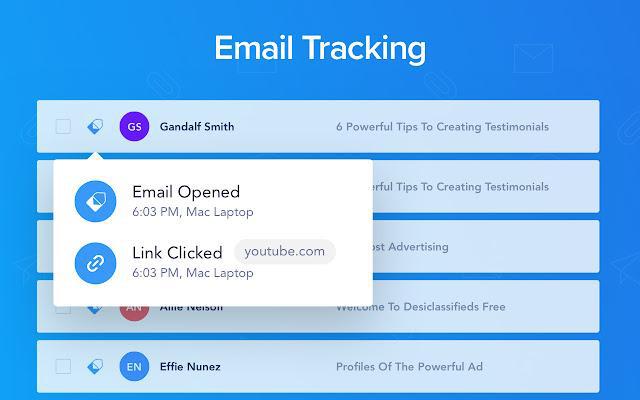 MailTag is an email tracking software that lets you see if someone has read your email. The tool has one pricing tier with a free trial.
Pros:
You can see when your emails are opened and view link-click performance
Dashboard with email performance insights
Easy to use
Cons:
Only for Gmail
You can't look at email history unless you use the paid plan
Pricing:
Pro: $9.99/month with a 14-day trial
6. Follow Up (via Email or Phone)
In a world where we are constantly inundated with emails, texts, and other electronic communications, it can be easy to forget the importance of picking up the phone and actually speaking to someone. However, there are still many situations where a phone call is the best way to get the job done.
If a read receipt shows that your messages have been seen but not responded to, a phone call or email can be an effective way to break through the noise and get the attention of the person you're trying to reach.
How to tell if someone reads your email: Closing thoughts
We hope this article has helped you learn how to enable read receipts so that you can achieve more visibility with your emails.
Combined with email tracking, lead generation tools like UpLead can help you find more prospects and reach your target audience. Begin your free UpLead trial to generate and start using a robust lead list today.
Start Your 7-Day Free UpLead Trial
Lead generation doesn't have to be all that painful. With UpLead, you can easily connect with high-quality prospects and leads to grow your company.