To get results, every professional needs the right tools. Nevertheless, the majority of organizations fail to meet their sales enablement goals. Your business can't afford to fall behind. Here's a closer look at sales enablement and ways to power up your sales team…
What Is Sales Enablement?
Sales enablement is the process of providing sales teams with the resources and information they need to be able to engage with their prospects on a deeper level. These resources (e.g., content and marketing collateral) can help sales professionals deeply engage with their prospects.
However, these materials have to be carefully organized. Sales professionals must be able to access the right materials at the right time and receive the appropriate support from their colleagues.
For these reasons, salespeople and marketers need to closely collaborate. Other departments and business figures should be in the mix, too. So fueling sales with important information and insight can help them excel on the front lines.
Strategic & Tactical Sales Advice: Straight to Your Inbox.
Join 20,000 sales leaders receiving practical & in-depth content. No fluff, just the best sales how-to guides.
I agree to receive emails from UpLead, and can unsubscribe at any time.
Why Should You Use Sales Enablement?
This enablement is a proven way to close more deals and lift the bottom line of your business. SiriusDecisions discovered that deliberate efforts to strengthen links between sales and marketing can lead to 19% more growth.
In addition to boosting your bottom line, you'll find that your sales and marketing departments will be more motivated and productive. Your marketing pros will see the direct impact of their work. Meanwhile, your sales stars will feel supported, and they'll know they've been given every chance to succeed.
The rest of your organization can have a lift, too. The more you sell, the more fulfillment your product and business development teams will have.
What Does the Sales Enablement Process Look Like?
The sales enablement process varies from one organization to the next. If you're hoping to implement a rock-solid strategy that will empower your sales team, here's a look at what this process generally involves. 
1. Dig into your sales pipeline. 
First things first: You'll want to take stock of the situation, and get an accurate view of the big picture. This step will help you understand where the other departments in your organization can help you improve your sales enablement.
The most efficient tactic involves diving into your sales pipeline. You should dig into the data and find out: 
Where your prospects are dropping out of the funnel.

What's causing them not to follow through. 

How you can prevent this dropoff. 
Let's imagine that you examine your sales pipeline. 70% of the new leads you generated at trade shows went cold after the first follow-up email. So you might identify emailing as being a problem area, and reevaluate your existing strategy accordingly.
Examine each step of your pipeline, and list out the resources and collaterals that might be able to help improve it. Think about marketing resources, tools, and other solutions.
2. Sit in on calls.
You'll often find that sales professionals aren't even aware of existing resources. In other words, they could be facing common objections during sales calls without offering appropriate resources.
So it's a good practice to have a marketing manager sit in on a few sales calls. They might hear a prospect express a concern about a product your company is selling, and notice that the salesperson didn't mention your killer case study, which answers that specific concern.
The marketing manager should put together a list of common prospect objections, then list the resources that correspond to those objections.
3. Collate your content.
Now that you've gained some insight, the marketing and sales teams should meet and discuss those findings. The sales team should go through the common objections they face, and describe the resources they need. Meanwhile, the marketing team should offer suggestions and present resources.
There are lots of ways to organize content. For example, some organizations make their salespeople's lives easier by grouping those resources according to common prospect objections. So after a call, a salesperson can refer to the key content and send it to the lead to keep the discussion going.
4. Name a location.
So now you've identified the resources that need to be used, and when they should be applied. But how do you make them accessible?
There are countless ways you can make these resources readily accessible to your sales professionals. For instance, lots of sales enablement platforms specialize in this area, but you could get creative and find a solution that fits.
For example, if your organization uses Atlassian Confluence, you could create new pages for each common objection. Then you could add links to appropriate resources. You might even find a low-tech way to create a hierarchy of well-organized Google Drive folders.
5. Create supporting content.
It's one thing for your salespeople to have access to the content, but it's another to help them use it effectively.
At this point, you should utilize the experience and expertise of your marketing team. Your copywriters, graphic designers, and other team members can harmoniously collaborate to create beautiful, automated email programs that will engage your prospects.
For instance, emails can automatically be A/B tested for extra impact, and the results can be carefully tracked. Savvy marketing professionals will be able to make sure each template has a personalized sender, which will help your salespeople close. Make use of handy digital tools. For example, if you like to create physical flyers consider using flyer makers such as PhotoADKing.
6. Bring in the rest of the team.
Sales enablement isn't just about bringing together sales and marketing. You should really think about how your other team members can help you drive value and make your salespeople's lives easier. 
For example, let's imagine that you have a customer success department. You might discover they're currently trialing an amazing new feature with a subset of your customers. But this news hasn't been published anywhere yet. So that new feature could mean the difference between a prospect signing or walking!
You should try to create strong ties between your salespeople and your customer success and product teams. New updates and product insight can help make your salespeople on the front lines remain passionate about your product.
5 Actionable Sales Enablement Strategies
There are key ways to boost the efficacy of your sales enablement process. Here's a closer look at five of these actionable strategies…
Provide the right tools.
Sales enablement is about more than just providing the right content. You also have to identify and provide the tools.
The key decision-makers within your organization should keep a close eye on the sales enablement landscape, in order to monitor new tools and developments that could impact your software suite.
Of course, you should carefully monitor internal feedback. For example, you might find that your salespeople complain about inaccurate prospect data. In so, you'd need to utilize a platform like UpLead.
Offer regular training.
Lots of sales enablement strategies are reactive, rather than proactive. They involve listening to salespeople and interpreting their needs. But you can break the cycle and offer regular training.
This training could be delivered in a wide variety of ways, depending on the priorities of your organization. Then your salespeople will get up-to-speed about what's happening within the business.
Let's imagine that you have an exciting new product feature that's being released in the next quarter. You could host a half-day training session, in which the product lead explains the feature before the marketing team can exhibit the suite of materials they've created.
Make it easy to share knowledge. 
Frequently, your team members might have important information they need to share with sales. But word of mouth is inefficient, and people can be forgetful. So some salespeople will inevitably be left out. 
Therefore, you should install a centralized way to share knowledge, and make sure it's adopted by your team. While knowledge bank tools such as Atlassian are great options, there are also low-tech alternatives.
You could consider incorporating a brief update into daily standup meetings or creating an announcement board in the sales department.
Regularly update resources.
Sales enablement is an ongoing process. If you're going to get the best results, you'll need to make sure all of your resources are regularly reviewed to ensure quality, effectiveness, and accuracy.
This review should apply to your marketing collaterals, tools, and training programs. If these important resources become outdated, your salespeople could become misinformed and ineffective.
So you should develop a review system that regularly allows your key stakeholders to collaboratively audit the existing resources, despite how accurate useful they are. This tactic can help boost the quality of your sales enablement process.
Track performance.
You can boost your sales enablement performance via regular reporting and analysis. You should try digging deeper into ways your sales enablement activities are having an impact on your bottom line.
You can use a range of tools to measure these key metrics: 
The effectiveness of your collaterals

The number of closed deals 

The satisfaction of your sales team

The number of hours marketing spends cooperating with sales
Sales Enablement Best Practices You Should Know About
If you really want to get the most from your sales enablement activities and avoid common pitfalls, you should be sure to follow best practices. Here's a closer look…
Make it a positive exercise.
It's important for you to cultivate an attitude that fuels the sales enablement process. This tactic will help you motivate and inspire your team to draw value from the exercise.
You should aim at fostering a sense of collaboration between your departments, which you should use as an opportunity to inspire your team. You should also consider the perspectives of these departments and pitch the process accordingly. 
Here's the way the resulting process might look: 
Sales
Improved sales figures

More support from the rest of the team

Unparalleled product visibility 

The ability to more confidently and transparently sell
Marketing
More visibility for your projects

The opportunity to have a demonstrable impact on sales revenue

Closer links with salespeople

The chance to develop new abilities
Product
The fruits of your labor are more visible.

Your salespeople become product advocates.

More sales mean more users.

You'll have the chance to better understand customer needs.
Focus on quality content.
The sales enablement process is one thing, but quality content is another. If you're going to get the most from your sales enablement process, you have to make sure your content is up to snuff. 
Before you start recommending marketing collaterals to your salespeople, it's important to make sure your marketing stakeholders perform an audit. They should confirm that key materials are up-to-date as far as quality and branding. If your quality and branding are lacking and outdated, you may want to consider a rebrand. You can utilize an online branding service such as Tailor Brands to help you craft a new logo, create merchandise and business cards, and even redesign your website. Once your marketing materials are handled, you can safely move on to the next phase of quality control.
Your usual quality control processes should be in place, and you should add another layer of review before collaterals are published or passed along to sales.
Establish expectations.
As with any initiative that you embark upon, it's critical for you to have a good understanding of what to expect. So you should develop a series of SMART goals, in order to measure the success of your sales enablement process.
The regular review of your sales enablement process will help you make further changes as needed. It will also show your sales and marketing departments that you're committed to their success, and it will highlight the importance of the initiative.
Feedback from your teams should be formalized and shared with the team when possible. Then you can create transparency, which will help you capture a sense of collaboration that really makes a sales enablement process work.
Create processes.
If your sales enablement process is going to succeed, you have to think about formalizing the process. It's not enough for your content editor to send your salespeople links to blog posts. You have to show them that your process is a carefully plotted strategy. 
For example, you might want to create this kind of process for sharing content…
Create and confirm content.
The team works together to produce a piece of content, and the relevant stakeholders approve it for publishing.
Add supporting information.
Once the piece has been published, your marketing manager will create a document for the sales team. This document will provide a range of supplementary information, such as what the document is for, what it includes, and when it should be used.
Share the information. 
You should share the collateral and its supporting information in a predictable, visible way. For example, the package is added to a knowledge base or included with a monthly email from the marketing department.
Constantly improve.
If you want a sales enablement process that inspires growth, you have to nourish and refine the process over time. Inevitably, there are going to be inefficiencies and gaps within the process. But you can eventually iron these items out.
If you're going to constantly improve, you'll want to pay attention to the following areas:
Employee feedback
To understand how the process is providing value, you should listen to your sales and marketing teams, as well as other employees. For example, you might find the sales team still feels that it lacks support, despite the processes you have in place.
If you keep an ear to the ground, you'll be able to quickly resolve these types of issues and present alternatives.
Reporting
Your sales enablement process should produce a lot of data. Your marketing department will be able to produce statistics about ways your marketing collaterals are being accessed and viewed. Meanwhile, your sales team will be able to share specific statistics.
Over time, you should monitor these critical metrics to see if your sales enablement process is really working.
5 Examples of Sales Enablement Content
Your marketing department can provide a lot of value to your sales team. Here's a look at some of the sales enablement content they can produce…
Case studies
Did you know that 70% of online customers look at a product review before making a purchase? This dynamic also extends to the world of business, where your prospects are constantly searching for social proof that your product or service delivers.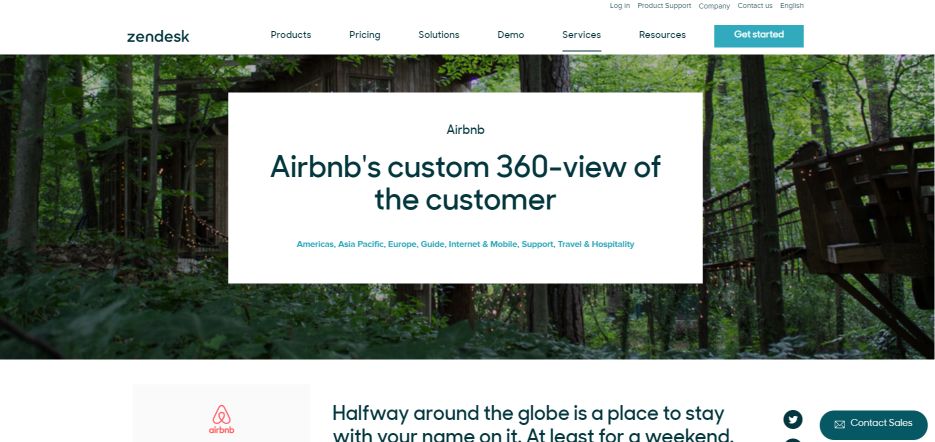 Airbnb Case Study by Zendesk
Case studies are important collaterals that can inspire your prospects to take action. These collaterals give salespeople the chance to talk about previous successes, and they help prospects envision how your solution might work for them.
It's critical for your salespeople to be familiar with your case studies. They should be able to recall relevant examples and standout statistics that put your product in the best light.
Gated content
When it comes to moving your prospect through the sales funnel, gated content can be very helpful. It requires performing some action before it can be accessed, which deepens engagement with prospects and acts as a clear indication of their interests.
There are many types of gated content. Marketing departments all over the world are adept at creating fantastic whitepapers and informative eBooks that drive value.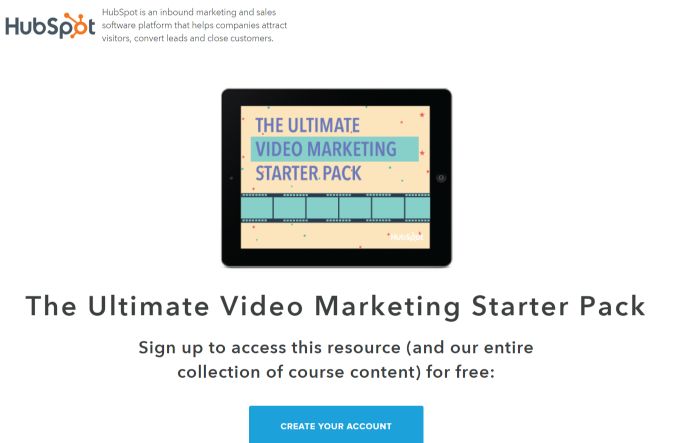 Gated content by HubSpot
Again, it's important for salespeople to be able to recommend these pieces of content and strike up new topics with their prospects. Then your prospects will be even more excited and grateful to receive your content.
Landing pages
Landing pages are very useful. These lightweight pages can be impeccably optimized, in order to get the best conversion rates possible and inform prospects. There are lots of reasons to create these pages, such as scheduling meetings and growing your mailing list.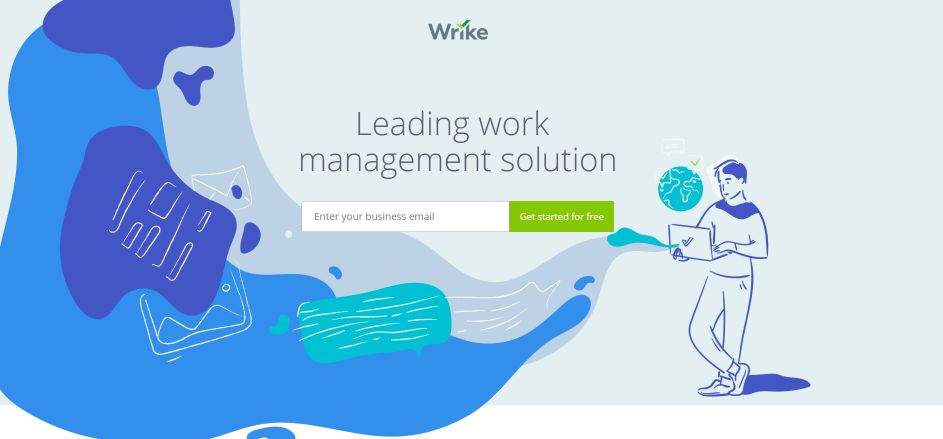 Landing page by Wrike
Best of all, these landing pages can be adjusted to match the various buyer personas you've created. This tactic will help you compartmentalize your prospects, and it will give your salespeople an important advantage: engaging with those prospects.
Marketing departments should harmoniously collaborate with sales, in order to understand which landing pages need to be created and adjusted over time.
Presentations
Salespeople often call on a wide range of presentations, in order to engage with your prospects. These presentations can come in all shapes and sizes, including conference calls, demos, and speaking opportunities.
The marketing department should use its marketing abilities and skills to create informative presentations that are up to your brand standards. This tactic will help you maintain a professional look and feel, and it will prevent your salespeople from having to make adjustments.
Of course, you'll have to reflect any changes to your product or service across these presentations. So it's important for you to have a way to keep track of the status of your presentations.
Emails
Sales professionals find that plaintext emails work best in some situations. But beautiful emails can also be useful. However, these emails are often difficult to create, and they require some type of design and/or coding proficiency.
The marketing department should try to create these email templates. These professionals should also create the necessary automated email templates, including compelling and persuasive copy. (If you're looking for inspiration, check out these email templates from ActiveCampaign.)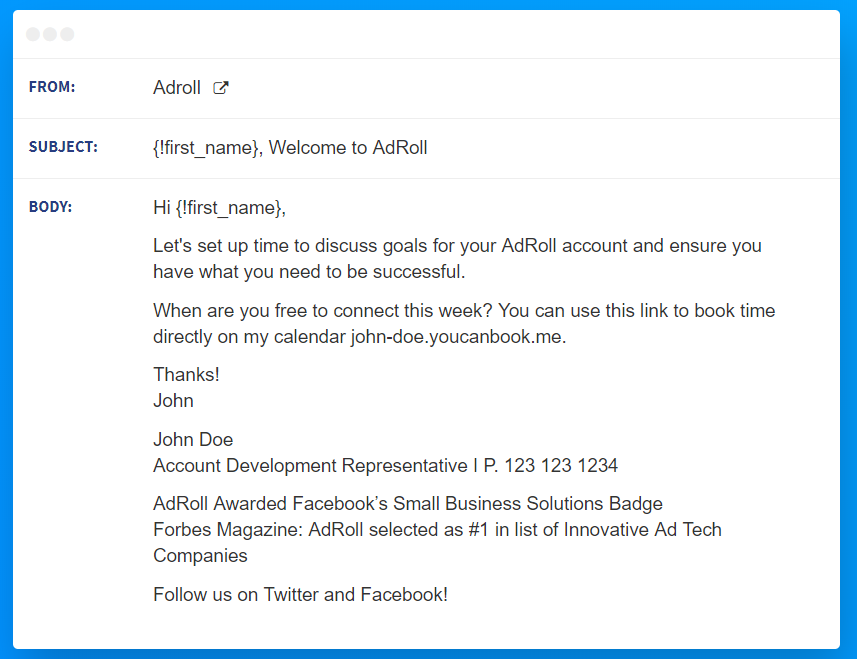 Sales email by Adroll and Good Sales Emails
With the right tools, it's often simple to implement A/B testing and track the performance of automated email programs. These features should be used to create the most effective emails possible.
Sales Enablement Software
We know that your highest priority is to power up your sales enablement strategy. Here's a closer look at the best sales enablement tools out there…
Guru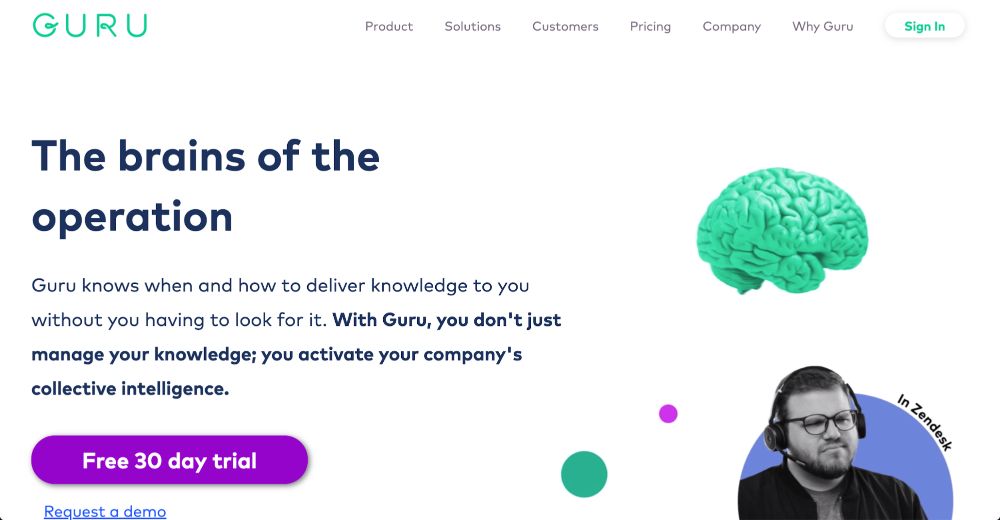 Guru is a knowledge-based solution that delivers important information and collaterals to your sales team. And they don't even have to look for it. So this tool can really help you activate your company's collective intelligence and boost your sales enablement results.
Key Sales Enablement Features:
Cataloging and categorization

Content management

Discussion boards

Self-service portal
Pros:
It's a simple way to find key information.

It expedites the delivery of critical information.

Its "cards" offer a way to deliver quick updates.
Cons:
There could be confusion and misinformation.

The cards need to be verified for accuracy.

The UI can hide some important features.
Seismic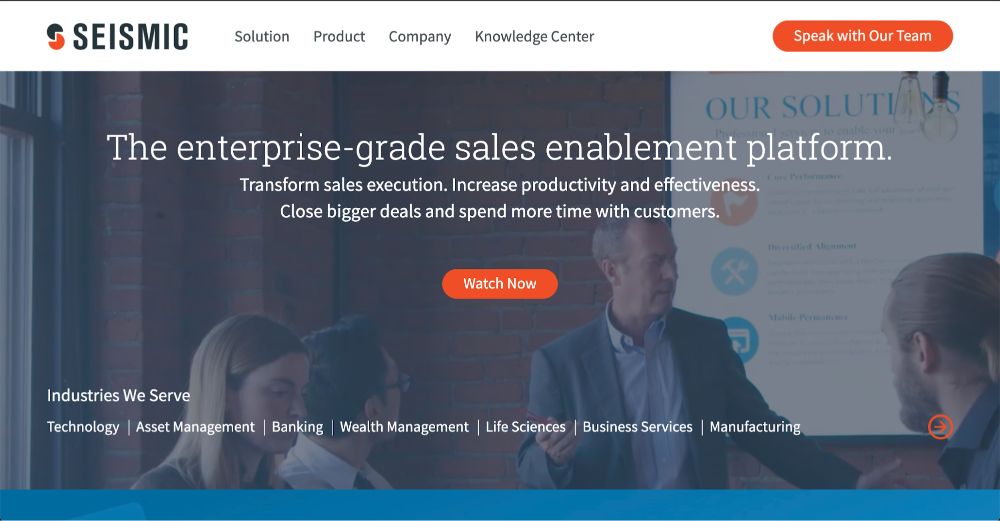 Seismic gives sales teams the knowledge, messaging, and personalized content they need to effectively engage with prospects. Content intelligence services mean that marketers can track the impact of their work, including necessary adjustments. 
Key Sales Enablement Features:
Collaboration

Content management

Meeting management

Presentation management
Pros
Dynamic folders are simple ways to organize content.

Product news items make it easy to share updates.

Rich analytics drive decision-making.
Cons
It cannot house RFP questions.

It's missing some key functionality. 

As far as the availability of content, there are some bugs.
Highspot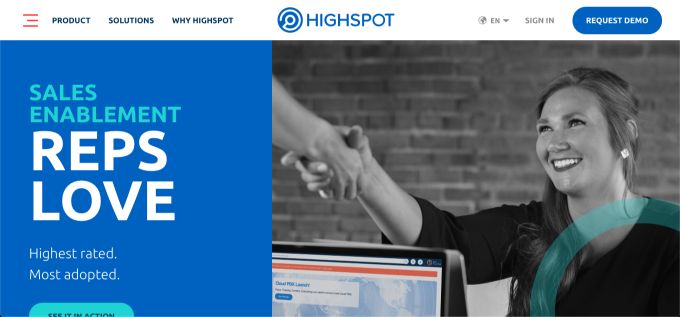 Highspot is a sales-enablement platform that helps elevate customer conversations to drive strategic growth. The platform offers intelligent content management, training, contextual guidance, and actionable analytics.
Key Sales Enablement Features:
Customizable templates

Document indexing

Full-text search

Version control
Pros
Its tagging is organized, simple, and intuitive. 

The search feature is robust and performant.
Cons
The content can become outdated.

The loading times are sometimes long.

A lack of user controls means that lots of content can be generated.
Looking for even more sales enablement tools? Be sure to read our piece on The Best 23 Sales Enablement Tools for Your Sales Team in 2019.
FAQ: Sales Enablement
Here are the answers to the most asked questions about sales enablement:
Who is responsible for sales enablement?
Most of sales enablement tasks and functions will be in charge of the head of sales. The rest of the tasks and responsibilities will typically fall in charge of marketing, upper management, and sales operations.
How many tasks and ownership of sales enablement anyone takes will likely depend on the kind of company, its size, and its management styles. Some companies may assign multiple tasks to the sales manager, and other companies may appoint a sales enablement manager to take over most tasks and duties.
What is a sales enablement manager?
A sales enablement manager is the person in charge of developing and implementing strategies and initiatives to help salespeople and customer service reps do their jobs more efficiently.
Although not all companies will have a sales enablement manager per se, all companies should have the role and tasks taken by one or multiple people, especially if they're in charge of sales.
Why is sales enablement important?
Sales enablement is important because it can help the salespeople to increase their sales. If you educate your customers and focus on their satisfaction levels, they'll develop loyalty for your brand, leading to more sales and fewer resources spent on acquiring new leads.
What are the elements of a sales enablement strategy?
There are multiple elements to a sales enablement strategy, including:
Mission statement: must be well defined and implemented within the company culture.

Tools and technology: they must be easy to use, easy to implement, and actively helping your customer-facing personnel.

Goals: must be clearly defined and achievable.

Metrics and KPIs: must be very well measured, letting the sales enablement manager know how well the sales team is doing.

Customer onboarding and education strategy: must let the customer know exactly what they need to know about the brand and its offerings. Customer onboarding software is a great help here.
What is a sales enablement plan?
The sales enablement plan is a strategy to empower your sales team and help it excel with customers. It typically starts with establishing a baseline, gaining insight on current needs. It then uses the findings to develop and test content for the customer.
What is a sales enablement platform?
A sales enablement platform refers to any software used to provide visibility in your sales cycle, letting marketing and sales teams collaborate seamlessly so they can deliver better performance and keep track of their efforts.
What is sales enablement software?
Sales enablement software are digital tools to help your customer service and marketing teams to manage your content, letting you create, edit, share, and manage it easily.
What is NOT sales enablement?
Sales enablement is not the answer to every question, and should not be used as just training. It's also not IT, or a blanket term to cover customer or employee education.
Conclusion
A strong sales enablement process can really boost your sales team's results. We hope this post helps you adjust and enhance your sales enablement process to secure success!