There are thousands of B2B sales books out there. It seems everyone's writing sales books, and not all sales books will help you.
On the other hand, some books that aren't specifically sales books shouldn't be overlooked. They can contain helpful information that can be taken cross-industry if need be.
The best sales books can inspire your sales team and give you the insight to improve your sales process. That's why we asked well-known industry experts about their favorite sales books or the ones they've enjoyed the most.
Here are a whole bunch of the best sales books to read until well into next year.
Sales Books
Recommendations by Industry Experts
Want to know the experts' favorite sales books? Here's a list of some of the best sales books to inspire your sales team, improve your process, and convert your sales reps into sales professionals:
1. Secrets of Closing the Sale
Zig Ziglar's Secret of Closing the Sale by Zig Ziglar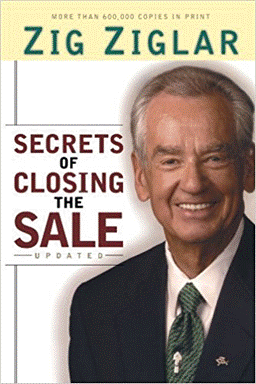 "This book is a must-read if you want to take your sales to the next level. Zig Ziglar is a genius salesman, and his closing techniques are invaluable.
This sales book will walk you through the best methods to present a product or service and how you can get a positive response from your potential buyers. In this book, you will learn how to be more productive while remaining professional."
Recommended by: Caleb Burley, Co-Founder at Artiseo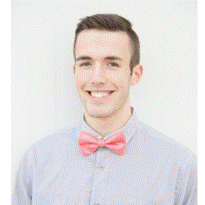 Caleb is the Co-Founder of Artiiseo, a digital marketing agency in Winnipeg, Canada. He's an avid reader of anything marketing and loves to share his knowledge of successful marketing strategies with business owners through writing.
---
"Zig Ziglar's book, "Secrets of Closing the Sale" needs to be at the top of any best sales books list. The book is stacked with a ton of value. Zig is a legendary salesman who shares interesting experiences on overcoming objections, closing deals, and handling various client personalities. Zig had a huge impact on my success as a life insurance agent. It is a must-read sales book for anyone in a sales role without a doubt. "
Recommended by: Joseph Cirillo, Veteran Life Insurance Agent at Good Life Protection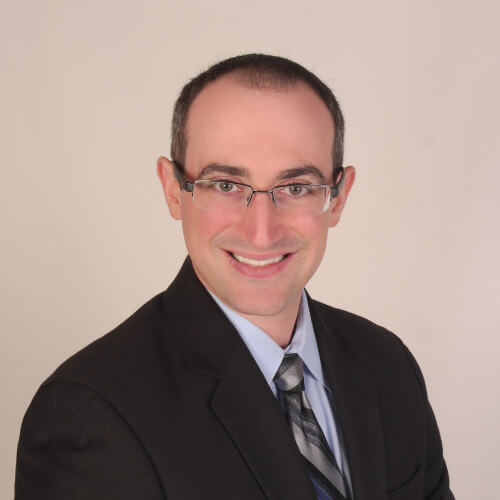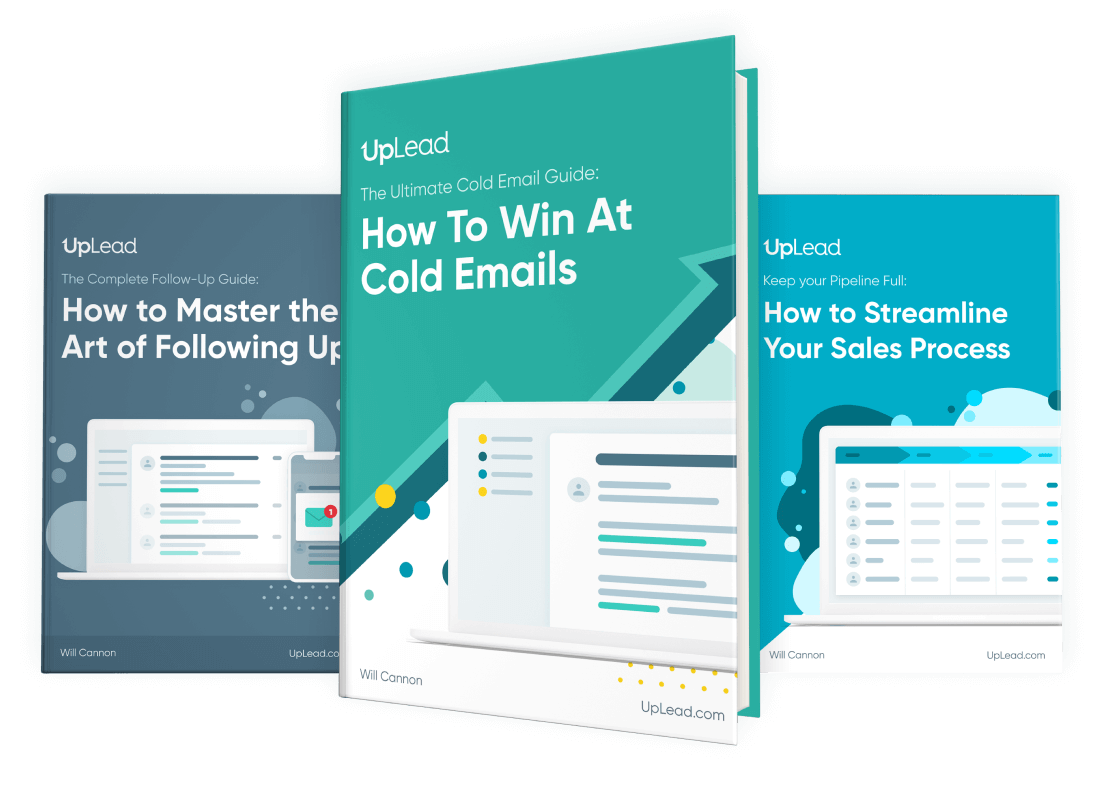 Download All UpLead's eBooks & Resources For FREE
Want to get the best sales and marketing tips to help you scale your company? Download all UpLead's ebooks and resources, which contain plenty of useful strategies and actionable insights for marketers, sales teams, and entrepreneurs.
I agree to receive emails from UpLead, and can unsubscribe at any time.
2. How to Win Friends and Influence People
How to Win Friends and Influence People by Dale Carnegie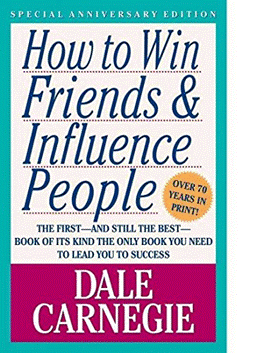 "This book has taught me the importance of staying in control and how beneficial it is to be in control of our behaviors and act in a way of service to others.
This sales book will help you learn how to build lasting relationships with others."
Recommended by: Jonathan Kidder, Head Writer at WizardSourcer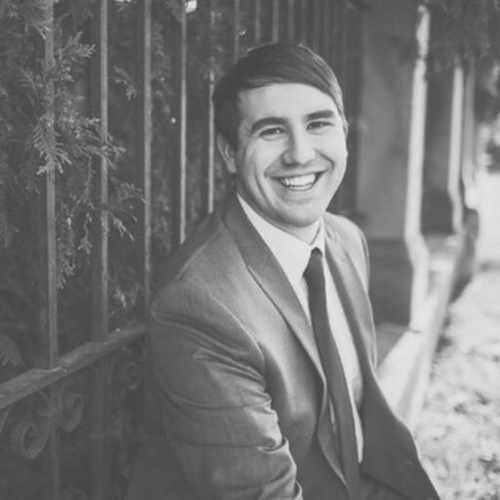 ---
"Carnegie's classic is not just a must-read for sales, and it certainly is that, but it's a must-read for life in general. The book is all about how to be a people person and to be a good salesman, you need to sell yourself before you sell any product. How to win Friends influence people is not about fooling people, rather, it talks about how to help you help them. The only way you can get what you want is by helping them get what they want, which is why this book is a must for the salesman."
---
Recommended by: Nate Masterson, CEO at Maple Holistics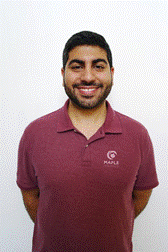 ---
"More than anything, sales is about people. Beyond tactics or methods for closing a sale, understanding human relationships is at the heart of great sales. For me, How To Win Friends and Influence People by Dale Carnegie is a must-read for anyone serious about selling. Especially on commission, we tend to view sales as a numbers game. But the more you empathize and understand basic human needs and desires, the far better chance you'll have of making ethical sales in a sustainable way."
Recommended by: Ross Palmer, Digital Marketing Manager at Lab Society
---
"It might sound like a cliche but the best sales book I've ever read was Dale Carnegie's "How To Win Friends & Influence People." In his book, Carnegie doesn't talk about sales development. What he does talk about are relationship-building and life skills. People want to be treated with kindness, consideration, and respect. Instead of focusing on what YOU want to sell to your prospect, demonstrate to them that you are genuinely interested in their problems and concerns.
For example: early in my sales career I had a client who made pizzas for schools and other institutions. In the early days, it was just a husband and wife who spent 18 hours a day making those pizza crusts from scratch. One day the wife, we'll call her Trudy, pulled me aside and said "A lot of salespeople come in here each day. You are the only one who gives me the same respect they give my husband." Technically, Trudy was the president of the company, but she could have been a dishwasher and I'd have treated her the same. I also would sometimes put on an apron and help out. I did it because I wanted to prove to them that I genuinely cared about them as people and not just about what I could sell them.
No one likes a smarmy used-car type salesperson. Long term sales is built on relationships and relationships are built on trust. Do the right thing for your customer and they'll be your customer for a long, long time."
Recommended by: Barry Kronhaus, President at Discount Packaging Depot
Barry has been in the packaging distribution business since 1996. He's been operating his own company since 2009 and launched his e-commerce website in 2012.
3. From 0 to 1,000 Customers & Beyond
From 0 to 1,000 Customers & Beyond: The 4 steps to scaling your B2B customer acquisition. by Steli Efti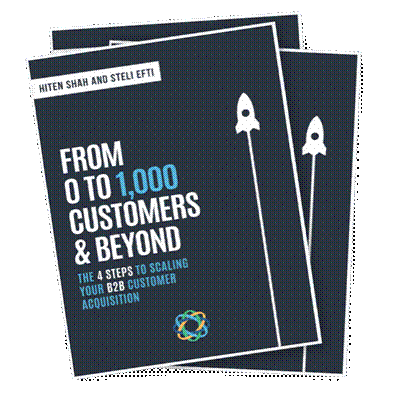 "This book is helping B2B founders to implement sales. It tells you how to go from zero to 1000 customers and what strategies to implement at a specific stage.
Recommended by: Aazar Ali Shad, VP Growth at Userpilot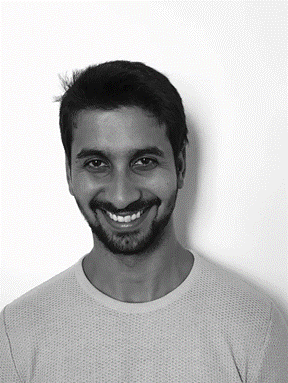 Aazar is VP Growth of Userpilot & Co-Founder of ECOMPLY.io. He has 5+ Years of Experience in B2B Sales & Marketing
4. Predictable Revenue
Predictable Revenue: Turn Your Business Into A Sales Machine With The $100 Million Best Practices Of Salesforce.com by Aaron Ross and Marylou Tyler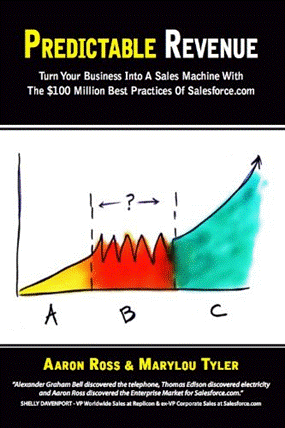 "Allows you to keep focus on the healthy pipeline development. Discover the outbound sales process that helped add $100 million in recurring revenue to Salesforce.com in just a few years, almost doubling their enterprise growth… without cold calling or a boiler room approach."
Recommended by: Michał Kowalski, COO at Xchanger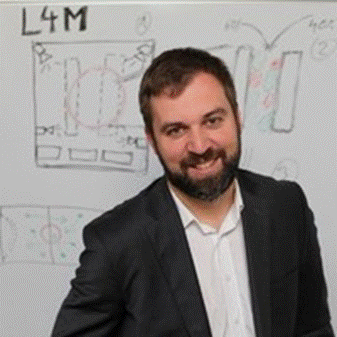 More than 12 years of experience gained while working for the international telco industry with a proven track of finished/implemented projects for B2C and B2B markets. Held the responsibility for strategy, marketing, businesses, and sales development areas. Last 5 years were spent on developing Lab4motion – an award-winning company providing cutting-edge solutions within video & image recognition and analytics.
5. Crossing the Chasm
Crossing the Chasm: Marketing and Selling High-Tech Products to Mainstream Customers by Geoffrey A. Moore and Regis McKenna
"Each customer group has different expectations, needs, and desires connected to your solution. If you pay attention to those aspects, you'll know how to grow your product.
Instead of thinking about customers as a unified group, Geoffrey A. Moore proposes dividing them into 5 separate groups. Each group can be treated separately."
Recommended by: Maria Siewierska, Content Marketing Specialist at Woodpecker.co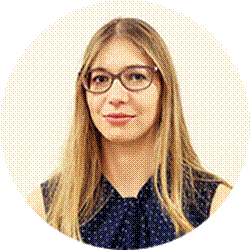 Mary runs the company blog and social media channels at Woodpecker.co, an intelligent cold email, and follow-up automation tool. She writes about sales, prospecting, and email outreach.
6. Predictably Irrational
Predictably Irrational, Revised and Expanded Edition: The Hidden Forces That Shape Our Decisions by Dr. Dan Ariely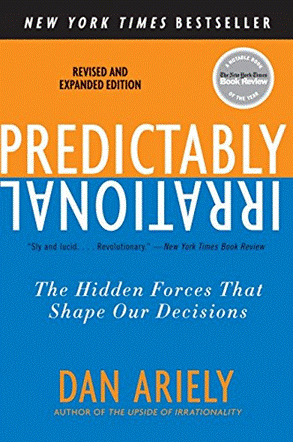 "Two words: Dan Ariely. (Marketers will understand.)
The book reveals the hidden agenda behind our decision-making and shares actionable tips for marketers to influence it. You'll see how easy it is to predict a customer's behavior if referring to human psychology and will know what to do so your product would hook more people."
Recommended by: Lesley Vos, Content Architect at Bid4Papers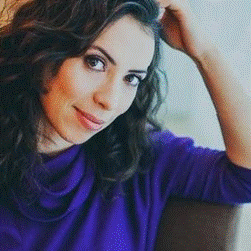 With 7+ years in marketing, Lesley specializes in sales copywriting and storytelling. She's a regular contributor to publications on business, marketing, and self-growth.
7. Hooked
Hooked: How to Build Habit-Forming Products by Nir Eyal
"The Hook Model, the one giants like Apple use to create habit-forming products. You'll learn how to encourage customer behavior of returning to your brand repeatedly. This is a how-to guide rather than theoretical stuff we all are fed up with and probably, that's why so many marketers and product managers recommend it.
It gives you +1 step-by-step tactic to creating and developing a product most people will want to buy."
Recommended by: Lesley Vos, Content Architect at Bid4Papers
8. Zero to One
Zero to One: Notes on Startups, or How to Build the Future by Peter Thiel and Blake Masters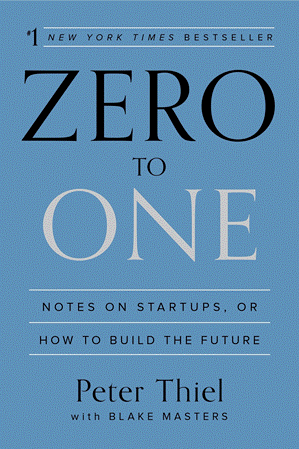 "It's about making things happen. Zero to One helps you understand fundamental core values and attributes of your company. It will allow you to reach significant success by finding your best niche and constantly pushing in that direction.
Must read for any entrepreneur."
Recommended by: Vlad Calus, Co-Founder at Planable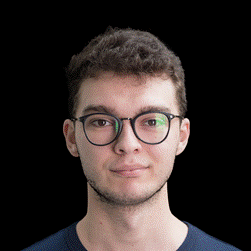 Vlad founded two non-profits at the age of 16, then dropped out of college, moved to another country with two 2 his friends and built Planable (Techstars London '17) at 19 years old.
9. Influence
Influence: The Psychology of Persuasion by Robert B. Cialdini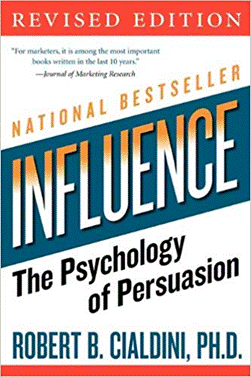 "It's the absolute classic on the psychology of persuasion. It lays out six psychological levers that can be pulled to convince someone: reciprocation, commitment and consistency, social proof, liking, authority, and scarcity. The book includes a wide range of interesting research studies that show these elements in action.
After reading this book, you'll be able to recognize and exploit all the tricks that sales and marketing professionals use to make the sale."
Recommended by: Pascal van Opzeeland, CMO at Userlike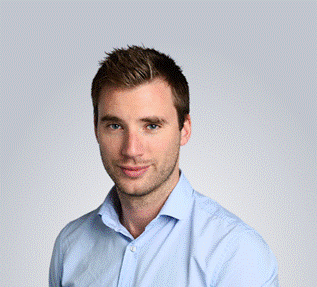 Pascal is the CMO and co-founder of Userlike, customer support software for website chat and mobile messaging.
---
"This book will help you understand the process you must take to convince a human to say yes. People are always being drawn many different directions, and this book helps you understand why we behave in the way we do. With thoughtful persuasion, marketers and salespeople can help convince leads to say yes more often.
Influence is a must read for every marketer or salesperson. Most sales books focus on specific steps to close a deal — this is different. It truly helps you understand the psychology behind decision making, and provides a framework of 6 universal principles that you will start to identify in all parts of life."
Recommended by: Ben Johnson, Head of Content at Proof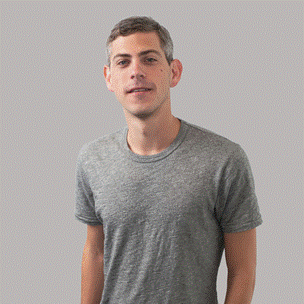 Ben Johnson is the Head of Content at Proof, the leading provider of social proof notification software. Over 15k websites trust Proof to help increase their conversion rate and add trust to their pages. Also, be sure to take a look at Proof's list of Best Marketing Books.
10. Subscription Marketing
Subscription Marketing: Strategies for Nurturing Customers in a World of Churn by Anne Janzer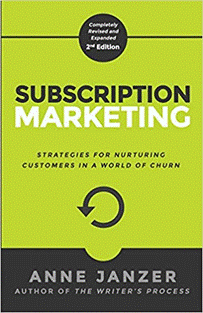 "Anne Janzer shows you how to add value and nurture customers before and after the sale, driving success in today's real-time business environment.
225 pages of actionable advice. No bullshit."
Recommended by: Tony Freed, Customer Activation Specialist at TonyFreed & Co.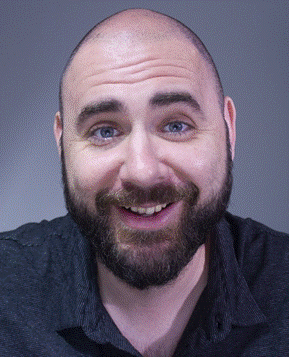 I specialize in customer activation optimization for SaaS products through customer research, onboarding and features adoption optimization using techniques I've learned and developed over the last 13 years.
11. My Philosophy for Successful Living
My Philosophy For Successful Living by Jim Rohn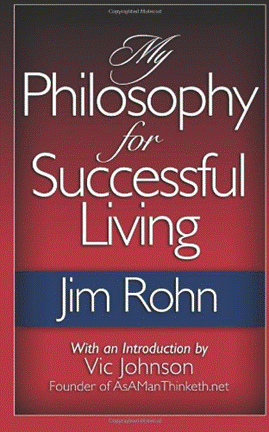 "So much of success with anything, including sales, is about nailing your mindset. Jim Rohn does a brilliant job in this brief read by giving you super actionable steps to command control over your mind. You'll discover how to get your unconscious working day and night to help you achieve your goals with spooky effectiveness.
It doesn't matter what tools, techniques or hacks you have, your ultimate superpower is getting control over your mindset. I've personally seen the most transformative impact in my life and businesses by taking a step back to truly invest in understanding how my mind works, to then get back to executing on my projects with 100x impact."
Recommended by: Mark Patchett. VP Growth/Founder at The Ecom Academy/Nectar Sleep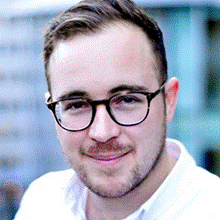 Mark is an Ecom growth marketer with 10+ years experience building top-notch teams to blitz scale businesses. He's helped over 250+ companies from hyper-growth startups, like Nectar Sleep, through to some of the worlds best-known brands, like The BBC.
12. The Ultimate Sales Machine
The Ultimate Sales Machine: Turbocharge Your Business with Relentless Focus on 12 Key Strategies by Chris Holmes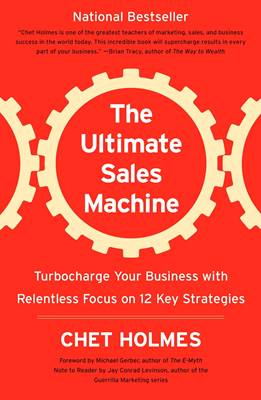 "Chet Holmes delivers 12 key strategies to shake up your sales and marketing. He covers everything from lead prospecting to buyer personas and trade-show effectiveness. These are great tips that can be applied to your business, and you can focus on the strategies that matter to you!
It doesn't matter how old is the book, it is still very relevant to adopt and understand Chet Holmes' mindset. He covers everything from productivity advice to marketing and sales tips. The key thing is to adapt it to your business and our age, but the principles stay the same. Pay special attention to the buyer's pyramid, it is very important to keep that in mind."
Recommended by: Baptiste Debever, VP Growth/Co-Founder at Feedier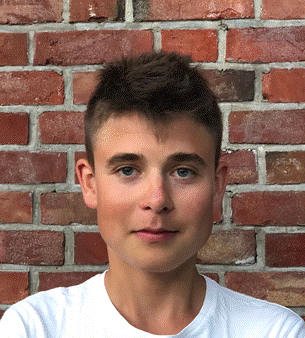 Baptiste Debever is the VP of Growth and co-founder of Feedier. He has extensive experience in web-related products, he's keen on understanding user needs and user motivation.
13. Guide to Winning Proposals
The Closer's Guide to Winning Proposals by Proposify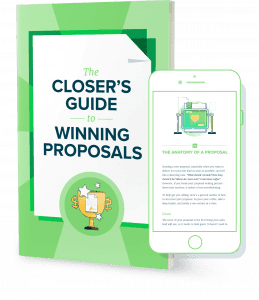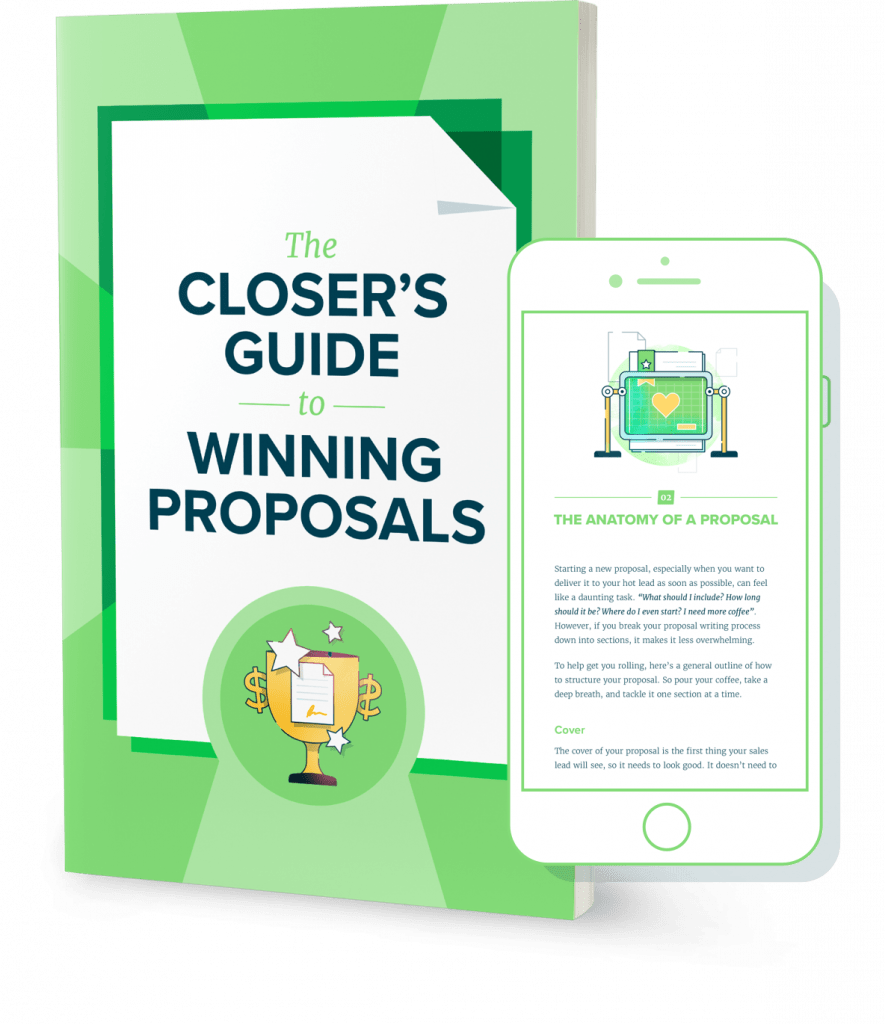 "Say goodbye to the inefficiency, the uncertainty, and the time-sucking nature of proposals.
From creation to close and every deal-making moment in between, this book is full of actionable advice to make your next proposal a pleasure. Say hello to the winner's circle."
Recommended by: Kyle Racki (CEO) and Jennifer Faulkner (Head of Content) from Proposify
We're Proposify, the proposal experts. Our online proposal software helps businesses just like yours close deals faster. We know firsthand how frustrating proposals can be, and we know how to make it easier. That's why we're sharing what we know in this guide to proposal writing – our mission is to make killer closers out of everyone, including you.
14. Ziglar on Selling
Ziglar on Selling by Zig Ziglar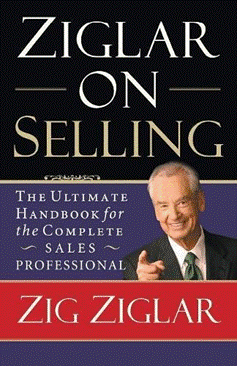 "The reason I love it is because he teaches that the best sales technique is CARING. People don't care how much you know until they know how much you care. Once people know that you are genuinely out for their own good they will want to buy from you, friends love to buy from friends."
Recommended by: Richard Kaufman, General Manager at GNC
15. The Sales Acceleration Formula
The Sales Acceleration Formula: Using Data, Technology, and Inbound Selling to go from $0 to $100 Million by Mark Roberge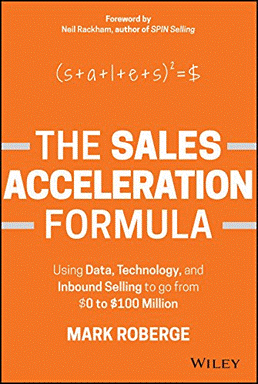 "In my opinion, this is the most comprehensive book written on b2b software sales. It covers everything from hiring to touching on marketing. It's a must-read for anyone in b2b software."
Recommended by: Tarek Alaruri, COO & Co-Founder at fairmarkit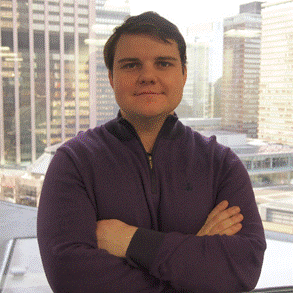 16. 7 Habits Of Highly Effective People
The 7 Habits of Highly Effective People: Powerful Lessons in Personal Change by Stephen R. Covey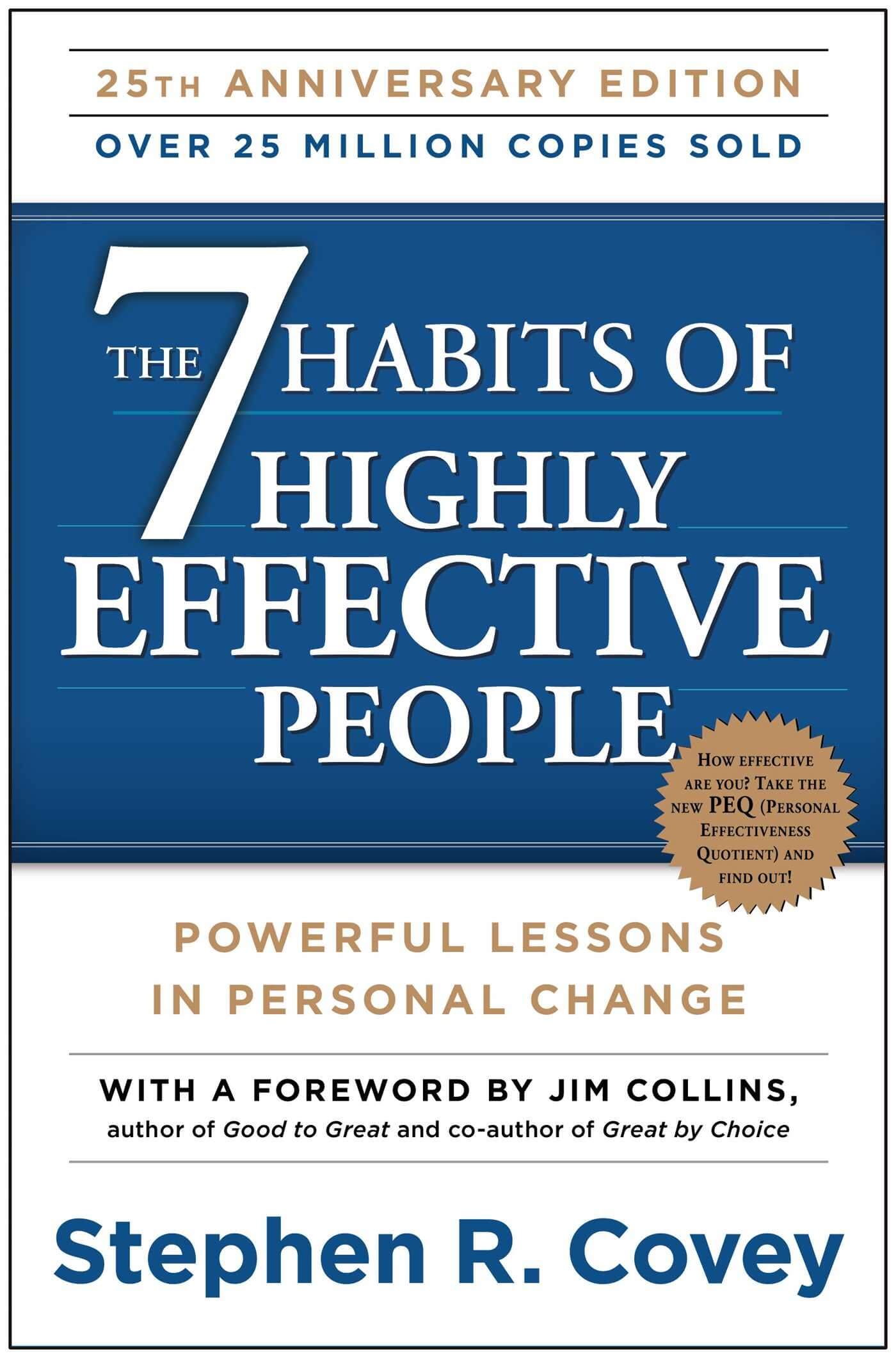 "The 7 Habits Of Highly Effective People by Stephen Covey is one of the best sales and life-changing books out there. The book takes you through 7 key habits and through a path of starting from dependence to interdependence to finally independence. The habits tie in to life and sales skills, one of the most important being seeking to understand before being understood, key in any sales relationship."
Recommended by: Stacy Caprio, CEO at Accelerated Growth Marketing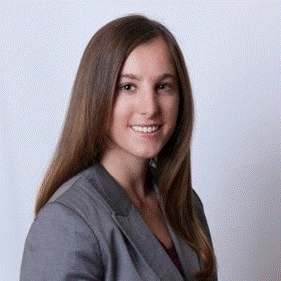 17. Crucial Conversations
Crucial Conversations Tools for Talking When Stakes Are High by Kerry Patterson, Joseph Grenny, Ron McMillan and Al Switzler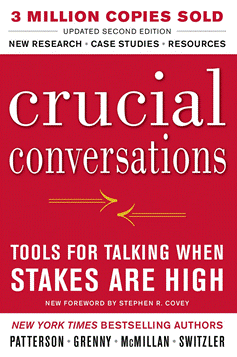 "I would highly recommend Crucial Conversations. Personally, I felt it helped not only in personal relationships but professionally in negotiating with customers. Mastering dialogue is crucial to success in sales.
As individuals, we often perform poorly when we are thrust into an uncomfortable conversation. When emotions run high our dialogue gets heated and we perform poorly.
This book made me aware of how often another person reacts in anger or escalates into yelling when they feel threatened or unsafe. That is important to bring the conversation to a "safe" place for both parties. This can be done by acknowledging their viewpoint. Restating their concerns and coming contribution with our concerns. "
Recommended by: Chris Siamof, Broker Associate at Keller Williams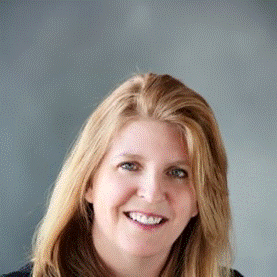 18. Confessions of an Advertising Man
Confessions of an Advertising Man by David Ogilvy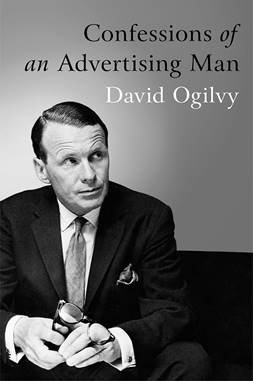 "So often the best source of knowledge on any given topic is not necessarily a "how-to" or self-help book specifically on that material or about that field. At least, that's been my experience. Instead, I'm personally a big fan of biographies as a better avenue for life lessons than books written by people who make a living selling self-help (like financial advice on how to save your way to making millions from authors who got rich not from saving but largely by selling such financial advice in lectures and books… not naming names).
And like all of us benefited from being once required to pick-up F. Scott Fitzgerald'sThe Great Gatsby (or at least rent one of the film adaptations – are you team Redford or Leo?), or were tasked with reading, and memorizing excerpts from, the works of Shakespeare (and far from me to argue against doing so, as I am nowhere near learned enough for that, or, in friend of the blog Bill's words, "How well he's read, to reason against reading!"), returning to the 'classics' of the industry can't hurt when it comes to filling out your Sales reading list.
Earlier in my still early days career, a boss and mentor once gave me Confessions of an Advertising Man by David Ogilvy as a holiday gift. And while even that senior-level gifter was not senior enough for the book to have been considered "current" in his day, let alone for me, and be warned it does feature some archaic thinking, I think the reason he bestowed Ogilvy's text on me was to be more than a thoughtful tie-in into my 'Mad Men' binge at the time. Rather, it was because that oft-quoted 1962 guide, tapped out on a typewriter in the 'boy this place reeks of bourbon' office of the progenitor of eye-catching engagement techniques still in use today, has many worthwhile lessons for those of us who work in Growth Development and Sales-focused fields. There's a reason the firm he built is still a world leader.
Perhaps the most valuable piece of advice contained therein, which will be more relevant in 2019 than ever, is to only sell stuff you believe in. Sales can have a negative connotation (used car salesman, a stereotype that won't die). Ogilvy firmly held that selling products or services you actually stand behind, that you would be comfortable with members of your own family consuming and being influenced by, is the best way to support sales success."
Recommended by: Adam Giffi, Marketing Manager at Alexander Mann Solutions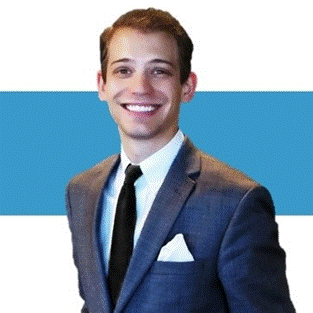 Adam is a 28-year-old manager on the Global Growth Development team of a leading B2B professional services team, with a focus in marketing and a sales support remit.
19. Never Split the Difference
Never Split the Difference: Negotiating As If Your Life Depended On It by Chris Voss and Tahl Raz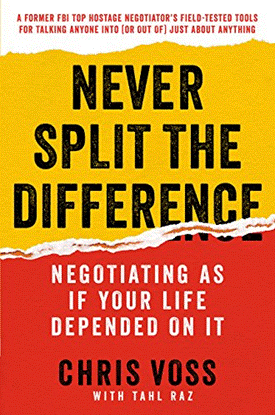 "As part of my role as a leader and founder of my firm I am responsible for all sales. I also consult with salespeople, provide marketing and communications training and develop sales strategies with companies.
One of the best sales books that I have read relates to the negotiation element of sales. The book "Never Split the Difference: Negotiating as if your life depended on it" by Former head FBI Hostage Negotiator Chris Voss is superb.
The fact is that most people are not good at selling or negotiating is part of the sales process. Most people that I know in sales and other professions that need selling as well as negotiation strategies have never read about negotiation or taken a class.  Why is this book important? Voss, using psychology, science and other lessons learned from being in the FBI trenches around the globe dealing with terrorists and kidnappers, takes a dramatic shift away from former convention thinking. No longer is the goal to get to Yes, but the goal is to have the person who you are negotiating with, trying to sell to, recognize that you understand what they need. When they recognize that you understand what they need, and you have what they need to achieve this then the negotiation is complete. To Voss, no is not a dirty word, but essential for negotiation.  Saying "No" is just the start of the conversation and for many saying "yes" while it makes us feel good, really is not yes at all. 
All salespeople, manager, business leaders and negotiators (parents too) should read this book, and keep it as a reference. I have read once and listened to it twice."
Recommended by: Bill Corbett, Jr., CEO at Corbett Public Relations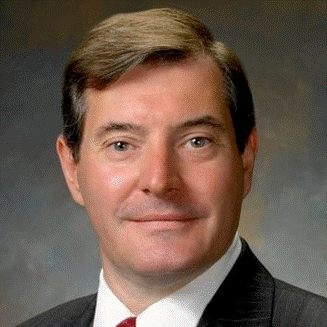 20. To Sell Is Human
To Sell Is Human: The Surprising Truth About Moving Others by Daniel H. Pink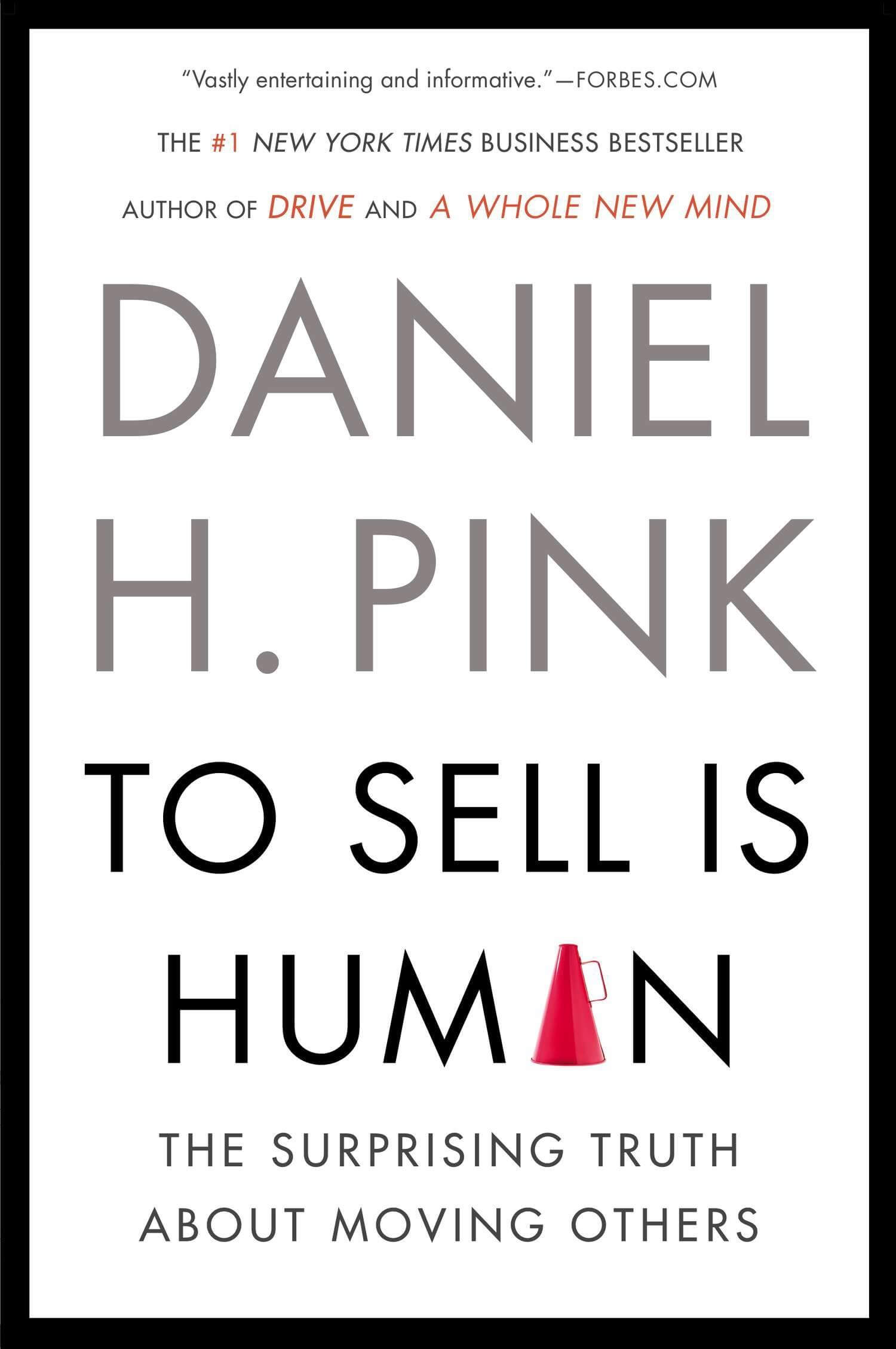 "My favorite sales book of all time is To Sell is Human by Daniel Pink. It is an absolute must read for anyone starting a business who isn't necessarily trained in sales. Pink focuses on how, whether we are officially in sales or not, we are *all* in sales – the enterprise of getting others on board with your ideas and influencing others. Great practical tips and advice and a new way to think about sales for those who aren't intuitively convinced they're actually in the business!"
Recommended by: Jacquelyn Cyr, Chief Builder at JC+CO growth accelerants inc.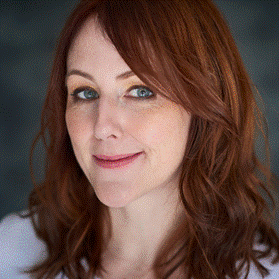 21. Sell Like a Team
Sell Like a Team: The Blueprint for Building Teams that Win Big at High-Stakes Meetings by Michael S. Dalis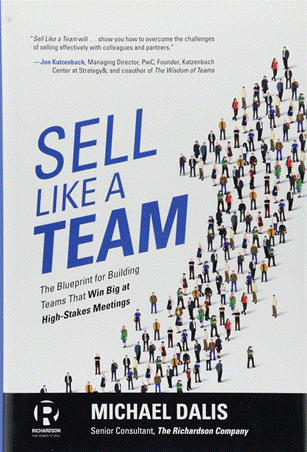 "Significant technology advances in recent years have enabled customers to gain information about their options faster. In addition, economic instability, geopolitical concerns, corporate scandals, and public relations blunders have created mistrust and heightened attention to risk and return on investment.

Clients now arrive at meetings and call ready to give all of their stakeholders a voice and wanting to look behind the curtain to the people in the organization who will own the work after the sale.

Sell Like a Team: The Blueprint for Building Teams That Win Big at High-Stakes Meetings from Richardson Senior Consultant and State Street alumnus, Michael Dalis, details the process from creating and organizing a team for a sales call to leading the sales team in practice sessions, executing the call, and regrouping after.

It explores the distinct roles that the sales lead must assume throughout the process to make the moment in front of the customer impactful. Sell Like a Team bridges theory and practical application by including tools and worksheets throughout that empower sellers to make immediate changes and drive immediate results.

Modern sales professionals must develop the ability to organize and lead meetings with multiple participants and do so flawlessly to win business in this new era of buying."
Recommended by: Laura Morrison, Digital Marketing Manager at Richardson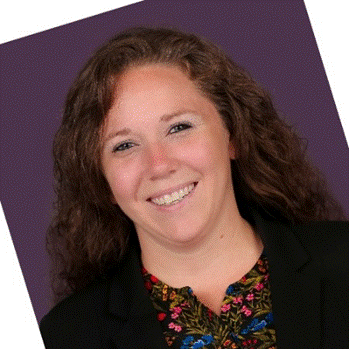 22. The E-Myth Revisited
The E-Myth Revisited: Why Most Small Businesses Don't Work and What to Do About It by Michael E. Gerber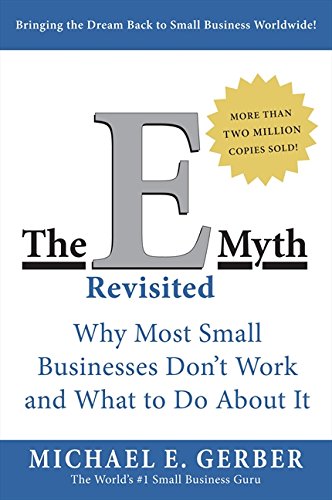 "The book is about Systemizing your business to scale operations and increase profits. The book is considered a bible among online Business owners as it teaches the importance of turning everything you do in business into written processes so that you can delegate those tasks to someone else. Making Processes is especially important for sales as it is the only way to generate leads and sales predictably. If you have no defined process and scripts you won't be able to get results consistently.
Every Business person should read this book. It teaches the importance of systems in every part of the business be it sales or operations."
Recommended by: Shaurya, Founder at Attention Always Link Building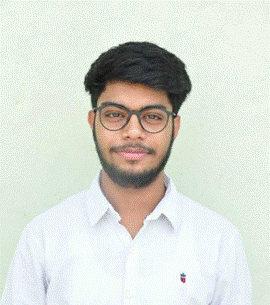 UpLead's Top 15+
Of course, we've also read a lot of sales books over the years at UpLead.The following ones are our favorites.
23. Think And Grow Rich
Think And Grow Rich by Napoleon Hill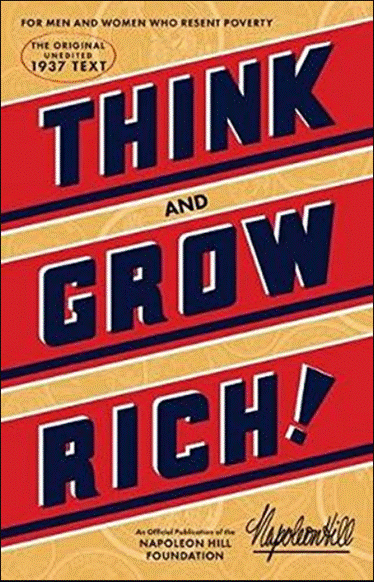 A book that's not just about finance or sales, this book looks at the power of thought. And at how you can change your thought process and spend your energy more efficiently.
It's an absolute must-read that could very well change the way you look at a lot of things. The good thing: it's not a long book, and can easily be read in just a few sittings. You'll probably find yourself reading it again and again (as we have done).
24. The Little Red Book of Selling
Jeffrey Gitomer's Little Red Book of Selling: 12.5 Principles for sales greatness: How to make sales FOREVER by Jeffrey Gitomer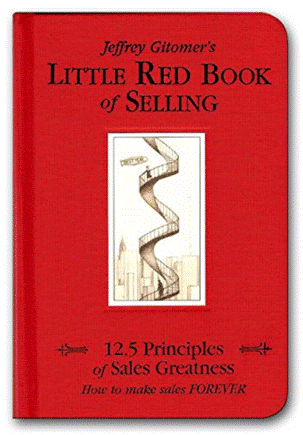 This book focuses purely on sales – as you may have guessed from the title. With the emphasis on increasing your sales both short and long term.
It's short and to the point – with powerful insights into the world of selling. Which is why it was almost a no-brainer on our list of picks.
25. The 10X Rule
The 10X Rule: The Only Difference Between Success and Failure by Grant Cardone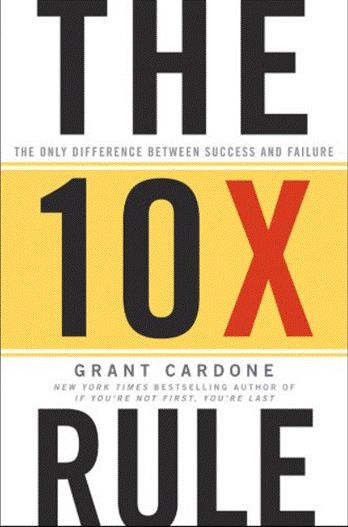 More of a motivational read than an actionable sales manual, this book may not appeal to everyone. But it's another gem that can change the way you think – for the better of course.
We loved this book – it can help you spot opportunities you may otherwise have missed. Again, not entirely sales related. But, if you want to learn how to change your mindset and become more productive, you should read this book.
26. Agile Selling
Agile Selling: Get Up to Speed Quickly in Today's Ever-Changing Sales World by Jill Konrath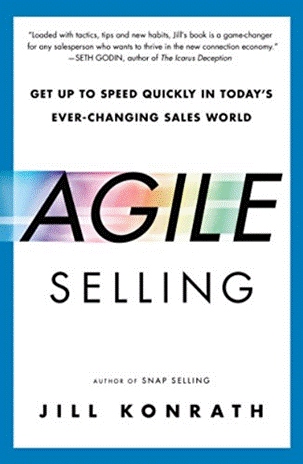 Learning new skills quickly is a must in the sales industry. Those who adapt quickly usually reach the upper echelons of success. And that's what this book is all about: how to master new skills fast.
We love it because it hits on the pain points most sales professionals face. You should read this book if you want to learn how to adapt to change quickly. It's a crucial aspect of marketing & sales – and this sales book will help you get there.
27. Money – Master the Game
Money Master the Game: 7 Simple Steps to Financial Freedom by Tony Robbins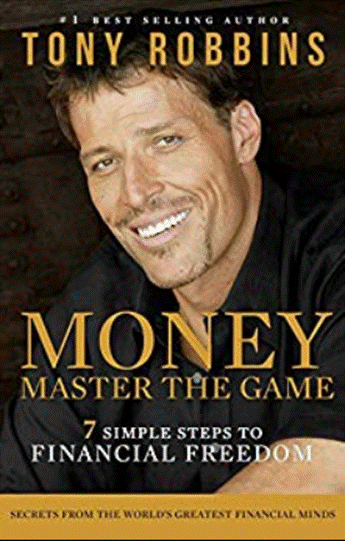 This book isn't about sales, but about personal finance. However, understanding and breaking bad financial habits – whether in business or your personal life – is always good, right?
Despite it being a long read, we loved the fact that Tony has access to titans of the personal finance world. Their advice and actionable steps are gold – and that's why this non-sales book made the list.
28. The Psychology of Selling
The Psychology of Selling: Increase Your Sales Faster and Easier Than You Ever Thought Possible by Brian Tracy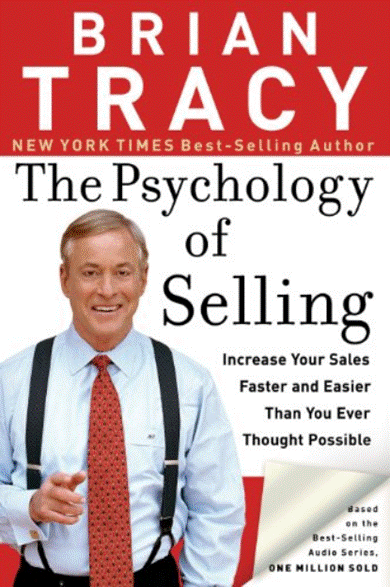 This book gives you a series of actionable ideas and strategies that you can implement to up your sales.
We love actionable ideas, and that's why this book made our list. The thought and motivation behind sales are excellent – but nothing beats a good, actionable strategy.
29. Unbreakable Laws of Selling
Jeffrey Gitomer's 21.5 Unbreakable Laws of Selling: Proven Actions You Must Take to Make Easier, Faster, Bigger Sales…Now and Forever by Jeffrey Gitomer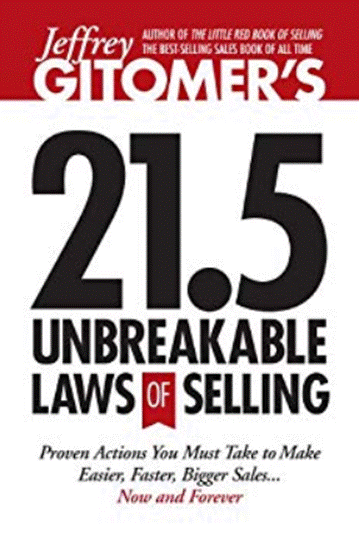 As the title suggests, the second entry from Jeffrey on this list contains laws to keep in mind while selling. It gves you a solid foundation off of which to base your marketing and sales materials.
And it's for that reason we're including it in our list. We may have come across these laws in our time in sales – but we tend to forget. And this book summarizes those foundations to keep close and reference whenever we need to.
30. Hyper-Connected Selling
Hyper-Connected Selling: Winning More Business by Leveraging Digital Influence and Creating Human Connection by David J.P. Fisher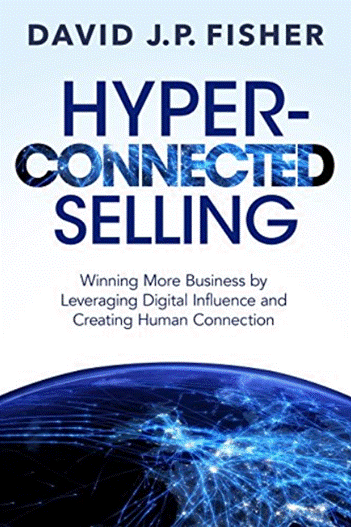 This book is about everything networking. The "old school" selling, if you will.
And it's a great addition to the list. Because whether you're pushing a sales letter, a banner ad or print ads – you're looking for that human connection that this book is all about.
31. Hacking Sales
Hacking Sales: The Playbook for Building a High-Velocity Sales Machine by Max Altschuler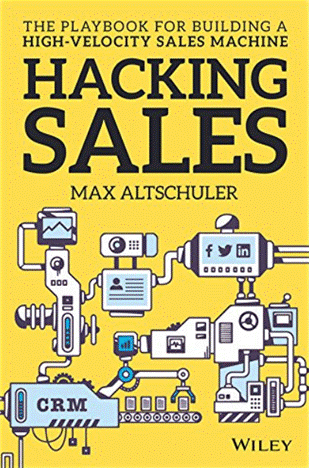 If you want to learn to build your "sales machine" from start to finish, this is what this book is all about. The book contains a modern look at how to streamline your sales.
It's made the list because it's the full package. It's long, but it covers just about every aspect of business sales. A highly recommended read.
32. How to Get a Meeting with Anyone
How to Get a Meeting with Anyone: The Untapped Selling Power of Contact Marketing by Stu Heinecke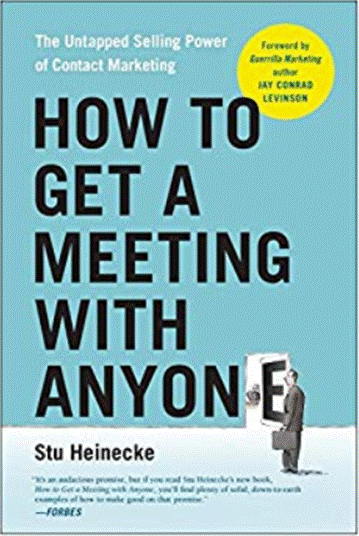 This book shows you how to create your own "contact campaigns" that'll get you a meeting with anyone. Just like the title says!
It's a great book for anyone who's trying to reach an executive decision-maker to approve their pitch.
33. Blueprints For A SaaS Sales Organization
Blueprints for a SaaS Sales Organization: How to Design, Build and Scale a Customer-Centric Sales Organization by Jacco van der Kooij & Fernando Pizarro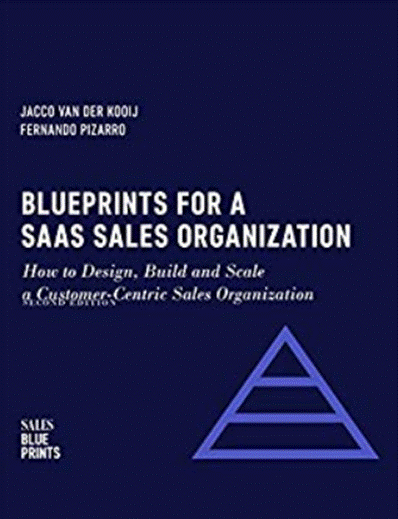 Exactly as the title says, this book is specifically for SAAS companies or salesmen who focus on the industry. The focus is on revenue growth through sales.
We love this book for its actionable ideas. And the fact that a lot of the techniques can be taken cross-industry and still work. A good read for anyone.
34. Pitch Anything
Pitch Anything: An Innovative Method for Presenting, Persuading, and Winning the Deal by Oren Klaff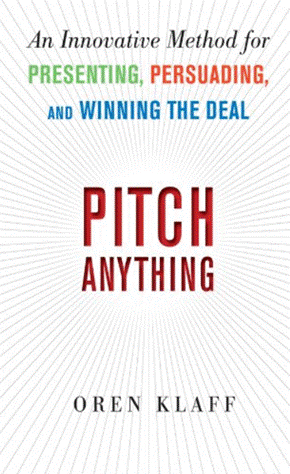 Pitch Anything uncovers the (relatively) simple science of pitching. And so helps you to close the deal.
It's a practical read. Again with actionable steps. Simply read, apply and see the results. A must for anyone doing proposals and pitches on a regular basis.
35. Cracking the Sales Management Code
Cracking the Sales Management Code: The Secrets to Measuring and Managing Sales Performance by Jason Jordan & Michelle Vazzana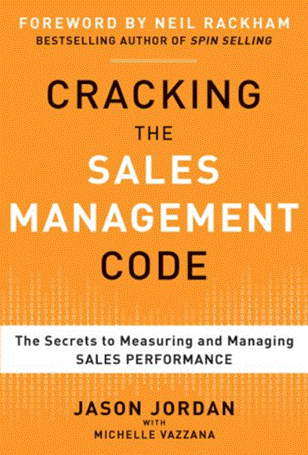 While there are books on all aspects of sales, there are very few who outline the sales management process. This book does just that. It acts as something of a sales management manual.
It makes the list because it's a rare niche. And sales managers need and deserve guidance too.
36. The Challenger Sale
The Challenger Sale: How To Take Control of the Customer Conversation by Matthew Dixon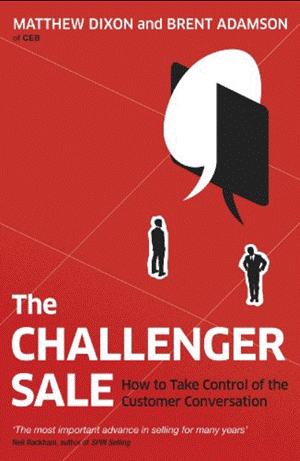 The Challenger Sales explores the secrets behind sales success. By studying thousands of sales reps worldwide.
This book challenges the conventions of sales wisdom, and provides a new insight in the industry. And so it deserves its place on this list.
37. How I Raised Myself From Failure To Success In Selling
How I Raised Myself From Failure To Success In Selling by Frank Bettger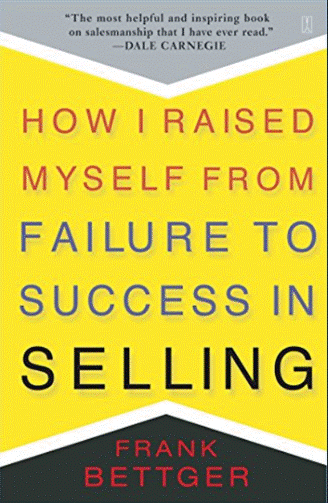 This book takes a look at sales in general. There's no specific niche highlighted. Whatever you're selling, this book has something for you.
This book makes the list because of the fact that it holds value for any sales professional. Whether it holds more or less value for you will depend – but you will find value.
SPIN Selling
SPIN Selling by Neil Rackham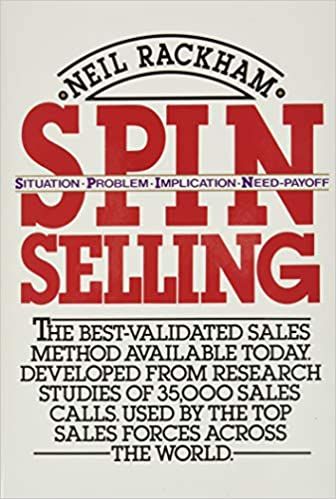 SPIN Selling revolves around the SPIN strategy: Situation, Problem, Implication, Need-payoff. With it, salespeople can drastically increase their sales pipeline through a simple, easy-to-replicate technique.
This book has a lot of real-world examples, great case studies, and very useful graphics, that allow the user to truly understand what SPIN Selling is all about. It's a great read for anyone in sales who's looking for inspiration to launch a new technique and start selling.
The Greatest Salesman in the World
The Greatest Salesman in the World by Og Mandino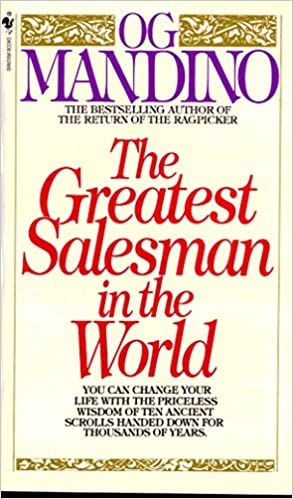 Whereas other books try to give you a step-by-step process to selling, The Greatest Salesman in the World gives you a sales philosophy.
Written as a chronicle of a camel boy's path to success, Mandino's book is an intriguing read, great for anyone who's starting in sales, to inspire them and get them through the basics through a quick and easy read.
Solution Selling
Solution Selling by Michael T. Bosworth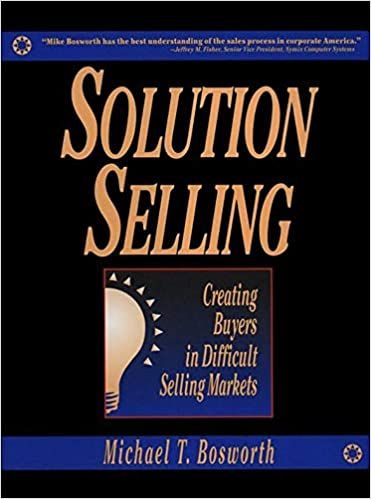 Solution selling revolves around selling intangible products and services, especially when they're hard to sell.
Through this book, Bosworth gives you practically a handbook on selling, which is surprisingly useful in this age of SaaS companies. You'll read all about your buyer's psychology and help you and your salespeople meet their expectations and sell more.
Sales Books:
Conclusion
There's only one way to stay ahead in sales. And that's to learn all the time.
That's why we love reading – and not just selling books. Books from other niches, like lead generation books, can also become some of the best sales books to recommend to your sales team.
These books scrape the surface of all the valuable reading material. So drop your recommendations in the comments – we look forward to reading your favorite books too.