Artificial Intelligence has created quite the buzz in the last few years – and for all the right reasons. You may have only recently started to realize it, but AI has been an integral part of business practices for the past six years and its impact is spreading.
Machine learning is rapidly shaping the marketing & sales industry, adding an entirely seamless aspect to all marketing and sales strategies. It has now reached a level where AI is penetrating the B2B business, changing the way we find products, for example. It is transforming the way we buy and sell, too, through advanced personalization techniques.
There have been a plethora of wild speculations about the future of sales. We wonder how much disruption the use of artificial intelligence is going to cause. Will it impact jobs, eliminate mundane tasks, and make gathering data easier? What else?
One thing is evident: artificial intelligence is bound to revolutionize the way businesses grow. Soon, AI will become an integral part of every sales strategy and every company. It's only a matter of how fast businesses adapt.
Strategic & Tactical Sales Advice: Straight to Your Inbox.
Join 20,000 sales leaders receiving practical & in-depth content. No fluff, just the best sales how-to guides.
I agree to receive emails from UpLead, and can unsubscribe at any time.
Before learning how AI is revolutionizing the sales industry, it's important to cover the pros and cons of implementing AI in the sales process.
We will then assess 44 valuable statistics about the direct effect of AI on sales.
Pros and Cons of AI for Sales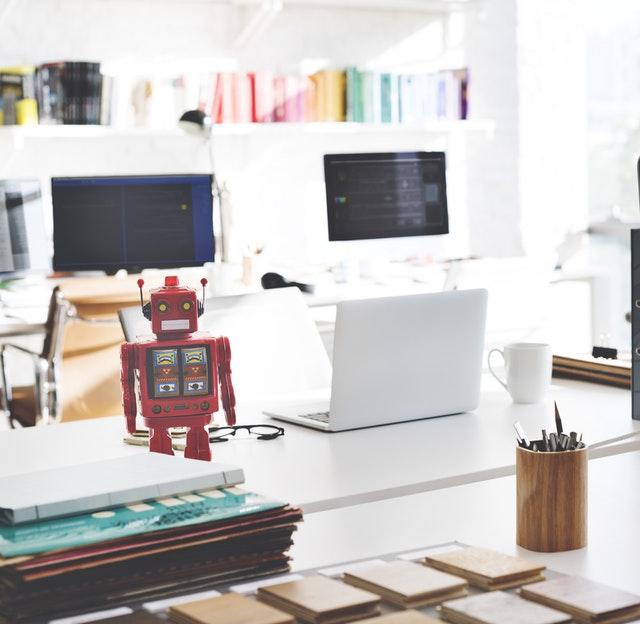 Pros of Artificial Intelligence
Eliminates donkey-work and mundane tasks
The biggest advantage in favor of automation is how easily it absorbs tasks that take up your day. Filling in excel sheets, scheduling meetings, and collecting data – AI does it for you in a matter of seconds. What does this mean? It facilitates higher productivity, more time to focus on strategies, more opportunity to prepare pitches, and most importantly, to actually make sales.
You'll get to do what you love each day, while AI takes over the aspects of the job you dread.
Smarter personalization
Algorithms are shaping the world right now, from recommended posts on Pinterest to entire playlists on Spotify based on what you like. AI misses no opportunity to create relevant and personalized messaging.
Obviously, for a sales rep, algorithms are nothing short of spectacular. Instead of depending on human intuition, AI utilizes behavior, tastes and previous purchases to decide whether or not you're likely to make a sale.
You can further use this information for the detailed tailoring of your messages and to perfectly achieve targets.
No room for error.
Included an extra zero somewhere? Forgot to send a purchase order? A customer approached you on a wrong day? You probably won't have to deal with any of these issues when AI is in place. The error-free process will increase your credibility and your outcome.
Cons of Artificial Intelligence
But how well do robots know us?
Although chatbots make the sales process a thousand times easier by immediately answering questions and giving information, there will always be that missing human aspect. It can make people feel neglected and uncomfortable, deterring sales. After all, how convincing can a robot possibly be?
Eliminating low-level jobs
In the not-too-distant future, AI could well be a cause of the decline in low-level sales jobs.
40+ Artificial Intelligence Sales Statistics
How AI Is Changing Sales
#1 Predictive Intelligence is expected to increase by 118%, while order-to-cash automation is expected to increase by 115% by 2021. This will lead to triple-digit growth to help sales reps focus on delivering the best possible experience for the customers. (Salesforce)
#2 Due to over 300% more investment in AI and big data during the next few years, AI-friendly businesses could gain a staggering $1.2 trillion of the market annually from businesses that haven't incorporated advanced technology yet. This is expected to happen as soon as 2020. (Forrester)
#3 Nowadays, people are exchanging billions of messages with businesses. As we speak, over 67% of customers expect a messaging app/method in their customer journey. (Chatbots Magazine)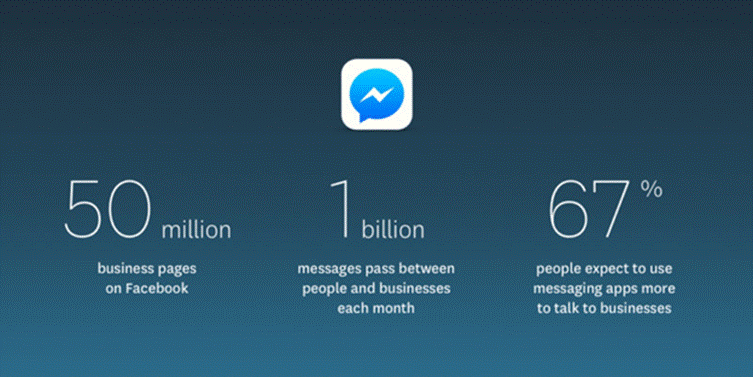 (Source: Chatbots Magazine)
#4 A study done by Harvard Business Review revealed that AI for sales has been incredibly helpful, reaping strong benefits for businesses. This includes a 50% increase in the number of leads, the shortening of call time (which reduces the lead process) by 60-70% and lastly reducing costs by reducing the number of lost leads and deals. That reduction is estimated at 40-60%.
What Will AI Enable Sales People to Do
#5 It was expected that by 2020, an unbelievable 85% of sales-related tasks could be automated. This means a sales rep will spend less time capturing data and more time discovering their true capabilities while performing in the field. This includes interacting with the customers, creating pitches, and closing deals. (McKinsey)
#6 AI is expected to dramatically increase profits generated from top accounts. It will add personalization techniques essential to a healthy profit margin. The profits are predicted to increase by 38%, generating over $14 trillion of extra profit by the year 2035. (Accenture)
#7 Incorporating AI won't always be easy. Many marketers find it difficult to start integrating new technology. They find that it disrupts their workflow instead of improving it. A survey conducted at BrightEdge (with 500 respondents) showed that over a third of marketing respondents believed AI makes adapting to new techniques much harder. Most didn't have a definition to exactly what AI stood for either. (BrightEdge)
#8 Other studies show that AI is a direct factor towards better decision-making, however, with half of the executives saying AI has helped to increase their productivity. (PwC).
What Will AI Do to Sales Teams
#9 It is forecasted that customer interactions won't necessarily include humans by 2020; and that 85% of the interactions will go on without them. (Gartner)
#10 80% of leaders in both the business and technology industries believe that AI helps increase productivity in the workplace. (Narrative Science)
#11 Productivity is expected to rise by 40% thanks to the incorporation of AI. (Accenture)
#12 By 2020, it's expected that AI will become a more integral part of the sales process for up to 30% of companies around the world. (Gartner)

(Source: Gartner)
#13 When it comes to sales teams, the factor expected to increase the most is AI (by a whopping 139%). (Salesforce)
#14 Almost a half of companies (46%) lean more towards investing in AI than anything else. (Forrester)
#15 Over the next few years, sales teams will be more likely to use guided selling. In fact, it's shown it's twice more likely that high-performing teams will be using guided selling. (Salesforce)
#16 High-performing teams who have implemented AI are already seeing major results. These teams are ten times more likely to experience better forecasting and more accurate pipelines. (Salesforce)
#17 High-performing teams are experiencing extremely positive results, including increased sales. These AI-enabled teams are almost three times more likely to say that they've put more focus on customer interactions in the past year. (Salesforce)
How Is AI Affecting Sales and Marketing
#18 AI is not just helping when it comes to mundane tasks. Marketers (60% of them) are saying that AI has guided them with their data strategies. (MeMSQL)
#19 When it comes to the companies who have aggressively adopted AI, results are already clearly evident. 83% of AI-adopters are already seeing rapid and positive changes, with 53% achieving moderate benefits, and 30% experiencing substantial benefits. (Deloitte)
#20 A large percentage of executives (85%) already know that incorporating AI is going to make them more competitive in their respective industries. Despite this, only 20% are using AI. Only 39% have a future plan for incorporating AI. (MIT)
#21 By next year, AI will be one of the top priorities when it comes to investing. This is according to 30% of CIOs. (Gartner)
#22 Automation has streamlined the process of e-mail marketing and made it easier. The positive results have already demonstrated that by using automated activities meant to generate leads (like lead generation and client segmentation), there has been a 14.5% improvement in sales productivity. (Salesforce)
#23 Effectively, 56% of customers are looking to purchase from innovative organizations using AI. (Salesforce)
#24 Even though more email marketers are looking into automation, only 17% are actually planning on switching fully to AI. (Econsultancy)
#25 When it comes to AI adopters, 87% plan on further utilizing AI for improving email marketing and creating accurate sales forecasts. (Statista)
#26 Over half of companies (61%) are planning on bringing AI into their sales forecast, while only a small percentage of email marketers (17%) plan on making use of AI in their marketing. (Econsultancy)
#27 The best-performing companies are more likely to be incorporating AI marketing technology than their peers. The main reason they're using AI is for on-site personalization. (CMO)

(Source: CMO)
#28 The top three marketing trends according to 75% of survey respondents include: "consumer personalization, voice search, and AI," which are all major AI-related trends. (BrightEdge)
#29 61% of marketing professionals (from a pool of 1,600 respondents) believe AI is their company's top priority for the upcoming year.  (MeMSQL)
#30 Over half of the respondents believe AI is essential for marketers nowadays. (BrightEdge)
#31 Only 7% of survey respondents have already started using chatbots powered by AI.  27% said they are looking into utilizing AI, and the rest not. (Clickz)
#32 Marketing Executives in the B2B industry (80% of them) believe AI will be a revolutionary factor in the industry. (Demandbase)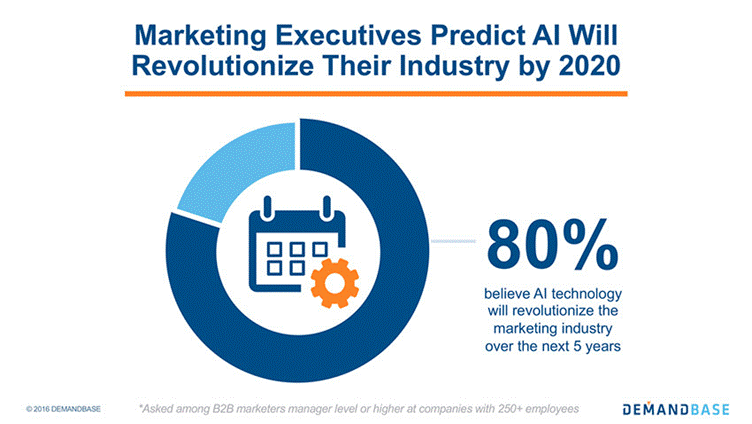 (Source: Demandbase)
#33 64% of Marketing Executives also believe AI is an essential factor for strategic marketing and sales. (Everstring)
#34 Surprisingly, 64% of marketers in the B2B industry are still not incorporating AI into their day-to-day workflow. (Everstring)
#35 Only 13% of marketers in the B2B industry are confident to use and incorporate AI. 33% of respondents are not confident at all, and 55% are somewhat confident. (Everstring)
#36 Top companies are twice as likely to incorporate AI into their marketing strategies. (CMO)
#37 AI for personalization is a major interest for 71% of marketers in the B2B industry. (Everstring)
#38 AI for identifying trends attracts 63% of marketers in the B2B industry. (Everstring)
#39 AI for identifying probable customers interests 59% of marketers in the B2B industry. (Everstring)
#40 AI has been proven to increase profitability, but 53% of marketers do not see the impact AI has on increasing revenue and marketing effectiveness. (Everstring)
#41 33% of marketers believe the major obstacle they will face when it comes to AI is how to incorporate it into their daily lives. (BrightEdge)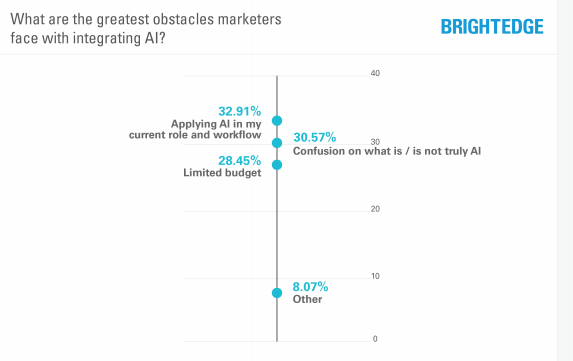 (Source: BrightEdge)
#42 31% of marketers think AI has helped them understand the customer better. (BrightEdge)
#43 63% of marketers promoting B2B companies are reportedly not using any AI tool in their stacks (Everstring). 
#44 75% of clients expect brands to predict their needs and use them to make relevant suggestions before making a purchase (Salesforce). expect companies to predict their needs and make relevant suggestions before contact.
#45 It's expected that AI powers and handles up to 95% of all customer interactions by 2025, including emailing, chatting, and even handling live telephone calls (Servion).
How Voice AI Affects Sales
#46 Almost half of all adults around the world now use the voice search feature at least once during the day. (Branded3)
#47 By 2020, over 7 billion people will already have voice assistants powered by AI. (IHS Markit)
Don't Miss the Opportunity
It really is no secret that AI is being incorporated rapidly into the daily workflows of marketers and salespeople. This is also true for savvy B2B companies worldwide. It has been comprehensively shown how AI can so easily improve marketing strategies, personalization, lead generation, and the eventual ROI in your campaigns.
Don't miss the opportunity to jump on board the AI train.