If your sales team is going to meet its ambitious goals, your sales reps need to flawlessly collaborate. And if your sales team is going to collaborate, you have to really amp up your sales meetings.
Here's a deep dive into the techniques, templates, and tools you can use to take your sales meetings (and results) to the next level.
In a Perfect World, What Is a Sales Meeting? 
A successful sales meeting has three key elements. Let's quickly examine them, in order to understand exactly what we're hoping to achieve…

Actionable Feedback
A successful sales meeting is a two-way street, and you should capitalize on those meetings to collect solid, actionable feedback from your sales reps.
The exact nature of that feedback will vary, depending on the type of meeting you're running. Nevertheless, feedback from your sales reps can give you a clear picture of the reality on the frontlines and inform your strategies.
Accurate, Clear Data
The best sales work is driven by data. You should collect and present key data during your meetings, in order to inform your team and align your efforts.
Again, the exact nature of the data will vary, depending on the meeting and your objectives for it. To keep your team running efficiently, it's critical for you to learn to share the right data with the right people at the right time.
Specific Actions
We all know that sales is a delicate science. If you're going to succeed, every team member needs to play his or her part in perfect harmony.
Your sales meetings are opportunities to distribute tasks, track performance, and develop strategies. Each one of your sales reps should leave the meeting with a list of specific actions that must be completed.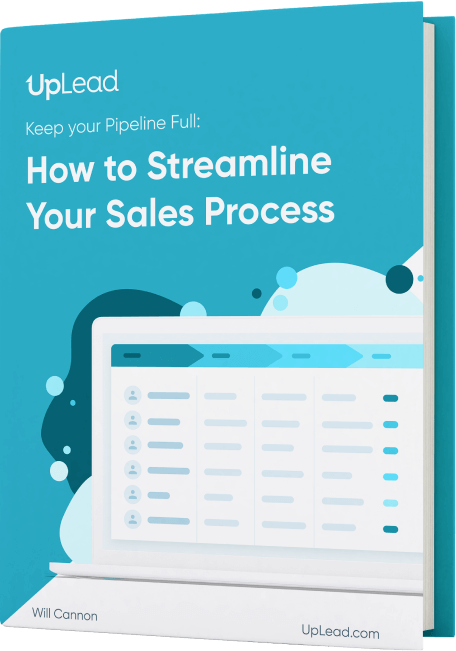 Establish a Solid Sales Process!
Learn how to build an efficient, scalable and high-converting sales process for your sales team.
I agree to receive emails from UpLead, and can unsubscribe at any time.
What Types of Sales Meeting Do You Need? And When Do You Need Them?
Organizing effective sales meetings is much simpler when you understand the different types of sales meetings out there. This understanding can help you quickly answer the following key questions:
When to host it

Who should be involved

What you need to cover

Which outcomes you need
Here's a look at the key categories of sales meetings:
Daily Sales Huddle
Agile sales teams often start their days with 15-minute standups. This tactic is a fast, simple way to energize your team and encourage healthy habits that boost their productivity.
These micro-meetings give you the chance to share key updates and have each team member outline their tasks for the day. This tactic can quickly reveal conflicts and create a sense of team spirit and collaboration.
Here's a quick visual guide from Quickscrum that will help you master your daily huddle…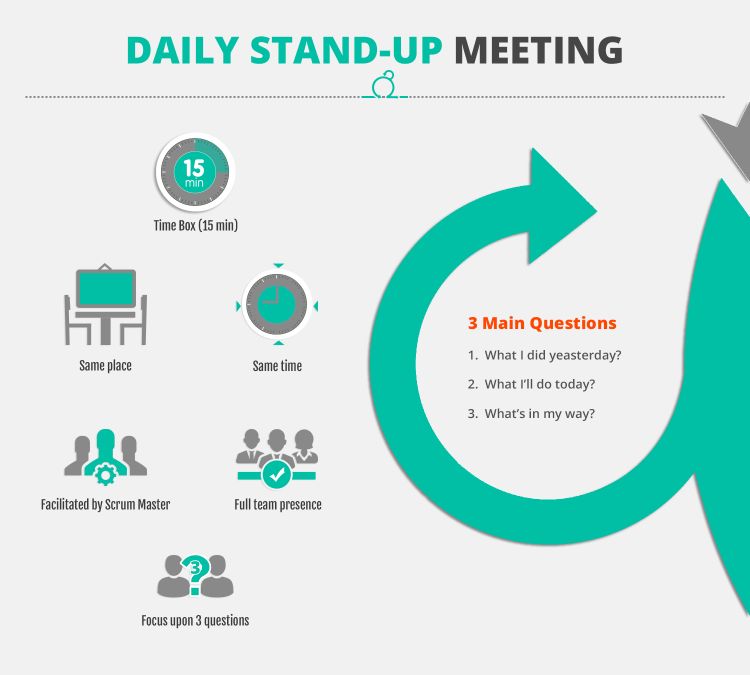 Weekly Pipeline Review
Lots of sales teams start on Monday with a weekly sales meeting. This meeting usually lasts between thirty minutes and one hour. It gives your sales team the opportunity to reflect on their current prospects and share any important updates.
These quick meetings are important for sales managers. They can give you a better idea about the health of your pipeline and make it easier for you to create accurate sales forecasts. They can also help you assess the performance and engagement of your team.
Monthly Sales Catch-up
A number of sales managers choose to coordinate a sales catch-up at the end of each month. These sales meetings is primarily an opportunity to reflect on the month's performance and share important data.
These monthly meetings are great chances for allowing a sales manager to dive deeper into the health of their pipeline. This deep dive can show sales managers whether they are on course to meet their targets, too.
A number of sales managers also use the monthly sales catch-up as an opportunity to recognize amazing achievements and standout talent. Here are some of the incentives that sales managers use in these team meetings:
Gift vouchers

Cash prizes

Parking privileges

Trophies and other awards
Annual Sales Conference
Large, well-funded sales teams might decide to host annual sales conferences. These conferences are opportunities to energize large teams, create senses of team spirit, and share important targets.
Those sales conferences also give salespeople an opportunity to learn from other departments. For instance, product teams will often host training sessions at these conferences, in order to share new product developments and updates.
Some teams also take things to the next level and use their annual sales conferences as incentive opportunities. Just take a look at the scale of the Jaguar Group annual sales conference:
How to Prepare for a Sales Meeting
Whatever configuration of sales meeting you decide to run, you'll want to follow the same deliberate structure when organizing it.
To prepare a sales meeting, here are the three key steps you'll want to follow:
Determine your objectives.
First things first: You'll want to clearly outline your objectives for the meeting. You should already have a clear reason for deciding to host a meeting, so use it as your starting point and a way to develop specific, reasonable objectives.
Here are some key tips to follow during this step:
It might help to perform this step on paper. The act of writing will often make you more accurate and deliberate in your thinking.

When developing your objectives, try to avoid pushing too much into one meeting. If you don't have one overall objective, your sales meeting might become too diffuse.
Prepare your agenda.
Now that you have a series of specific objectives, it's time to develop the agenda for your meeting.
Again, here are some key tips that you should follow while preparing your agenda:
Each item on your agenda should serve a distinct purpose and move you closer to fulfilling your objectives.

Be sure to share your agenda way before the meeting occurs. This tactic can help your attendees prepare.

If you need your attendees to prepare something, be sure to let them know when you share the agenda.

Remain aware of the length of your meeting. If you schedule a meeting that's too long, your attendees will probably disengage.
Handle your logistics.
Now that your objectives and agenda are ready, it's time to think about the nuts and bolts of your sales meeting.
When organizing the logistics for your meeting, keep these things in mind:
Create a comprehensive list of who you need to attend the meeting.

Book any venues or meeting rooms before sending your agenda and invites.

Try to find a time and location that will be convenient for the people you've invited.
How to Run a Sales Meeting That Makes an Impact
You'll obviously have high hopes for your sales meeting. Here are the steps you can take to ensure you run an impactful sales meeting that achieves its goals:
1. Be punctual and brief.
Meeting fatigue is real. A study from the University of Amsterdam found that dysfunctional meeting behaviours are associated with lower levels of market share, innovation, and employment stability.
At the end of the day, your salespeople want to be out there selling. If you respect their time, they'll be happy to engage.
While your meeting is undoubtedly important, it's critical for you to get started on time and keep things brief. This small step will energize your attendees, win them over, and get your meeting off to a great start.
2. Avoid logistical errors.
Faulty PowerPoint presentations, broken webcams, double-booked meeting rooms… We've all seen how these simple logistical errors can frustrate attendees and cast an unfortunate shadow over meetings.
In fact, 41% of people say tech problems in meetings can cause them to quickly disengage.
Before your meeting, make sure you triple-check you've taken care of all the appropriate logistics. This tactic will help your meeting go flawlessly, so you can put your objectives first.
3. Engage your attendees.
Your meeting is important because you have distinct objectives you need to fulfil. It can be very frustrating to feel as though your attendees aren't engaged and paying attention to you.
But as the host, it's your responsibility to excite, energize, and engage your attendees. So think outside the box and incorporate interactive elements into your meetings. 
For instance, ask questions and request input from your attendees. While this tactic might feel cheesy at times, it's a great way to keep your attendees on their toes and paying attention to your important content.
4. Leverage empathy.
According to a survey from The Muse, 92% of workers admit they multitask in meetings. In other words, they aren't properly engaged, so your messages are getting lost.
Attendees don't lose interest because they're trying to be rude. They're often concerned about neglecting the important tasks they have waiting for them. One great way to engage your attendees involves understanding their concerns about being busy.
If you're empathetic, you'll naturally deliver a speedy meeting that takes the needs of your attendees into consideration. They will be sure to appreciate this concern, and they'll be more likely to engage with your messages.
5. Offer a satisfying conclusion.
The best meetings are organized like a story. You need to set the scene, share some important details, and deliver a satisfying conclusion that inspires your salespeople to act.
The end of your meeting is often the most important part. It's the section that will stand out the most in the eyes of your attendees, and it will set the tone moving forward.
Try to deliver a particularly impactful call to action or closing message that sums up the tone of your meeting. For instance, if you're chasing a critical target in the final month of the quarter, you'll want to inspire and motivate your sales reps.
What Should Be Part of a Sales Meeting Agenda
The exact shape of your agenda will vary according to the type of sales meeting you're hosting. But there are some common staples that you'll definitely want to incorporate into your agenda.
Here's a look at the essential items for meeting agendas: 
1. Big Wins
Ready to kick things off with a positive touch that will engage your attendees and keep things productive? Try sharing your big wins.
These big wins can create lots of energy and give you the opportunity to recognize the contributions of your sales reps. Here are some ideas of the types of news you might want to share here:
One of your salespeople closed a particularly big deal.

You might be on target to exceed a big goal.

A new salesperson joined your team.
2. Housekeeping
Your sales team is an important part of your business, so it's only fair to keep them informed. You should be sure to capitalize on your meetings as opportunities to share housekeeping updates with your team members.
These updates can keep your team members feeling engaged and like they're an important part of the team. Here are some ideas of what you might want to cover during these housekeeping sessions:
Important product updates and developments

Key marketing initiatives that might affect sales work

Shifts to business or

sales strategy

The adoption of new tools

Updates about upcoming meetings and internal initiatives
3. KPI Updates
Salespeople live and breathe KPIs. Your sales team members will often have ambitious targets related to their pay rates, so it's only fair for you to keep them updated and informed at all times.
If you share clear updates, you'll be able to secure emotional buy-ins from your team members, too. Great results will create a sense of team spirit, while poor results will galvanize your team to do better.
Sales meetings are great opportunities for you to share important updates on the performances of your team. Here are the key top-level metrics you'll want to cover on a regular basis:
Revenue from new business

Time spent selling

Win rate

Monthly sales
4. Pipeline Updates
A healthy sales pipeline means a healthy sales department. You should use your sales meetings as opportunities to check the health of your pipeline and get a feel for what's happening.
You might decide to ask for input from your team members during this phase, or you might decide to deliver updates about what you should prioritize during the coming time period.
For instance, you might find that a huge number of your prospects are very warm and ready to receive a sales pitch.
5. Prospect Feedback
By this point, you'll have covered lots of data during your meeting. Qualitative feedback can also be very interesting to share among your sales team.
You could ask your salespeople to regularly submit interesting prospect comments to you, then choose the standout examples to showcase in your meeting. These prospect comments can motivate and educate your team members.
This exercise also helps create a community feel on your team. If you regularly share these prospect comments, your salespeople will get an idea of the real-world impact they have.
6. Upcoming Opportunities/Risks
The world of sales is very dynamic. New risks and opportunities emerge on a regular basis, and you should prepare your team.
Take advantage of your meetings, and use them as ways to share risks and opportunities. This small exercise can make your sales team more resilient and help you more effectively forecast your sales.
Here are some of the updates you might want to share:
Risks arising from seasonality

A shift in competitor strategy

Internal personnel changes
Sales Meeting Ideas and Topics to Spice Up Your Meetings
We've covered the details. Now let's shift our focus to novel techniques you can use to inject some magic into your meetings. Use these techniques to create memorable and effective meetings that meet your objectives.
Develop event concepts.
For larger meetings like your annual sales meetings, you'll want to experiment with new event concepts. These concepts are essentially themes for your event. They help give your event its own personality and distinguish it from other meetings.
Here's a great example of an event concept from BMW. The evocative concept is "Driving Is Believing." Could you create something similarly exciting?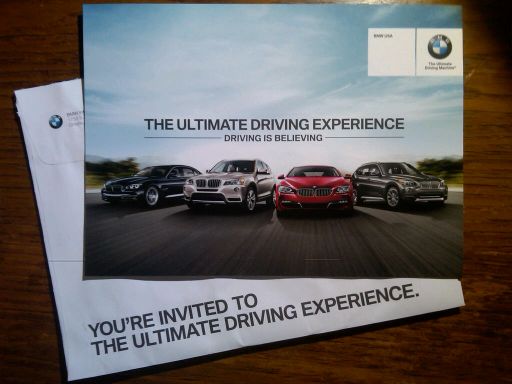 SocialTables has a great guide on how to design an unforgettable event concept.
Host breakout sessions.
When a single person hosts a meeting and speaks for an extended period of time, it's only normal for your attention to wander. So breakout sessions are great ways to combat that dynamic.
These sessions can break things up, help your attendees feel engaged, and even generate fresh ideas. Check out this guide from the Balance Small Business and learn how to build breakout sessions.
Incorporate food and snacks.
You can literally energize your attendees with food. The inclusion of snacks can secure buy-in from your attendees and help them better focus on your presentation.
This tactic also creates a transactional dynamic. Your attendees will understand that these snacks are provided in return for attention and input.
Host open sessions.
Meetings with an open agenda are great ways to shake things up. For instance, you could make every third monthly meeting follow this format. The majority of the time would be dedicated to questions and concerns from your team members.
This tactic keeps things fresh and helps build a culture of transparency and collaboration. Your team members will also appreciate the fact that they can speak and let their thoughts be known.
Avoid using presentations.
It's 4pm. It's your fifth meeting of the day. The lights are switched off, and the only light in the room is the dim glow of the projector. Yawn.
You should be conscious of the timing of your meetings, and try to cater the agenda accordingly. If your meeting is going to be late in the day, consider trying to throw more active sessions that don't rely on presentations.
For instance, you could host a Q&A session, or you could really try to trim your presentations down to a few essential slides.
3 Sales Meeting Agenda Templates You Can Use
Here are a few bonus meeting agenda templates you can use to organize effective meetings more quickly.
Sales Meeting Agenda Format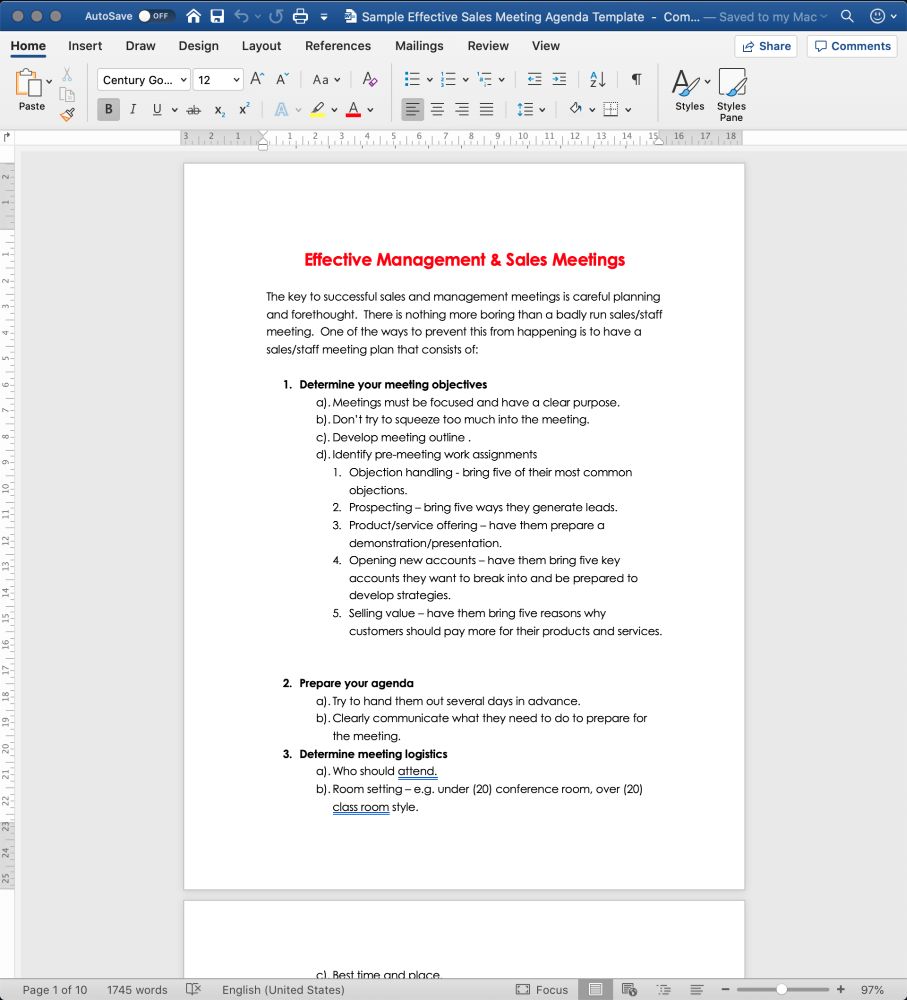 This template is for a simple sales meeting agenda from the good folks over at Word Templates.
You can use this document to carefully plan out your sales meetings and cover all your bases. This template breaks the process down into four distinct phases, which makes it easy for you to get your thoughts straight and put together a great meeting.
Marketing-Sales Meeting Agenda Template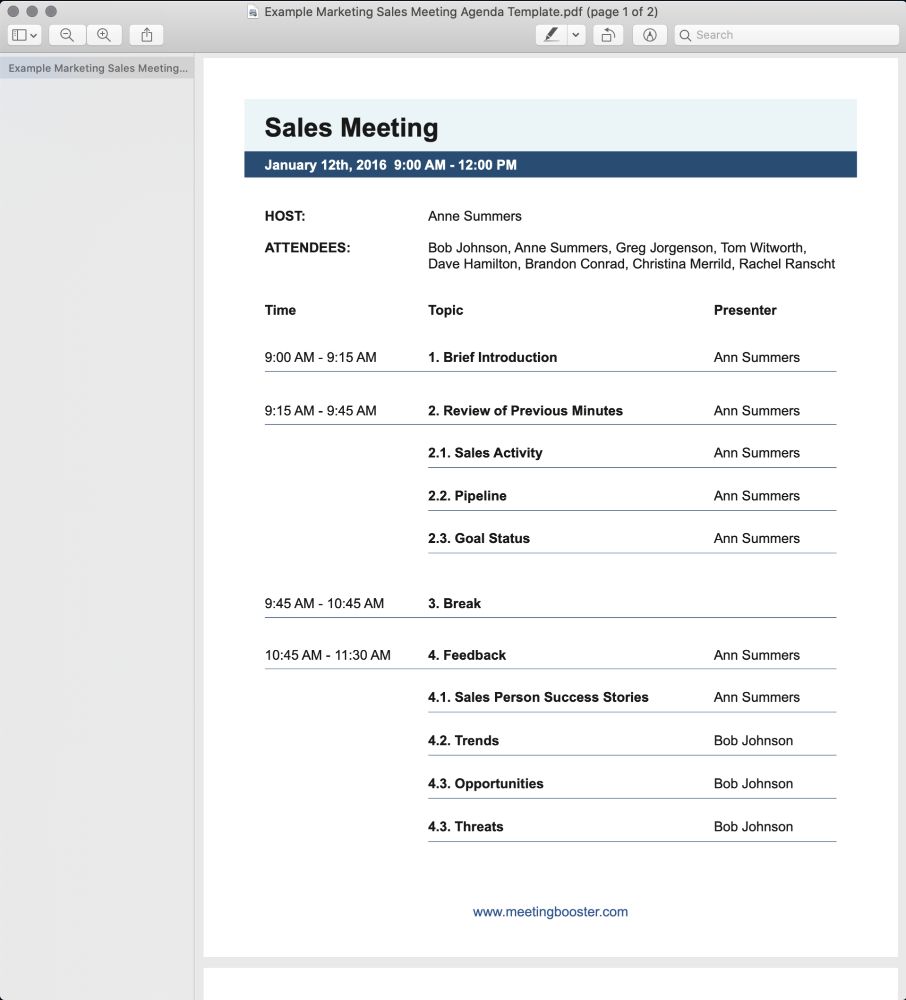 You can use this clean template from template.net to put together a great meeting between sales and marketing.
This template gives you a general outline for a three-hour meeting, and you can quickly adjust it according to your specific needs. It's a great template because it gives you an idea of ways to structure and present your agenda to your team members.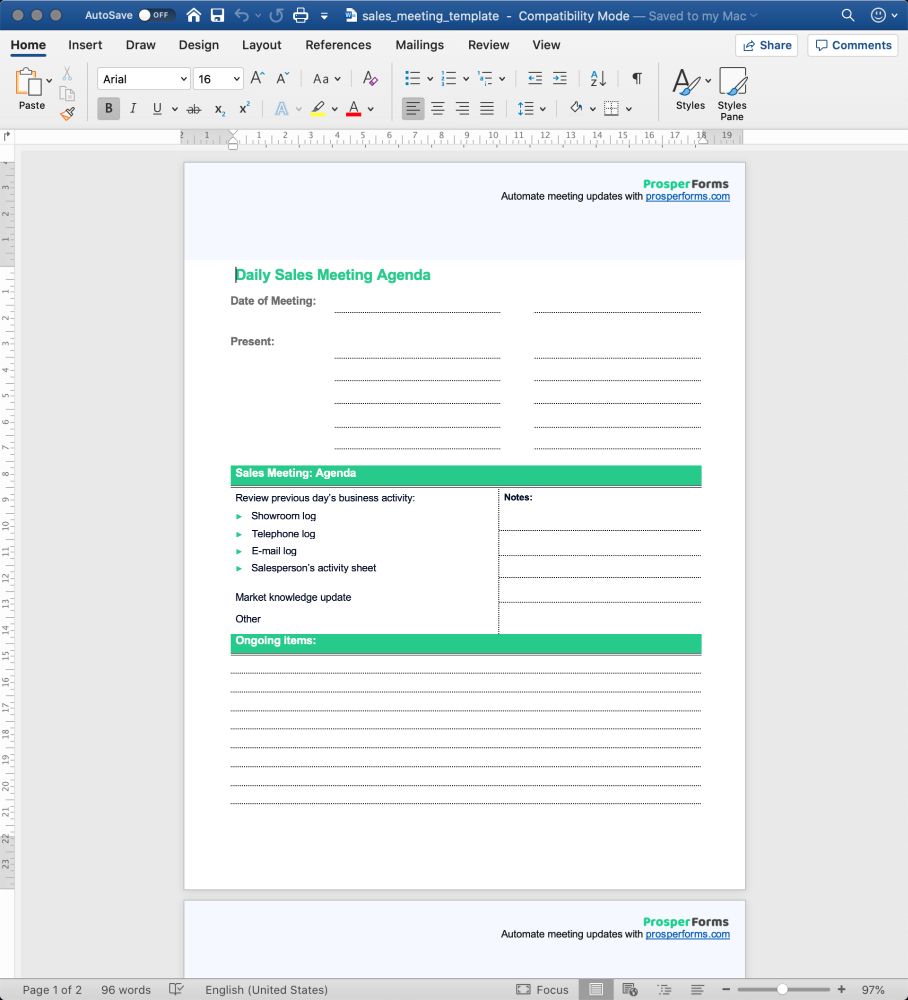 This helpful template for sales meeting agendas comes to us from the team at status.net.
This agenda template is a great option, as it can be used in the meeting itself. For instance, you'll find that there is ample space to include minutes from the meeting, and it's possible to track attendance using this template.
Conclusion
We hope this piece helps you breathe new life into your sales meetings. It's certainly worth assessing your approach to meetings. Are you getting the results you need? It's also important for you to have enough to talk about in your sales meetings! 
Ready to drive growth with targeted sales leads and fuel your meetings? Start your free UpLead trial today, and learn how our solution can help you connect and engage with qualified prospects.