If you've identified a chief executive officer as your target customer, it's unlikely that a simple internet search will help you find their contact information. It can be quite difficult to get in touch with a company's CEO, which is why you should use dedicated tools to generate lead data for your contact list.
Quick Links:
Can You Find CEO's Phone Numbers Online?
It is possible to access a CEO's phone number online.
Many businesses, including CEOs, have a directory that provides their upper-level management's names, phone numbers, and email addresses.
There may be cases where a company directory provides the CEO's email address but not their phone number. Even if you can obtain a phone number, many company CEOs are unlikely to answer their own phone calls. In this case, it can help to initiate contact with an email and then inquire about a contact number to continue the conversation over the phone. 
4 Ways to Find CEO Phone Numbers
You can take several avenues when searching for a CEO's phone number. Some are easier than others, but they're all methods you can use to find the contact data you need and build your lead database.
Use Lead Generation Software
Lead generation software saves time when generating leads and their contact information. But that's not all; it can also help you find more qualified leads, which can translate to more sales.
UpLead is a top-of-the-line lead generation software that helps you search for and find high-quality CEO contacts. Our platform includes loads of features that make contacting the right leads for your business easier than ever.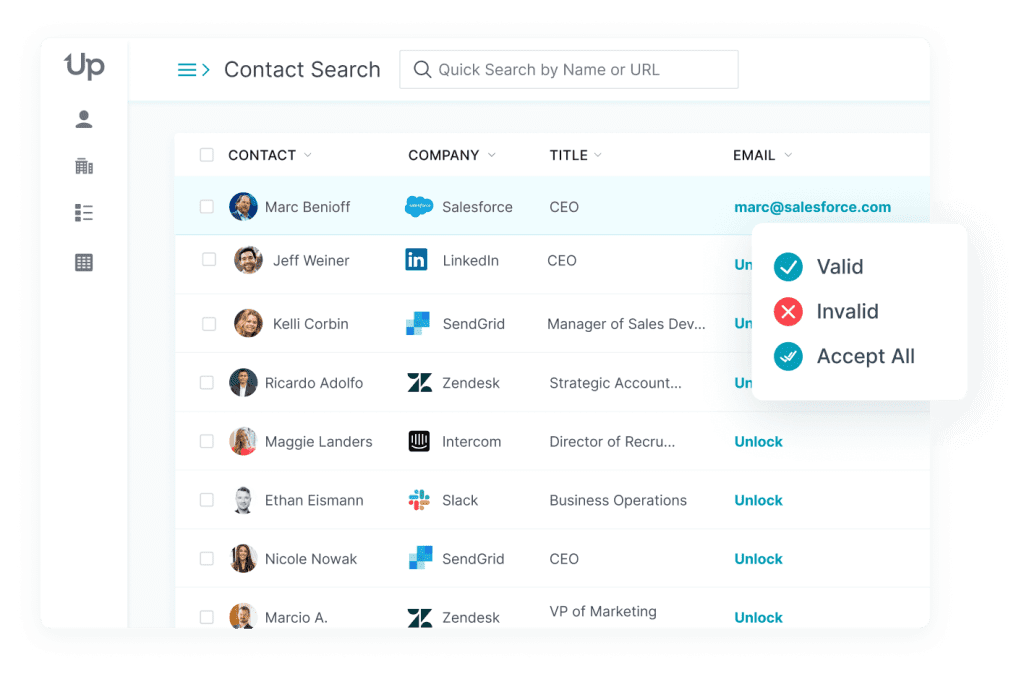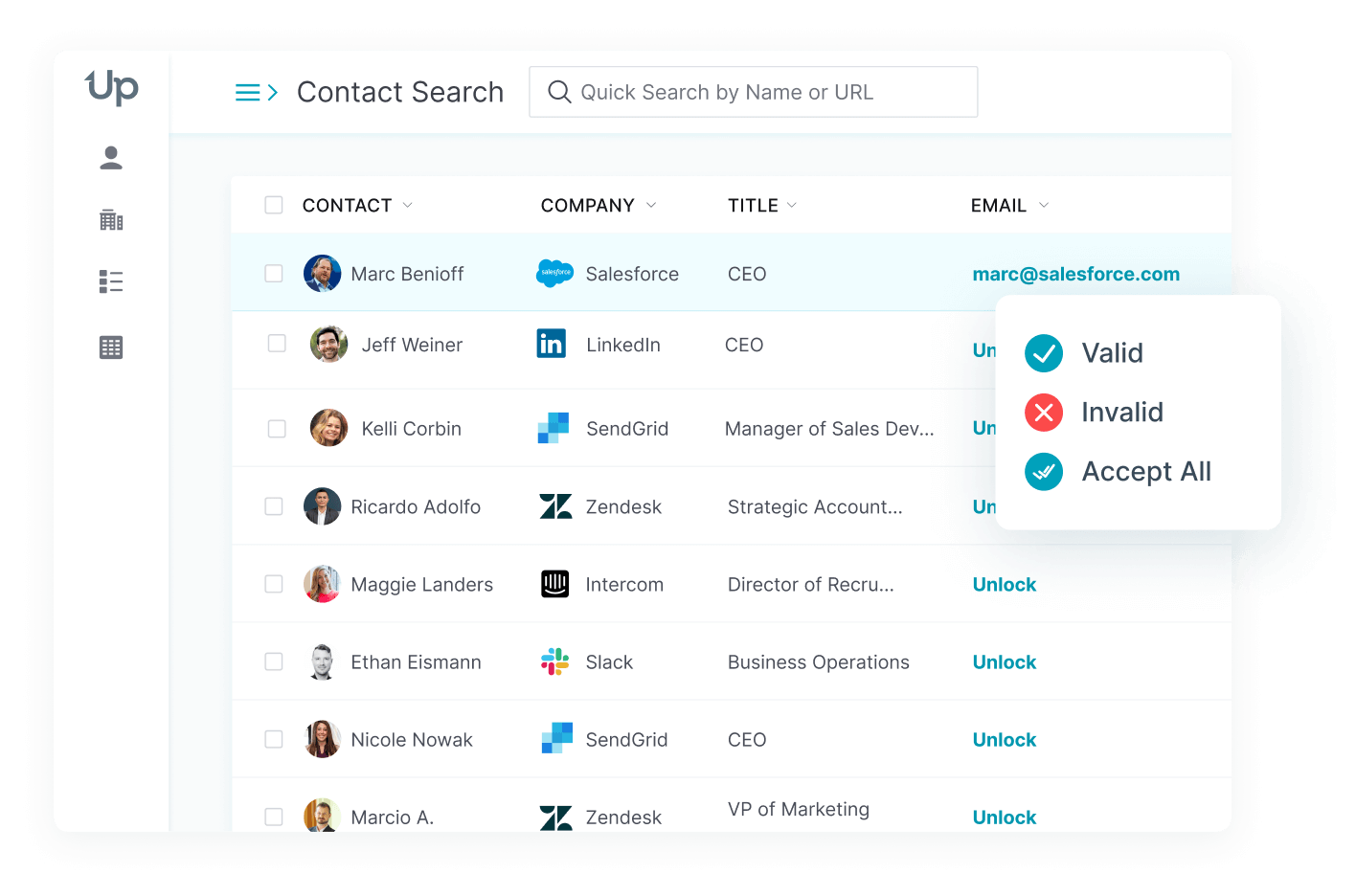 UpLead includes a 95% data accuracy guarantee many other lead generation software platforms cannot offer. Their service verifies email addresses in real-time before you download them. 
Their platform has over 100 million business contacts filtered through 50 different criteria, such as industry and job position. You only need to download the qualified leads that meet your chosen criteria.
UpLead also has a Chrome extension that makes finding leads even easier.
This extension helps you generate leads as you browse company websites, which is a great way to find CEO contact details and generate bulk email leads in almost any industry.
UpLead's helpful features will allow you to access business information and find quality prospects anywhere in the world.
Start Your 7-Day Free UpLead Trial
Lead generation doesn't have to be all that painful. With UpLead, you can easily connect with high-quality prospects and leads to grow your company.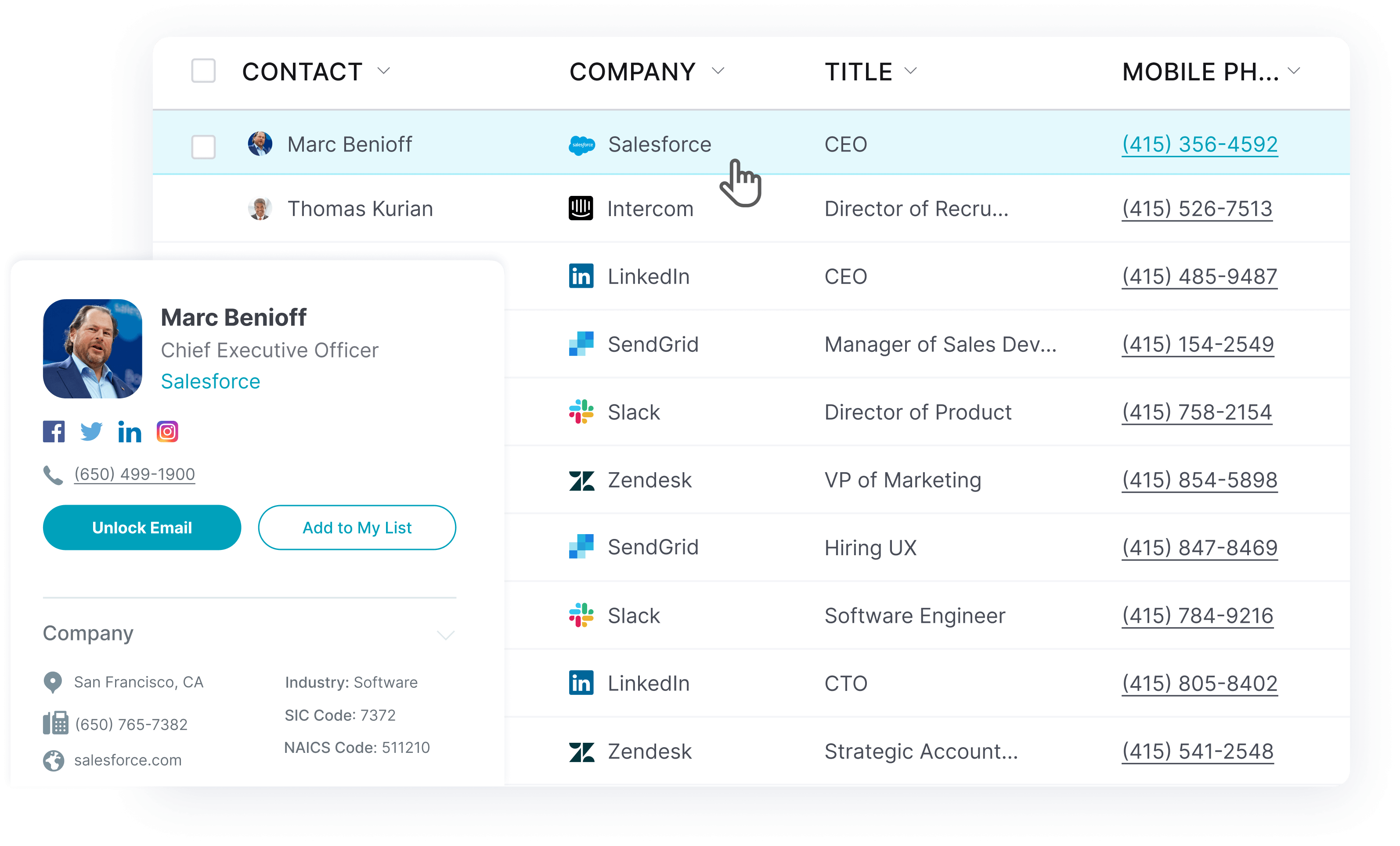 Contact the CEO via LinkedIn
LinkedIn is an exceptional tool for finding a CEO's contact information. The platform's filters allow you to narrow your search by country, company, position, and more, making it easier to find the CEO's personal LinkedIn page.
For instance, when you find a company's LinkedIn page, you can view the 'People' tab to find a list of employees who use LinkedIn. Many of these employees will have their position in the company as their tagline, making it easier to identify the person you're looking for.
If you already know the CEO's name, you can type their name in LinkedIn's search bar. The results will show all LinkedIn users with that name; you can simply use the available filters to narrow your search results by company.
From there, simply scan through the remaining profiles to identify the CEO you're looking for.
You may find a phone number listed in the CEO's contact information. If not, you can reach out to them via their email address. Ask to set up a call with them; if they agree, you'll be one step closer to a phone conversation.
Call the Company
If you can't find the CEO's direct contact information, you can try searching for someone on the company's administrative team who can provide you with a phone number or at least help get your message to the CEO.
This can be done free on Google or social media platforms like LinkedIn. You may be directed to the CEO's assistant, who will either know when the CEO has time for a phone call or will forward your request to them.
Check the Website
Company websites generally have directories that contain employee contact information. Company directories can usually be found in the website's "Contact Us," "About Us," or "Help" sections. This method only requires a simple Google search.
Once you have found the directory, finding employee names and contact details is easy.
If the CEO's phone number is unavailable, you may need to email them instead. Think of it as a way to build rapport before requesting a phone number. If the CEOs' details are unavailable at all, you can try contacting a team member and asking for the information you'd like.
FAQs About CEO Phone Numbers
Here are some common questions and answers regarding CEO phone numbers:
How do I contact the CEO?
While some CEOs' contact information is easy to find, that isn't always the case. You may need to use some of the options listed above or contact an administrative assistant instead.
How do I send a message to a CEO?
The best way to send a message to a CEO is by email. Sending a well-written, personalized email, even if it is a cold email, is the best way to get the attention of a CEO.

A CEO's workday is extremely busy; they don't always have time for unexpected phone calls. Sending an email increases the chance that the CEO will get your message when they have a moment to check their inbox.
Do CEOs read their email?
According to Auren Hoffman, most CEOs read the well-written emails they receive. This is the case even when they don't know the sender personally or if it's a cold email.
Conclusion
It is possible to find CEO phone numbers via the four routes discussed above. Just remember that CEOs are extremely busy, and like most of us, they're unlikely to take unexpected calls from people they don't know.  Generally speaking, contacting a CEO is best by sending a well-written, personalized email.