The recipe for sales success is a complex one, requiring lots of ingredients, such as tenacity, testing, tools, and no small amount of solid strategy. One of the most important ingredients is, of course, the appropriate sales talent, responsible for carrying out day-to-day tasks and closing deals.
There are a vast number of sales positions out there, and it can become somewhat overwhelming to try and sift through them all. This can quickly lead to confusion, blur the boundaries between profiles, and lead to inefficiencies and conflict.
But have no fear: we're here to help you! In this piece, we'll deliver a complete overview of the account executive position, covering:
The responsibilities of an account executive

The differences between account executives and account managers

Critical account executive skills

The average account executive base salary

How to hire an account executive 
What Is An Account Executive (and What Are Their Responsibilities?)
An account executive is a sales professional who applies their sales experience, product knowledge, and goal-oriented approach to support both existing and new clients.
They will often proactively reach out to customers through the use of a whole range of channels – but they will also make themselves available to customers. This means that a good account executive must be extremely well-organized and engaged.
The exact responsibilities of an account executive will vary, from one sales department to the next, but they will often be tasked with these key tasks:
Secure contract extensions
The account executive is responsible for maintaining contact with existing clients, keeping them satisfied, and ensuring that they ultimately sign contract extensions and/or purchase more inventory.
This task will often demand for the account executive to keep up with the inner workings of your customer's business; they should leverage that knowledge to make great recommendations and keep on top of the account.
Deliver products and services demos to upsell new features
In most businesses, account executives are responsible for sharing feature updates with existing customers. They will share timely and informative updates, in order to always keep existing customers in the loop.
Oftentimes, an account executive will also be tasked with upselling those new features. To do this effectively, they'll need to nourish their product knowledge and develop close ties with their accounts.
Care for existing customers
In many businesses, account executives are also often going to be the first point of contact for customers. Whenever a customer has an issue or complaint, they'll likely share it with their account executive, who will then either handle or escalate the ticket.
This unique dynamic means that the account executive must be timely and empathetic; they should also have a good level of product knowledge, which will help them to troubleshoot common issues and problems.
Account Executive vs Account Manager – What's the Difference?
There are lots of jobs and titles in sales, which can definitely lead to some overlap and vague ambiguity. Plus, different companies use a different job title to refer to an account executive depending on the company's style and culture.
This can in turn create a lot of confusion… but it's important that you fight against it, to develop a clear idea of the distinct roles within your team.
In the majority of businesses, the terms "account executive" and "account manager" are used interchangeably. In others, a single person will be used to fulfill both roles.
In some businesses, though, the account executive's role will be more of a pre-sale role, which involves prospecting, pitching, and closing deals. In those businesses, account managers are responsible for nurturing existing customers and growing those accounts.
Looking at this, it's little wonder why there's so much confusion out there!
But while the exact job title and role names for an account executive and an account manager will vary from one business to the next, ultimately it's the tasks and results that truly count. To achieve the best results, then, you should make sure to be as consistent as possible internally, so that your team members will know what exactly is expected of them.
Start Your 7-Day Free UpLead Trial
Lead generation doesn't have to be all that painful. With UpLead, you can easily connect with high-quality prospects and leads to grow your company.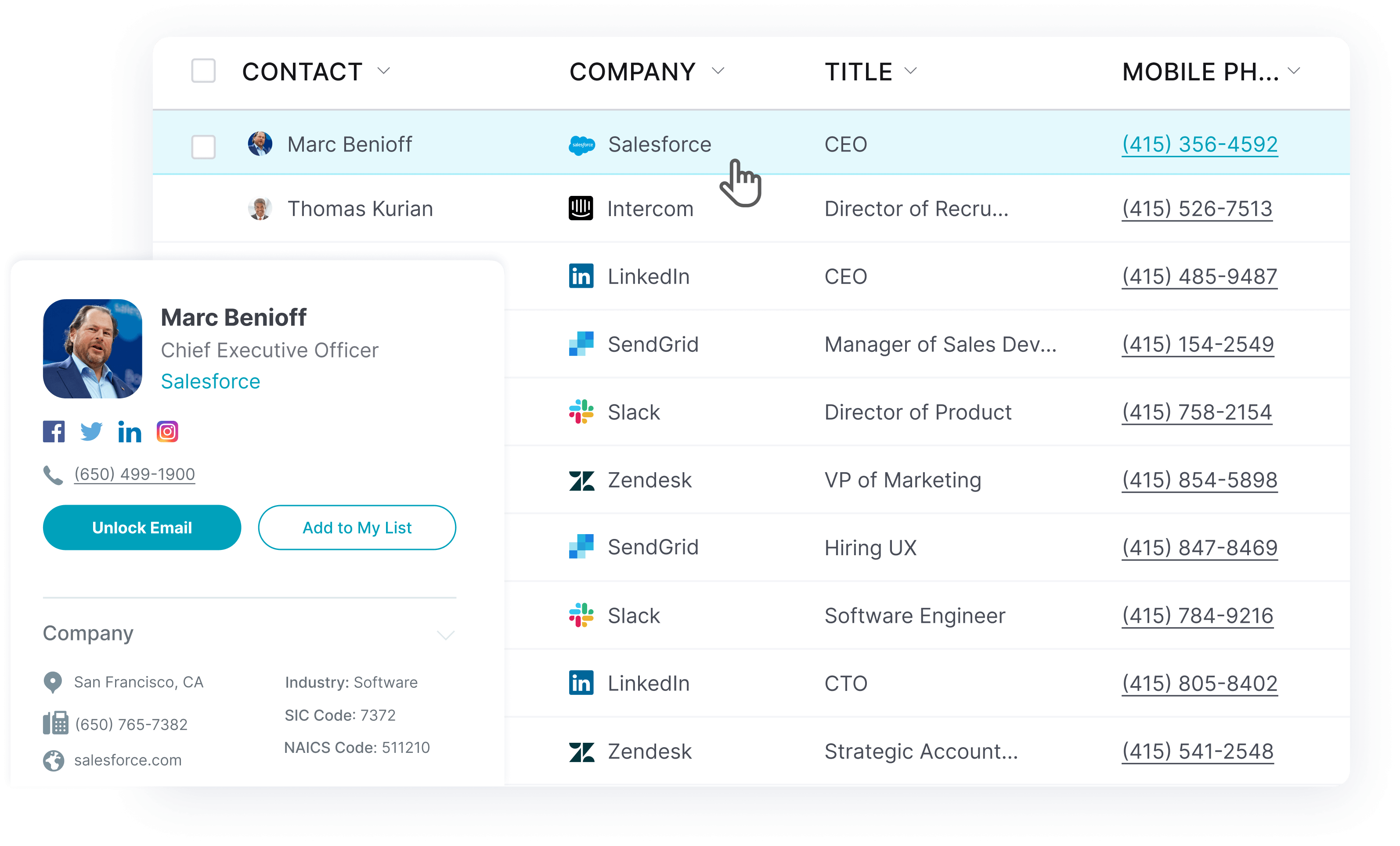 Account Executive Skills That Are Crucial
Part of the account executive's job is to able to contribute massively to the growth of a business by upselling new products and services, securing renewals, and helping to reduce churn.
Their responsibilities are diverse and complex, so they'll naturally need to have the appropriate suite of skills! Here's an overview of the most critical account executive's skills from:
Great communication
The account executive will spend the majority of their time following up with existing clients to make sure that they are satisfied.
This means that account executives must have excellent written and verbal communication skills – their ability to communicate will help to make sure that the right messages are shared at the right time, their attention to detail to make sure that their paper trails are thorough, clear, and professional, and that customers move along your sales pipeline seamlessly.
Utmost decorum
Further elaborating on those great communication skills, it's also important that your account executives can use their sense of decorum to operate with a delicate touch. They should be able to read situations and the preferences of your partners, to communicate in a very fluid way.
This decorum will help your account executives to always represent your company in the best light, and achieve amazing results through whichever communication channel they decide to use.
Proactive and curious
The account executive will forge important relationships with your customers, which puts them in a unique position to take the initiative and connect the dots, to make those relationships as productive as possible.
Your account executive might learn, for instance, that an existing customer has a particular need which could easily be resolved with a particular product feature. In this circumstance, they could proactively upsell another feature or package!
Organizational abilities
Over the course of a typical day, an account executive will have to move from one account to the next at a rapid pace. This demands a great deal of focus and very sharp organizational abilities.
Top-tier account executives can move elegantly from one account to the next, without making any mistakes or taking up too much time.
Negotiation skills
Account executives will spend months (and even years) in nurturing particular accounts, so it's only natural that they will begin to develop close ties and relationships with those accounts. The best account executives will also be able to use those relationships to negotiate effectively, and help to bring about mutually beneficial results for both parties.
Those negotiation skills can also come in great handy when it comes to working with larger accounts and potential customers.
A desire to please
The most effective and respected account executives are often genuinely empathetic people who relish the opportunity to help others succeed. This precious quality empowers your account executives to go the extra mile for your customers – and this natural tendency toward empathetic service will also mean tremendous things for your overall relationships with customers.
A goal-oriented mindset
Account executives play an important role within any sales team, so it's absolutely critical that they perform well and do their part in bringing about success.
Additionally, their job is by no means easy. It may require them to put in extra hours and push them to travel often for business. These can inevitably tire them out temporarily, but it's important that they have enough emotional fortitude to stay the course, at least until their cutoff.
The best account executives work to complement their strong social and communication skills with an analytical, goal-oriented mindset, delivering the best of both worlds and focusing on hitting their targets.
Account Executive Base Salary: Here's What You Have to Pay For a Good One
The largest expense for any company is often the labor costs. This is why it's crucial for you to negotiate realistic salaries, which will help you to get the best talent while avoiding installing an unsustainable wage structure.
But this is difficult when it comes to sales, given that there exists a great deal of difference between the capabilities of an entry-level employee and those of a seasoned professional. This dynamic means that the average base salary can also vary greatly.
According to Glassdoor, the average salary for an account executive working in the USA is placed at around $59,416. This varies according to factors like location, industry, and business size.
How to Hire an Account Executive
Now that we have a clearer idea of the account executive role and the key skills that it demands, let's take apart and examine the hiring process piece by piece.
Where to find account executives
The perfect account executive is out there – it's only a matter of using the right tools and platforms to find them! Here are the key platforms and resources you'll need to use:
Job boards
There are countless job boards out there, and they're used extensively by your candidates. In fact, 42.9% of job seekers will actively start their search with a job board.
You should be sure to upload your advert to those top job sites, so that you can get it in front of as many suitable candidates as possible. There's a good chance that there'll also be some popular local job boards, so you should be sure to make the most of those as well.
Here are the key job boards you'll want to consider using:
LinkedIn
LinkedIn has cemented itself as the web's foremost professional network, and with over 260 million monthly active users, you can be almost 100% sure that your ideal candidates are on the platform.
There are a host of powerful features and functionalities here that you can use to find a great account executive. The advanced people search is one such feature and can be used to discover high-quality candidates.
If you want to learn more about leveraging the power of LinkedIn, be sure to read this piece on how to find the best candidates on LinkedIn from agency central.
Networking
According to numbers from Review42, an estimated 46% of people got their current position through networking. This a powerful channel that you should make the most of, to attract the best talent.
Here are just some of the places where you might decide to connect with candidates on a face-to-face dynamic:
Industry events

Social events in your office

Meetup events that you organize

Visiting local job fairs
Referrals
A great referral is the holy grail of recruitment. In fact, the perfect recommendation can slash your time to hire, and reduce your recruitment costs significantly. 88% of employers say that referrals are the leading source of superior candidates!
If you're on the lookout for an excellent account executive, be sure to also incentivize referrals from your existing team members. To earn their referrals, you might, for instance, decide to offer them cash rewards or other prizes as motivation.
Account Executive job description examples, and a template to get started
The skill shortage means that it's now tougher than ever before for recruiters and hiring managers to find the best talent; in order to effectively capture the attention of the most sought-after account executives, you'll need to have an excellent job description.
Here's a look at some inspiring account executive job description examples – and why they're so great:
Account Executive – Talkdesk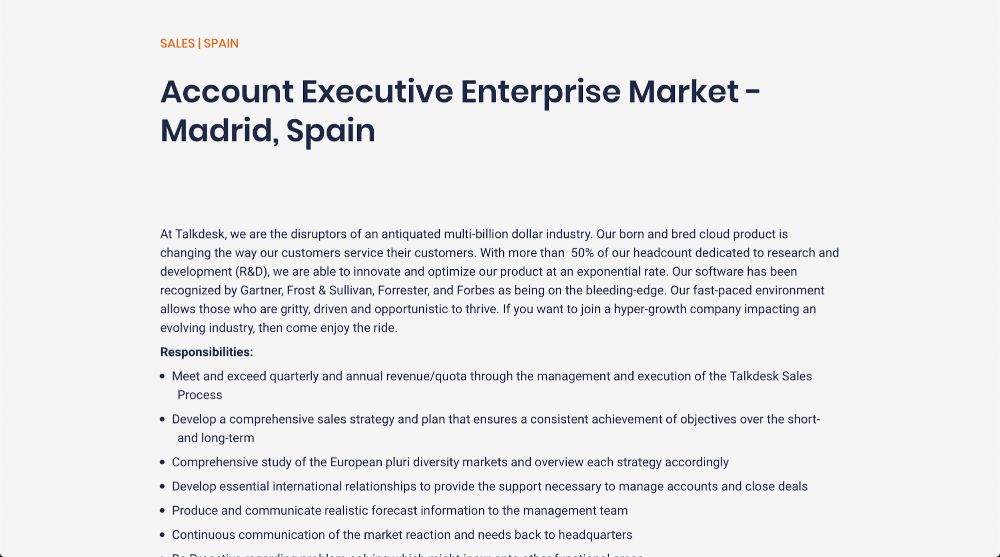 This account executive job description from Talkdesk is great for a few key reasons. Here's what we think it does so well:
The job description maintains a consistent tone throughout

It shares the high-level responsibilities of the account executive

The requirements are clear and comprehensive
Account Executive – Intralinks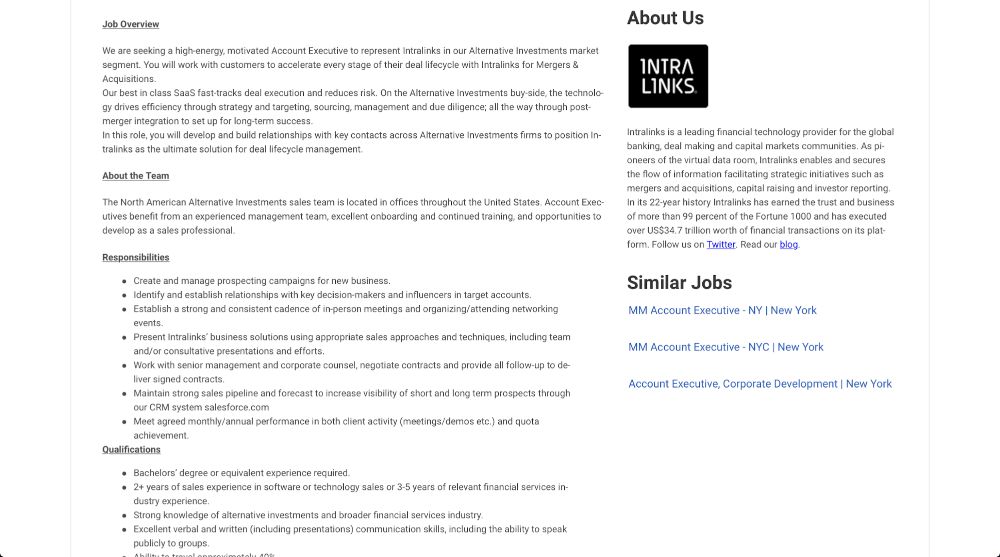 In this account executive job description from Intralinks, we can see that the business is looking for an account executive who will focus on pre-sales. Here's what we think this job description does well:
The inclusion of desired qualifications helps to avoid intimidating the majority of candidates who don't have that exact experience

It includes an introduction to the sales team that the account executive will join

Once again, the responsibilities and qualifications are very accurate
Account Executive – Student Beans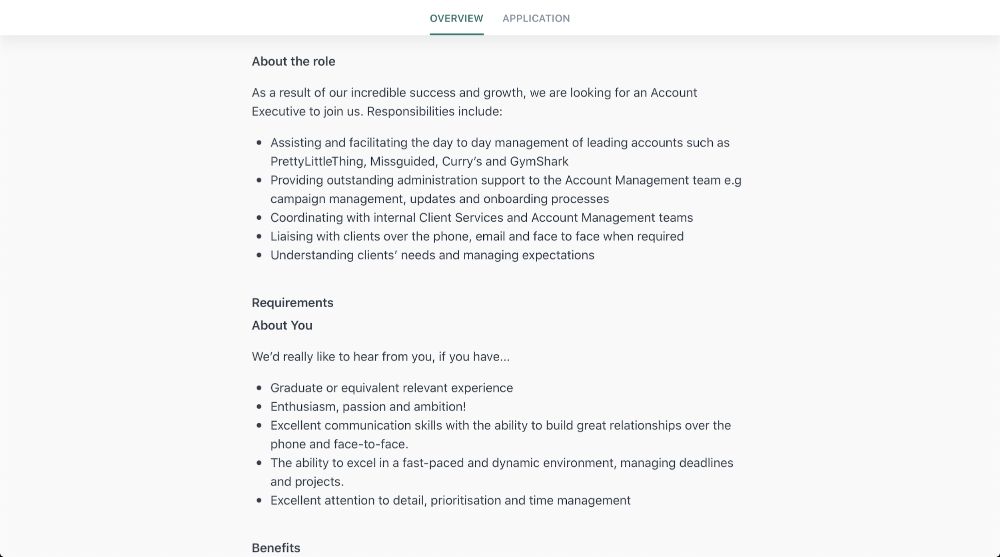 This account executive job ad from Student Beans is filled with character, and we can easily imagine that it's very exciting to read, as a potential candidate!
Here's what we really like about this ad:
The ad starts by offering appropriate context

The wording is light, and places a strong emphasis on character over qualifications

A significant portion of the ad is dedicated to employee benefits, which will be sure to attract some high-quality applications
Now that we've seen some marvellous examples, let's put that best practice into action! Here's a great template you can use as a foundation to get started right away:
[Business name] is looking to add an empathetic and results-driven account executive to its sales team.
The successful candidate will join our sales department where they'll play a critical role in caring for our existing clients, providing regular product updates, and fielding common troubleshooting questions.
Responsibilities
Develop close ties with multiple customers

Use industry and product knowledge to generate new clients

Leverage sales experience to upsell novel products and services

Act as the first point of contact for our customers

Present our business in the best light with empathetic service
Requirements
Bachelors' degree or equivalent
2+ years of sales experience
Immaculate written and verbal communication skills
A naturally empathetic approach to account management
A genuine desire to bring about great customer experiences
How to check the resume of an Account Executive
These days, resumes come in all shapes and sizes, and longstanding conventions have largely been done away with, so you'll need to devote an appropriate amount of time to assess each resume that you receive.
You can expedite this process by identifying a few key things to look out for, however. Here's a look at what you'll want to see on every account executive CV that comes across your desk:
Impeccable spelling and grammar
Your account executives must have great written communication skills. You should be sure to check their CV thoroughly for any errors, because this can also give you an idea of their attention to detail.
Capabilities over qualifications
There are many different paths people can take to become an account executive. Some will study humanities subjects, for instance, while others might study marketing or business. There's really no one-size-fits-all path, so you shouldn't necessarily pay too much attention to qualifications.
Instead, you want to try and assess the capabilities of your candidates. Look at their previous experience and achievements, to see if they have what it takes.
Relevant experience
Ideally, you'll want to find account executives who have proven sales experience. If they don't have specific experience, then you should also look out for those candidates who can demonstrate an understanding of the role by relating their previous experiences to it in a logical way.
Proven soft skills
Account executives need a delicate blend of soft and hard skills. Try and keep an eye out for any experiences or achievements that point toward strong soft skills, such as speaking engagements or awards.
10 Account Executive interview questions you can use
Once you've found a viable candidate, now you'll want to invite them in for an interview! This is the perfect chance to get to know your candidate on a deeper level, so make sure that you go into the interview equipped with the right questions.
Here are some of the best interview questions you'll want to use to assess the suitability of your account executive:
What is your proudest accomplishment as an account executive?

What do you think is the most important skill for an account executive?

What has inspired you to look for this opportunity?

Which management style do you respond the best to?

How do you think your previous manager would describe your performance as an account executive?

How do you think our customers respond to account executives?

Can you describe a challenging moment you had in the past, and how you handled it?

What do you think our customers expect from account executives?

Are you driven by numbers and concrete targets?

How do you think the role of account managers might develop in the future?
Conclusion
We hope that reading this piece plays a helpful part in preparing you to go out and find the perfect account executive for your business! Always remember, it's worth investing the appropriate time and effort into finding the ideal, perfect candidate – given the direct impact that they'll be able to have on your business.
Of course, an account executive is only useful so long as you have great customers and a healthy sales pipeline: start your free UpLead trial today and start driving growth with targeted prospective clients!