For many B2B sales-led organizations, the technology a prospect uses can be a strong qualifying factor. The question is, how do you uncover such data?
This is where technographics comes in. Technographics is the profiling of target accounts based on their technology stack. Much like demographics and psychographics, technographic profiling is a criteria built upon the technology they use.
Technographic profiling allows you to answer questions like:
What hardware or software do our target audience use?
Do they have remarketing technology installed on their website?
Do they use a marketing stack or all-in-one marketing automation?
This sort of data can make your firmographic data more robust. Technographic data is especially effective for those offering a SaaS product, as you can easily identify the customers of your biggest competitors.
Making the Business Case for Technographics
As a sales organization, you're no doubt overwhelmed by the amount of choices in solutions and technologies. Which means you're no doubt asking: "why should I pay attention to technographics at all?"
Well, take for example the growing number of solutions within every business category. The MarTech landscape alone is exploding at a rapid rate. According to Chief Marketing Technologist, there were 3,874 marketing products in 2016, which then grew to a staggering 6,829 products in 2018!
To stay competitive in the SaaS and B2B world, you need to know who you're up against. This sort of insight is usually generated during the closing section of a deal. With technographics, however, sales reps can arm themselves with the insight needed to deal with objections in advance.
Let's go for the big picture. Right now, you likely have a specific picture painted of your target audience. This is built up of buyer personas, target accounts and firmographics information.
When figuring out who wants to buy your product or service, it starts with a vague idea. For example, "growth-minded marketing leaders at ecommerce companies." The only problem is this doesn't paint a deeper picture with data-points and other granular insights.
By understanding the ecommerce space, you'll know that high volume stores use more sophisticated platforms, such as Oracle Commerce Cloud and Shopify Plus. How do we find the companies using this data?
You guessed it: technographics.
Using technographic data, you can identify organizations using this kind of software and build a bigger picture. In turn, you end up assessing the market and uncovering a completely new addressable market that you weren't targeting previously.
How to Use Technographic Data in Your B2B Marketing
For B2B marketers, technographic data can help create hyper-targeted audience segments, understand the pains of your customers and personalize your marketing outreach.
Here are three ways you can use technographic data within your organization:
1. Granular Customer Segments
By profiling your existing customers, you can create a bigger picture of their technology stack and the tools they use to solve problems relevant to your value proposition.
For example, you may find that the majority of your customers use marketing automation software like HubSpot and Act-On. While this indicates which brands they have an affinity with, it's also an indicator of budget.
Why? Because marketing automation is a huge investment in both time and resources. Therefore, these tools provide an indication on how serious they are about their marketing. It can also indicate company size and how sophisticated their marketing and technology teams are.
Let's say your product integrates with CRM systems such as Salesforce. Technographic data will show you which companies use Salesforce, as well as any other relevant tools (both complementary and competing). With this data in hand, you can make an analysis on the prospects' challenges and needs based on this technology.
You can also identify if they use cloud-based or in-house software. Companies using cloud-based software are usually more tech-savvy and want to have flexible, robust stacks that are as fluid as their needs.
However, in-house software indicates companies that may be dedicated to their processes. For a SaaS businesses, this can be a difficult sell, as it would require a complete upheaval of their technology, a change of internal processes and ongoing staff training.
While these assumptions are not 100% accurate, they are invaluable indications of how qualified a prospect is. It can also allow you to tailor the sales process to the needs of your prospects based on the technology they use.
2. Account-Based Marketing
Account-based marketing (ABM) has become a mainstay for many B2B organizations. For us, it means going deep on the organizations that will have the biggest impact on our business. For our target contacts, it provides a more tailored and personalized experience. Which is how you establish deep relationships with your prospects.
Because of it's highly targeted nature, ABM is incredibly cost-efficient. In the B2B realm, casting a wide net has become less effective than it used to. When you speak to a prospect on a one-to-one basis, they feel like you truly get them. This is an area that technographics can fuel.
Furthermore, personalization becomes easier. As mentioned above, you can establish deeper relationships with contacts at your target accounts. If you understand the motivations and logic behind their technology selection, you can build a bridge between those needs and your solution.
Speaking of bridges, using technographics also helps fill the gap between sales and marketing. With ABM becoming a team effort between the two practices, technographics can help prioritize who you target, engage with and reach out to.
3. Sales Prioritization
As you build a deeper firmographic and technographic profile of your audience, you're able to prioritize target accounts and lead distribution among marketing and sales teams.
Lead prioritization is where you distinguish high quality leads with those who are unlikely to convert. Technographics can build a richer profile of those high-quality leads at scale. Not only that, but you can engage with the right audience at scale, too.
Couple technographics with data enrichment , and you have an automated method of prioritizing leads. Your salespeople no longer have to dig out to find the best opportunities. It's handed to them on a silver platter thanks to sales automation.
4. News-Driven Campaigns
For sales teams, there's much value on striking while the iron is hot. New announcements and news-worthy content centered around your prospects should be taken advantage of at a moments notice.
And this is another aspect that technographics can help with. New announcements and press releases are all opportunities to reach out to your prospects and target accounts. Start by monitoring the following:
New mergers and acquisitions
New rounds of funding
Reviews across the web (both positive and negative)
New features and product launches
Executive interviews and thought leadership
Then, gear your outreach around these kinds of campaigns using technographics to fuel your angle  . For example, if a target account has secured a new round of funding but is using an inferior competitor product, you can reach out about the pitfalls of using such a solution during periods of growth, highlighting how you do things better in the process.
5. Personalized Customer Journeys
Technographics are not just for salespeople. With this data, you can optimize the entire inbound marketing funnel and customer journey to better nurture leads and turn more trial users into customers.
It all starts with the right segmentation, using lead scoring and data enrichment to build a bigger picture. For example, you can segment qualified vs. unqualified leads based on the sophistication of their marketing stack. For example, are they using multiple free or low-cost options vs. a complete marketing automation solution such as Marketo.
From here, you'd personalize the journey in order to nurture them accordingly. This must be done in the form of genuinely helpful content and information.
Indeed, buyers are bombarded with marketing messages on a constant basis. By understanding a lead's technology stack, you're in a better place to offer them useful content at every stage of the relationship.
The journey you take them on depends on the technographic data you identified. These journeys can look like one of the following:
Education: If a lead isn't using a provider in your industry, then it's likely they need education on the benefits of such a solution. This would come in the form of top-of-funnel content that strives to add value and guide them through the buyer funnel.
Complementary: Use this kind of journey if your offering optimizes, enriches or works well with other technologies. UpLead, for example, works incredibly well with Salesforce platforms, and we'd therefore target those users accordingly.
Competitive: Create a journey for those using a competitor. Here, you'd focus on what makes your solution the stronger choice over a specific competitors. This requires understanding the ins-and-outs of your competitors offering, allowing you to personalize this information during the nurture process.
Collecting Technographic Data
Historically, the collection of technographic data was conducted through two mediums:
Surveys: Cold calling and sending email surveys is a sure-fire way of generating qualitative data. The problem is it's not scalable. Asking such questions can also come across quite intrusive, which may end up hurting your brand in the long run.
Scraping: Thanks to scraping tools, it's possible to scour a website's source code for an indication that it's using certain technologies. The downside is it's impossible to get a complete profile of a company's tech stack this way, as not all software platforms leave this kind of signature.
However, these methods are sluggish and hard on resources. You'd need to find teams to conduct surveys at scale and build lines upon lines of code to scrape data.
Luckily, there is a third option.
How UpLead Provides Technographic Data
UpLead allows you to build targeted lists of prospects based on the technology stack that companies and contacts use. If you wanted to uncover organizations that use WordPress, Kissmetrics or Salesforce, for example, you can build a list of those companies.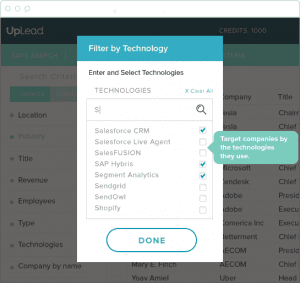 UpLead currently tracks over 16,000 technologies ranging from analytics, CRM, marketing automation tools and much more.
Start Your 7-Day Free UpLead Trial
Lead generation doesn't have to be all that painful. With UpLead, you can easily connect with high-quality prospects and leads to grow your company.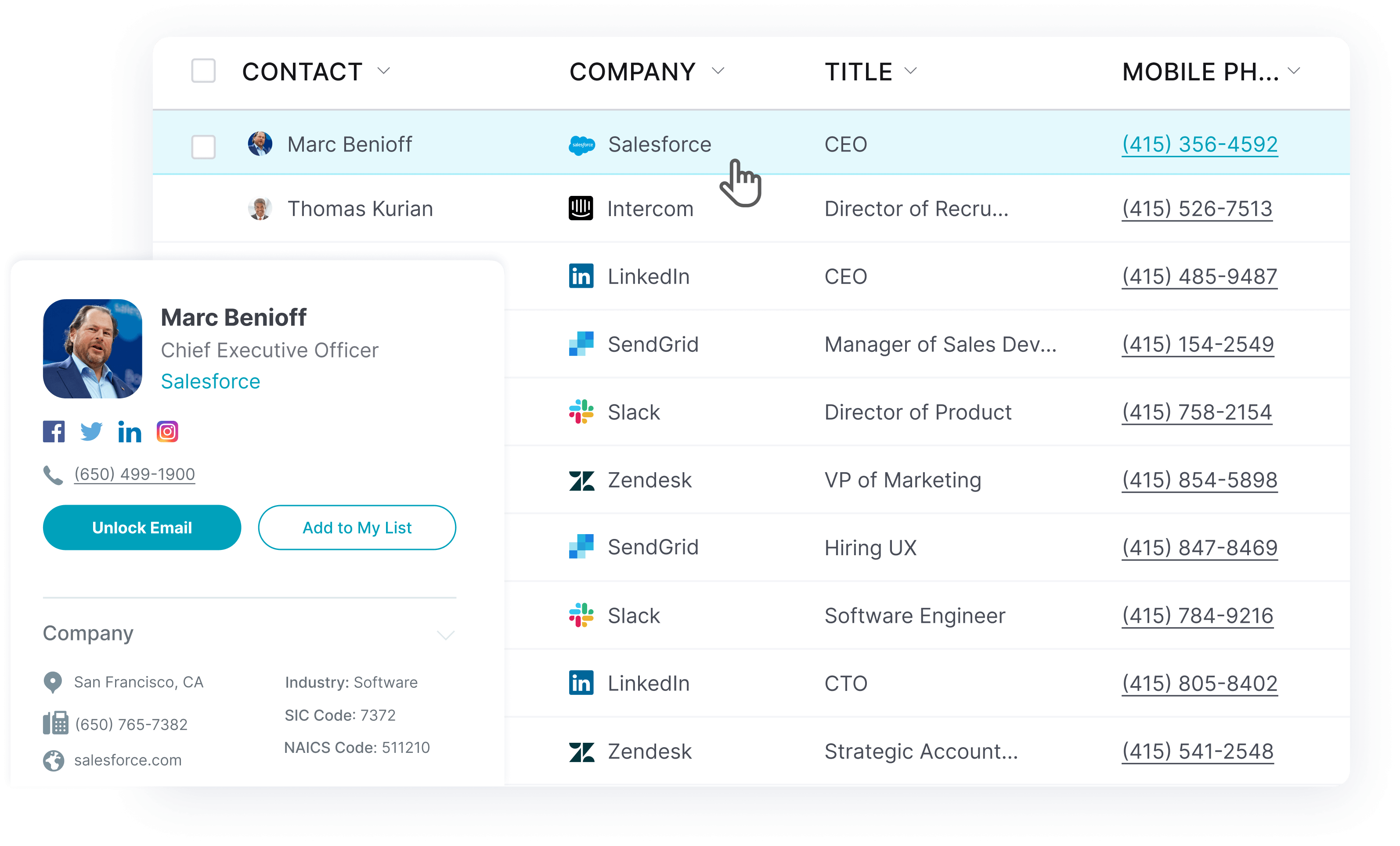 Trusted by the likes of Hubspot, Intuit and Dell, you're in good hands. Sign up for a free trial to see how technographics can supercharge your lead generation efforts today.
Further Technographic Benefits
Still not convinced?
We've compiled a further list of technographic use cases for you to evaluate the benefits of using this data in your sales automation, ABM and outreach efforts:
Demand generation: Identify companies that use a combination of technologies to hyper-target your demand generation efforts. Reach out to organizations and show them how your solution brings the features of several tools under one roof.
Win market share: Using technographic data can help you to uncover new markets previously undiscovered. Identify your competitors and use technographics to identify their customers to win them over.
Upselling opportunities: Similarly, uncover technologies where your product or service offers a complementary solution. Use this data to upsell on third-party technologies target accounts have already invested in.
Sales calls: Prioritize your cold calling efforts by uncovering the accounts that will make the biggest impact. Profile existing companies with high deal size and short sales cycles, pick up the phone and get closing.
Paid media: Create ads that target the users of specific tools and technologies. Tailor the message and ad creative to increase brand awareness and boost the conversion rates of your ABM ads.