UpLead is a higher quality SalesRipe alternative.
Here's why you should consider switching…
Previously, we've compared UpLead against popular and well-known B2B data intelligence companies such as ZoomInfo and DiscoverOrg. More than any UpLead competitors we've discussed in the past, though, SalesRipe offers a very comparable service. From features and interface to pricing structure, SalesRipe is a head-to-head competitor for UpLead. The question is, which of these platforms is better if you are looking for a reliable (and affordable) source of B2B sales leads? In this article, we will conduct a side-by-side comparison of SalesRipe and the SalesRipe alternative, UpLead.
As with our past comparisons between UpLead and UpLead's top competitors, we will focus this head-to-head battle on five different categories: database size, pricing, contract obligations, update frequency, and special features. These points of focus are the ones that customers inquire about most frequently when trying to learn more about the UpLead platform. We see them as the top selling points for most B2B lead generation platforms. Simply put, we believe it's possible to achieve any effective platform comparison by looking at these five categories.
Database Size
The SalesRipe database contains two main sections: consumer leads and business sales leads. It is not, in other words, a purely B2B-based lead generation platform such as with the other companies we have looked at in the past. Of the two sections, SalesRipe's consumer leads database is larger, containing 200 million contacts. The B2B section of the database is just a tenth of that size, with 20 million leads.
UpLead, of course, is only a true SalesRipe competitor in one of these categories. Our database is focused purely on B2B leads, which means we don't offer consumer contact leads at all. Our B2B sales intelligence database, meanwhile, contains more than 108 million business contacts.
The Verdict: SalesRipe Wins!
Which platform comes out on top here will depend on what type of leads you are seeking. If you are shopping for B2B sales intelligence, then UpLead's 108 million business contacts trump SalesRipe's 20 million. However, if your business is looking for consumer contacts, or if you are dabbling in both B2C and B2B marketing, then SalesRipe's multi-faceted platform may be a better fit for you.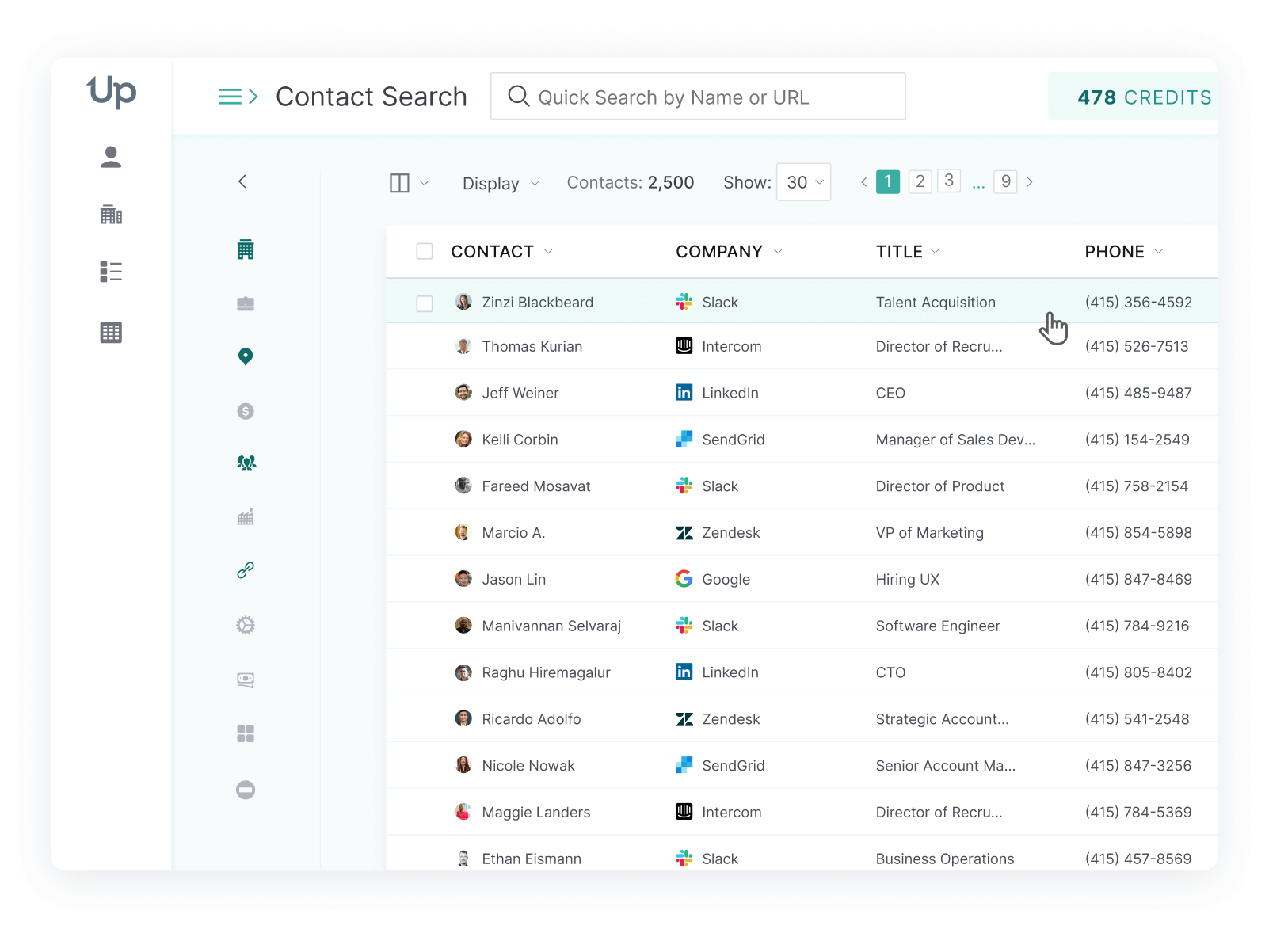 Pricing
In most discussions surrounding B2B lead generation platforms, UpLead is by far the most affordable option available. That isn't the case here. SalesRipe's pricing is competitive with the offer at UpLead. In fact, their pricing structure—while very comparable to ours—is actually a little bit cheaper.
Indeed, at UpLead we have always priced our leads based on different tiers: Essentials, Professional, Ultimate and Enterprise. Each tier comes with a certain number of credits, with each credit being good for the download of one B2B contact. Unused credits roll over at the end of the month and can be used at any time. Another big selling point is that we don't require contracts, which means you can buy a package, go until you use up all your credits, and then buy another one. There is no contract requiring you to buy a package from us on a regular basis, or to pay a monthly fee. We will give you a discount if you commit to a full year with us, but you are in no way obligated to enter into that kind of agreement.
The UpLead pricing structure is as follows:
Essentials: $99 a month for 170 credits

Plus

: $199 a month for 400 credits
Professional: $399 a month for 1,000 credits
Enterprise: Starts at 10,000 credits a year but can be customized based on what the business needs. Price will fluctuate accordingly.
SalesRipe, as we already mentioned, has a very similar pricing structure. As with UpLead, SalesRipe has a tiered structure, with packages for Basic, Plus, Ultimate, and Enterprise. Like UpLead, SalesRipe has no setup fees or contract requirements. Like UpLead, SalesRipe uses a credit system, where each credit is good for one contact download and where the credits roll over at the end of the month. However, the SalesRipe cost is a little lower than what we offer at UpLead. Here's a rundown of the company's price structure:
Basic: $49 a month for 200 credits
Plus: $79 a month for 1,000 credits
Ultimate: $129 a month for 2,500 credits
Enterprise: Customizable credit number and pricing, depending on what the customer needs.
The Verdict: SalesRipe Wins!
As you can see, UpLead and SalesRipe pricing is identical for the Basic model, markedly different for Plus, and a little closer for Professional/Ultimate. Overall, SalesRipe's price-per-lead cost is lower. SalesRipe also offers the same perks that usually put UpLead over the top in this category, including credit rollovers and the absence of contracts. Bottom line, there isn't a huge amount of difference here, but SalesRipe gets the edge if you are looking for the most economical option.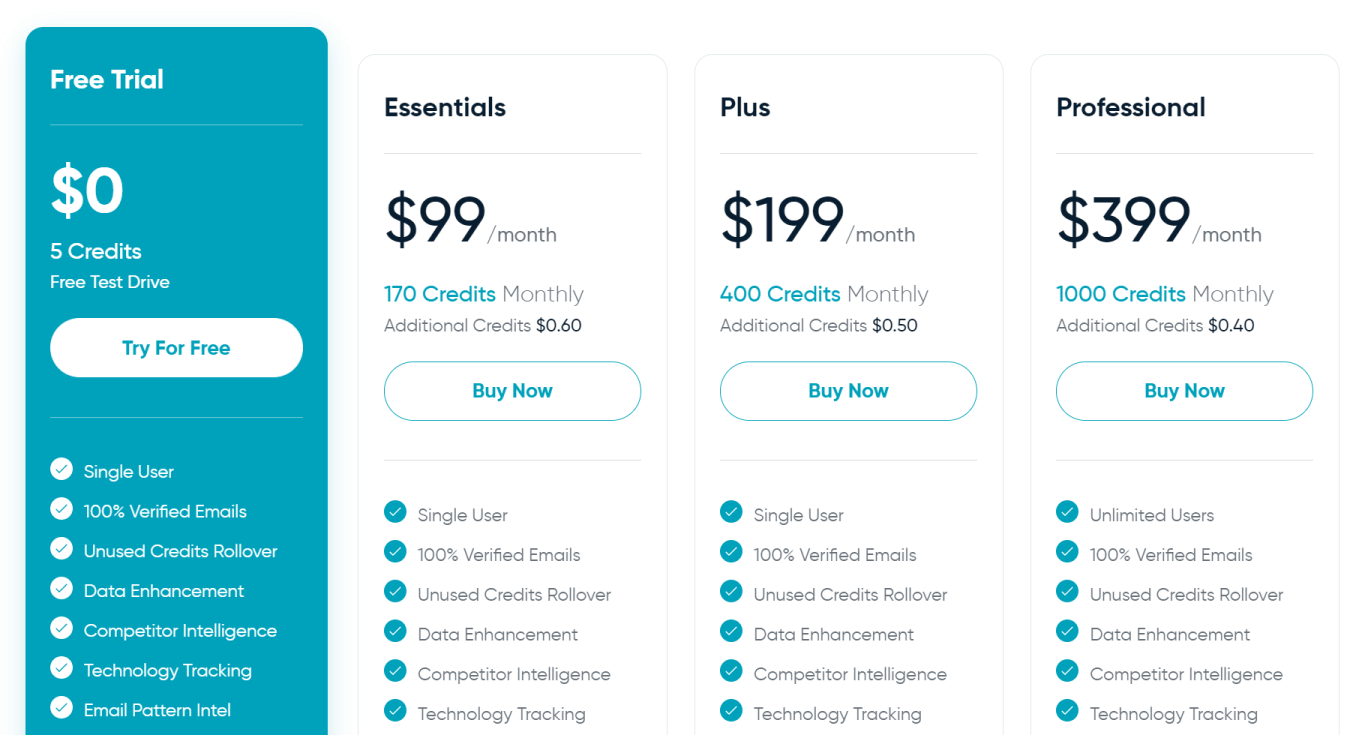 Contract Obligations
As we already discussed in the pricing section, neither UpLead nor SalesRipe require the user to sign a contract. While it is common in the sales lead intelligence industry to require annual subscriptions and monthly autopay rates, that isn't the case with either UpLead or SalesRipe. Both platforms only ask the customer to purchase leads one month at a time. From there, your business can use the platforms to search contacts, identify top prospects, download leads, and pursue sales. Once you've exhausted your leads, it's up to you on whether to buy another month of the same package, move up or down to a different tier, or try out a different platform. For SMBs with small budgets or businesses making their first forays into buying leads, the no-contract nature of both these platforms should appeal. We also both offer a free trial, so you can give our platforms a test run before committing even a $49 monthly payment.
The Verdict: Tie
It's a draw in this category, where UpLead and SalesRipe are virtually the same.
Update Frequency
On the SalesRipe website, you will find a statement about accurate data. "While no data is 100 percent accurate," the statement reads, "we pride ourselves on being able to offer highly accurate and up-to-date business and consumer data. On average, our data is 90 percent accurate." While 90 percent is respectable, it still means that as many as 10 percent of the contacts you download through SalesRipe could be outdated. You might purchase the Plus tier only to find that 100 of the email address you download are undeliverable.
At UpLead, we also can't guarantee 100 percent data accuracy, but we can get you closer than 90 percent. We use real-time data-checking strategies to make sure we aren't selling you undeliverable email addresses. When you select a new contact to download, our system automatically starts pinging the email addresses associated with that contact. If we get a Valid reading, that means the email address is active and likely still accurate. If we get an Invalid reading, it means the email address is likely dead and no longer usable. If we get an Accept All, that means the email server has been set up to receive all message. We can't verify for certain whether these email addresses are live.
With our platform, you have the option of downloading all Valid and Accept All email addresses or just opting to receive the Valid ones. All Invalid email addresses are rendered un-downloadable and are moved to a queue for checking and validation manually by our team. This system reduces your likelihood of paying for out-of-date contacts. It's UpLead's way of cutting down on email bounces and other headache-inducing, productivity-killing hassles.
The Verdict: UpLead Wins!
SalesRipe makes the common industry mistake of only checking the validity of its data monthly. Of course, many people move jobs or change email addresses every month, which means a fair percentage of the data you download from the platform could be inaccurate. At UpLead, our focus on real-time verification and our drive to push for 100 percent email deliverability sets us apart and means that customers are getting the most out of our cost-per-lead rate.
Special Features
SalesRipe and UpLead offer a similar special feature in the form of our technology tracking intelligence. Both platforms offer details on companies and the technologies they use, including CRMs, analytics tools, ecommerce platforms, and other marketing tools. Armed with this information, B2B companies can target prospective clients based on the technologies they use or tailor their pitches to reflect the specific needs of the customer. At UpLead, we track more than 16,000 technologies. The SalesRipe website does not specify how many technologies the company tracks.
UpLead also offers features like data enrichment, for filling in or updating your existing B2B database, as well as seamless integration with CRMs such as SalesForce, Hubspot, or Woodpecker. SalesRipe offers a built-in lead manager, which can monitor your communications with a lead, from initial outreach to finalized deal.
The Verdict: Tie
This category is a virtual draw. Both UpLead and SalesRipe offer technology tracking. UpLead adds value with data enrichment, while SalesRipe's lead manager helps promote strong account-based marketing. Each platform brings extra perks on top of lead generation.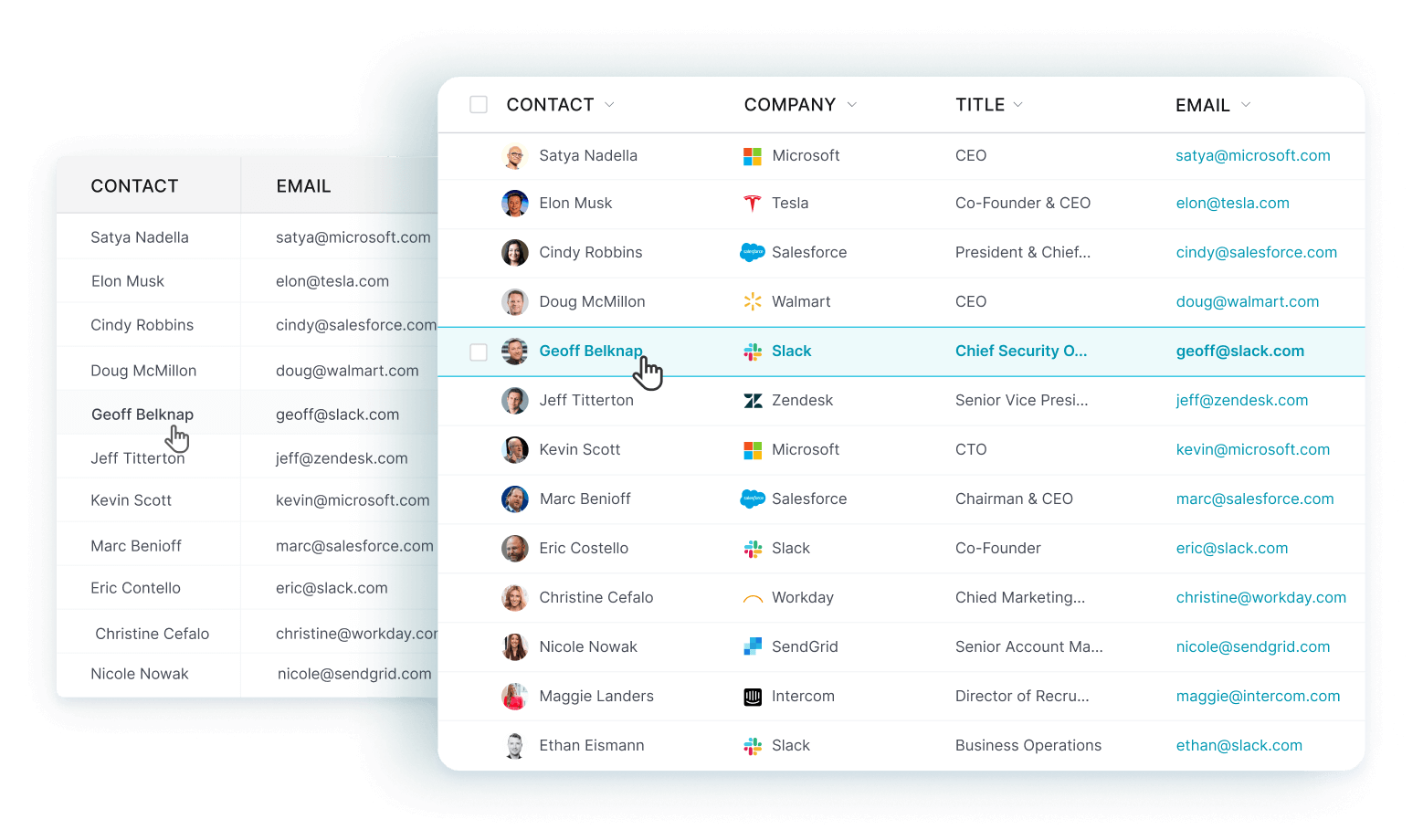 Final Verdict: UpLead Beats SalesRipe!
SalesRipe and UpLead are very similar platforms, from their pricing to their features to their lack of contracts. As a SalesRipe alternative, though, UpLead comes out on top. Our real-time email verification allows us to offer greater accuracy with our data. SalesRipe may be slightly cheaper, but our high level of email deliverability makes us worth the small additional investment. As the old saying goes, you usually get what you pay for.
Ready to give UpLead a try?
We hope you enjoyed out comparison guide between UpLead and SalesRipe. Getting started with UpLead is easy and can be done in just a few minutes. To start your 100% free 7-day trial (no credit card required), just click here. If you still have questions simply click the chat widget in the bottom right-hand corner of this screen. We hope you enjoy UpLead.
Want to grow your business faster?
Sign up for a 100% free no-risk trial today!
Try UpLead free for 7 days. No credit card required. Plans start at just $99/month with no contract.
Disclaimer: The third party's name is utilized for comparison purposes only and is the trademark of its respective owner. UpLead claims no rights whatsoever in the use of such name and/or any related trademarks. UpLead is not affiliated with the third party referenced on this page.