UpLead: The best D&B Hoovers competitor/alternative
UpLead is an affordable D&B Hoovers alternative.
Here's why you should consider switching…
D&B Hoovers is a business intelligence company that has been around since 1990. UpLead is a newer solution also focused on helping B2B marketers find sales leads. If you are looking for sales intelligence to power your next B2B marketing campaign, you might be wondering which of these options is right for your business. Do you go with D&B as the old standby? Alternatively, do you try out the D&B Hoovers competitor that is UpLead?
In this article, we will explore both of these services in depth with the goal of offering an objective point-by-point comparison for customers to consider.
Can't wait to see and try UpLead for yourself? Try UpLead for free below.
D&B Hoovers competitor: The Points of Comparison
When offering comparisons between UpLead and other B2B sales intelligence databases, we always judge the products across five categories: database size, pricing, contract obligations, update frequency, and special features. These categories underline the features and factors that B2B marketers usually consider when selecting a database source for new sales leads. Exploring these category-by-category comparisons will help you choose between D&B Hoovers and UpLead, our growing D&B Hoovers alternative.
UpLead vs. D&B Hoovers: Database Size
The D&B Hoovers database spans 120 million businesses in 190 different countries. The company taps 30,000 different data sources to ensure the accuracy and reach of its contact database. At UpLead, our database size is considerably growing, including 135+ million business contacts worldwide.
The Verdict: D&B Hoovers Wins!
Despite D&B Hoovers having the advantage on UpLead regarding sheer database size, UpLead has surpassed the database count. The long history of D&B Hoovers helps D&B difficult to beat on this front. As mentioned previously, the company was founded in 1990. Back then, the business intelligence product was known as Hoover's. It wasn't until 2003 when commercial data and analytics firm Dun & Bradstreet acquired Hoover's that the product took on the D&B Hoovers name. Still, D&B is a massive corporate behemoth with a database of more than 300 million business records. This corporate backing has helped D&B Hoovers expand the size of its B2B database.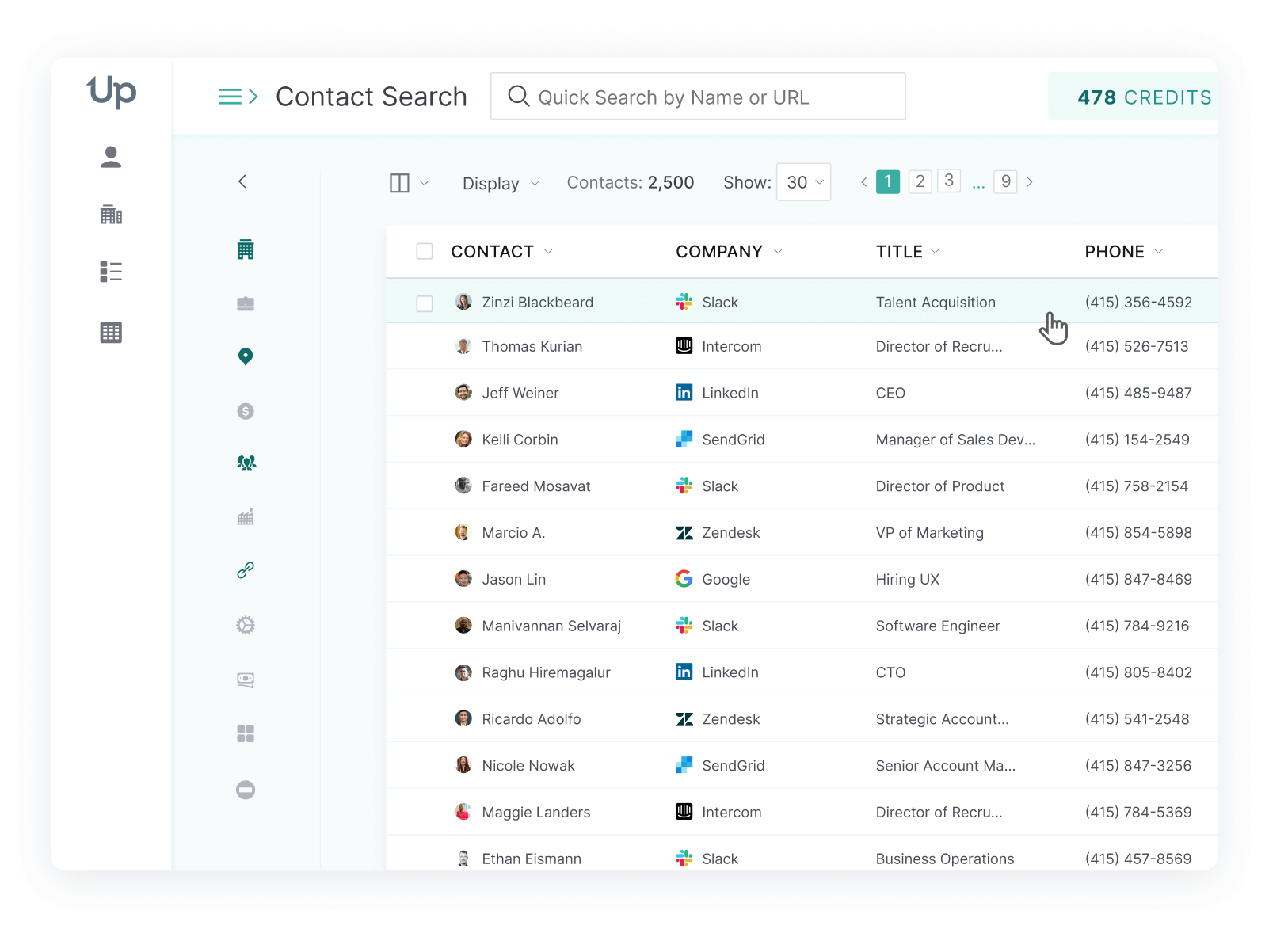 UpLead vs. D&B Hoovers: Pricing
It isn't easy to find details about D&B Hoover's pricing online. The company tailors its packages to suit the needs of different clients, which means D&B Hoovers is a quote-priced product. This lack of pricing transparency can be a bother if you are trying to get a surface-level idea of what your business can afford.
At UpLead, we value transparency, which is why we include all our pricing information
in an easy-to-find place
. We also offer a flexible pricing model, so that our customers can choose what they need and what they can afford. Our Essentials package goes for $99 a month and includes 170 credits every month. Our 
Plus
 and Professional versions are $199 and $399 a month, respectively and give you either 400 or 1,000 credits per month. Each credit is good for one B2B contact download from our database. UpLead also provides an Enterprise package, which starts at 10,000 credits per year but can be customized to suit your organization's needs.
Both D&B Hoovers and UpLead do offer free trials of their platforms, however. With the trial versions, you can test out the interfaces of both products and see which option you prefer. The trial versions also allow you to explore the databases for both companies, which can be useful to determine if your industry niche is met by either or both platforms.
The Verdict: UpLead Wins!
For smaller businesses especially, pricing transparency is essential, as is having multiple pricing options. The veiled reality of what D&B Hoovers costs makes it difficult to compare the platform against D&B Hoover's competitors like UpLead. Our platform's affordability, combined with our transparency on the subject of price, gives UpLead the edge here.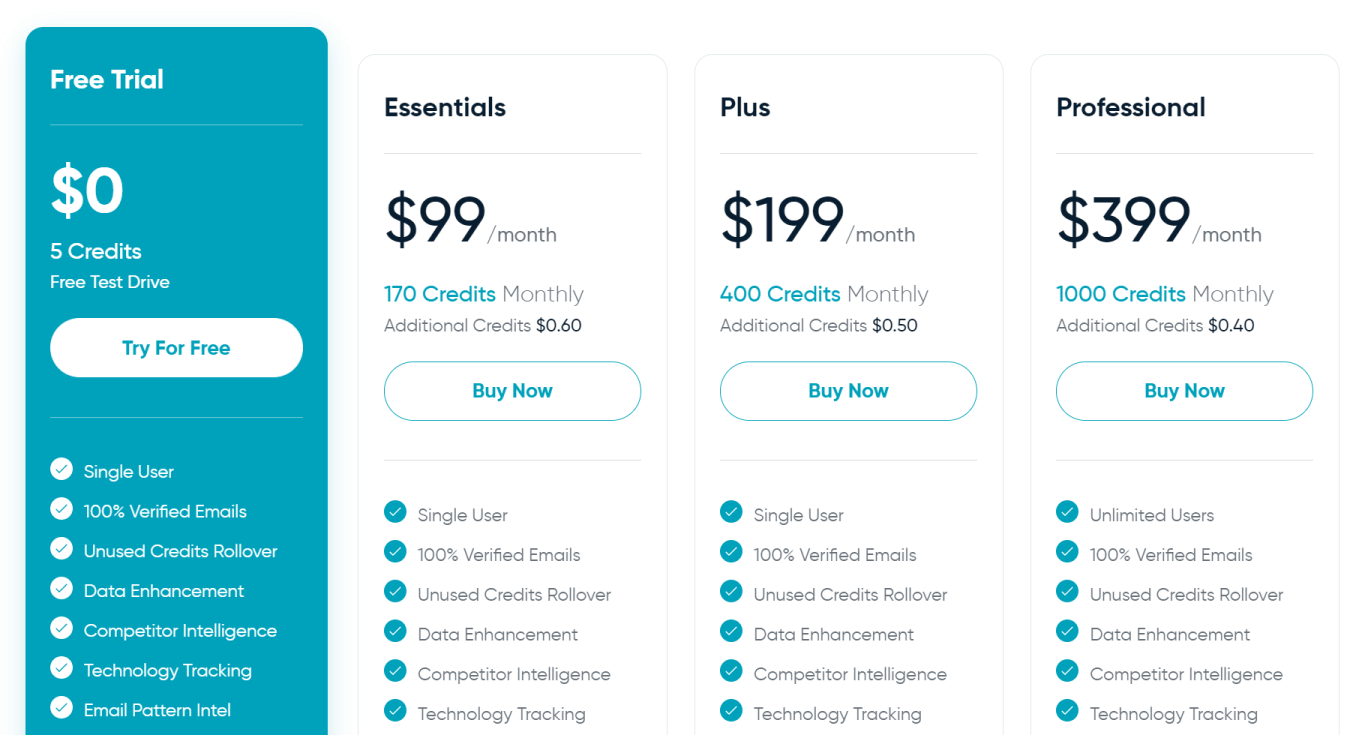 UpLead vs. D&B Hoovers: Contract Obligations
Like most other B2B intelligence companies, D&B Hoovers is a subscription-based service. To sign up for a subscription, customers must sign a contract that ties them to D&B Hoovers for a "contract year." Once this contract is signed, your company is locked into an agreement with D&B Hoovers for 12 months. During that time, you are expected to pay the monthly rate that you have agreed upon based on the price quote D&B Hoovers provided to you.
At UpLead, we recognize the fact that our clients might not need to use our database every month. Perhaps your business wants to use our service to mine 3,000 new B2B contacts in June and then spend the next three or four months pursuing those leads. Especially for smaller businesses, this kind of scenario is relatively common. It doesn't make sense to pay for our database throughout July or August when you are still using the leads you purchased in June.
For this reason, UpLead has taken the unique step in the B2B intelligence industry of having no contracts whatsoever. We bill on a month-by-month basis and don't attempt to lock you in for a year of subscription costs. If you want to purchase access to our database for one month and then not use it for the three following months, you can do that. You can just buy the one month, based on how many credits you need, and then get back in touch when you've exhausted your leads. Your credits don't expire at the end of the month, either, but instead, roll over to the next month until you have used them all. If you're looking for an affordable and strong D&B hoovers alternative, give us a try.
The Verdict: UpLead Wins!
Even if you manage a lower D&B Hoovers pricing quote, you will still be obligated to use the platform—and pay the subscription rate—for a full year. UpLead's more flexible model makes us a better option if your business is smaller, has more sporadic needs for lead generation, or needs to keep the budget modest. Of course, you can commit to a full year with us if you know you'll need a certain number of new leads every single month. For clients that do decide to enter into a full-year commitment with UpLead, we will even provide a discount.
UpLead vs. D&B Hoovers: Update Frequency
Both UpLead and D&B Hoovers have databases that are updated consistently. D&B Hoovers claims that it uses its 30,000 data sources—as well as "teams of primary source researchers" to update its database "over 5 million times per day." The company also says its data "undergoes extensive quality assurance testing, with over 2,000 discreet checks for validity and reliability."
At UpLead, meanwhile, we provide real-time data quality assurances as the time of contact data download. When you use our platform, you get to sift through our database, pick out contacts that meet your needs (regarding industry, location, job title, and other criteria), and then download those contacts to your database or CRM. As soon as you click the button to exchange some of your credits for some of our database entries, the UpLead system pings the email addresses on your list to verify them. These verifications yield one of three response codes: Valid, Invalid, or Accept All.
"Valid" indicates that an email address is active and live. "Invalid" indicates an email address that is dead or down for some reason. An attempt to try to email this address would result in the email "bouncing," or coming back as undeliverable. "Accept All" indicates that the email server has been set up to accept all incoming messages. We can't guarantee that this type of email address is verified, but we can't verify that it's dead our unusable either. Using UpLead, you can choose to download just email addresses that come back "Valid," or you can opt for "Valid" and "Accept All" contacts. We will automatically refer "Invalid" addresses to our team for research and updates.
The Verdict: Tie
Concerning updates and verifications, D&B and UpLead are both a cut above the competition. Most B2B data providers only update their databases every 60-90 days. With the frequent updates of the D&B Hoovers database and our focus on real-time verification at UpLead, you can expect reliable and up-to-date contact data from either database.
UpLead vs. D&B Hoovers: Special Features
One of the most significant points of difference with D&B Hoovers is sales acceleration. In 2017, Dun & Bradstreet acquired Avention, one of the biggest names in the sales acceleration. Avention's intelligence has now been paired with D&B Hoovers to provide a more well-rounded solution. Avention OneSource—the company's core product—provides businesses with industry news and alerts, market data, sales signals and triggers, and other insights that clients can use to know whom to pitch and when.
At UpLead, we offer special features such as technology tracking and data enrichment. Knowing what software or hardware solutions prospects are using can help you pitch them more effectively—an opportunity our platform provides by tracking over 16,000 technologies. Our data enrichment service, meanwhile, can take your existing contact database and update it with additional fields or newer contact details fresh from our database, making us one of the top D&B Hoovers competitors in the market.
The Verdict: Tie
Again, this field might be too close to call. Both platforms provide useful insights and features that offer incredible value to B2B marketers everywhere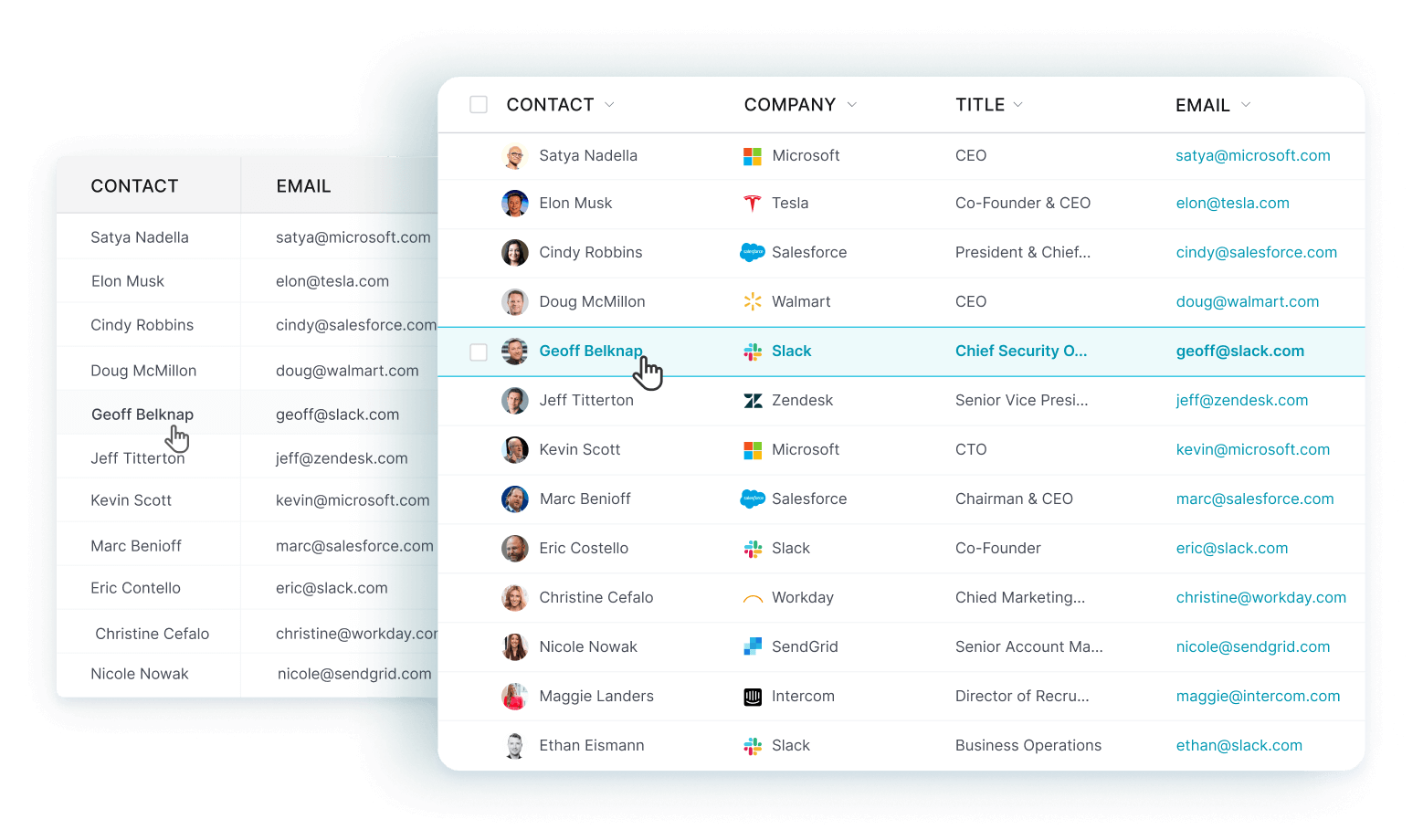 Final Verdict: UpLead Beats D&B Hoovers!
There can be no doubt that D&B is a powerful platform for B2B data intelligence. There is a reason that D&B is known for its massive database of business information. However, as a D&B Hoovers competitor that is more affordable, more flexible with budgeting and usability, and just as committed to offering accurate, up-to-date data, UpLead is an equally strong option. Especially for businesses that fall in the SMB range, the perks of UpLead may outweigh the obvious strengths of D&B Hoovers.
Ready to give UpLead a try?
We hope you enjoyed out comparison guide between UpLead and D&B Hoovers. Getting started with UpLead is easy and can be done in just a few minutes. To start your 100% free 7-day trial, just click here. If you still have questions simply click the chat widget in the bottom right-hand corner of this screen. We hope you enjoy UpLead.
Want to grow your business faster?
Sign up for a 100% free no-risk trial today!
Try UpLead free for 7 days. No credit card required.
Plans start at just $99/month with no contract.
Disclaimer: The third party's name is utilized for comparison purposes only and is the trademark of its respective owner. UpLead claims no rights whatsoever in the use of such name and/or any related trademarks. UpLead is not affiliated with the third party referenced on this page.