UpLead: The best Clearbit alternative
UpLead is an affordable Clearbit alternative.
Here's why you should consider switching…
On one side, we have Clearbit, a relatively new player in B2B data intelligence that markets itself largely by its "real-time" data updates. On the other side, we have THE Clearbit alternative, UpLead. At UpLead, we have always set our platform apart by offering real-time verified data to our customers.
Which of these platforms, both focused on delivering accurate, verified B2B data, is right for your business? To give companies a better idea of what these two B2B data platforms offer, we are going to perform a side-by-side comparison of their selling points.
Clearbit alternative: The Points of Comparison
We've made previous comparisons between UpLead and other Clearbit competitors, always by focusing on the same five categories: database size, pricing, contract obligations, update frequency, and special features. The points of comparison in these categories tend to be the core selling points that drive decisions in the B2B data space. For instance, one client might be looking to buy B2B contact leads as affordably as possible, while another might need the platform with the largest database. By looking at these five categories, we are confident we will be able to help you choose between Clearbit and UpLead, the best Clearbit competitor.
UpLead vs. Clearbit: Database Size
Clearbit's database consists of 395 million contacts spanning 20 million companies in 165 countries. The company utilizes 250 different data sources to add to its database. UpLead has a smaller database, with 108+ million business contacts around the globe.
The Verdict: Clearbit Wins
If you are after the larger database and consider this point of comparison a top priority, then Clearbit gets the edge here.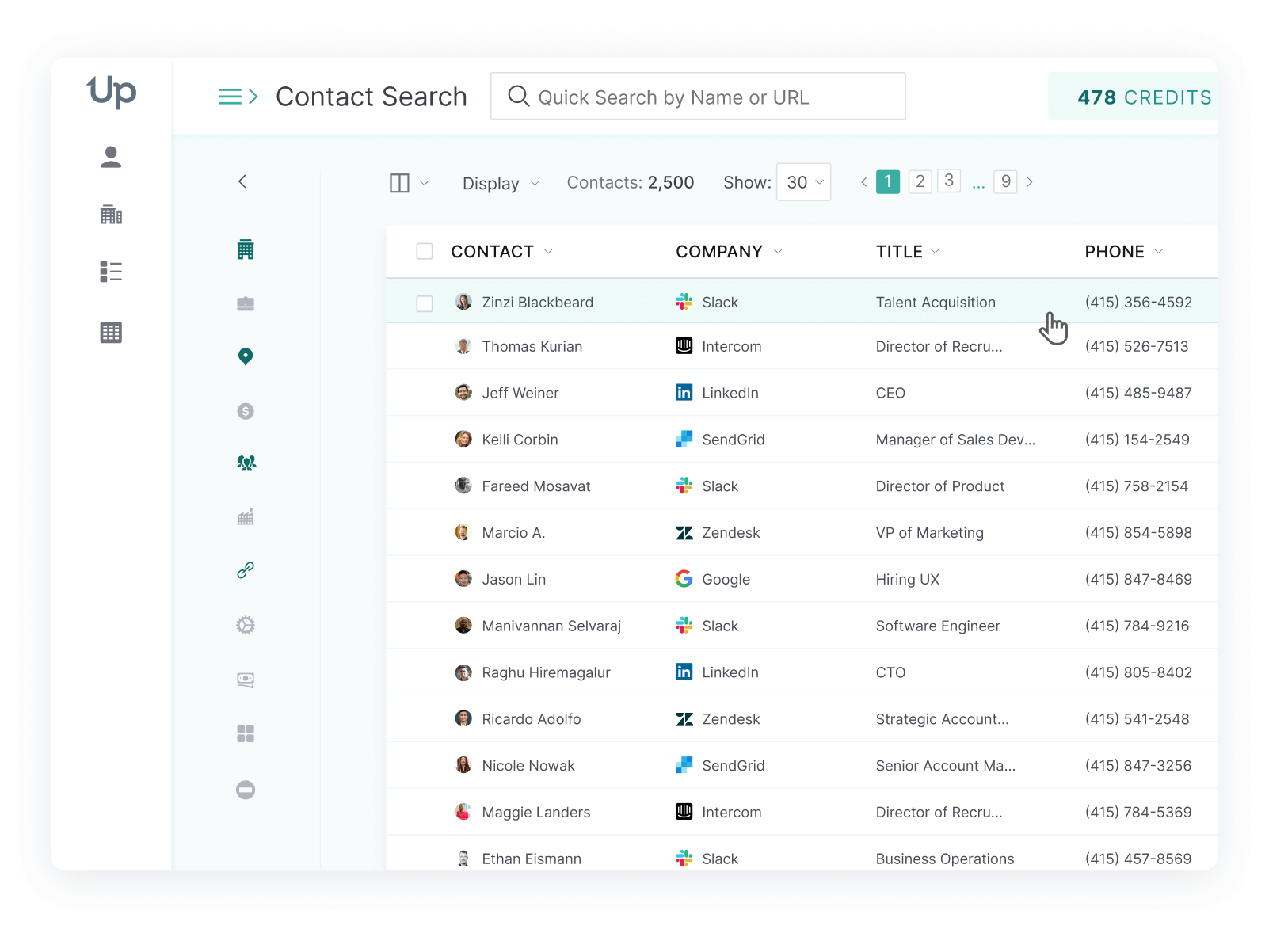 UpLead vs. Clearbit: Pricing
Clearbit offers three services: Enrichment, Prospector, and Reveal. We'll discuss the Enrichment and Reveal services in detail a bit later, but for now, let's look at Prospector.
Prospector is Clearbit's pure B2B data prospecting service. If you are hunting for leads and want to find contacts and companies that might be good sales pitch targets, then Prospector is the Clearbit service you would choose. This service starts at $999 a month and is billed annually. However, as Clearbit notes in its pricing FAQ section, "each product is subject to individual terms." In other words, $999 is the base price for Clearbit Prospector. You might pay more if your company is big or if you need an especially large number of new leads every month.
At UpLead, our platform is priced according to different tiers. This flexible pricing model gives our customers the ability to choose what they need according to their budget. Where Clearbit starts at $999 per month, our prospecting service starts at just $99 a month. This tier, our Essentials package, includes credits for 170 leads each month. We also offer a Plus package ($199 monthly for 400 credits) and a Professional package ($399 a month for 1,000 credits), as well as an Enterprise package.
Enterprise starts at 10,000 credits per year but can be customized based on your lead generation requirements. The pricing for the Ultimate package will scale depending on the number of credits you require.
The Verdict: UpLead Wins
Clearbit may offer a larger database than UpLead, but you pay for the difference: Clearbit pricing puts the platform in the neighborhood of $12,000 a year even for the most basic package. In comparison, if you were to opt for UpLead's Plus Package for a year, you'd get 18,000 leads for less than $4,800. We offer a discount to companies that commit to a full year with us of 25% off. Simply put, our platform is more affordable than Clearbit. For SMBs especially, UpLead gets the edge in this category.
UpLead vs. Clearbit: Contract Obligations
As is common in the B2B data intelligence industry, any agreement for a Clearbit Prospector package is "billed annually." In other words, you must sign a contract committing to a year-long subscription. This kind of commitment is no big deal if you know your business will need a few thousand new B2B leads every single month. For smaller businesses or larger companies with shifting needs, the consistency usually just isn't there for that kind of data volume. Committing to $999 or more a month for 12 months straight when your lead acquisition needs fluctuate from one month to the next is a risky position for many businesses.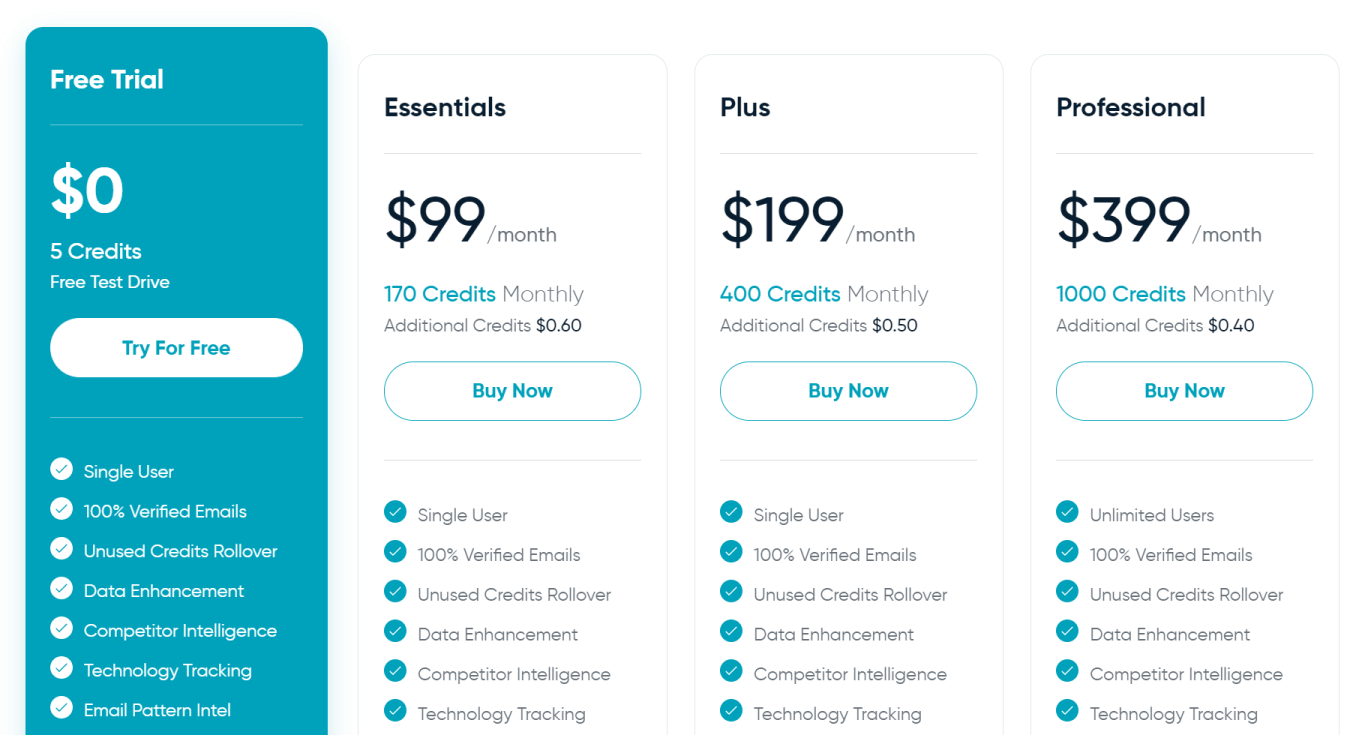 At UpLead, one of the factors that distinguish us from other B2B data vendors is we don't have any contractual requirements. We will happily give you a discount if you decide to commit to one of our packages for a whole year. However, there is no obligation for you to make this kind of commitment, and most of our customers opt for month-to-month service. That way, you can switch your package if necessary or even skip months entirely.
If 200 new leads last your business 2-3 months, then you might choose to buy our Essentials package in August and skip September and October. With UpLead, your credits don't lapse or expire after a month, which means you retain access to our database for as long as you still have credits and an active account.
The Verdict: UpLead Wins
The high Clearbit cost combined with the company's annual contract requirement makes pulling the trigger on a subscription a very large commitment. Many small- and mid-sized businesses can't afford or justify this commitment. For these businesses, UpLead offers a distinct advantage. Our affordable pricing structure and flexible subscription package makes us one of the lowest-risk B2B data vendors in the market. When possible, it's a strong option to avoid being locked into a 12-month contract, and out of these two companies, only UpLead allows you to avoid that kind of commitment.
UpLead vs. Clearbit: Update Frequency
You will find the term "real-time" on the websites for both UpLead and Clearbit, but they appear in different contexts.
At UpLead, we use real-time email verification to check our data the moment our customers download it. Essentially, when you select a set of data to download, our system instantly pings the email servers for the contacts in question. The system then marks each address as Valid, Invalid, or Accept All. Invalid addresses are no longer live; we automatically remove these emails from our database and flag them for more research. Email servers that have been set up to "Accept All" messages are often still live, unlike servers that yield an "Invalid" message, but can't be verified. Valid email addresses have been verified as live and active.
You can decide whether to download "Valid" and "Accept All" emails or just to opt for "Valid" contacts. If you download Valid and Accept all you may see some bounces from the Accept All emails. If you download Valid only the emails are 100% accurate at that moment. Either way, you are unlikely to deal with an instance in which your dealing with a large amount of email bounces or undeliverable contacts.
Clearbit does not offer this type of instant verification, which means there is still a risk of downloading out-of-date contact information from the platform. Clearbit says every record in its database is "refreshed" at least every 30 days. The company also uses "real-time lead scoring" to offer more accurate data to its customers.
Since Clearbit pulls its data from a range of sources—including "social presence, company websites, legal filings, crowdsourcing, and many more"—it occasionally runs into situations in which different pieces of data contradict one another. Clearbit goes through the process of "dynamically weighing and scoring each data source in real time" to decide which source "to use for each attribute." This process is ambitious and in-depth and is certainly better than most standard data scraping practices. Still, Clearbit can only offer an email deliverability rate of 94 percent.
The Verdict: UpLead Wins
Clearbit is visibly committed to data "freshness," as the company's website notes in multiple spots. By rebuilding contact profiles every month, the company is ahead of the B2B intelligence vendors that only update their data once every 60-90 days. Still, regarding "real-time" data updates, UpLead's moment-of-download email verification system offers a higher level of email deliverability guarantee than Clearbit's system for weighing and scoring data sources.
UpLead vs. Clearbit: Special Features
Clearbit's "special features" come in the form of its other two platforms: Enrichment and Reveal. Enrichment allows users to upload the B2B data they already have and then use Clearbit's databases to flesh it out. For instance, if you only have an email address and want a full customer profile, you can use Clearbit to discover other data points like employer, job title, and company sector. Reveal, is a tool for identifying who is visiting your site and using that data to serve targeted content. Clearbit integrates with platforms like Salesforce, Slack, Marketo, and Zapier.
At UpLead, we offer data enhancement and easy CRM integration. We also have a robust technology install base that tracks more than 16,000 technologies. This information can tell you which types of software and hardware your prospects are using—details you can use to identify the best leads or target them more effectively.
The Verdict: UpLead Wins
Clearbit Enrichment and Reveal are appealing products, but they don't come with the Prospector software. You need to pay for them separately. At UpLead, we don't offer an alternative to Clearbit Reveal, but we do build our data enrichment and technology tracking features into our main B2B data service—in short, more for your money.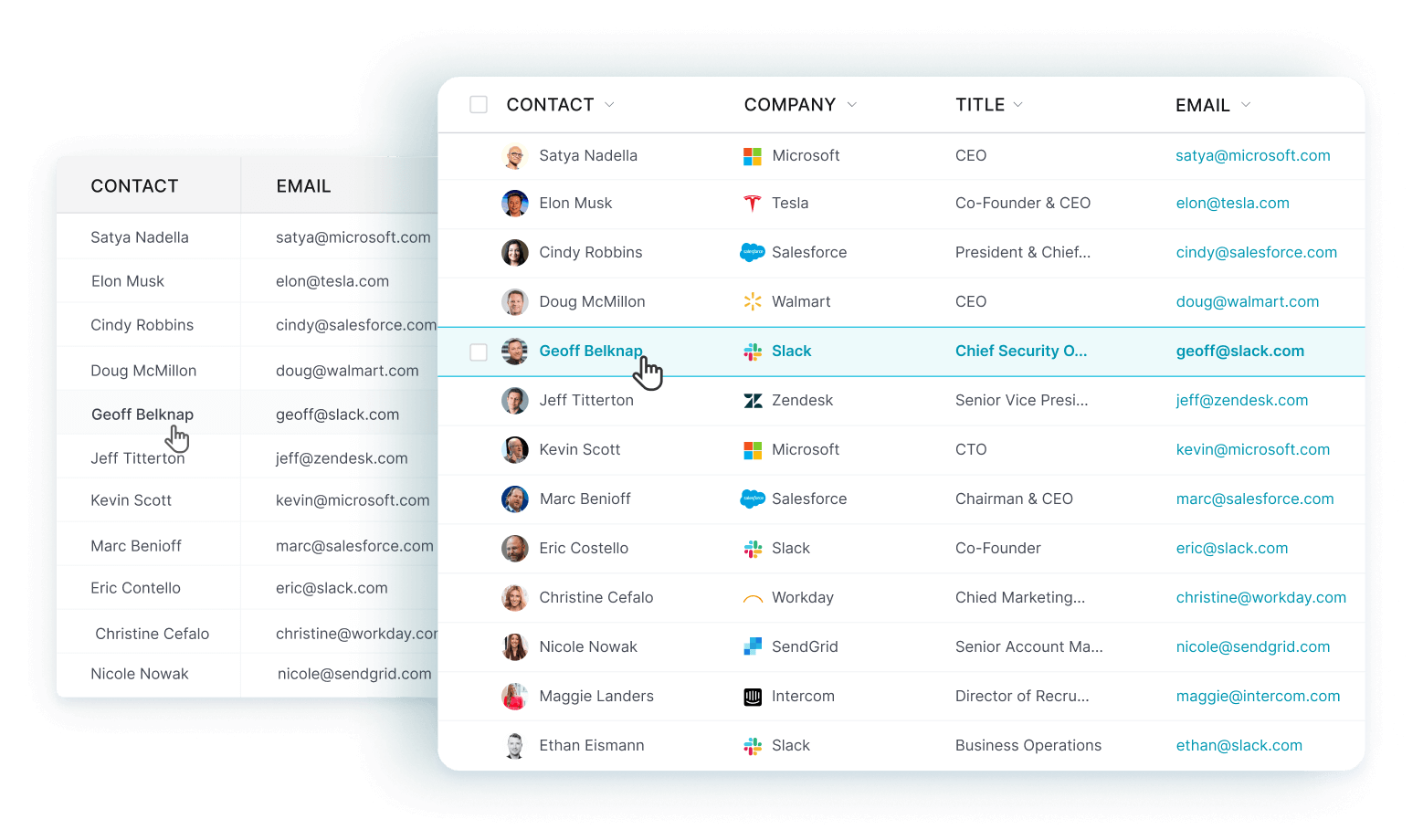 Final Verdict: UpLead Beats Clearbit!
Clearbit offers a large B2B database with smart features for data updates and CRM integration. However, the platform is on the expensive side, especially when you consider that the Enrichment and Reveal products are sold entirely separately from the Prospector tool. UpLead offers greater flexibility, more features, and truer real-time data verification, all for less money. Our database may be smaller, but we are competitive in every other category. UpLead is the best Clearbit competitor in the market.
Ready to give UpLead a try?
We hope you enjoyed our comparison guide between UpLead and Clearbit. Getting started with UpLead is easy and can be done in just a few minutes. To start your 100% free 7-day trial (no credit card required), just click here.
If you still have questions simply click the chat widget in the bottom right-hand corner of this screen. We hope you enjoy UpLead.
Want to grow your business faster?
Sign up for a 100% free no-risk trial today!
Try UpLead free for 7 days. No credit card required. Plans start at just $99/month with no contract.
Disclaimer: The third party's name is utilized for comparison purposes only and is the trademark of its respective owner. UpLead claims no rights whatsoever in the use of such name and/or any related trademarks. UpLead is not affiliated with the third party referenced on this page.